UFC on FX 6: Questions We Have About Rousimar Palhares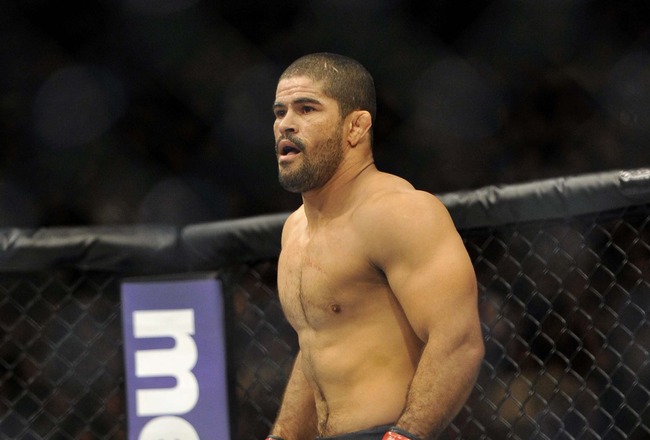 Joe Camporeale-USA TODAY Sports
It's the showdown of the diminutive middleweights as 5'8" Rousimar Palhares takes on 5'8" Hector Lombard at UFC on FX 6 this Saturday night in Queensland, Australia.
But what these men lack in stature they more than make up in raw muscle and power. Make no mistake, these are two of the most lethal finishers in MMA with 32 combined KOs, TKOs and submissions between them in 44 fights.
They are also the best grapplers in MMA; however, the similarities in their fighting styles ends there. While Lombard uses his Olympic-level judo to keep the fight standing, allowing him to knock his opponents out cold, Palhares will grab hold of your leg like a rabid pitbull and break you into submission.
Both middleweights, once touted as potential title contenders, are coming off losses and will be looking to set their records back into the win column.
Here are some of the questions we have for Palhares.
Can He Come Back from His First Loss in Two Years?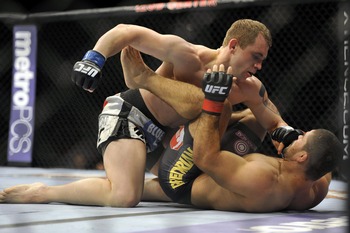 Joe Camporeale-USA TODAY Sports
The Brazilian has never managed to put together more than three wins in a row in the UFC.
That's no easy task in itself, but it demonstrates how tantalizingly close he's come to being considered a serious contender at 185 pounds.
Since his defeat to Nate Marquardt in 2010, he went on to defeat David Branch, Dan Miller and Mike Massenzio in dominant fashion. But the TKO to Alan Belcher in May was a bitter defeat.
At 32, he must be feeling worn out putting on title runs only to fall at the last hurdle.
Hector Lombard is a different matter, however.
The Cuban-Australian may be new to the UFC, but he has been a dominant middleweight at Bellator for some time and was brought into the promotion as a potential title contender. A win over him would leapfrog Palhares in the rankings and set him back on track in the title chase as long as he can put his poor performance against Belcher behind him.
Can He Submit Hector Lombard?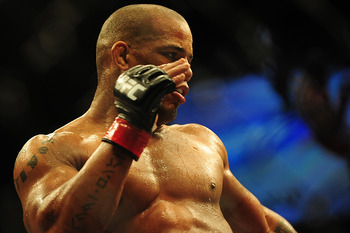 Anne-Marie Sorvin-USA TODAY Sports
Talk of Palhares as a one-trick pony has dogged him throughout his career—and for good reason. He's been heel-hooking and knee-barring his opponents since day one, and it was, in fact, his instinct to land his signature move on Belcher that left him on the ground getting pummelled in his last match.
If Belcher was difficult to submit then Lombard, a BJJ and judo black belt will seem nigh on impossible.
But if anyone can tap out Lombard, it's going to be Palhares, except he'll have to be shrewd and set up the submission patiently if he's to come away with the win.
Can He Take Lombard Down?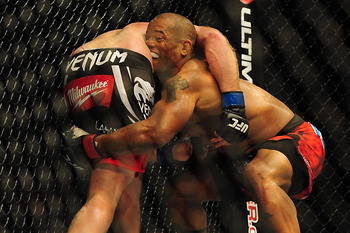 Anne-Marie Sorvin-USA TODAY Sports
The biggest task facing Palhares in submitting him is actually getting the fight to the ground. Lombard is an expert at using his judo to keep the fight standing where he is devastating on his feet.
Palhares has good wrestling and has shown this time and again, taking down Dan Miller at will throughout their three-round contest. And as they say, wrestling beats judo, especially in the no-gi world of MMA.
If he does manage to turn this into a ground contest, then the advantage will fall to Palhares, but getting the fight there will be his hardest task of the night.
Does He Have More in His Game Than Leg Locks and Heel Hooks?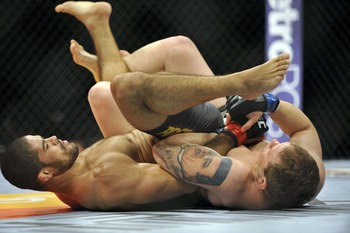 Joe Camporeale-USA TODAY Sports
It's unfair to call Palhares a one-dimensional fighter.
Certainly his heel hooks and knee bars have worked for him consistently throughout this career, but he has developed a solid stand-up game in the process.
That's not the easiest task for a man only 5'8" in a division of giants. But Lombard will not have the size advantage and so, realistically, Palhares will fancy his chances on his feet.
He'll need to, because Lombard will not want to go to ground with the Brazilian, and this match could turn into a stand-up war.
Will He Avoid Getting Knocked out If the Fight Is Kept Standing?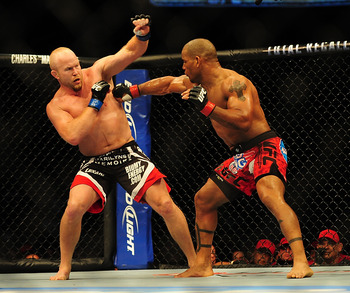 Anne-Marie Sorvin-USA TODAY Sports
If the fight is kept standing, which Lombard is likely to try to do, then the biggest question mark will be over Palahres' chin.
Lombard is a devastatingly powerful striker with a string of wince-inducing knockouts under his belt. And Palhares has eaten the canvas before, at the hands of both Marquardt and Belcher in recent years, who finished him inside the first round.
That'll be Palhares' biggest fear of the night as the Brazilian has never finished anyone with his fists.
Keep Reading