Steelers vs. Cowboys: Final Game Grades for Pittsburgh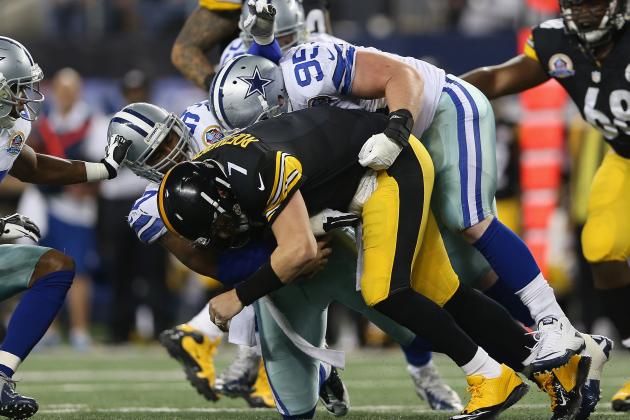 Ronald Martinez/Getty Images

Sunday's game against the Cowboys has kind of been the story of the Pittsburgh Steelers all season long. Yet again, discipline and fundamentals cost the Steelers a victory in a game that could mean the season for Pittsburgh.
The Steelers seemed to be getting on track late in the first half and through the second quarter, but couldn't put the game away when it mattered most. Pittsburgh gained a meager 69 yards on the ground and gave up over 400 total yards to a Dallas offense that had been struggling.
So, following the game that could mean the season for Pittsburgh, let's take a look at some individual and positional grades for the loss in Dallas.
Begin Slideshow

»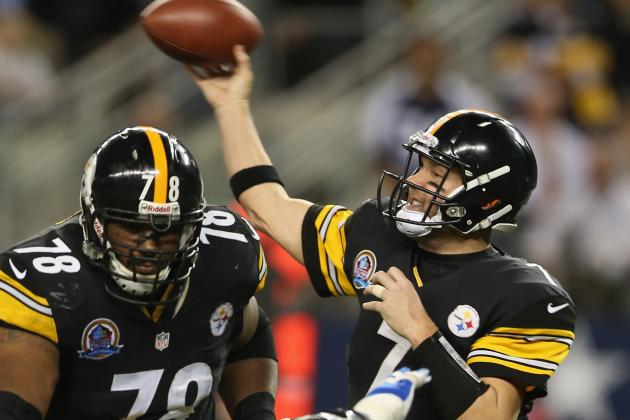 Ronald Martinez/Getty Images

Since his return last week against San Diego, Ben Roethlisberger has struggled to get anything going offensively and that carried over to Week 15's matchup with the Cowboys.
Big Ben got off to an incredibly slow start and it looked like it was going to be a long day for the Steelers offense. But he picked it up and dragged the Steelers back into the game, eventually marching them down to gain the lead.
But in strange fashion, Ben couldn't capitalize in key moments, something everyone is accustomed to seeing. At the end of the fourth quarter, Ben was sacked on three straight plays and in overtime, he threw the interception that, in effect, ended the game and possibly the Steelers Playoff hopes.
Ben finished the day 24/40 for 339 yards, 2 touchdowns and one costly interception. But those numbers don't justify the actual game.
The Steelers aren't officially out of the Playoff hunt and, in all reality, still control their own destiny. With a major matchup against the Bengals next week and Cleveland in the regular season finale, Pittsburgh can still creep into the Playoff hunt. But they'll need Ben at his best.
NOTABLE INDIVIDUAL GRADES
Ben Roethlisberger - C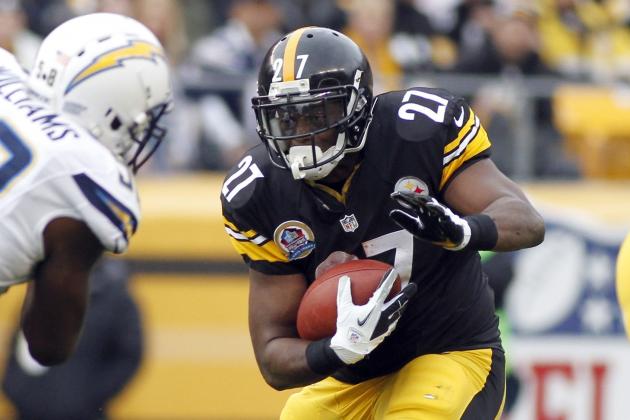 Justin K. Aller/Getty Images

The Steelers only ran the ball for 69 yard in the game, but you can't put that on the running backs. As a team, Pittsburgh ran the ball only 17 times (15 by backs) and almost completely abandoned the run in the fourth quarter.
However, it wasn't a very good day for starting running back Jonathan Dwyer. Although he did score a touchdown, Dwyer found it very hard to get much of anything behind the offensive line. Dwyer carried nine times for just 22 yards and only had a long carry of six yards.
Both Isaac Redman and Chris Rainey ran the ball very well in this game, but had a mere three carries each, totaling 45 yards.
When the Steelers were at their best this season, they were able to run the football, and that hasn't happened in weeks. Pittsburgh needs to get back to utilizing the ground game and working the play-action pass down the field.
NOTABLE INDIVIDUAL GAME GRADES
Jonathan Dwyer - D
- The touchdown boosts this grade a little bit but Dwyer needs to use his strength and make his own lanes if there are none for him.
Isaac Redman - B+
- Despite hardly being utilized at all on Sunday afternoon, Redman made the most of his opportunities. His 44 total yards including 30 on the ground may have earned him a bigger role the rest of the way out.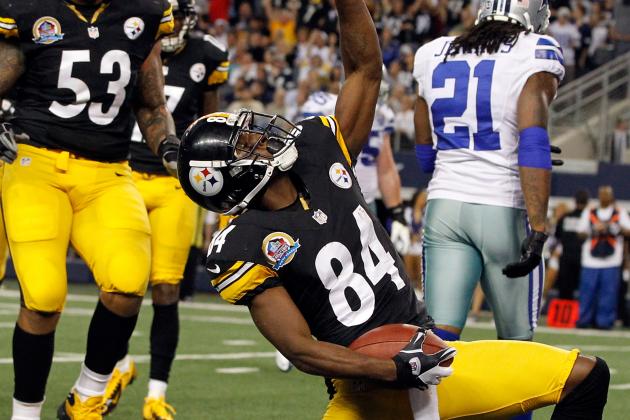 Tom Pennington/Getty Images

Another game, a few more questionable plays by the Steelers receiving corps.
It was a horrific start for the Pittsburgh receivers, especially on the first drive in which they dropped two balls that very well could have been turnovers. The receivers also seem like they're having some trouble getting open in secondaries.
Mike Wallace has started to come on, leading the Steelers in receiving yards yet again with 95 on four receptions. Antonio Brown caught eight passes 76 yards and a score while Emmanuel Sanders was held without a reception in this game.
As the season continues on, I'm starting to think the Steelers receiving corps was a little overrated coming into the season. They're still very nice players, but nowhere near the level of league's best that many had touted them in August.
NOTABLE INDIVIDUAL GRADES
Mike Wallace - B+
- Wallace was a big part of the Steelers game plan as he was targeted 10 times. Outside of the inability to get the feet down on a third down in the first half, Wallace played a pretty clean game.
Antonio Brown - A-
-Antonio Brown the receiver probably had the best game for a receiver against Dallas. He led the team in targets and receptions, including scoring (at one point) the go-ahead touchdown.
Emmanuel Sanders - F
- Following a dropped pass on the first drive that really looked like a fumble, Sanders wasn't on the field much and had very little impact on the game. He had zero catches on just one target.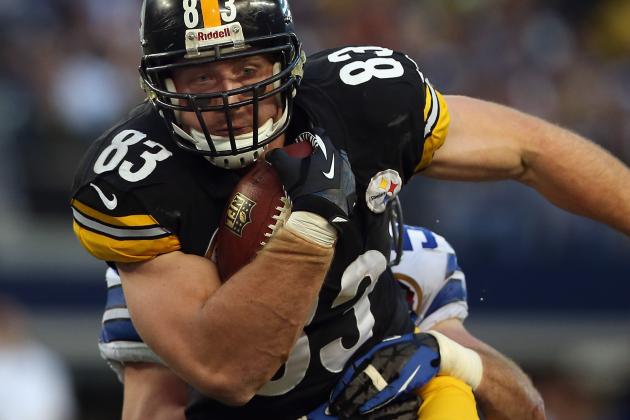 Ronald Martinez/Getty Images

Another game, another week where Steelers tight end Heat Miller might just be the MVP of the team.
Miller continued his streak of good games, hauling in seven passes for 92 yards and a touchdown, most of which came in the first half. Miller also did a great job of blocking up front when called upon.
Pittsburgh leaned on Miller in the first half and he dominated the Cowboys. Then came the second half and it seemed like the offense went away from ole' reliable. It cost them as the offense couldn't get it done when it mattered.
Miller may be the key for the Steelers going forward. He's been Ben's best and most reliable target all season. Let's hope offensive coordinator Todd Haley can realize that.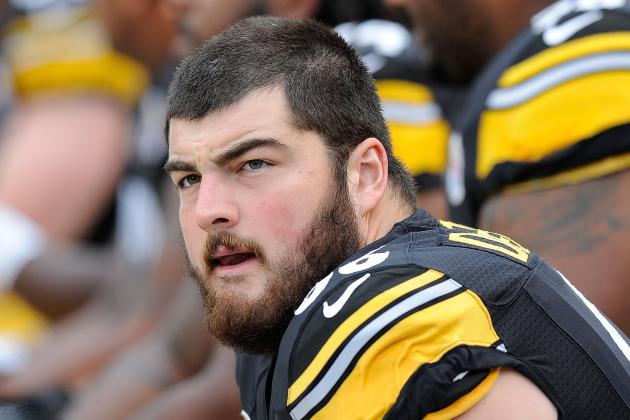 Joe Sargent/Getty Images

The Steelers offensive line was phenomenal for about 58 minutes of the game against the Cowboys. But it was those two minutes that may have cost Pittsburgh the win.
On the final drive of regulation and with a chance for the Steelers to win the game, Pittsburgh's offensive front gave up two straight sacks and quarterback Ben Roethlisberger couldn't evade the pressure.
It was nice to see rookie first rounder David DeCastro back in action and he played relatively well. The biggest goal for the Steelers offensive front is to get healthy and get your main players back on the field.
NOTABLE INDIVIDUAL GRADES
David DeCastro - B
- DeCastro saw his first major action and shook off some rust but played well.
Max Starks - B+
- Starks did a great job on DeMarcus Ware who finished the game with just a half-a-sack after latching on to Roethlisberger's ankle.
Kelvin Beachum - C
- It was a rough day for Beachum who got bulldozed by Anthony Spencer, but he's coming along nicely.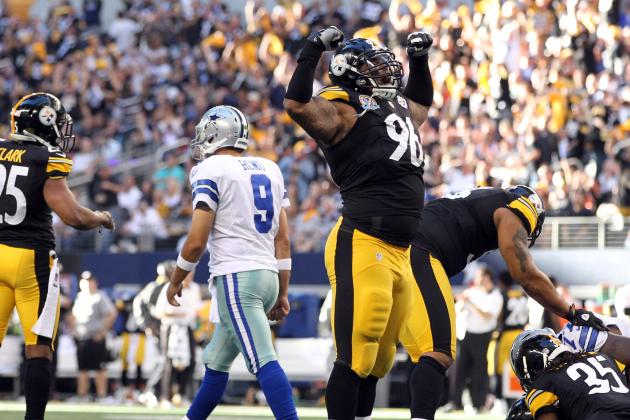 USA TODAY Sports

I'll be frank about it, the Steelers defensive front got almost zero push against a Cowboys offensive line that has been one of the worst in football. With that said, they held Cowboys under 100 yards rushing and really played an average game.
Ziggy Hood was the only defensive lineman who did anything, recording five tackles on the night. Cameron Heyward was the only other Steelers defensive lineman who got a tackle in this game.
Early in the game, the defensive front was getting washed down and DeMarco Murray was having a field day just cutting back and picking up big chunks. Luckily for the Steelers, Dallas abandoned the run almost as fast as Pittsburgh did or this could have been a worse day.
NOTABLE INDIVIDUAL GRADES
Ziggy Hood - B
- Nobody's been as hard on Hood as myself, but he played a pretty good game this afternoon.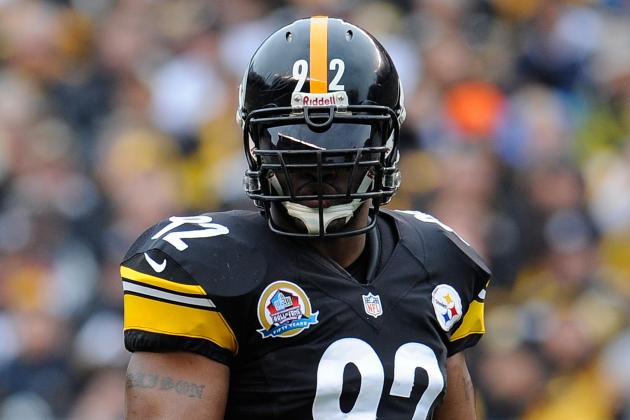 Joe Sargent/Getty Images

The linebacking corps was pretty tough to give a grade on.
You've got guys like Lawrence Timmons and James Harrison who both played very good games. But then you also have someone like LaMarr Woodley who you wouldn't even know made the trip to Dallas.
On the inside, Timmons and Foote continued their strong play combining for 12 tackles and a sack. Both guys scraped very well and stayed home, allowing them to come up with some big plays.
Harrison continued to get better and better, but the pass rush was still not there and he ended up in coverage more often than not.
The Steelers pass rush has been pretty pathetic this season and a lot of that can be attributed to play of Harrison and Woodley. They need to start making and impact in games or Pittsburgh can kiss this season goodbye.
NOTABLE INDIVIDUAL GRADES
James Harrison - B+
- Played all over the field and, although he didn't have a sack, he was all over the field and forced and early key fumble.
Lawrence Timmons - B+
- Had the only sack of the game off of pure instinct and was all around the ball.
LaMarr Woodley - F
- After coming off another injury, Woodley was invisible against Dallas, recording just 2 tackles in the game.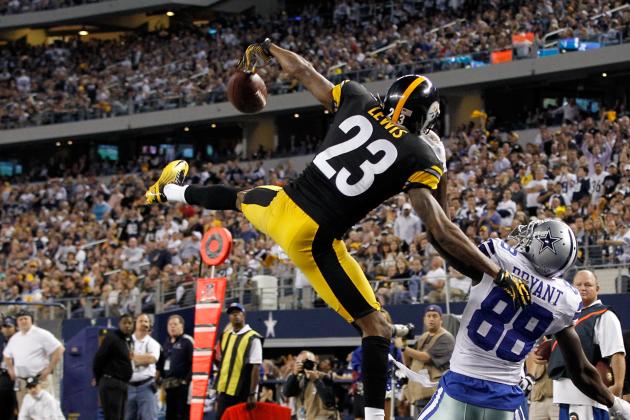 Tom Pennington/Getty Images

Boy does this defense miss Ike Taylor. Heck, they would've taken Cortez Allen at the least. But they had neither and the Steelers secondary had another rough day.
Keenan Lewis played another nice game, but left late with what appeared to be a groin injury. Josh Victorian looked out-matched and got run over on more than one occasion.
The lone bright spot in the secondary, as it has been all year, was safety Ryan Clark. Clark led the team with eight tackles and looked more like Troy Polamalu then, well, Troy Polamalu.
Tony Romo looked more like Tom Brady on Sunday afternoon. He completed over 70% of his passes for 341 yards and two scores. Romo also went on a streak where he hit 12 straight passes and moved down the field on the Steelers defense.
Pittsburgh needs to get Ike Taylor back as soon as they can and can't afford to lose Keenan Lewis for any period of time. If both are out, this might be the end of the Steelers season.
NOTABLE INDIVIDUAL GRADES
Keenan Lewis - B-
- Despite giving up an early touchdown, Lewis played a pretty clean game on Dez Bryant.
Josh Victorian - D
- I'm trying not to kill Victorian on his first start but it was a truly terrible game. Miles Austin had his way with Victorian and it looked like he was a Pop-Warner player on the big-boy field.
Ryan Clark - A-
- Never flashy but always effective. Clark should be a Pro Bowler for the way he's played this season.
Troy Polamalu - B+
- Very quietly, Polamalu had 7 tackles against Dallas and looks closer and closer to full strength.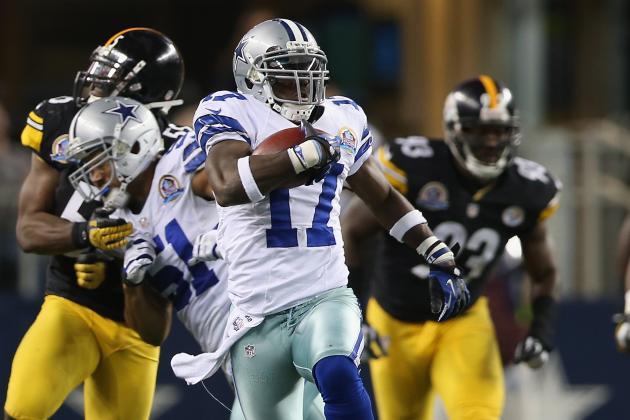 Ronald Martinez/Getty Images

For three quarters, the special teams unit played as well as any part of the Steelers team. But in the fourth quarter, they collapsed...epically.
Antonio Brown fumbled two punts on the afternoon, including one that allowed the Cowboys to go in for the tying score and later allowed a short punt to go over his head and roll inside the Steelers 20-yard line.
Later in the fourth, the Steelers allowed Cowboys returner Dwayne Harris to return a punt across the 50 and into Pittsburgh territory.
Punter Drew Butler and kicker Shaun Suisham played very good games and Chris Rainey did a nice job returning kicks.
NOTABLE INDIVIDUAL GRADES
Antonio Brown - D
- Brown had some really nice returns which saved his grade, but it's hard to overlook those fumbles. He was very out of rhythm today.
Drew Butler - A
- Butler punted six times with a 43 yard average. More importantly, he recorded a touchback or pinned the Cowboys inside the 20 on four of those kicks. He did his job.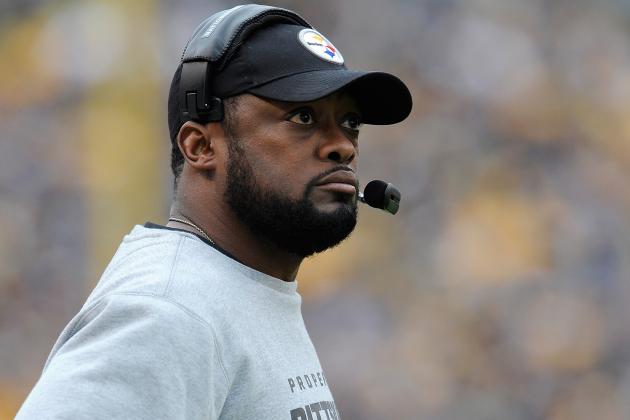 Joe Sargent/Getty Images

It's becoming more and more evident as the weeks go on that the Steelers simply are not a well coached team.
On Sunday, the Steelers couldn't do a whole lot right, especially tackling which led to some big Cowboys gains. Fundamentals like tackling and the other mental errors the Steelers have had during their last few contests go on the coaching staff.
Offensively, the Steelers abandoned the run pretty early on and finished with a run pass ratio of 17:40. That's unacceptable in a game that was either tied or within one score the whole time.
Mike Tomlin and company have to get their act together for the final two games or this team isn't going to sniff the Playoffs. With every loss, the seat under Tomlin gets a little warmer.