Handing out Denver Nuggets Team Awards Through the Season's 1st Quarter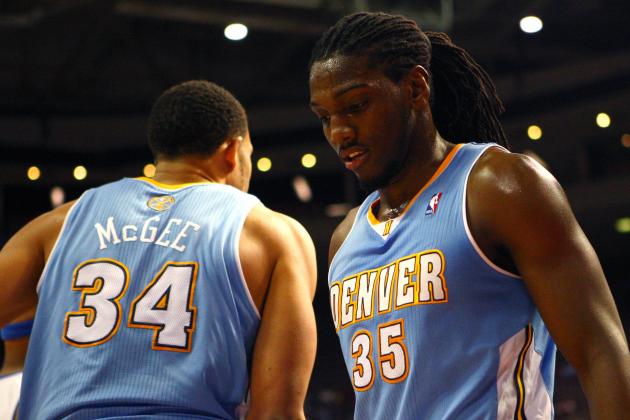 USA TODAY Sports

It has been a rough start to the season for the Denver Nuggets, who, despite a revamped roster and expected improvement from a collection of young players, have started the 2012-13 season with a mediocre 11-12 record.
Though the Nuggets haven't had much team success early this season, individual players have certainly enjoyed successful starts. But with such a deep and talented roster, who has been the best in specific categories of the game?
Here I hand out awards to the top Nugget in each of four of the five regular-season league-wide awards. Rookie of the year was not included, as Evan Fournier is the only rookie to appear in a regular-season game thus far, and he has only done so in limited minutes.
All stats accurate as of December 13, 2012.
Begin Slideshow

»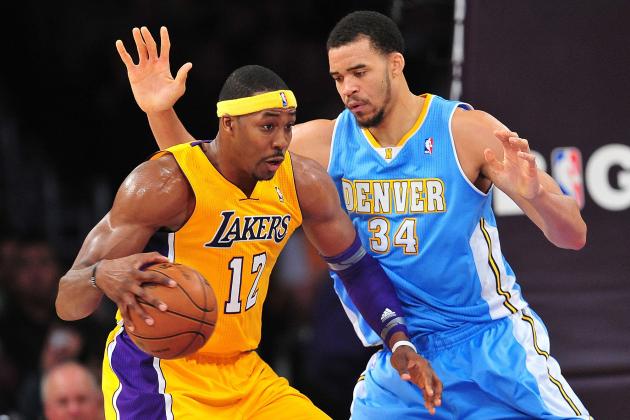 Gary A. Vasquez-USA TODAY Sports

JaVale McGee has plenty of talent; of that there is no doubt. However, what he lacks is a passable basketball I.Q., and his propensity for often-ridiculous mental errors has prevented him from sticking in the starting lineup in Denver.
Though McGee currently comes off the bench behind Kosta Koufos, he has clearly been the Nuggets' best center so far.
McGee has been crazy efficient so far this season, with a stellar 23.8 PER along with a team-high 59 percent field-goal percentage. That efficiency is clear in his per-game averages, which sit at a solid 10.9 points and 5.3 rebounds in just 19.6 minutes per game.
McGee has managed to put up great numbers this year despite his limited playing time, so it's surprising to continue seeing him play under 20 minutes per game. Hopefully the former Wizard will see an increase in minutes at some point this season, but if not, the Nuggets will at least maintain the luxury of bringing one of the league's most athletic centers off the bench.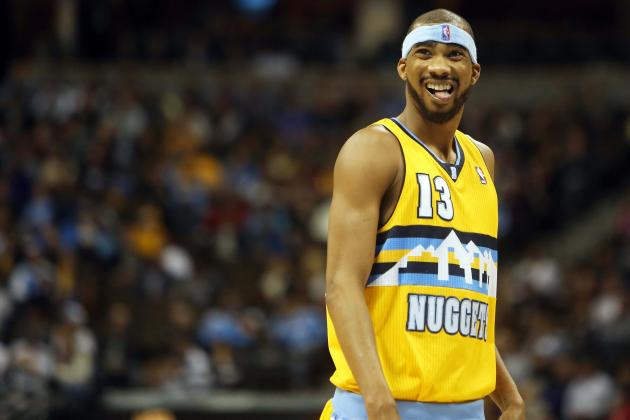 USA TODAY Sports

Corey Brewer has always been a tenacious defender and solid athlete, but he has struggled with efficiency in years past, particularly from the perimeter.
Fortunately, Brewer seems to have addressed some of his major offensive flaws. The swingman is averaging 11.8 points off the bench this season, while shooting 45 percent from the field and 37 percent from three-point range, a major increase from his dismal 26 percent outside shooting mark of last season.
Not only is Brewer hitting threes with higher efficiency, but also at a much-improved rate. Brewer is currently connecting on 1.5 three-pointers per game, and has been a much more reliable outside threat than Denver's "shooter," Danilo Gallinari.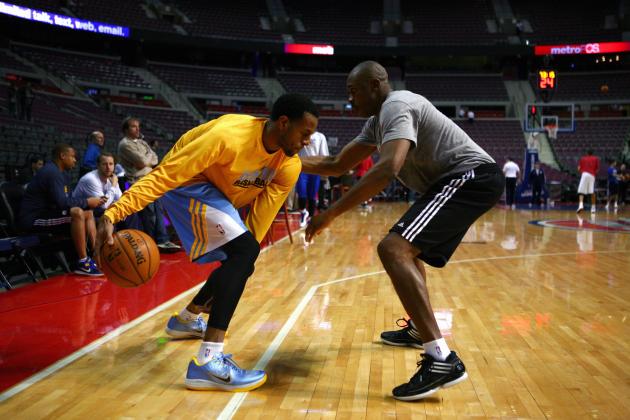 USA TODAY Sports

It should come as no surprise that Andre Iguodala has been a force to be reckoned with defensively in his first year with the Nuggets.
Iguodala is widely considered to be one of the NBA's top perimeter defenders, and he has continued to earn that label while locking up opposing scorers for the Nuggets.
Though he is averaging just 1.1 steals per game thus far, Iguodala has acted as a defensive anchor for the Nuggets, eagerly taking on difficult assignments and performing well against them. According to 82games.com, Iguodala is currently holding opposing shooting guards to just a 12.3 PER, well below the league average.
Though McGee stands out for the Nuggets defensively due to his elite shot-blocking skills, Iguodala is by far Denver's top defender.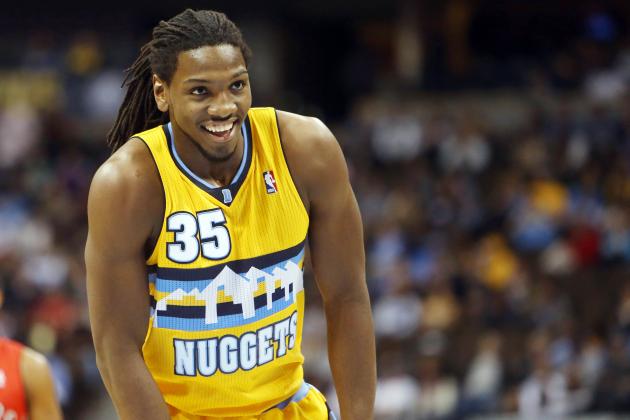 USA TODAY Sports

While Kenneth Faried might not initially look like the face of this Nuggets team, his incredible hustle and drive serve as the motor that keeps Denver afloat in difficult times.
Faried has started his second season just the way he ended his first one; he is currently averaging an impressive 12.4 points and 10 rebounds per game, and his 19.47 PER mark is a clear indicator of his high efficiency thus far.
While Ty Lawson, Andre Iguodala and Danilo Gallinari have all struggled through inconsistency early this season, Faried has been a consistent force on both ends of the court.
Though he currently sits just fourth amongst the team's leading scorers, his efficiency, rebounding prowess and defensive intensity earn him the team MVP award a quarter of the way into the season.