5 Quarterbacks Who Are Asked to Do More Than They Can Handle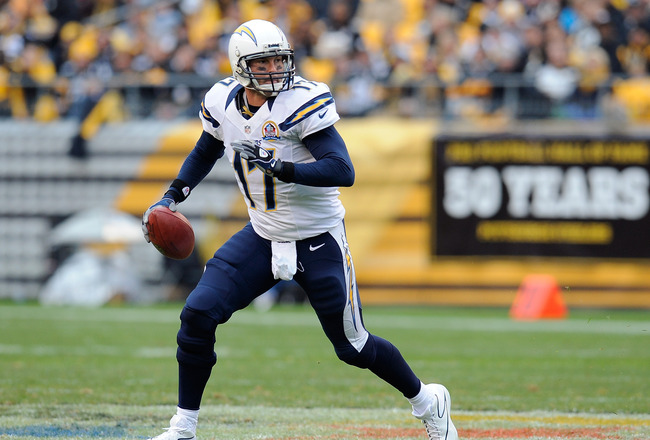 Joe Sargent/Getty Images
For some NFL quarterbacks such as the San Diego Chargers' Philip Rivers, they are simply in horrible situations which results in their coaching staffs asking them to do things well beyond what they are capable of given their skill set.
It's not a fair situation, but one that happens all too often in today's NFL. It's typically a result of a mediocre franchise not building properly around its quarterback, which in turn usually comes back negatively on the quarterback before the organization.
Rivers and others simply are not capable of overcoming an inadequate roster. Let's break down five NFL quarterbacks who are simply asked to do too much.
Mark Sanchez, New York Jets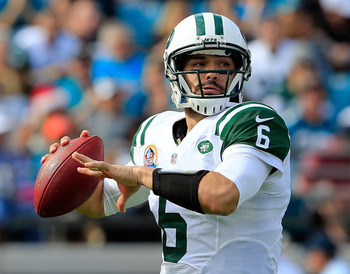 Sam Greenwood/Getty Images
Mark Sanchez hasn't had a fair shake with the New York Jets, and that's even more so the case this year. His supporting cast is simply awful and he hasn't been able to overcome it.
Sanchez has no running game behind him. Shonn Greene is horrible and only has a 3.6 yards per carry average. His No. 1 receiver this year is Jeremy Kerley, a 5'9" 188-pound slot receiver who isn't typically a No. 1 target. There's also a mediocre defense supporting Sanchez that has serious issues stopping the run.
To counter these roster issues, Sanchez is asked to throw entirely too much and to target mediocre weapons that simply cannot make plays. He's thrown for just over 2,500 yards and is hardly completing 50 percent of his passes.
Make no mistake, Sanchez is a bad quarterback. He's also asked to do entirely too much, and he just isn't capable of elevating the bad roster around him.
Carson Palmer, Oakland Raiders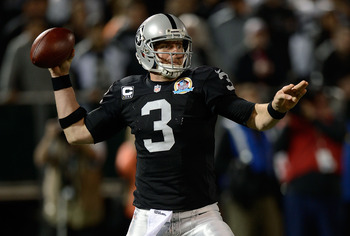 Thearon W. Henderson/Getty Images
Carson Palmer got his wish and was allowed to leave Cincinnati, but he joined an Oakland Raider franchise that has no idea how to properly build a roster.
As a result, Palmer is asked to do things only Palmer pre-knee surgery could have done.
Palmer has no running game to support him with Darren McFadden and Co. being hurt. His leading rusher is McFadden, who has just over 500 yards.
There's not a lot of talent for Palmer to throw to either. His leading receiver is tight end Brandon Myers, who has just over 700 yards but has acted more as a safety blanket than anything else.
Oakland's offensive line is in shambles, and Palmer simply doesn't have the athleticism to overcome it. He's thrown for almost 4,000 yards, but only 22 touchdowns in what has been a disappointing season because he simply isn't good enough to overcome the players around him.
Chad Henne, Jacksonville Jaguars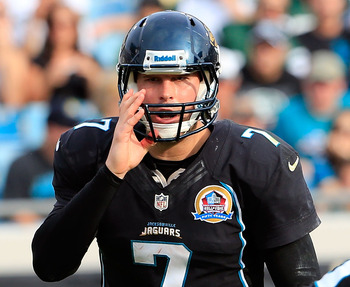 Sam Greenwood/Getty Images
To be fair to Chad Henne, he earned the starting job with the Jacksonville Jaguars thanks to injury and inherited one of the worst teams in the NFL.
Jacksonville is laughably bad at 2-11, and the biggest reason for that is the joke of a job the front office has done at building a roster.
Henne isn't the type of quarterback to overcome a lack of talent. He's the kind of player who is enhanced by talent around him or suffers. Henne has thrown for just over 1,200 yards and eight scores, but is only completing 51 percent of his passes,
It's not like Henne has anything to work with. Maurice Jones-Drew is the leading rusher with just over 400 yards, but he hasn't played much due to injury. His best receiver is Cecil Shorts, a player who has failed to have a resounding impact to date.
Henne isn't a franchise quarterback, so it's unfortunate that he's been thrown into such a bad situation. He cannot throw the ball down the field, but is being asked to with receivers who can't get down the field.
Ryan Fitzpatrick, Buffalo Bills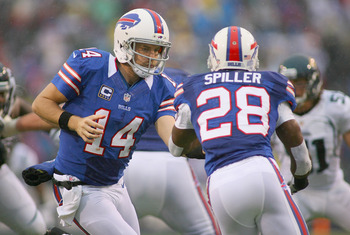 Rick Stewart/Getty Images
Ryan Fitzpatrick of the Buffalo Bills is actually one of the better players on this list, but that's not saying much.
Fitzpatrick is completing well over 60 percent of his passes, but has issues leading the team to wins. His offensive line hasn't been perfect, but Fitzpatrick has issues with pocket presence and turns the ball over too much.
C.J. Spiller is a great option out of the backfield, and he's rushed for almost 1,000 yards with three games to go. He's a great change of pace and takes the pressure off of Fitzpatrick.
There's also a solid receiver in Buffalo in Stevie Johnson, who was a hot commodity in free agency last offseason because he's a solid No. 1 receiver.
What it boil down to in Buffalo is simple—Fitzpatick has a solid crop of players around him; he's just not very good. He's being asked to run an efficient offense with a solid running game, but he simply cannot do it.
It's upgrade time in Buffalo, because Fitzpatick certainly cannot handle what is being asked of him by the Buffalo staff.
Philip Rivers, San Diego Chargers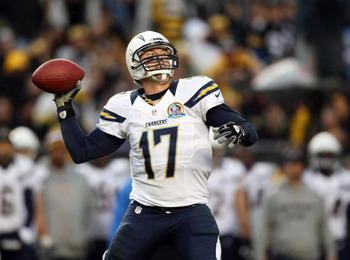 USA TODAY Sports
Philip Rivers is the ultimate example of an NFL quarterback who is simply asked to do too much each week.
At one point, Rivers was considered one of the top quarterbacks in the NFL. Now that stellar players such as LaDainian Tomlinson and Vincent Jackson have departed, the true Rivers has emerged.
Rivers has struggled because of the mediocre talent around him. His leading running back is Ryan Mathews, a man who has only mustered 685 yards on the ground and only one score.
When it comes to a leading receiver, if you had to name one, it would be Malcom Floyd. He has 775 yards receiving. The next closest receiving total only has just above 500.
Rivers has been sacked a ridiculous 37 times thanks to his horrendous offensive line. He simply doesn't have the arm, athleticism or decision-making ability to overcome odds such as these.
In San Diego, Rivers is another NFL quarterback who is only as good as those around him. For that reason alone, Rivers has not been able to elevate the play of those around him.
Keep Reading