Dallas Cowboys 7 Round 2013 NFL Mock Draft 3.0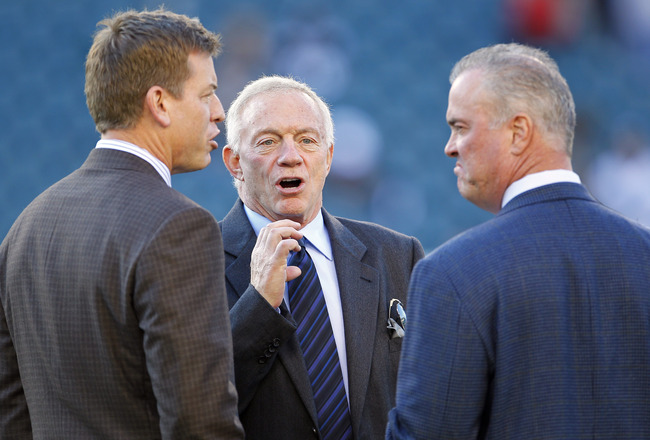 Rich Schultz/Getty Images
The season isn't over but that isn't keeping me from mocking the Cowboys 2013 NFL Draft.
The Cowboys have some serious improvements to make. The 2012 season an inspiring stepping stone season, but if they intend to make 2013 competitive they need to fill some needs.
While player values and team needs are continually changing, it seems that there is a consensus that the Cowboys need to improve their offensive and defensive line.
I got that covered.
Round 1: Chance Warmack, OG, Alabama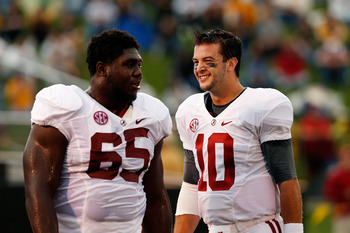 Jamie Squire/Getty Images
Height: 6'3"
Weight: 320 lbs
There are rumors surfacing that Chance Warmack could be a top-10 pick. The same thing happened last year with David DeCastro and look how far he dropped. The truth is that teams typically don't like taking guards that high and their value typically outweighs their actual draft position.
Warmack is one of those guys.
Warmack is a big, strong, athletic guard that has become one of the better guard prospects over the last 10 years. His ability to get to the next level would allow the Cowboys run balanced offense to flourish.
While I think he's a much better run-blocker than a pass-blocker, He is above average at both.
Warmack has excellent technique. He always keeps his assignment in front of him and maintains a square frame with a good center of gravity.
His footwork is among the best I've seen from an offensive lineman in some time.
There will be guys like John Jenkins and Sam Montgomery around but Warmack fits the bill as a high value player and fills a team need.
Round 2: D.J. Fluker, OT, Alabama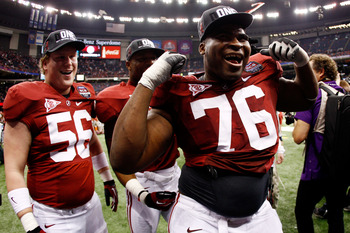 Chris Graythen/Getty Images
Height: 6'6"
Weight: 335 lbs
Not much to say about Fluker. He is a sure first-round prospect if it isn't for the emergence of players like Luke Joeckel and Eric Fisher. The truth is that if there was a higher desire to take a tackle in the higher rounds Fluker would be gone.
Oh well, everyone's loss is the Cowboys' gain.
The Cowboys have the opportunity to add another high value, franchise caliber lineman to a very mediocre unit. Fluker is powerful and nasty. He has experience in a balanced offense and plays with incredible consistency.
Fluker has only one main weakness and that is his pass blocking. Still, he's an upgrade over Doug Free and could really develop that aspect of his game from Bill Callahan. It's a plus that his college teammate would line up right next to him.
If Fluker does get taken earlier, prospects like Ricky Wagner, OT, Wisconsin and Jake Matthews, OT, Texas A&M would be worth considering.
Round 3: Margus Hunt, DE, SMU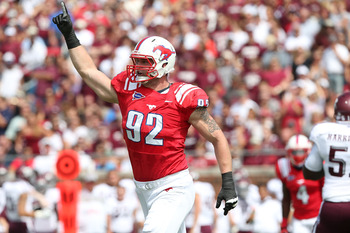 Ronald Martinez/Getty Images
Height: 6'7"
Weight: 288 lbs
Ok, lets get something straight before you guys get me in the comment section, Margus Hunt is my pet cat.
It's hard not to love everything about Hunt as a prospect. He has tremendous size and athleticism and the combination makes him a dangerous weapon for the defense.
Hunt is physical monster. He exemplifies "beast mode" and the scary part is that he's still getting better.
The guy does everything well. He's an outstanding pass rusher, he's improving his run defense techniques, and even has an interception.
The fact that Hunt is available in the third round is insane to me. However, the guy is still raw. He has a lot to learn in terms of technique and play recognition.
If he can increase his football IQ Hunt can be the steal of this years draft.
Other prospects available: Matt Elam, Landry Jones, and Eddie Lacy.
Round 4: Bacarri Rambo, S, UGA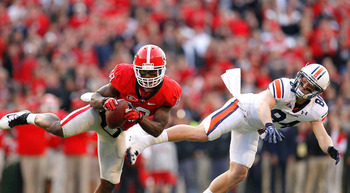 Kevin C. Cox/Getty Images
Height: 6'0"
Weight: 218 lbs
Rambo's name says a lot about him. The safety out of Georgia is an intense, physical playmaker who is around every play.
Rambo is likely a second round prospect in a smaller safety draft class but the depth this year is insane.
Rambo is what we'd call a prototype. He is fast, athletic, and strong. He has been a huge playmaker for the Bulldogs and has proven to be clutch.
He, like all players, has some work to do though. Rambo needs to be more disciplined. With some increased focus and work ethic he could be a great player.
Rambo is the definition of a high-reward player. In the fourth round he is the perfect gamble. Worst-case scenario is that you get Keith Davis in his prime, best-case scenario you get Ed Reed.
Round 5: Brandon Williams, DT, Missouri Southern
Photo Courtesy www.mssulions.com
Height: 6'3"
Weight: 325 lbs
Hands down, Brandon Williams is the most underrated, complete football player in this NFL Draft.
Look, it's no secret that players who play in Division II Athletics are typically of a lower caliber. However, sometimes those players just weren't looked at hard enough.
For Williams, it's the latter.
This guy owns the school record for sacks in a career (27) and can play any position on the defensive line. He has a high motor, excellent burst, and fantastic football I.Q. He is one of those blue-collar players who works hard, plays hard, and stays out of trouble.
I haven't watched all the tape on Williams and it's extremely rare that I don't identify player weaknesses to you guys but this time, I don't really see any.
Williams is a force. He has awesome size, versatility, and technique. I would be shocked if his draft value didn't spike. If he's available and Jerry doesn't take him, he's an idiot.
Round 6: Ryan Nassib, QB, Syracuse
Rich Schultz/Getty Images
Height: 6'2"
Weight: 229 lbs
If you guys follow me at all through my articles you know I force feed you arguments that support the need for a developmental quarterback.
So why did I wait until round six to draft one?
The truth is the players available were just plain better in the earlier rounds.
Nassib is a zero risk, high reward player. He has above average arm strength and accuracy and is exceptional with play fakes. The problem? He tends to make bad decisions under pressure that result in turnovers.
I think that Nassib can translate well at the next level if he spends 3-4 years behind Tony Romo. They have very similar playing styles and could run the exact same offense without any changes to the game plan.
If Nassib doesn't work out you merely lose a sixth round pick and can refocus on quarterback next year or the year after when Johnny Manziel is available. Right?!
Round 7: Theo Riddick, RB, Notre Dame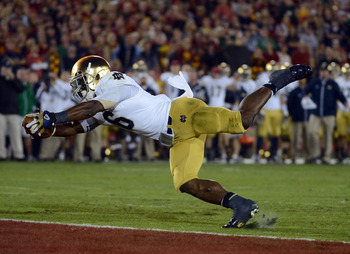 Harry How/Getty Images
Height: 5'11"
Weight: 200
It's not a secret that Felix Jones isn't coming back. Phillip Tanner and Lance Dunbar offer good depth, but a player like Riddick offers a game breaker.
In a pass-happy league a third down back like Riddick offers a player who is competent enough to get a decent average-per-carry but is lethal in the passing game.
Riddick is an unrefined back that has problems with pass protection. However, if nothing else, he offers a player who can change things up a little bit.
You look at players like Alfred Morris and you think, "Man, maybe this can work out." In the seventh round, you're not really looking for anything but a decent gamble.
I like the odds.
Keep Reading

Dallas Cowboys: Like this team?