One Lesson Every AP Top 25 Team Must Learn to Reach Its Ceiling in 2012-13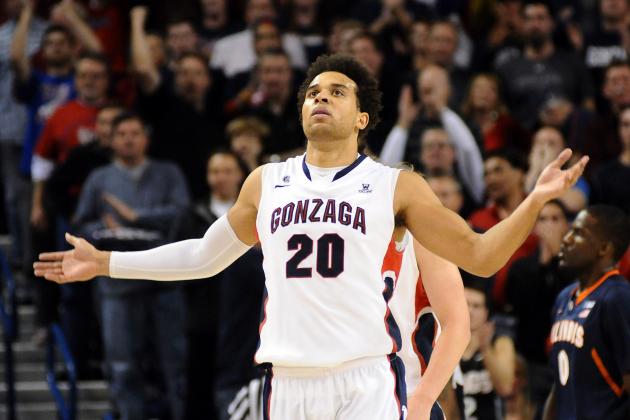 James Snook-USA TODAY Sports

Even college basketball's best teams—say, those in the AP Top 25 rankings—still have plenty of time to develop with less than half the season gone. Whether it's shoring up weaknesses or building on strengths, there are improvements to be made for the long term on top teams around the country.
No. 14 Gonzaga learned just how imperfect a team it is in getting pasted at home by Illinois last weekend. The mighty Zags offense let them down, not because they weren't shooting brilliantly but because they couldn't take care of the basketball.
Read on for more on the Gonzaga Bulldogs' turnover troubles, along with teachable moments to keep in mind for the rest of the AP's ranked programs.
Begin Slideshow

»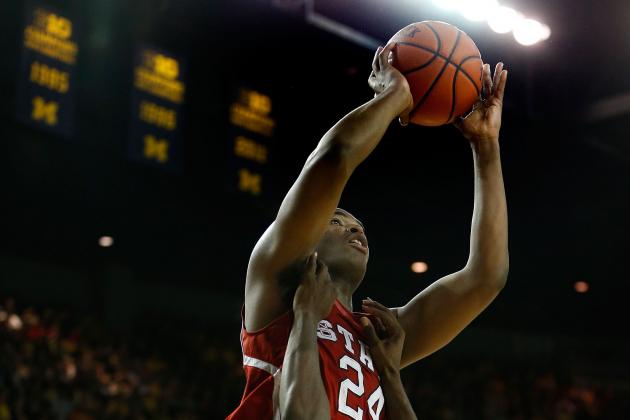 Gregory Shamus/Getty Images

Lesson: Don't throw away easy points
The North Carolina State Wolfpack has no shortage of scoring options, with the six men in its rotation all averaging at least 9.8 points per game. Those numbers would be even more impressive if they actually included the ability to shoot free throws.
Four of N.C. State's six leading scorers are shooting under 65 percent on foul shots. Star freshman T.J. Warren is the worst offender, posting a Shaq-like .478 accuracy.
This team is guaranteed to lose a few close games purely on missed free throws unless something changes in a hurry.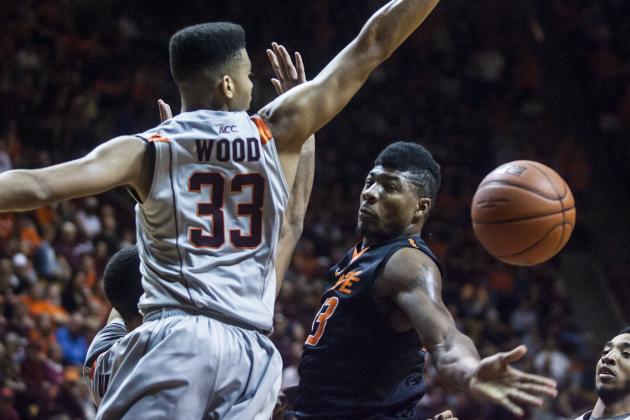 Peter Casey-USA TODAY Sports

Lesson: Hit the glass
When Oklahoma State burst onto the scene by blowing out N.C. State in November, it out-rebounded the then No. 6 Wolfpack by a 42-27 margin. When the same OSU Cowboy team lost at Virginia Tech, it also lost the battle on the boards, 37-29.
Freshman point guard Marcus Smart (7.4 rebounds per game) is doing amazing work, but he's got to have some help against high-level opposition.
In Big 12 play, the Cowboys will be up against big, physical opponents every night, and they can't afford to get pummeled under the boards for it.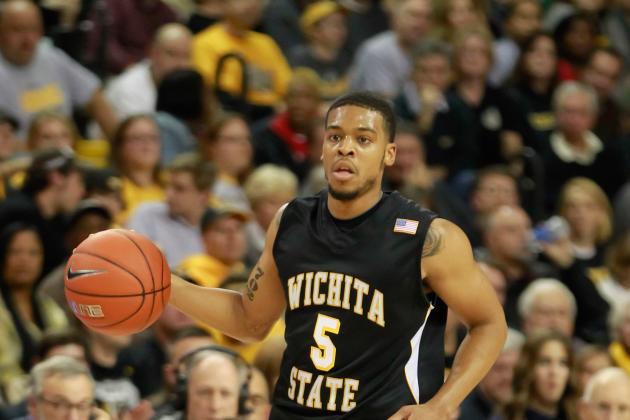 Geoff Burke-USA TODAY Sports

Lesson: Give the perimeter shots to the right people
The Wichita State Shockers' offense has been good but hardly great in a 9-1 start, with only Cleanthony Early and Carl Hall scoring in double digits. One way the Shockers can boost their scoring is to take advantage of the few long-range weapons they have available.
Although Ron Baker has taken almost twice as many three-pointers as any of his teammates, he's shooting a lackluster .326 from deep.
In contrast, sixth man Demetric Williams (.529) and fellow reserve Evan Wessel (.458) have been far more accurate, meriting more chances than they've been getting from beyond the arc.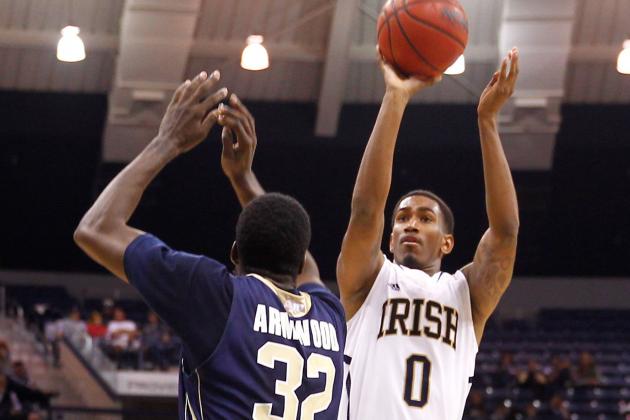 Michael Hickey/Getty Images

Lesson: Embrace the trey
Notre Dame Fighting Irish's starting lineup boasts three wonderful three-point shooters. Jerian Grant, Eric Atkins and Scott Martin are all shooting .406 or better from long range, but the Fighting Irish haven't taken full advantage of that talent.
Despite its exceptional array of perimeter scorers, Notre Dame has attempted just 173 treys as a team, right around the middle of the pack nationally.
With so many good options, there's no reason for this team not to be looking for the three-point shot more often than it is.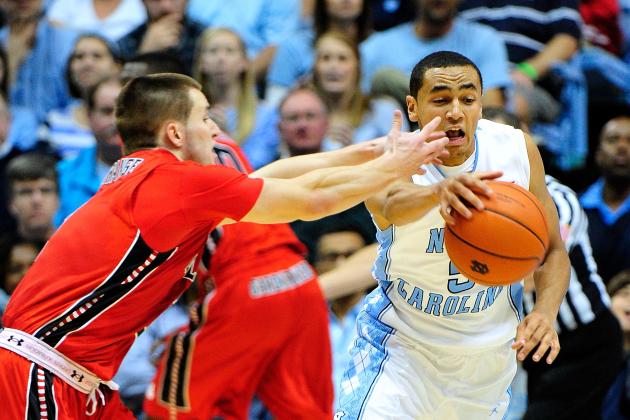 Grant Halverson/Getty Images

Lesson: Keep the ball moving
Through nine games, the North Carolina Tar Heel's lead the nation with 20.1 assists per game as a team. Despite that gaudy figure, though, the Tar Heels' passing game has actually been one of the biggest flaws exposed by their two losses on the year.
Against Butler and Indiana, UNC managed just 21 assists in the two games combined, making its 27 combined turnovers all the more painful.
North Carolina's offense is its best weapon, and without easy baskets off good passing, the Tar Heels are going to fall far short of their potential against ACC-caliber opposition.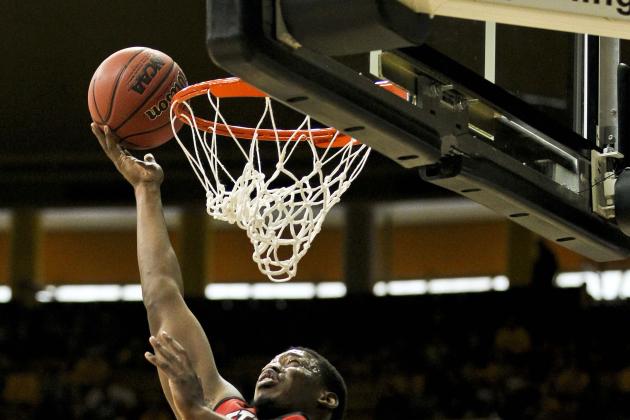 Troy Babbitt-USA TODAY Sports

Lesson: Make the best of Mike Moser's injury
After an ugly fall in Sunday's game against California, Mike Moser is out of action for the next month or so with a dislocated elbow. As big as the loss of their star rebounder is, the UNLV Rebels can turn it into an opportunity.
Reserve forwards Quintrell Thomas and Savon Goodman will be a lot better at the end of the season for the meaningful minutes they'll get in Moser's stead.
Pittsburgh transfer Khem Birch is also about to become eligible for game action. His debut will give coach Dave Rice another player to develop while Moser is on the shelf.
Mike Carter-USA TODAY Sports

Lesson: Guard the three-point line
For the season as a whole, the Michigan State Spartan's are allowing opponents to shoot just .315 from beyond the arc.
The picture becomes very different, though, when one looks only at the Spartans' three major-conference opponents—i.e., the ones who can actually match up with Michigan State's size.
UConn (.462), Kansas (.444) and Miami (.563) have all torched Tom Izzo's team from long range. By the time Big Ten play begins, Michigan State's guards must learn to help their big men down low without giving opposing shooters free rein outside.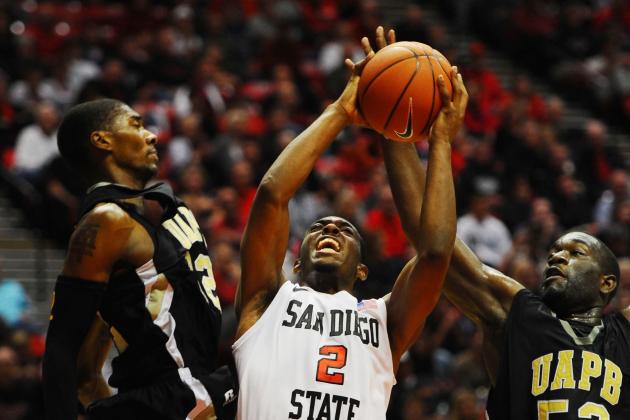 Christopher Hanewinckel-USA TODAY Sports

Lesson: Take smarter shots
The San Diego State Aztecs are hardly lacking in offensive talent, led as they are by Jamaal Franklin (19.1 points per game). When it comes to shot selection, though, Steve Fisher's team leaves a lot to be desired.
Point guard Xavier Thames is shooting a woeful .315 from the field (though, ironically, he's actually been an outstanding three-point shooter at .406).
Even Franklin, who's been scoring at will from mid-range and in, has shot a horrific .243 from beyond the three-point line.
The likeliest solution starts with Thames, who needs to regain the passing form that saw him dish out 4.1 assists per game last year (now down to 3.0).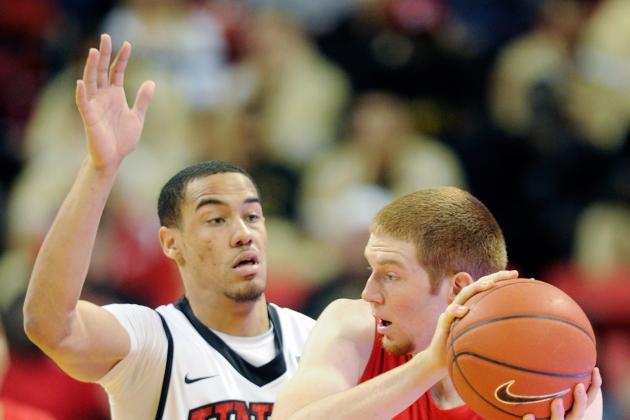 Ethan Miller/Getty Images

Lesson: Get as much offense as possible out of Alex Kirk
New Mexico's top two scorers, Kendall Williams and Tony Snell, are also its two least accurate shooters. The New Mexico Lobos' best hope for improving their offensive consistency lies with 7'0" sophomore Alex Kirk.
Kirk is currently scoring 11.7 points per game, tied with Snell for second on the team's charts. If Kirk gets more shots from the low post, Williams and Snell won't have to force so many tough jumpers from the outside.
More touches for Kirk would also mean more free throw attempts, not a bad thing when he's shooting .732 from the charity stripe.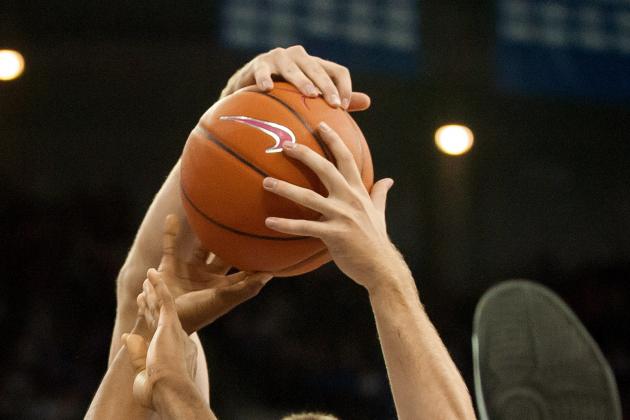 Eric Francis/Getty Images

Lesson: Get Ethan Wragge back in the offensive picture
As amazing a scorer as Doug McDermott is, he needs some reliable help to make the Creighton Blue Jays a winning team.
Burly forward Ethan Wragge had looked like an outstanding second option, but he's dropped off the radar since his team's loss to Boise State.
After five consecutive games scoring in double figures earlier in the year, Wragge has slumped to 5.3 points a night over his last four outings.
He's still shooting a sensational .481 from three-point range, so making him a meaningful part of the offense again can only be a good thing for Creighton's chances.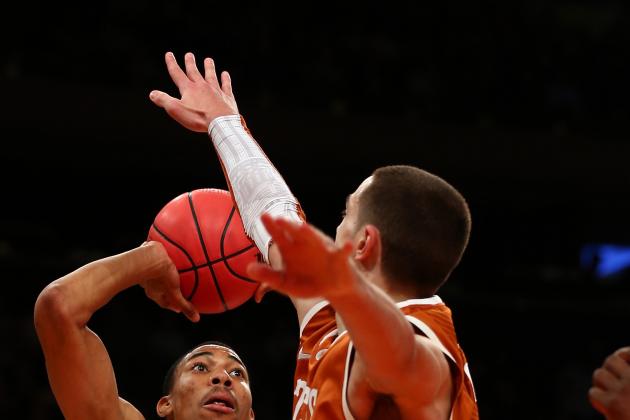 Elsa/Getty Images

Lesson: Remember the name on the front of the jersey
For years under John Thompson Jr., it went without saying that Georgetown would be among the country's most physical teams.
John Thompson III is running the show now, and his current team would benefit immensely from an infusion of his dad's brand of toughness.
The Georgetown Hoyas have shied away from contact on offense, ranking 225th in the country in free throws attempted. They're not looking any stronger in the battle under the boards, placing a dismal 261st with 32.9 rebounds a night.
Those numbers are unacceptable for a team with four 6'8" or 6'9" forwards among its five leading scorers.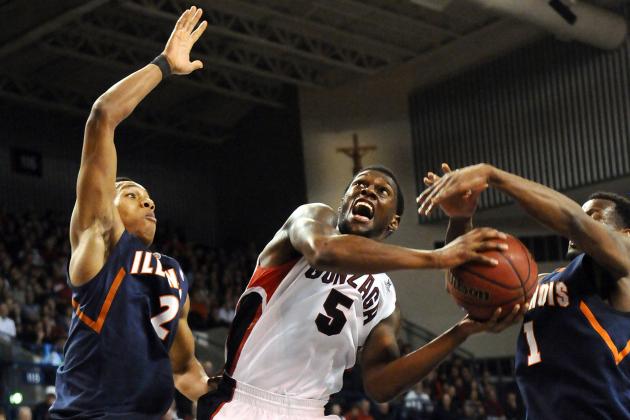 James Snook-USA TODAY Sports

Lesson: Protect the rock
It's becoming apparent that the biggest obstacle to the success of the Gonzaga offense is the Gonzaga offense.
Three times this year, the Zags have recorded more turnovers than assists in a game. Unsurprisingly, they've fallen well short of their enviable scoring average (82.7 points per game) in each of those instances.
The lack of ball security was especially damaging in last weekend's loss to Illinois, when the Zags shot 49 percent from the floor and still scored just 74 points.
Not all the blame belongs to PG Kevin Pangos, either—7'0" forward Kelly Olynyk is responsible for almost three turnovers a night.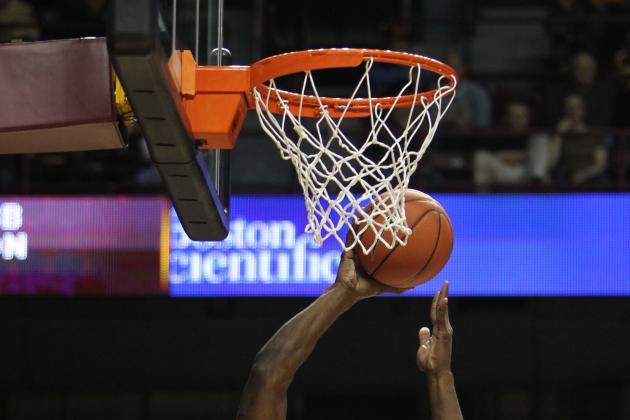 Brace Hemmelgarn-USA TODAY Sport

Lesson: Get Trevor Mbakwe some touches
Offensive balance has been a strong point for the Minnesota Gophers, with the Gophers' top five scorers all posting between 9.2 and 13.5 points a night.
Sometimes, though, a team needs to focus on creating opportunities for one outstanding weapon, and Minnesota hasn't done that when it comes to Trevor Mbakwe.
The senior star hasn't yet returned to his old form after last season's ACL injury, but part of the problem has been a lack of chances. Mbakwe is taking just five shots per game, barely half of what scoring leader Andre Hollins is getting.
It's not a coincidence that Mbakwe blew up against Stanford, posting 19 points and 12 boards. That was also the only game this season in which he attempted as many as 10 shots.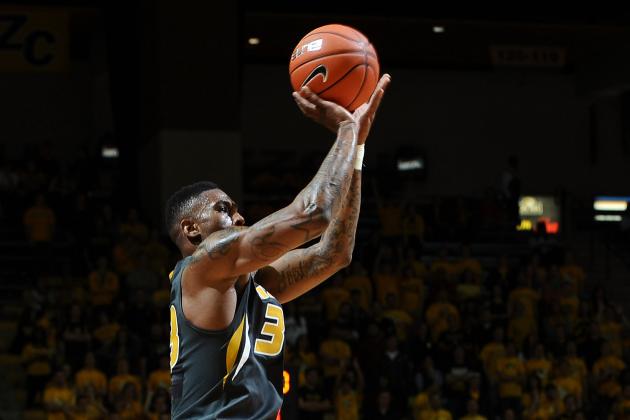 Dak Dillon-USA TODAY Sports

Lesson: Know your limitations
With apologies to point guard Phil Pressey, this year's Missouri team bears almost no resemblance to the squad that won 30 games a year ago.
The biggest change is in the Missouri Tiger offense, which no longer has the option of bombing opponents into submission from beyond the arc.
Pressey is still an effective long-range shooter, but none of Mizzou's other perimeter regulars has managed to hit even one-third of his three-point tries.
The Tigers must focus on creating shots they can actually hit, not firing up treys that they no longer have the personnel to make on a regular basis.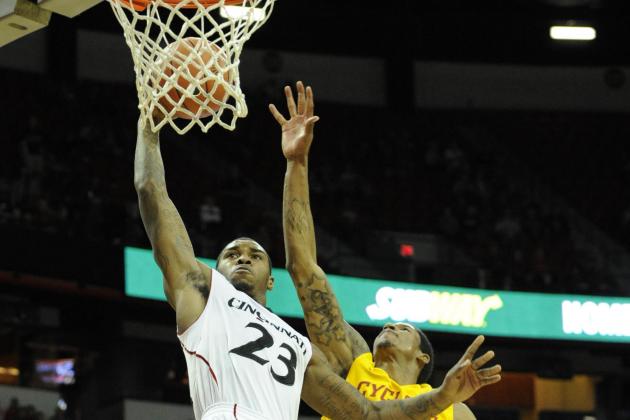 Josh Holmberg-USA TODAY Sports

Lesson: Keep attacking the rim
More than half of Cincinnati's scoring comes from its signature trio of guards: Sean Kilpatrick, Cashmere Wright and JaQuon Parker. That group has done an impressive job of getting good looks at the basket, combining for a .476 field-goal percentage.
Once conference play starts, though, it's going to be awfully tempting for the Cincinnati Bearcat stars to hang back and fire three-pointers, which all three do at better than 40 percent accuracy.
Instead, they need to keep charging into the middle against physical Big East defenses. An aggressive approach will both keep their shooting accuracy high and generate free throw opportunities.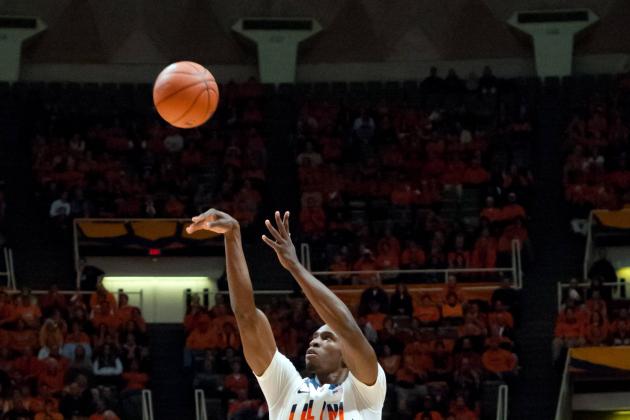 Bradley Leeb-USA TODAY Sports

Lesson: Stick with what works
With almost any other team, the advice in this slide would be something along the lines of "Stop taking so many three-pointers!" For the Illinois Illini, though, even 26 three-point tries per game isn't an excessive number.
Firstly, of course, they're actually hitting from beyond the arc, draining an astounding 39.6 percent as a team. Just as critical, the long rebounds generated by missed threes play to this roster's strengths.
Brandon Paul and D.J. Richardson rebound well for guards (a combined 9.3 boards a night), while big men Nnanna Egwu and Sam McLaurin aren't nearly as effective for their positions.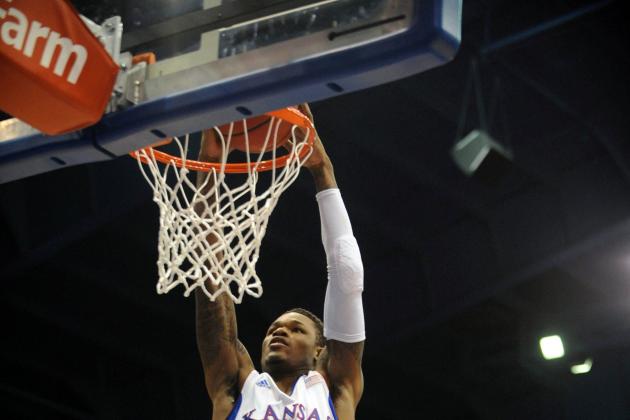 USA TODAY Sports

Lesson: The kids are alright
Senior leadership is a great thing, and the Kansas Jayhawks have it in spades. For the Jayhawks to get the most out of their offense, though, they'll have to trust an athletic corps of youngsters.
The leader of that group, of course, is redshirt frosh Ben McLemore, who's climbed into the team lead with 16 points per game.
He could be getting more help, though, with more offensive chances for promising sophomore Naadir Tharpe and agile freshman PF Perry Ellis.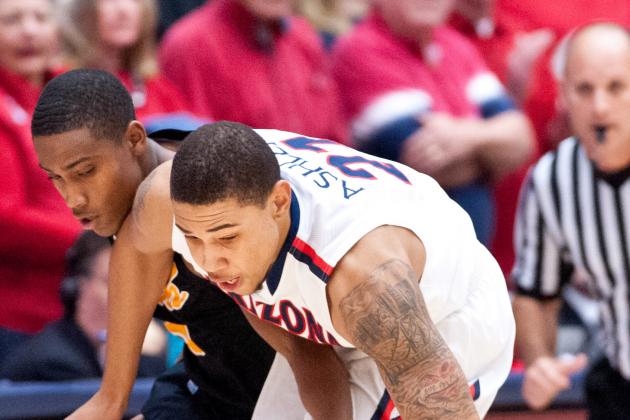 Casey Sapio-USA TODAY Sports

Lesson: Light a fire under the freshmen
A huge part of the reason Arizona got ranked No. 12 in the preseason was a monster recruiting class rated third in the nation by ESPNU. Not one of those celebrated recruits is scoring in double figures.
Brandon Ashley and Kaleb Tarczewski have both rebounded well, but Tarczewski hasn't impressed as a shot-blocker and neither one of them is looking like an impact scorer.
Grant Jerrett has been the odd man out when it comes to minutes in a crowded frontcourt, and his .364 field-goal percentage suggests he'll stay in that position.
Mark Lyons and Solomon Hill are a good start for building a contender, but they must get more help from the youngsters if Arizona is to live up to its lofty ranking.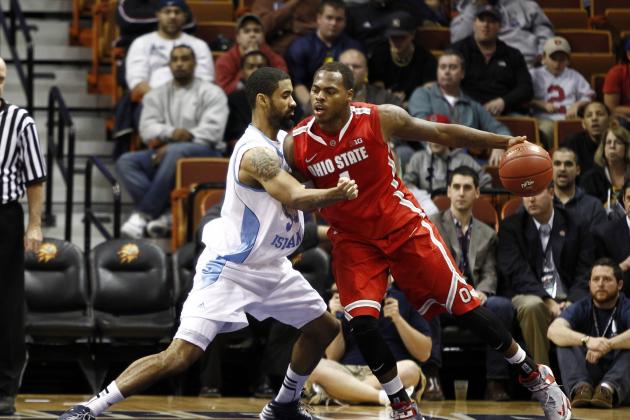 Mark L. Baer-USA TODAY Sports

Lesson: Don't get lulled into too much one-on-one
Ohio State's Deshaun Thomas is one of the most difficult players to defend in all of college basketball. For all the merits of getting Thomas the ball and letting him work, though, Ohio State can't stop playing five-on-five basketball.
In a hard-fought loss at Duke, Ohio State totaled a paltry six assists for the entire game. When Rhode Island gave OSU a scare at the Hall of Fame Tip-Off, a nine-assist night for the Ohio Buckeyes had a lot to do with it.
A team with a point guard as good as Aaron Craft shouldn't be totaling fewer assists than Michael Carter-Williams averages every night by himself.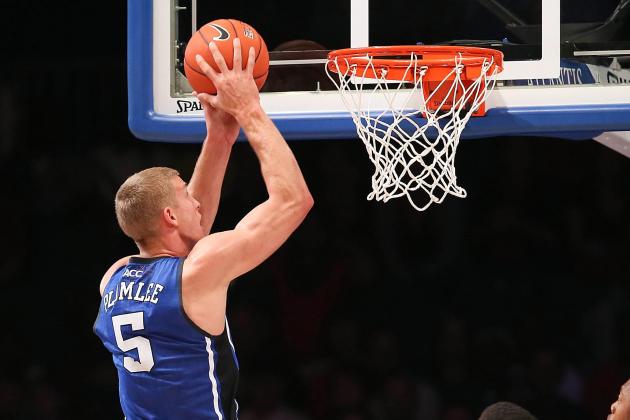 Kevin Jairaj-USA TODAY Sports

Lesson: Know when to dial back the pressure
A defense that averages 12 steals per game has been a central part of Louisville's 8-1 start. Sometimes, though, knowing when not to attack is just as important as being able to pounce on an opponent's mistakes.
The Louisville Cardinals' defense has been at its most vulnerable when its aggressiveness has led to easy looks at the basket for the opposing team.
Mason Plumlee and Rasheed Sulaimon shot a combined 12-for-17 on two-pointers against Louisville. Illinois State nearly upset the Cardinals behind a similar 13-for-21 effort from Jackie Carmichael and Tyler Brown.
Rick Pitino has to know when to call off the dogs and have his team play fundamental half-court defense, rather than playing for the steal and leaving openings for opposing scorers.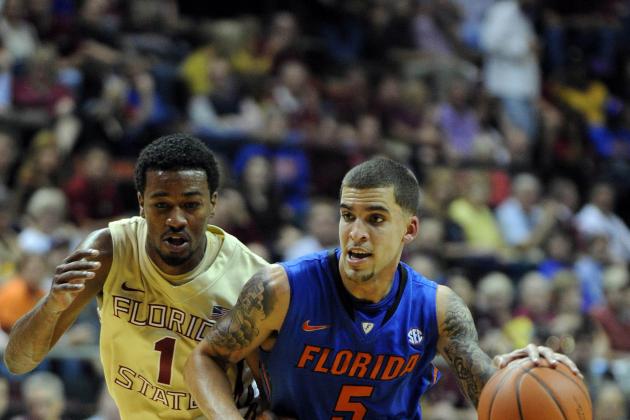 USA TODAY Sports

Lesson: Keep Scottie Wilbekin's head on straight
We still don't know what Scottie Wilbekin did to earn a three-game suspension in November. We do know that if he lets his off-court issues affect his play again, the Florida Gators are in deep trouble.
Even with Wilbekin averaging 4.4 assists per game when he's been on the floor, Florida ranks just 129th nationally in assists.
If Wilbekin gets himself suspended again, the Gators are in for a lot more games like their nine-assist, 20-turnover showing against Wisconsin (in his absence).
They won't win many of those against SEC offenses.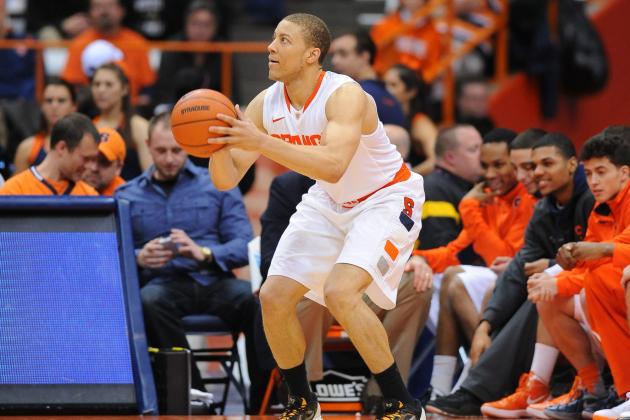 Rich Barnes-USA TODAY Sports

Lesson: Find Brandon Triche's shooting stroke
It may seem bizarre to complain about Brandon Triche's shooting when he's already Syracuse's leading scorer. However, Triche has also shot a career-worst .306 from three-point range on the season.
That's no small problem for a team with very few three-point threats—and none in the starting lineup.
The Syracuse Orange have scored at will against largely overmatched foes, but against the likes of Louisville and South Florida, they'll need a viable long-range game to keep defenses honest.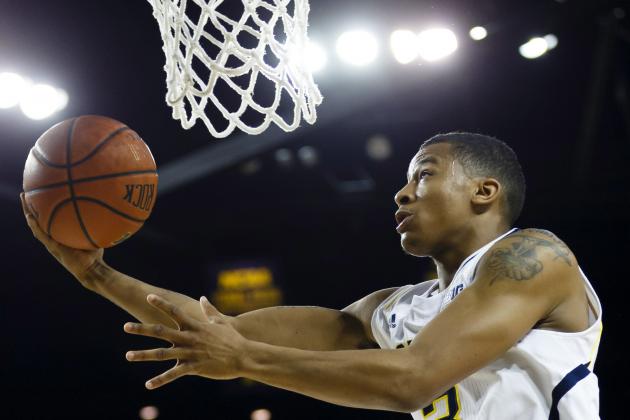 USA TODAY Sports

Lesson: Don't forget about the two-point shot
Now that Tim Hardaway Jr. has started hitting from long range again, Michigan has four serious three-point threats in its starting five.
As good as the Michigan Wolverines are from deep (and as much as coach John Beilein loves the trey), they can't fall too much in love with the arc.
In Big Ten play, there will be defenses that can keep even Michigan from lighting up the scoreboard. On nights when the treys aren't falling, Michigan needs to attack the basket rather than throwing good field-goal attempts after bad.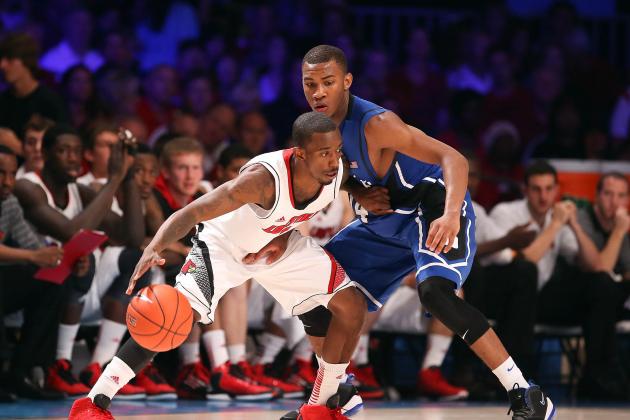 Kevin Jairaj-USA TODAY Sports

Lesson: Box out on the wings
In spite of Mason Plumlee's ACC-best 11.3 rebounds per game, Duke has struggled on the boards as a team. The bulk of the blame goes to the Duke Blue Devil guards, who have consistently allowed opposing wing players to rack up elevated rebound totals.
Perhaps the most egregious example is Louisville's 6'0", 165-pound Russ Smith, who more than doubled his season average to grab seven boards against Duke.
Granted, the Blue Devils don't have much size on the outside—three of their four primary guards are 6'2" or 6'1". Still, they've got to start getting more production from that group when it comes to keeping the other team's guards off the glass.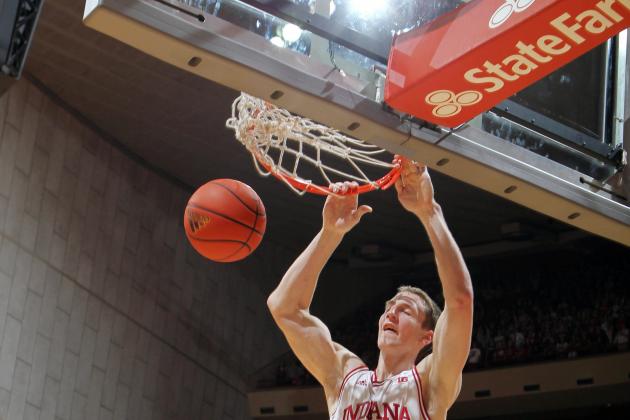 Brian Spurlock-USA TODAY Sports

Lesson: Don't get complacent
Indiana could not have played a whole lot better than it has through nine undefeated games. The Indiana Hoosiers have the nation's No. 1 scoring offense and its No. 9 field-goal defense.
They've also compiled those numbers against seven wildly overmatched foes, plus a young North Carolina team playing in Bloomington. When Big Ten play starts, Cody Zeller and company will be fighting for every victory, and they'd better be ready for it.