Pitchers Licking Their Chops After Anibal Sanchez's $80 Million Tigers Contract
Sanchez is the most recent free agent to be scooped up.
Pool/Getty Images
Another of this offseason's marquee free agents has found a home.
Right-handed starting pitcher Anibal Sanchez signed a five-year, $80 million contract with the Detroit Tigers, further depleting the ranks of available starters on the market.
Sanchez's signing was first reported in a tweet by USA Today's Bob Nightengale.
Agent Gene Mato Sanchez agrees to 5 year,$80 million deal w #Tigers

— Bob Nightengale (@BNightengale) December 14, 2012


The story was confirmed in a later tweet by CBSSports.com's Jon Heyman.
Anibal gets $80M for 5 yrs w/ tigers as @bnightengale reported

— Jon Heyman (@JonHeymanCBS) December 14, 2012

Entering this offseason, it was difficult to gauge Sanchez's market. He has never been an ace but developed into a consistent pitcher who has gotten better with age. His ERA has been between 3.55 and 3.87 in each of the past four seasons, making his production predictable.
Sanchez, who will be 29 by the start of next season, has a career record of 48-51 with a 3.75 ERA. One of his strongest talents is his ability to strike out batters, as he has whiffed an average of 7.6 per nine innings during his career.
CBSSports.com's Chris Cwik pointed out that Sanchez had a number of injuries earlier in his career, including missing all of 2003 with elbow surgery. However, he has been completely healthy for the past several seasons, giving him the track record he needed to make his new team comfortable.
Sanchez pitched well for the Detroit Tigers down the stretch this past fall as they played their way into the World Series. His 2.43 ERA in six September and October starts were a major reason the Tigers were able to take the Central Division by three games over the Chicago White Sox and why he is being brought back to Motown.
Despite his consistency, Sanchez has never won more than 13 games or had more than 196.1 innings in a single season.
The fact that he was still able to score such a fat contract will bring holiday cheer to other pitchers seeking new deals of their own.
Click through to see which three pitchers are licking their chops after the news of Sanchez's big contract.
R.A. Dickey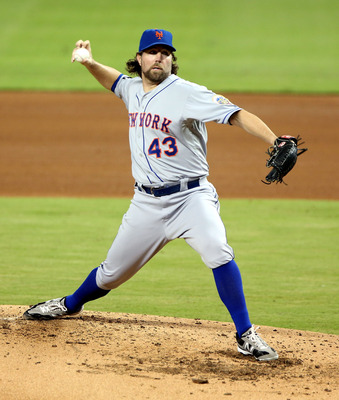 Dickey is looking to capitalize on his 2012 success.
Marc Serota/Getty Images
He may not be a free agent, but R.A. Dickey has been desperately seeking a contract extension from the New York Mets or another team if they decide to trade him.
The 38-year-old knuckleballer has one year remaining on his existing contract for $5 million. Coming off a season where he won the NL Cy Young Award, he is hoping to land the first, and perhaps the last, large contract of his career.
The Mets have played hardball with Dickey so far.
Andy Martino of the New York Daily News reported that the team was preparing to offer the pitcher a two-year, $20 million extension. However, that would be significantly less than the two-year, $26 million contract he is supposedly seeking.
Dickey may be nearly a decade older than Sanchez, but his age isn't much of a concern because of his soft-tossing pitching style.
Over the past three seasons with the Mets, Dickey has averaged 13 wins, 205 innings and a 2.95 ERA. Those stats solidly beat Sanchez's averages of 10 wins, 196 innings and a 3.70 ERA during the same time.
Dickey won't get as big a contract as Sanchez, and he's not looking for one. However, given that he has out-performed Sanchez, he now has more leverage than ever and looks completely justified in what he is asking of the Mets.
Kyle Lohse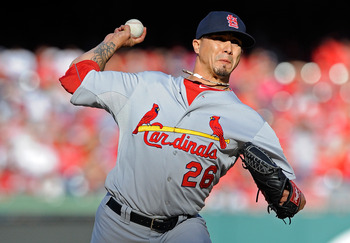 Lohse has quietly been very productive in recent seasons.
Patrick McDermott/Getty Images
It appears that the right-handed Kyle Lohse will cash in by waiting out the signings of more highly regarded starting pitchers like Sanchez and Zack Greinke.
Like Sanchez, Lohse experienced a multitude of injuries earlier in his career but has been one of the most consistent hurlers in recent years. Similarly, he has also re-established a reputation of durability that should give confidence to bidding teams.
Pitching for the St. Louis Cardinals, Lohse has averaged 15 wins and a 3.11 ERA over the past two seasons. He is not a strikeout pitcher, averaging just 5.6 punch-outs per nine innings for his career, but he has learned to get hitters out consistently.
A 12-year MLB veteran, Lohse offers valuable experience to the next team that signs him. He has 118 career regular-season wins under his belt and has also been part of six playoff teams. These reasons should make him an attractive free-agent option.
Lohse is coming off a four-year, $41 million contract and could surpass those numbers this time around. Derrick Goold of the St. Louis Post-Dispatch wrote that the pitcher planned from the beginning to wait out the bigger-name pitchers to see how his market would develop.
Teams like the Texas Rangers, Los Angeles Angels, Chicago Cubs and Washington Nationals, which missed out on the premium free-agent pitchers, may see Lohse as their consolation prize.
It appears very likely that his patience will pay off in a big way.
Edwin Jackson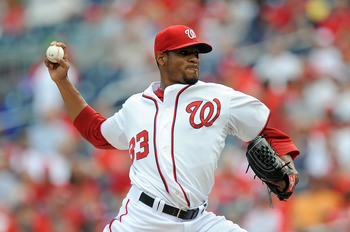 Teams will know what they are getting if they sign Jackson.
Greg Fiume/Getty Images
Edwin Jackson's offseason strategy has been nearly identical to that of Lohse. In all likelihood it will also pay off in a similar fashion.
Jackson was a free agent last season. Unable to find a long-term deal he liked, he ended up signing with the Washington Nationals for one year at $11 million.
The right-hander has a fastball that has averaged 94.3 mph over the past six seasons, according to FanGraphs.com. Despite the big arm, he has never developed into a full-fledged star but is considered a solid starter.
In a 10-year major league career, Jackson has a 70-71 record with a 4.40 ERA. Despite those rather pedestrian numbers, he has many qualities that will be coveted by teams.
Jackson has struck out an average of 6.9 hitters per nine innings during his career. He has also never been felled by serious injury, throwing at least 180 innings in each of the past five seasons.
While Jackson may not be the prototypical ace, he is the kind of solid pitcher whom teams can feel comfortable about sticking in the middle of their rotation.
Now that Sanchez has signed, he should start to receive a lot of interest, as the scramble to improve pitching for the upcoming season heats up.
Statistics via BaseballReference
Keep Reading