Jets vs. Titans: Final Grades for Tennessee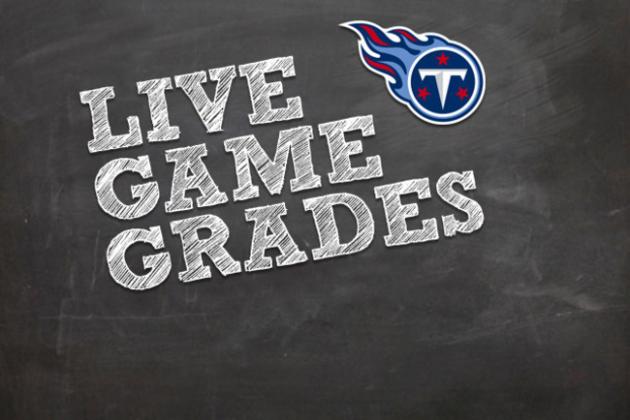 Though the game certainly won't be remembered as the best Monday Night Football game ever played, any win the Tennessee Titans can manage at this point is cause for celebration.
Despite an ugly offensive performance and 14 total penalties, the Titans escaped with a 14-10 victory over the New York Jets in Nashville on Monday.
Tennessee intercepted Mark Sanchez four times, and the Jets quarterback also lost a fumble at the 25 yard line with under a minute remaining in regulation, to highlight a dominate defensive effort by the Titans.
Begin Slideshow

»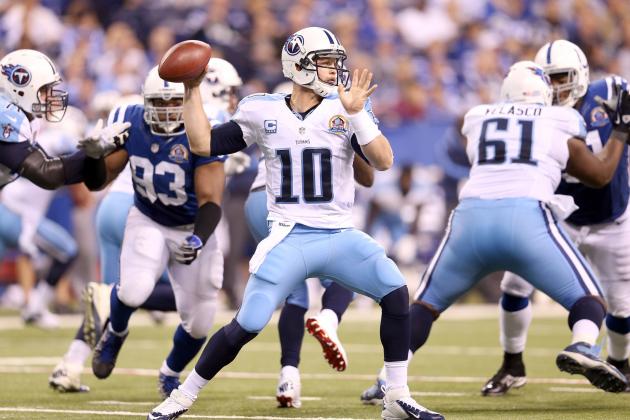 Andy Lyons/Getty Images

Jake Locker
Game Grade: C-
Jake Locker's night was filled with inconsistency.
From inconsistent pass blocking from his offensive line to his own shoddy accuracy, this will definitely not go down as one of Locker's most impressive outings when he looks back at his career.
With that said, Locker managed to lead a go-ahead touchdown drive late in the fourth quarter, capping off the possession with a 13-yard touchdown run which put the Titans ahead for good.
Locker finished the night with 149 yards passing and added another 43 yards rushing to lead the Titans rather disappointing passing offense.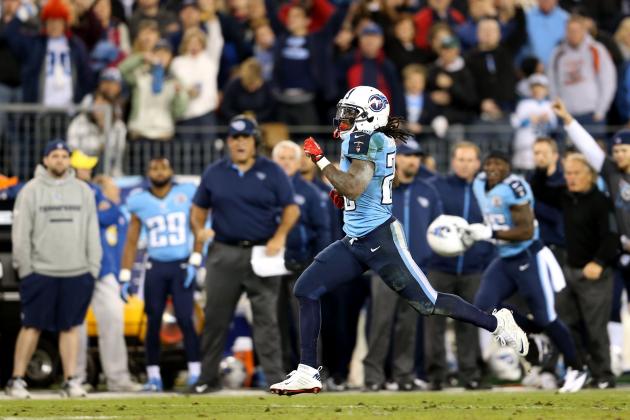 Andy Lyons/Getty Images

Chris Johnson
Game Grade: B
Chris Johnson and the Tennessee Titans running game was saved by a 94-yard touchdown run in the second quarter that provided one of the very few offensive highlights in this contest.
With the exception of the long run, Johnson carried the ball 20 times for 28 yards and was routinely hit in the backfield as he attempted to run behind a makeshift offensive line that was unable to open up holes and provide the Titans running back with space.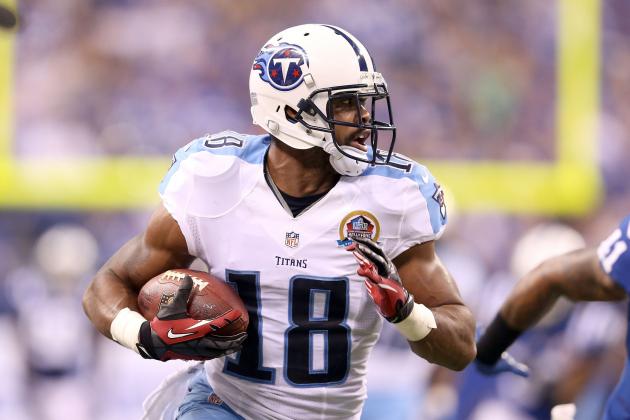 Andy Lyons/Getty Images

Kenny Britt
Game grade: D+
Britt was invisible for much of the game, as he failed to separate from Jets cornerback Antonio Cromartie, who trailed him for much of the game.
Though Locker took a number of shots in Britt's direction, his impact on the game was minimal as the passing game as a whole struggled.
Nate Washington/Kendall Wright
Game grade: C
While Washington and Wright managed to get involved more often then Britt, both of them disappeared for large chunks of the game.
Each of them had opportunities to turn solid gains into huge plays, but failed to make men miss in the open field, limiting their statistical output in the contest.
Craig Stevens
Game grade: C
With Jared Cook out for the remainder of the season, it was expected that Stevens would take on more of a role in the Titans passing attack.
However, the Titans tight end caught only two passes for 16 yards, and was rarely targeted despite running more routes than usual.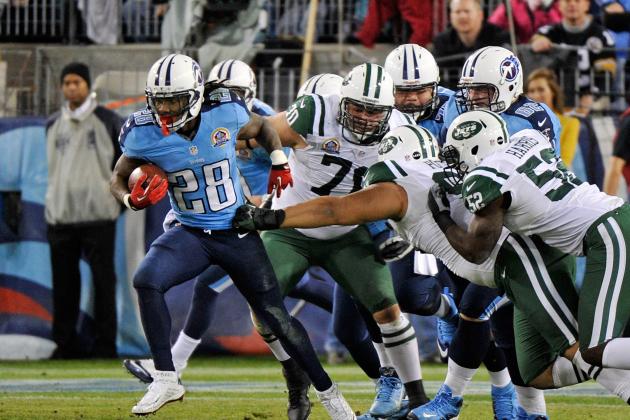 Frederick Breedon/Getty Images

Offensive Line
Grade: D+
While the unit could be ranked as individuals, overall, they simply performed below average as a group.
With Steve Hutchinson, Leroy Harris and David Stewart now out for the season and Kevin Matthews getting injured early on in the game, the Titans were forced to line up with Kyle DeVan, Mike Otto and Deuce Lutui across their line at different points in the game.
All things considered, the line as a whole performed admirably, it still struggled to open up holes for Chris Johnson and had Jake Locker scrambling for his life more often than the coaching staff would like to see.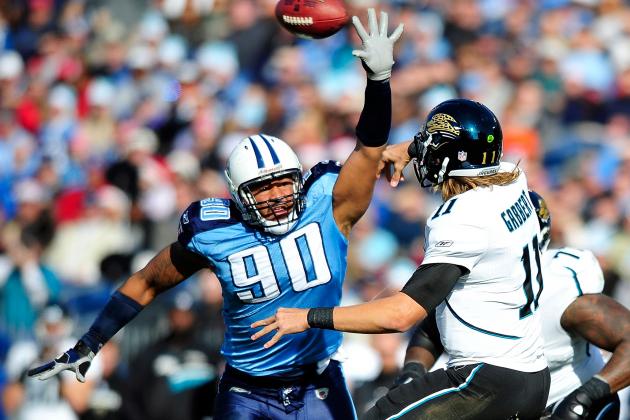 Grant Halverson/Getty Images

Derrick Morgan
Game grade: A-
Derrick Morgan continued to build on his string of quality performances, recording a sack and consistently getting pressure off the edge for Tennessee.
Morgan has always played the run well, but the pass rushing ability that led to him being taken in the first round of the 2010 draft is finally starting to appear, and it should spell good things for the future of the Titans defensive line.
Remainder of the Titans defensive line
Game grade: B
While the unit as a whole struggled to generate pressure when rushing just the front four, they showed their effectiveness when defensive coordinator Jerry Gray elected to bring extra men.
Though they did not necessarily turn in a memorable performance, they did enough against the run and pass to keep New York off the board throughout most of the game.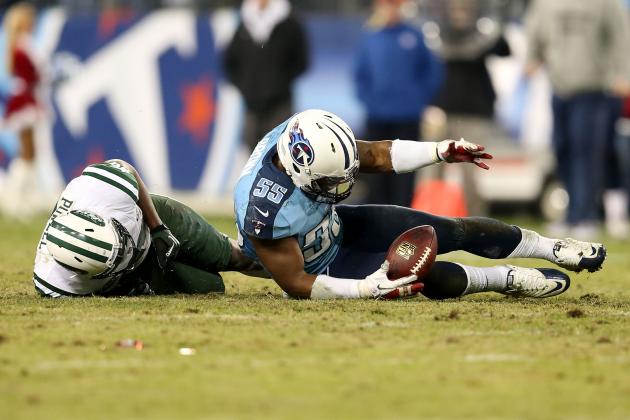 Andy Lyons/Getty Images

Zach Brown
Game grade: A
Though he has been very good in recent weeks, Monday was simply Zach Brown's breakout performance.
The rookie outside linebacker flew around the field, making plays behind the line of scrimmage in the run game while also flowing to the ball in the passing game.
However, Brown's biggest impact came as a pass-rusher, where he was often utilized as a fifth or sixth man and harassed Mark Sanchez, bringing down the Jets quarterback twice.
Akeem Ayers
Game grade: B+
While Ayers may not have had quite the performance as the man opposite him, he once again showed his versatility, serving as both a defensive end and a strongside linebacker while playing both positions very effectively.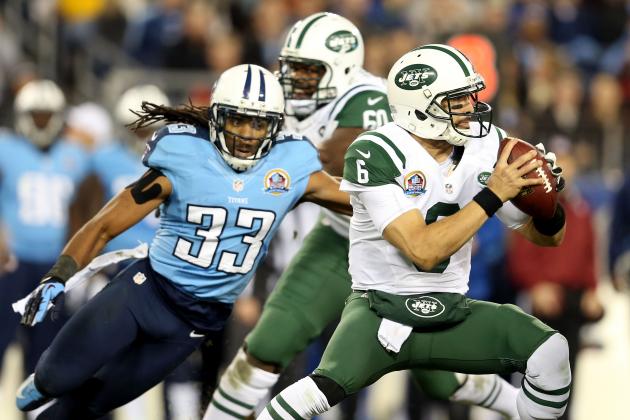 Andy Lyons/Getty Images

Jason McCourty
Game grade: A-
McCourty recorded his third and fourth interceptions of the season while routinely shutting down whichever wide receiver was placed in front of him.
While McCourty surrendered a few receptions, he provided the Titans defense with the spark it desperately needed in forcing the Jets first two turnovers.
Michael Griffin
Game grade: A-
While his tackling was still questionable and his overall performance was certainly not perfect, Griffin finally showcased the play-making ability that the Titans have seemingly been waiting two years to see.
The Tennessee safety made a pair of interceptions, running around the field and showing the range that still gives some Titans fans hope that he is capable of once again becoming a quality free safety.
Alterraun Verner
Game grade: C+
Verner was targeted early and often by Mark Sanchez, and though he didn't surrender any big plays, he still allowed more catches than I am sure he would have liked.
Jordan Babineaux
Game grade: C-
Though he got better as the night progressed, Babineaux made a pair of costly penalties on the Jets first drive and his overall lack of range continues to hurt the Titans secondary when he is on the field.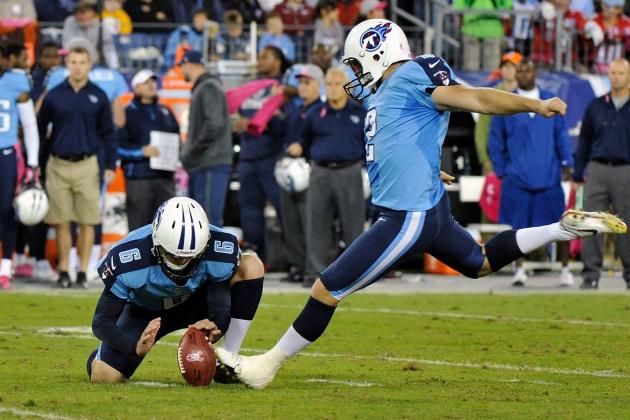 Frederick Breedon/Getty Images

Rob Bironas
Game grade: INC
With just one field goal attempt, which was blocked, on the night, it's not really fair to give Bironas a complete grade for the night.
Though, as usual, Bironas was solid on kick offs.
Brett Kern
Game grade: D-
Kern punted the ball ten times on the night, with two seemingly going off the side of his foot to set up the Jets with quality field position.
Though the other eight were solid, his last shank set the Jets up at the Titans 25 yard line with a chance to hand New York the victory.