UFC on FX 6 Results: Questions Heading into UFC 155 Dos Santos vs. Velasquez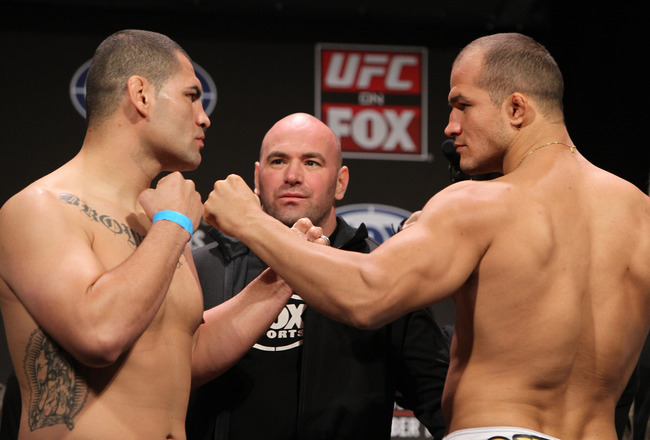 Josh Hedges/Zuffa LLC UFC via Getty Images

UFC on FX 6 is in the books and the Hector Lombard everyone expected in his first UFC fight showed up in Australia. Two new TUF winners were crowned in Norman Parke and Robert Whitaker.
Yes, there is a fight card coming on Saturday, but we've already previewed that one here, if you care to take a look. So, instead of rehashing that, we'll look toward UFC 155, which will take place on December 29 and features a heavyweight title bout as the main event.
Before we get into the questions heading into the final UFC event of they year, here are the full results from UFC on FX 6:
Ross Pearson defeats George Sotiropoulos via TKO (strikes) at 0:41 of Round 3.
Robert Whittaker defeats Brad Scott via unanimous decision (29-28 x3).
Norman Parke defeats Colin Fletcher via unanimous decision (30-27, 30-27, 29-28).
Hector Lombard defeats Rousimar Palhares via TKO (strikes) at 3:38 of Round 1.
Chad Mendes defeats Yaotzin Meza via knockout (strikes) at 1:55 of Round 1.
Joey Beltran defeats Igor Pokrajac via unanimous decision (30-27 x3).
Mike Pierce defeats Seth Baczynski via unanimous decision (30-27, 29-28, 29-28).
Ben Alloway defeats Manuel Rodriguez via knockout (front kick) at 4:57 of Round 1.
Mike Wilkinson defeats Brendan Loughnane via unanimous decision (29-28 x3).
Cody Donovan defeats Nick Penner via TKO (strikes) at 4:35 of Round 1.
What Can We Expect from Todd Duffee?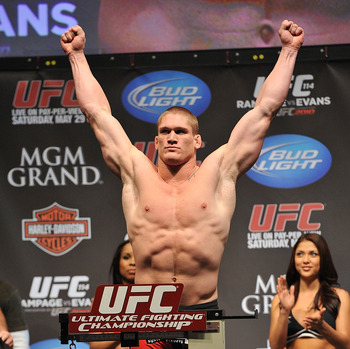 Jon Kopaloff/Getty Images
Todd Duffee's first go-round with the UFC lasted a total of two fights and 12:40. He made his presence felt in his first fight with the promotion, knocking out Tim Hague in seven seconds.
In his second UFC battle, he looked well on his way to a second victory until Mike Russow tagged him with a right that left Duffee down and out. During the pay-per-view broadcast commentator Joe Rogan described the come-from-behind win as "the craziest thing I've seen in a thousand fights," and then followed that up with repeated shouts of "Oh my God!"

Duffee was forced from his next fight due to injury and then he was gone, released from the UFC in September 2010.
When asked to comment on Duffee's release, UFC president Dana White said, "The biggest problem I have with Todd Duffee is his attitude. Todd Duffee, to me, seems like he doesn't want to be in the UFC, he doesn't like being in the UFC and let him go fight and work his way back up, if he even wants to work his way back to the UFC" (via via SB Nation).
Duffee has fought twice since his release from the UFC, losing to Alistair Overeem via knockout in 19 seconds and then defeating Neil Grove by TKO in 34 seconds.
An opportunity presented itself to Duffee when Matt Mitrione moved to the headlining bout of The Ultimate Fighter 16 finale and Duffee now finds himself back in the UFC, facing Phil De Fries at UFC 155.

Being a late injury replacement gives Duffee the opportunity to show that he has changed and that he is ready to be part of the UFC team. The question is: will Duffee convince the UFC brass to keep him on past this single fight?
Can Costa Philippou Make the Most of This Opportunity?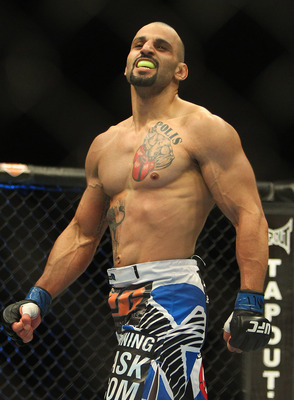 Tom Szczerbowski-USA TODAY Sports
Tim Boetsch was originally scheduled to face Chris Weidman at UFC 155. That fight would have been the perfect opportunity for Boetsch to play middleweight spoiler, as Weidman is a fighter that many feel deserves a shot at UFC middleweight champion Anderson Silva.
Boetsch, a man who has gone 4-0 since dropping to middleweight, was in prime position to end the Weidman title shot talk and launch himself into contention with a win over Weidman.
Alas, an injury knocked Weidman from the fight, slamming the door on Boetsch's chance at ending Weidman's title aspirations.

Now, Costa Philippou gets the chance to play spoiler to Boetsch. Philippou was tapped to take Weidman's place on the card and, like Boestch, he carries a four-fight unbeaten streak into the December 29 card.
Can Philippou take advantage of this opportunity and advance up the middleweight depth chart, sending Boetsch a few steps back?
Joe Lauzon or Jim Miller: Who Bounces Back?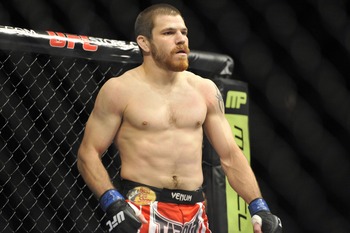 Joe Camporeale-USA TODAY Sports
Not too long ago, both of these men seemed headed toward the top of the UFC's lightweight division. Miller was riding a seven-fight winning streak before going 1-2 in his last three fights.
Lauzon may not have had the winning streak that Miller did, but he was on quite a run, going 5-2 and earning six consecutive "Fight Night" bonuses before being knocked out by Anthony Pettis at UFC 144.

Miller's last bout was a submission loss to Nate Diaz, while Lauzon comes off a win over Jamie Varner in his last bout. A win, I should mention, that earned him "Submission of the Night" and "Fight of the Night" bonus dollars.

That win over Varner was nice for Lauzon's checkbook, but it didn't really help him in the rankings. A win over Miller, well, that's another story.
As for Miller, he needs a strong performance over Lauzon to show that he is still a factor in the lightweight division. Losses to Benson Henderson and Nate Diaz are not bad, but they do leave one wondering if Miller can hang with the cream of the crop at 155.

If I had to name a must-win fight that also has the potential to take home some bonus money, this would be the one.
Job on the Line Fight: Leonard Garcia vs. Cody McKenzie?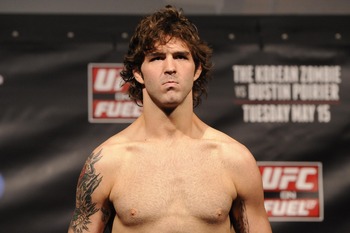 Rafael Suanes-USA TODAY Sports
No one outside of Cody McKenzie's camp saw him getting by Chad Mendes at UFC 148. With that being said, no one probably expected the fight to end so fast and in the manner it did: 31 seconds and a punch to the body.
In his second go-round at featherweight, McKenzie will look to put Leonard Garcia's UFC career on life support.

Garcia is riding a three-fight losing streak and if you poll fans, you'll find many that argue that losing streak should really extend to six fights, as they feel he lost bouts to Nam Phan and Chan Sung-Jung. In both fights he was awarded a split-decision victory.

This could be the fight that ends someone's run with the UFC.
While Garcia is facing a four-fight losing streak with a defeat, McKenzie is by no means safe, as a loss would give him a record of 1-4 in his last five fights.

So who wins?
Easy, the fighter that can execute his game plan. McKenzie will look for a guillotine choke, a maneuver that has secured victory for him in 11 of his 13 wins, while Garcia will look to keep the fight standing and give the judges a slugfest.

If I had to pick a loser leaving town fight for this card, this would be that fight.
Can Michael Johnson Continue to Progress?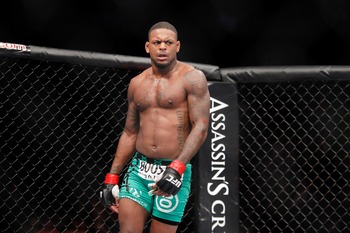 Bruce Kluckhohn-USA TODAY Sports
The book on Michael Johnson was, and I stress the word "was," that he had strong wrestling skills, but the other aspects of his arsenal were underdeveloped.
Johnson has added another page to that book over his last few bouts, showing developing striking skills. Johnson fully showcased those skills in his last fight, a second-round knockout win over Danny Castillo in early October.

The question now is: can Johnson, an individual who may have the biggest upside of any fighter coming out of the Blackzilians camp, take the next step when he faces the unbeaten Myles Jury at UFC 155?

If Johnson hopes to keep moving up the 155 depth chart, he needs a win against Jury. Otherwise, he'll find himself lost in the middle of the pack in a stacked weight division.
A single loss at lightweight could leave a fighter looking at stringing together a significant number of wins to regain any type of footing.
Eddie Wineland vs. Brad Pickett: Sleeper Fight of the Night?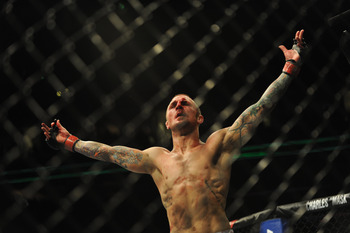 Steve Mitchell-USA TODAY Sports
I understand that some fight fans find the bantamweights to be less than entertaining. I also understand that some fight fans are really, really, really missing the boat when it comes to the UFC's "little guys."

Between them, Eddie Wineland and Brad Pickett have competed in 56 professional MMA bouts. Of that number, 41 of them have come to a close before the final bell.

Picket is riding a streak of three consecutive fights where he picked up "Fight Night" bonus money, while Wineland received a little extra cash in three of his last five.

Viewers may be tuning in to see the big boys fight in the evening's main event, but if you think this is the fight where you can get up and get a snack because it's "just" two little dudes fighting, you'll be making a huge mistake.
Can Alan Belcher Deliver a Signature Victory?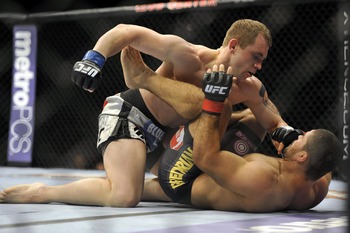 Joe Camporeale-USA TODAY Sports
Alan Belcher has had an up-and-down career over the last two years. He wrapped up 2009 with a record of 15-6 and then went on to submit Patrick Cote in May 2010.
After that, he was set to main event a Fight Night card against Demian Maia, but eye surgery knocked him from that card.
When Belcher did make it back to the Octagon, he made the most of it, pounding a submission out of Jason MacDonald in 3:48 on September 17, 2011. Belcher then faced Rousimar Palhares on May 5, 2012, and to the shock of many showed no fear of Palhares' ground game on the way to a TKO win in the first round.

That victory earned him a shot at Vitor Belfort, but alas that fight was not to be as Belfort was moved to UFC 151 to face Jon Jones for the UFC light heavyweight title. Belcher termed the cancellation a blessing in disguise, as he revealed that he had been training with a fractured spine. Yes, you read that correctly, a fractured spine!

Which brings us to UFC 155, where Belcher will face Yushin Okami, a man who defeated him via unanimous decision at UFC 62.

A win over Okami and Belcher could start to make noise about a potential shot at Anderson Silva's middleweight crown. He would be in the mix for that fight along with Chris Weidman and Michael Bisping.
The problem Belcher faces is that his name doesn't ring out like the other two names due to his relative inactivity as of late.

If Belcher hopes to really put his name in the mix, he's going to have to deliver a signature win on December 29. The Palhares victory was a nice start, but a dominant win over Okami, a fighter not that far removed from a title shot of his own, would be much nicer.
What Will We See From Chris Leben?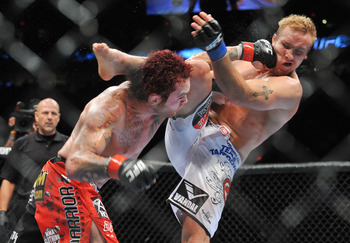 Jon Kopaloff/Getty Images
Chris Leben's last fight with the UFC didn't go so well, but the loss he suffered at the hands of Mark Munoz was nothing compared to what followed. Leben was found to have both oxycodone and oxymorphone in his system after the fight and was suspended for one year.
Leben took take a big step, owning up to his addictions and heading into rehab.

In a recent interview in the holiday issue of Fighters Only, Leben said, "I'm just really, really excited and amped and stressed and nervous to be getting back in there. There's all these emotions, and how I handle those emotions is huge right now. It's so many things. It's a test. It's exciting, it's scary. It's everything."
Leben is correct, his UFC 155 fight against Karlos Vemola is a test and it will be interesting to see how he responds. Will the pressure overwhelm him or will it have the opposite effect and drive him to prove the doubters wrong?

Will the Two Heavyweights Be Healthy?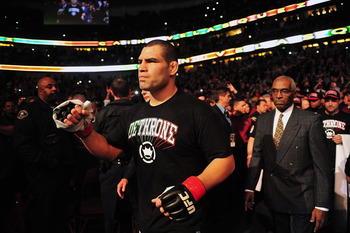 Gary A. Vasquez-USA TODAY Sports
Junior dos Santos and Cain Velasquez will meet in UFC 155's main event. The first time the two faced off, the fight was brief, with Dos Santos scoring a knockout over Velasquez and claiming the heavyweight title for his own.

After the fight, news of injuries to both fighters came to light. Dos Santos admitted to a knee injury in the post-fight presser, while Joe Rogan offered up that he heard Velasquez had a "knee issue" heading into the fight as well.

Injury talk always plants a seed of doubt, causing some to question, what if?
The questions the injury talk brings may not be legit, but there will always be doubt. Let's hope both fighters enter this fight as healthy as can be and leave no doubt as to who the true UFC heavyweight champion is on December 29.
Can the Event End 2012 on a High Note?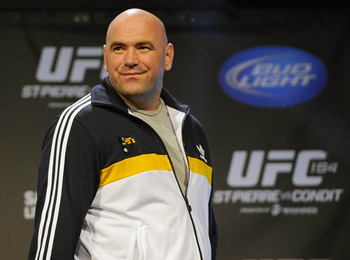 Eric Bolte-USA TODAY Sports
2012 has been a rough year for the UFC. Injuries, arrests and more injuries, fighters turning down fights, some more injuries, questions about possible stagnation or losses in regard to pay-per-view buys have all been among the downers facing the promotion.

The UFC brass needs a positive to head into 2013, something that they can hang their hats on and point to as inspiration heading into the new year. UFC on FOX 5 was a good start for the final month of 2012. If the promotion can carry that momentum through December 29, it will go a long way toward ringing in the new year on a positive note, erasing some of the gloom that has been hanging over the UFC over the previous 11 months.
Keep Reading