7 Current Maple Leafs' Players Toronto Fans Love Most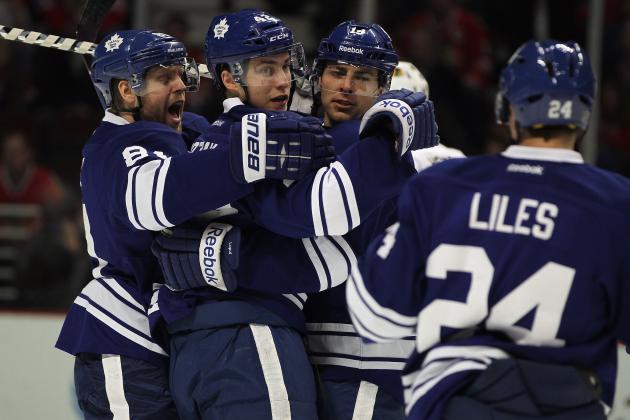 Jonathan Daniel/Getty Images
Despite a late-season collapse in 2011-12, these Leafs are a promising bunch.
Which one of the current Toronto Maple Leafs players do you love the most?
Despite the team failing to appear in the playoffs over the past seven seasons, beloved Leafs fans have not wavered in their support of one of the NHL's most storied franchises.
The decision-makers in the front office have pulled the trigger on some big moves in recent years, bringing talented players like Phil Kessel, Dion Phaneuf and most recently, James van Riemsdyk on board.
There have been many debates as to whether general manager Brian Burke and co. gave up too much to acquire the services of said players, however, as many feel they most certainly did.
Nonetheless, their efforts do not go unappreciated and the promise many of the club's talented youngsters possess spreads excitement throughout the fanbase as it looks to the future.
Let's take a look at the seven current Maple Leafs Toronto fans love most.
Begin Slideshow

»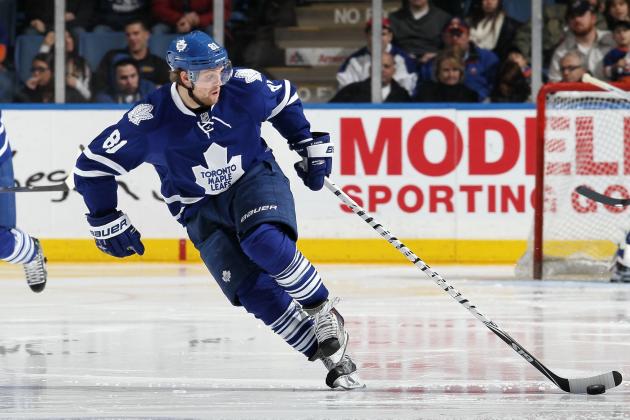 Jim McIsaac/Getty Images
Phil Kessel is a scoring machine when he's locked in.
Phil Kessel has now spent half of his six-year career with the Leafs and he's notched at least 30 goals in each of those seasons. The 37 goals the winger picked up in 2011-12 were a career high.
Kessel is one of the NHL's best at putting the puck in the net, and fans love him for it.
Having just turned 25 in October, it's amazing that Kessel already has four 30-goal campaigns under his belt. The sharpshooter has led the Leafs in points for the last three seasons. That's a trend that isn't likely to change anytime soon.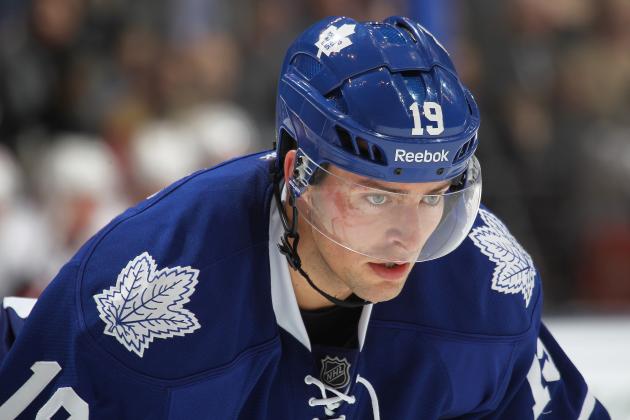 Claus Andersen/Getty Images
It didn't take Lupul to find success with his new team.
Joffrey Lupul joined the Leafs via trade late in the 2010-11 season. He and Kessel jelled nicely on the first line a season ago, and Lupul enjoyed his finest campaign to date.
The pair was invited to the 2011-12 NHL All-Star Game as a result of a phenomenal first half of the year. Lupul piled up 30 points over the first 25 games and continued a pace of around a point per game up before he was sidelined for the season with a separated shoulder.
Injuries have held Lupul back in recent years, but never in his career had he finished with more than 53 points in a season. In 2011-12 he finished with 67 in 66 games, including a career high 42 assists.
Injury aside, Lupul has flourished since his arrival in Toronto. Needless to say, Leafs fans can't wait to see more.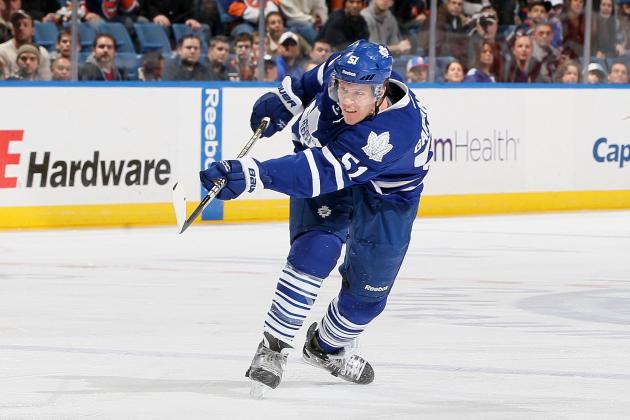 Jim McIsaac/Getty Images
Hockey fans in Toronto are thrilled about seeing Gardiner being to fulfill his massive potential.
Lupul wasn't the only valuable addition to come in the Feb. 9, 2011 trade that sent defenseman Francois Beauchemin to Anaheim.
Twenty-two-year-old D-man Jake Gardiner, the 17th overall pick in the 2008 NHL draft, joined the Leafs as well. A player who was once a promising young prospect with excellent puck-moving abilities has since transformed into a budding star.
Gardiner made his NHL debut in 2011-12, and wound up playing 75 games with Toronto while contributing with seven goals and 23 assists. He's a smooth skater and continues to improve from a defensive standpoint.
Gardiner's potential is through the roof and he's wasted no time in becoming a favorite among Leafs fans.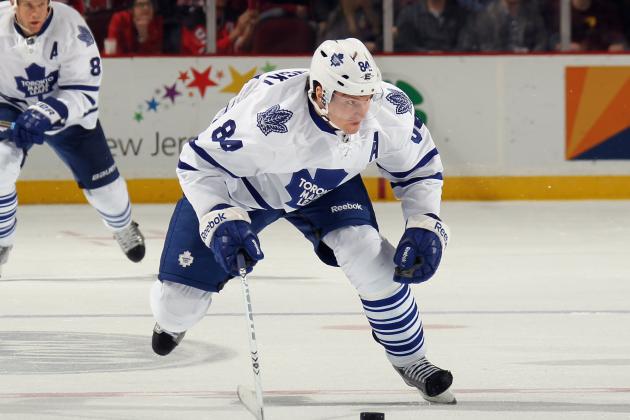 Bruce Bennett/Getty Images
Grabovski has quietly become a very solid play over the years.
Mikhail Grabovski is an exciting player to watch and one of the better players on Toronto's roster.
Though he isn't positioned on the team's first line, the 28-year-old is the most productive center the Leafs have. Grabovski finished with more than 50 points each of the last two seasons.
Grabovski led the team in plus-minus in 2010-11 (plus-14) and finished near the top (even) in 2011-12 as well.
He's quietly developed into a well-rounded player, and one most Leafs fans would prefer to see stick around.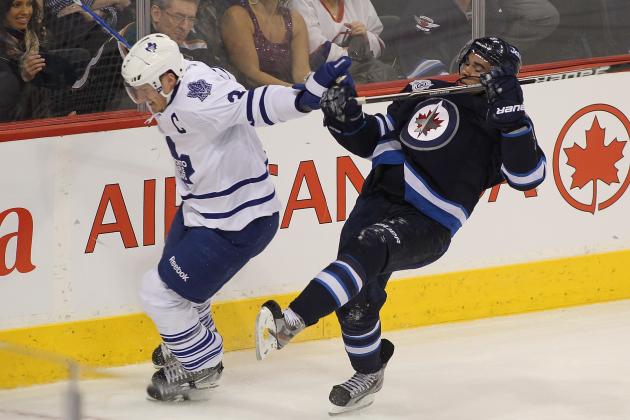 Marianne Helm/Getty Images
Phaneuf is always good for a few thrills every time he takes the ice.
Love him or hate him, watching Dion Phaneuf play hockey is never boring.
At 6'3", 214 pounds, the Leafs captain isn't shy about throwing his body weight around or even dropping the gloves, but he does it while remaining one of the NHL's top scoring defensemen.
Some would like to see more out of the team's leader, especially after the Leafs' late-season collapse in 2011-12. Phaneuf's production has declined since coming over from Calgary, but he's still one of the league's top D-men and could thrive with new head coach Randy Carlyle behind the bench.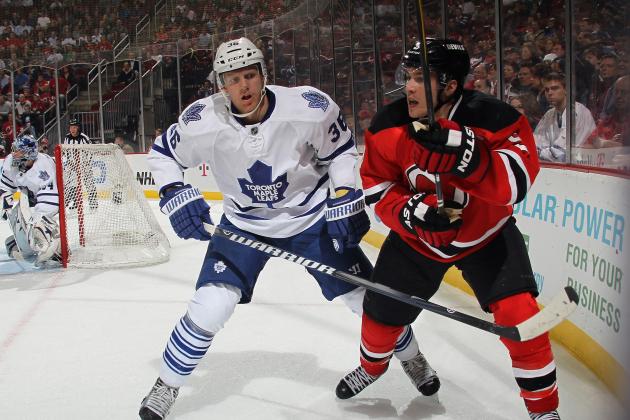 Bruce Bennett/Getty Images
Gunnar is one of the more consistent skaters the Leafs have.
Carl Gunnarsson isn't flashy by any means, but Leafs fans love the D-man for his consistency on the ice.
The 26-year-old was the team's seventh-round draft pick in 2007 and has played in 187 games since making his NHL debut in the 2009-10 season—including 76 last year.
Gunnar probably isn't going to get you more than 20 to 25 points in any given season, but he's a grinder and can typically be relied upon in his own zone.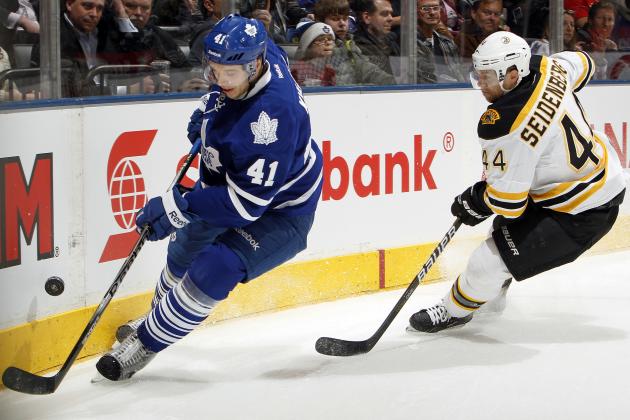 Abelimages/Getty Images
Kulemin disappointed in 2011-12, but he remains a key piece of the puzzle in Toronto.
Nikolai Kulemin struggled a season ago, but the 26-year-old was a 30-goal scorer in 2010-11 and remains an important piece of the Leafs' future.
The young left wing has a tremendous shot and he's solid defensively as well. His disappointing campaign from a year ago may have gotten some fans down, but a bounce-back year should be expected.
Kulemin converted on just 6.5 percent of shot attempts in 2011-12, as opposed to 17.6 percent the year before. His four-year career average is 12.3 percent, so it'd be shocking if he didn't return to form whenever hockey eventually gets underway.