SA Spurs vs. Portland Trail Blazers: Live Score, Results and Game Highlights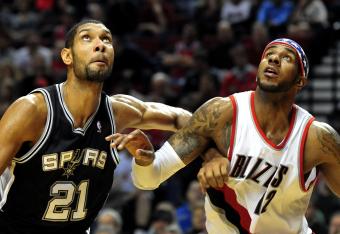 Steve Dykes-USA TODAY Sports
The San Antonio Spurs (18-5) hit the road for the 15th time this season as they face the Portland Trail Blazers (9-12).
The Spurs are coming off a heartbreaking loss in Utah last night, as Mo Williams drilled a late three to win the game. This will be San Antonio's final game of a four-game road trip, and it certainly will be looking to avenge its first loss of the month.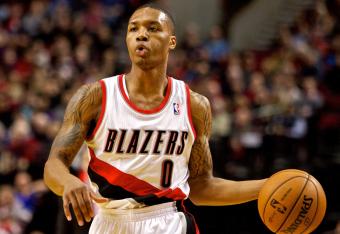 Recap
Earlier this season the Portland Trailblazers lost the the San Antonio Spurs who were without Tony Parker and Manu Ginobili. The Spurs came in near full health, but left with a second loss in as many nights 98-90.
The rookie, Damian Lilliard, stole the show in the Rose Garden as he absolutely demolished the Spurs defense to the tone of a career-high 29 points, seven rebounds and six assists.
Lilliard would exit the game early in the first quarter with two quick fouls and only two points. Upon his return the Blazers would take the lead and never look back.
While Lilliard was on the bench LaMarcus Aldridge took over.
Aldridge shot a blistering 10-16 from the field for 22 points and six rebounds.
LaMarcus' ability to stretch the Spurs defense was a thorn in their side all night long as he consistently knocked down jumper after jumper.
The Spurs were led by Tony Parker's 21 points and five assists. Parker seemed up to the challenge, but turnovers plagued San Antonio all night long as they finished with 19.
Tim Duncan was held to 16 points and six rebounds. While he did not play much in the first half, Greg Popovich consistently had to switch Duncan onto Aldridge, because nobody else on the roster could check him.
The young Blazers showed off how lethal their two-man game with Lilliard and Aldridge can be as the Spurs were unable to slow either player down.
The Blazers come out of the contest with their 10th win of the season and by far their best.
That look on Pop's face when Nic Batum dropped the 3 to make it 96-90: "Yup, that's why we've tried so many times to make that guy a Spur."

— Ric Bucher (@RicBucher) December 14, 2012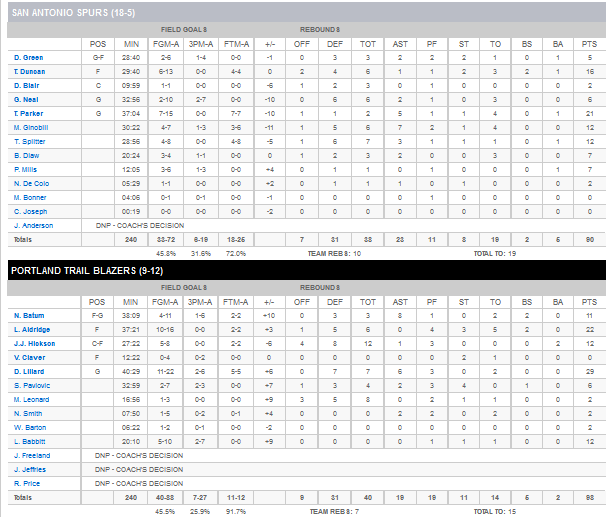 Final Boxscore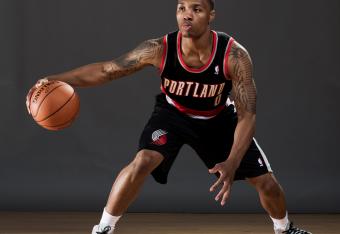 Portland outscores the Spurs in every quarter and pickup their best win of the season.
Spurs 90, Blazers 98 - FINAL
Duncan forces a turnover, but the Spurs miss two open threes.
Batum to the line to put it away.
Spurs 90, Blazers 98 - :8 REMAINING 4TH QUARTER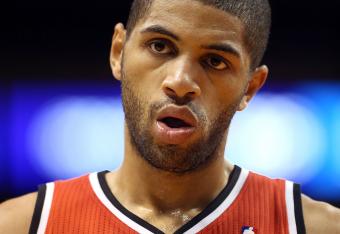 Parker drives and pumps three times, but Batum swats him at the rim.
Manu uses the Spurs foul to give and Portland calls a timeout to diagram a play.
Spurs 90, Blazers 96 - :42 REMAINING 4TH QUARTER
Batum comes off a side-screen and hits a fading three to stretch the lead to six. Im not sure that is the exact shot they wanted him to take, considering he is 4-11, but it works.
Spurs 90, Blazers 96 - 1:08 REMAINING 4TH QUARTER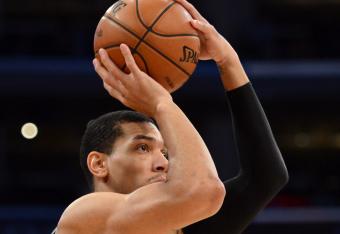 Danny Green comes off the bench and hits a clutch three.
However, Lillard breaks down the Spurs defense again and finishes at the rim.
Both teams are getting beat in the paint down the stretch.
Spurs 90, Blazers 93 - 1:20 REMAINING 4TH QUARTER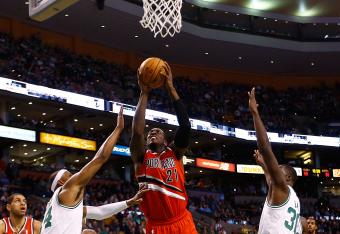 Aldridge hits another jumper. The Spurs have no answer for him outside the paint.
Manu answers with a drive for a floater.
Hickson makes up for not calling out a screen and giving up a basket by hitting a baby hook in the lane. He has 12 points and 11 rebounds.
Spurs 85, Blazers 91 - 2:36 REMAINING 4TH QUARTER
Splitter does it again and finds Duncan for a driving dunk.
Aldridge drives on the other end and is called for an offensive foul. Splitter again.
Spurs 83, Blazers 87 - 4:06 REMAINING 4TH QUARTER
The Spurs have 28 field goals made on 20 assists.
This is Lillard's 13th game of 20+ points. In Brandon Roy's ROY season, he had 16 games of 20+ points in 57 games played for #Blazers.

— Mike Tokito (@mtokito) December 14, 2012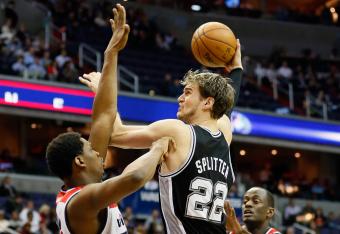 Tiago Splitter having a solid night off the bench with 12 points, 7 rebounds and two assists.
He just drew an offensive foul on Aldridge, his fourth.
Spurs 77, Blazers 85 - 6:12 REMAINING 4TH QUARTER
Damian Lillard has posted at least 20 points, 5 rebounds and 5 assists for the 4th time. No other NBA rookie has done this even once.

— Trail Blazers PR (@TrailBlazersPR) December 14, 2012
Hickson to Baton for the slam
Blazers assistant coach Jay Triano just punched the air so hard after that 8-second violation by Nolan Smith #Pow

— Ben Golliver (@blazersedge) December 14, 2012
Free throw shooting (16-23) and turnovers (17) are killing the Spurs tonight.
The Blazers have really turned up the pressure n the second half and are hitting the boards hard as they now are +1.
Spurs 73, Blazers 83 - 8:32 REMAINING 4TH QUARTER
Popovich sends out three guards, Mills, Parker and Neal.
Manu to the bench.
Spurs 73, Blazers 83 - 8:58 REMAINING 4TH QUARTER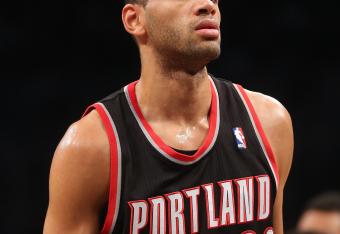 The only starters in the game are Danny Green and LaMarcus Aldridge.
Huge stretch in the game for both teams.
Pavlovic with a rundown block!
Spurs 71, Blazers 81 - 10:08 REMAINING 4TH QUARTER
Lillard still on fire and he fakes the drive and nearly puts Mills on his backside with a stutter-step and then buries another three. That was just nasty.
Spurs 69, Blazers 79- 11:46 REMAINING 4TH QUARTER
Damian Lillard leads the Blazers with 24 points, five assists and five rebounds. Aldridge has 18 points.
Parker leads the Spurs with 15 points and four assists. Duncan has only played 19 minutes but scored 10 points. If the Blazers pull away, do not be surprised to see Pop rest his guys and run with the second unit on a back-to-back.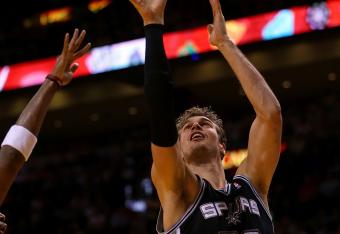 Diaw hits the Spurs second straight three.
Lillard is on fire and hits a long two of the step back jumper.
Spurs get the last shot and Splitter winds up with a layup.
Lillard and Babbit score the Blazers' last 17 points in the 3rd.
Spurs 69, Blazers 76 - END OF 3RD QUARTER
Lillard's threat of penetration has the Spurs defense rattled. He came down and immediately saw the defense loading on him and swung the ball to the corner for a Pavlovic three.
Mills comes back ans answers with his own three.
Spurs have missed 11 of their last 13 shots.
Spurs 64, Blazers 72- :46 REMAINING 3RD QUARTER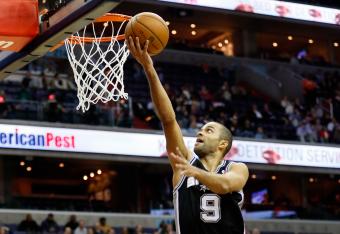 Both point guards are starting to go after each other. Neither seems to be able to defend the other in the pick-and-roll.
Lillard has 20 and Parker 15.
Spurs 61, Blazers 67 - 1:45 REMAINING 3RD QUARTER
Also, it is nice to see Babbit realizing his potential. He is a knockdown shooter, but really needs to work on the rest of his game. Either way, he provides someone who can stretch the floor for Aldridge and Lillard.
This article is
What is the duplicate article?
Why is this article offensive?
Where is this article plagiarized from?
Why is this article poorly edited?

Portland Trail Blazers: Like this team?