Texans vs. Colts: 10 Keys to the Game for Houston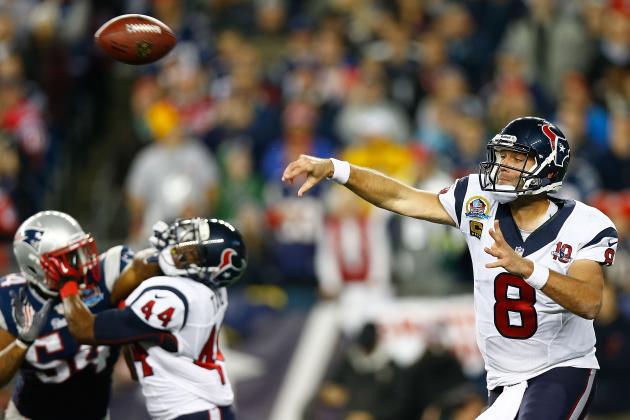 Jared Wickerham/Getty Images

If any team in the NFL is in need of a rebound, it is definitely the Houston Texans. The Texans suffered a beatdown at the hands of the New England Patriots; their secondary could not stop Tom Brady.
Now, the Texans are looking for a quick turnaround against the surprisingly competitive Indianapolis Colts.
The Colts, who finished dead-last in the NFL last season, can clinch a playoff berth with a victory this Sunday.
Here are the 10 keys to the game for Houston.
Begin Slideshow

»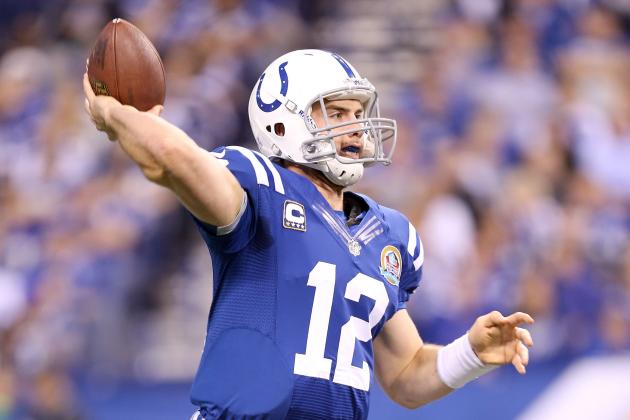 Andy Lyons/Getty Images

Andrew Luck is an exceptional young quarterback who will go on to dominate the NFL one day. His skill set is absolutely fantastic, and he can literally do it all.
He can hit wide receivers in stride with perfect accuracy, he can throw beautifully on the run and he can escape the pocket with the athleticism of Cam Newton.
For the time being, however, he is just a rookie. Wade Phillips likes rookies.
The best way to take advantage of a rookie quarterback is to utilize complex schemes and blitzes. Phillips must make sure that Luck is never going to know where the pressure is going to come from.
If Phillips can effectively utilize the correct blitzing schemes, then Luck should become confused and worried.
Confused and worried rookie quarterbacks turn the ball over.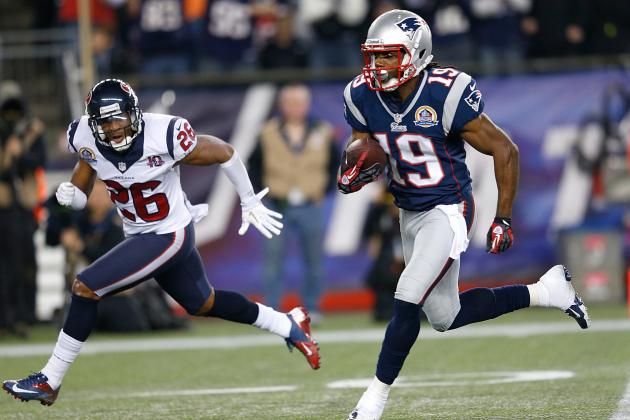 Jim Rogash/Getty Images

In the past four weeks, the Texans secondary has been nearly as bad as it was in the horrific 2010 season.
In 2010, the Texans secondary was historically awful, and the same is true for the past four weeks. Tom Brady, Matt Stafford, Jake Locker and Chad Henne have all taken advantage and exploited the secondary that is usually considered a strength of the Texans.
The secondary has been ransacked by injuries in recent weeks, and it has been forced to play games without its star cornerback, Johnathan Joseph, and its nickel cornerback, Brice McCain.
Fortunately for the Texans, Joseph is getting more healthy ever single day, and he should be back up to full speed in no time. McCain, however, will not be able to return to the playing field this season unless the Texans reach the Super Bowl.
Andrew Luck is a phenomenal young quarterback, and he can very easily exploit a struggling secondary. The Texans must make sure that their secondary is ready to play; otherwise, this can turn into a very, very ugly game for the Texans.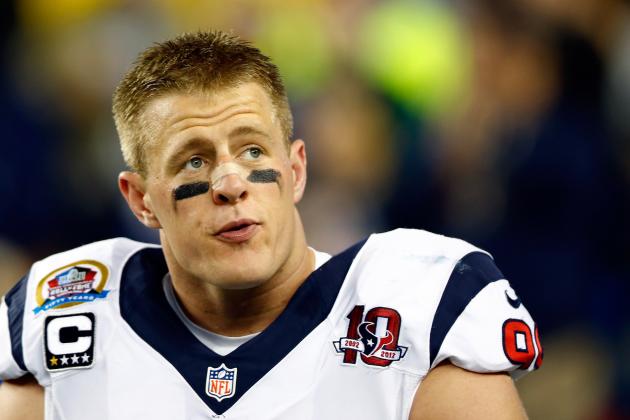 Jared Wickerham/Getty Images

What's the best way to defeat any quarterback in the NFL, regardless of how talented they are?
Oh yeah, that's right, just knock 'em on the ground at every possible opportunity.
The Texans, however, have been struggling with their pass rush so far this season. Connor Barwin and Brooks Reed have not been generating as much pressure as they were last season, and they failed to consistently impact games for the Texans.
J.J. Watt, however, has been completely dominant. If opposing offenses decided not to double and triple team him, his sack numbers would be incredibly high. Even against double and triple teams, though, Watt still manages to rack up sacks. He currently has 16.5 on the season, more than any Texans pass-rusher form last year.
Whitney Mercilus, also, has been playing surprisingly well in his rookie season. Mercilus was drafted to take part of a three-man rotation at outside linebacker with Barwin and Reed, but for the majority of the season, Mercilus was given very little playing time.
The young pass-rusher, however, has been given an opportunity to shine after Reed suffered an injury, and he has been putting up great numbers. Although he has only started two games, Mercilus has six sacks on the season.
His performance will be key in holding Luck in check.
If Mercilus and Watt are able to play to the best of their abilities, then the Colts offense will be in serious trouble.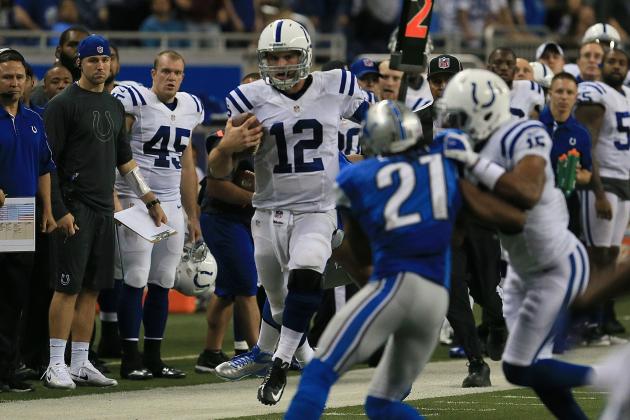 Dave Reginek/Getty Images

When one thinks of Andrew Luck, one thinks of the definition of a pocket passer. Luck has been compared to Peyton Manning so many times that many believe his style of play is extremely similar to Manning's.
It is not.
What people do not think of when they think of Luck is Cam Newton and Robert Griffin III. Luck, however, is faster than Newton and stronger than Griffin.
He is also deadly on the run.
Many quarterbacks seem to struggle when they are forced to throw on the run. This is not to say that they cannot do it, but for most, it certainly does not seem natural.
Luck, however, seems to thrive on the run. He is able to launch the ball downfield with great speed and accuracy while escaping from 300-pound linemen breathing down his neck. Furthermore, Luck's speed also makes him a threat to scramble for large chunks of yardage.
This causes defensive backs and linebackers in coverage to inch closer to Luck and begin to pursue him, thinking that he is going to attempt to scramble. Then, Luck unloads the ball downfield for a huge gain.
The key to stopping this dangerous threat is to contain Luck in the pocket. Defensive ends and linebackers must converge on Luck and force him closer into the pocket. Therefore, it would be wise for Phillips to call more blitzes from the edge this game, instead of from up the middle.
Luck must be contained within the pocket, or otherwise, he might use his impressive abilities to torch the Texans secondary.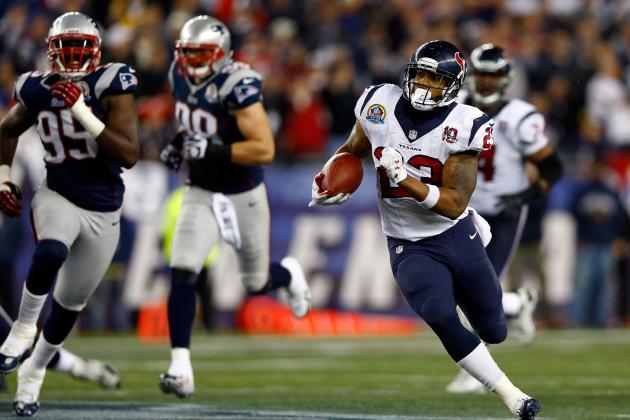 Jared Wickerham/Getty Images

Arian Foster's season so far has been quite curious. In some games, he appears to be the Foster of past seasons, finding the correct cutback lanes and consistently breaking tackles. He runs strong between the tackles, picking his hole and hitting it hard.
In other games, however, Foster struggles to get anything going. He seems unable to find any space to run, and he is brought down by the laziest of arm tackles.
In some games, he will average more than five yards per carry, and in others, he will struggle to break three.
That is not important right now, though. What is important is that Foster and his offensive line step up their game for the rest of the regular season and in the playoffs.
The Texans need Foster to play well if they want their offense to succeed, and whenever Foster's performs poorly, the offense struggles, as evidenced by the Texans' game in Foxboro last week.
Foster will need to pick up the slack against the Colts this Sunday for the Texans to have a consistent offensive performance.
If not, Ben Tate is waiting.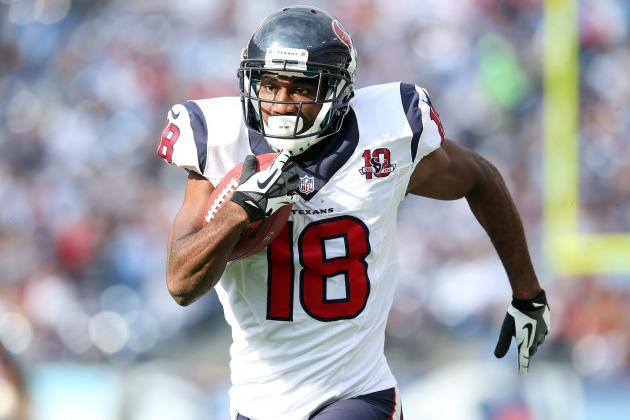 Andy Lyons/Getty Images

Last week, Texans fans were reminded of how weak the Texans offense was when Arian Foster and Andre Johnson were being limited by the defense.
Correction, not weak. Horrendous.
While Owen Daniels, Garrett Graham, James Casey and Kevin Walter are dependable targets for the Texans, they are not playmakers. They will not force opposing defenses to take pressure off of Foster and Johnson, and they will not stretch the field.
The only other receivers who can stretch the field for the Texans are Lestar Jean and Keshawn Martin.
Unfortunately, the two young receivers are young and inexperienced, and Gary Kubiak does not completely trust them.
However, they both have big-play potential, and Kubiak must find a way to get them more playing time because one can never know when a defense might be able to shut down Foster and Johnson again.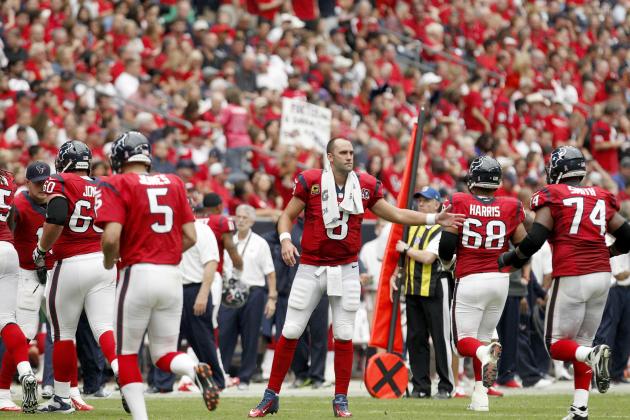 Thomas B. Shea/Getty Images

The Texans were dominated last week. It would be nice for them to be dominators this time.
After the beating the Texans suffered last week, the belief of the Texans as an elite team began to falter in the eyes of the national media. After getting demolished by Tom Brady and Aaron Rodgers, many began to question whether the Texans secondary could hold up against an elite quarterback.
Many concluded that they could not. Perhaps they are correct. We will not be able to find out the answer this season unless the Texans play an elite quarterback in the postseason.
For the time being, however, all the Texans can do is prove to the national media that they are still a team to be reckoned with. The best way to do that is to completely dominate a Colts team that many are predicting to now upset the Texans and win the division.
The Texans need to reaffirm themselves as one of the best teams in AFC, and a great win over the upstart Colts would go a long way towards fixing their image.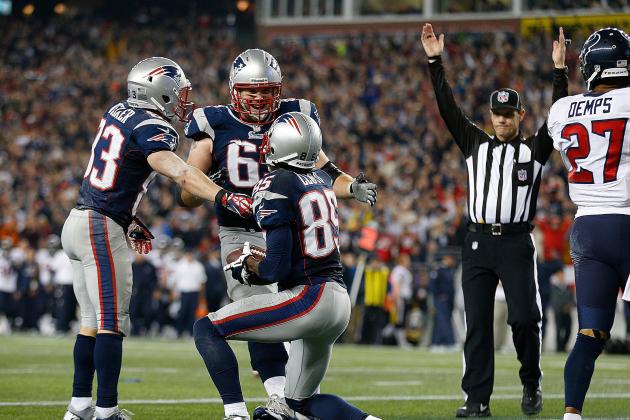 Jim Rogash/Getty Images

Sometimes it's difficult to simply forget about an extremely tough loss. The NFL is a short-memory sport, and if the Texans are unable to block the beatdown they just suffered out of their memory, then they might be forced into a devastating streak of losses.
History, however, suggests that this will not be the case.
After getting demolished at home by Aaron Rodgers and the Packers, many predicted that the Texans would spiral into a losing streak.
The Texans, though, went on to dominate the Baltimore Ravens and launch a six-game winning streak.
Now, hopefully, the Texans will be able to achieve the same mindset that they had for the Packer game. The hot teams at the end of the year are usually the favorites to go on and make the Super Bowl, and the Texans cannot afford to back into the playoffs.
They need to forget about New England and easily handle the Colts like they should be able to.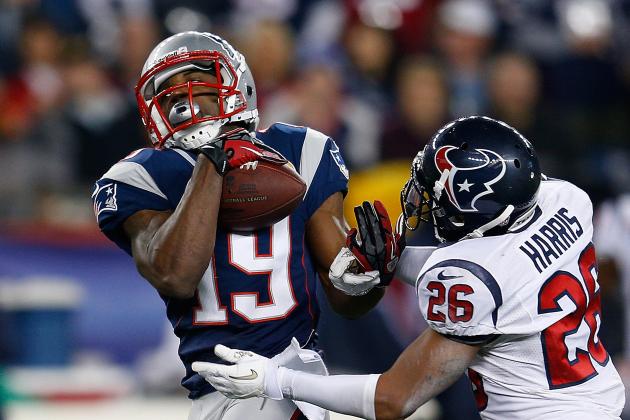 Jim Rogash/Getty Images

Brandon Harris, the Texans' backup slot cornerback, has struggled mightily ever since Brice McCain was placed on the IR.
Harris cannot keep up with speedy slot cornerbacks, and it appears that he struggles playing the press man-coverage that Wade Phillips favors.
He is a young cornerback who still needs time to adjust to playing in the NFL, but unfortunately, he does not have a lot of time. He is the only capable slot cornerback that the Texans have on their depth chart right now, so he must step up his play.
The Colts have a bevy of young, talented and speed wide receivers who can make life hell for a developing slot cornerback.
Harris must find away to adjust quickly to the speed of the NFL because I really do not feel like hearing Donnie Avery's or T.Y. HIlton's name being called like I heard Dante Stallworth's last week.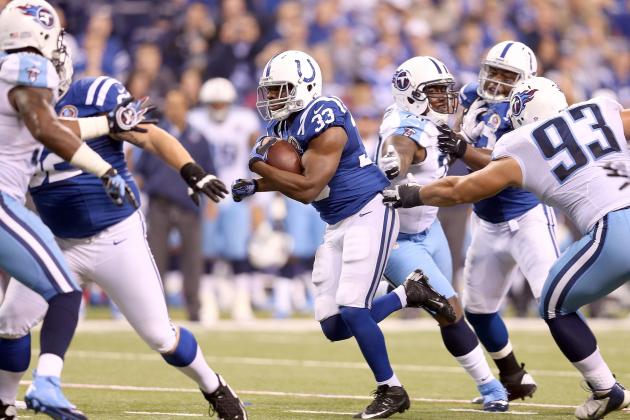 Andy Lyons/Getty Images

The Colts are a very one-dimensional football team. They heavily depend of the success of Andrew Luck, and if Luck struggles, the entire Colts offense will struggle.
The Colts, however, sometimes manage to gain some semblance of a rushing attack, and when they do, Luck becomes much more dangerous.
If an opposing defense is eventually forced to devote defenders to stopping the run, Luck will find he has much more room to work. It would be absolutely horrible if the Texans were forced to do that.
The Texans defense needs to establish at the very beginning of the game that the Colts will not be able to successfully run the ball. It needs to force the Colts offense to become entirely dependent on Luck.