College football's bowl season is nearly underway, and even though the BCS matchups will take place after a plethora of other less significant showdowns, there is still plenty of reason to be excited throughout the entire postseason.
With the Heisman Trophy winner in action against a Big 12 powerhouse, two emerging programs wrestling for respect on the national stage and two sets of Tigers set to do battle, there are at least three non-BCS games to get pumped for.
And yes, the Southeastern Conference is involved in all cases, which guarantees to generate hype and high-quality football.
Check out these future clashes on the gridiron that will help ring in the new year and highlight the best of the rest outside of the Bowl Championship Series picture.
Cotton Bowl: No. 11 Oklahoma vs. No. 9 Texas A&M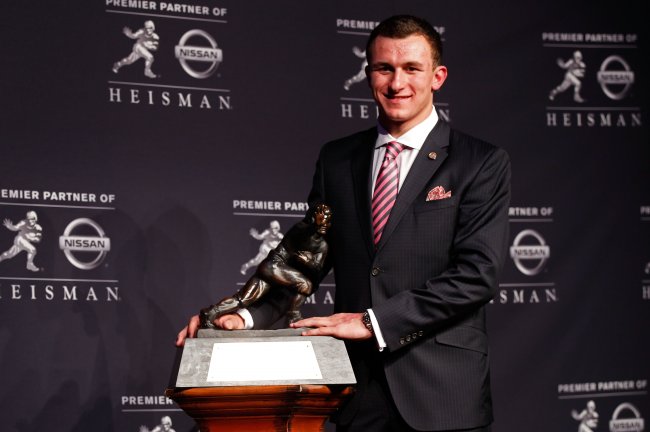 Mike Stobe/Getty Images
Johnny "Football" Manziel officially became the first freshman to ever win the Heisman Trophy—and for good reason.
Accounting for 43 touchdowns in just 12 games is phenomenal for any player on any level.
At that, Manziel played in the toughest college football conference in the country, and staged his most impressive performance on the road against the top-ranked Alabama Crimson Tide, featuring a slew of future NFL defenders across from him.
As stellar as four-year starter Landry Jones has been under center for the Sooners, their offense isn't quite as electric or explosive than the Aggies'.
Texas A&M only has two losses on the year: LSU and Florida. Meanwhile, the Sooners have endured losses to former No. 1 Kansas State and current No. 1 Notre Dame in Norman.
Manziel and Co. provide the biggest test the Oklahoma defense has faced all year. Although backup QB Blake Bell will help them prepare for Johnny Football's unique skills in practice, the Sooners won't be able to outscore the Aggies in this one.
It will be a wild, relatively high-scoring affair in Cowboys Stadium, with Manziel capping off his outstanding campaign with another signature victory.
Final score: Texas A&M 34, Oklahoma 27
Gator Bowl: No. 20 Northwestern vs. Mississippi State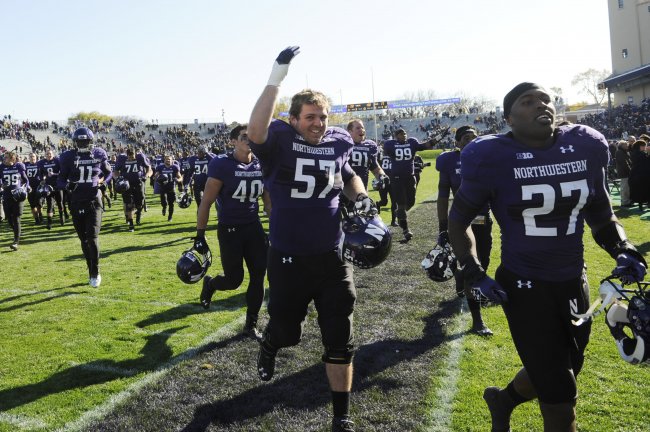 David Banks/Getty Images
It could be argued that another Big Ten-SEC matchup would be more exciting—Georgia-Nebraska or Michigan-South Carolina, for example.
But there is a reason that the Wildcats and Bulldogs will provide the best game between the two conferences. Both programs have risen to various degrees of national prominence in recent years—Miss State's stunning start to 2012 was most noteworthy.
Northwestern's 2012 season did plenty to give support to frequent talk of the "fine line" in competition that typically accompanies the country's marquee sports. The Wildcats suffered a one-point loss to Nebraska and an overtime defeat in the Big House at Michigan.
If those extremely close outcomes had swung in the Wildcats' favor, Pat Fitzgerald's upstart bunch would have been the team to take on Wisconsin in the conference championship game.
The Bulldogs lost four of their last five games after a red-hot 7-0 start. That was mostly due to the outstanding step-up in competition: at Alabama, versus Texas A&M, at LSU. By the time the team got to its rivalry game with Ole Miss, it was gassed.
After throwing just one interception in the first seven games, QB Tyler Russell threw at least one pick in each of the team's four losses. For a Bulldogs bastion that was leading the nation in turnover margin through their first seven contests, this was a destructive development to say the least.
Dan Mullen has provided a spark for the Bulldogs' program nevertheless, and Miss State has a reputation of SEC superiority to uphold.
Dynamic quarterback Kain Colter leads a high-powered Northwestern spread offense, which is particularly good at running the ball (230.9 yards per game). RB Venric Mark has run for over 1,300 yards and 11 TDs on the year, and should also present the Bulldogs with problems on defense.
It's hard to find reasons for the Bulldogs to win given their recent play. Plenty of pride will be on the line, but let's go with a Big Ten upset in this one.
Final score: Northwestern 24, Mississippi State 14
Chick-Fil-A Bowl: No. 14 Clemson vs. No. 8 LSU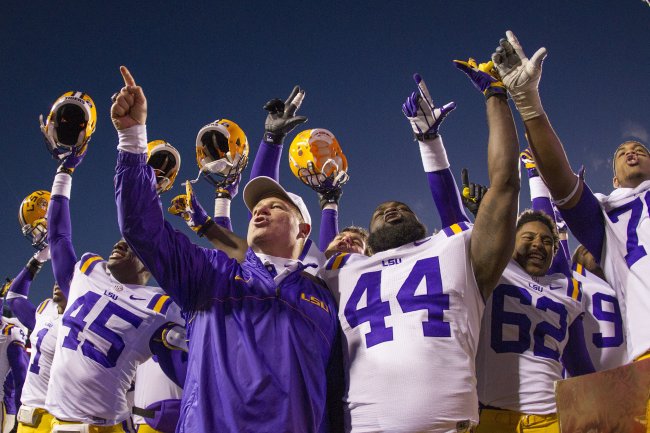 Wesley Hitt/Getty Images
The epic we have all been waiting for: the clash of the Tigers. Was that a bad play on the movie title, or should I say, the movie trilogy?
I know, it doesn't make sense, but a pal pointed it out to me one time: Clash of the Titans, Wrath of the Titans and the strange, football-related prequel—Remember the Titans.
With that enlightening epiphany tucked away, this matchup in all seriousness features two of the most entertaining, sound bite specialist head coaches in college football: LSU's Les Miles and Clemson's Dabo Swinney.
The force of the Tajh Boyd-led Clemson offense will meet its match in the opposing Tigers defense, led by Sam Montgomery and Barkevious Mingo on the defensive front.
Boyd has Sammy Watkins and DeAndre Hopkins at his disposal, who are undoubtedly in the conversation for best receiving duo in the nation.
The only hesitation to pull the trigger on a Clemson upset is its home performance against rival South Carolina, where Boyd and Co. only managed to muster 17 points against the physical Gamecocks defense, including just three after the first quarter.
A strong start will be key for the ACC Tigers to hang with one of the SEC's elite. Jeremy Hill and the LSU ground game, though, will chew up clock, forcing Boyd to try to score points in a hurry. It's never a good idea to press the issue against a John Chavis-coached defense.
There's a reason the LSU defensive coordinator is nicknamed "The Chief"—and a reason the SEC is the chief power conference in college football.
Justification of both those assertions will be showcased on December 31 in Atlanta.
Final score: LSU 28, Clemson 20