Ranking the Most Shameless Flops of the NBA Season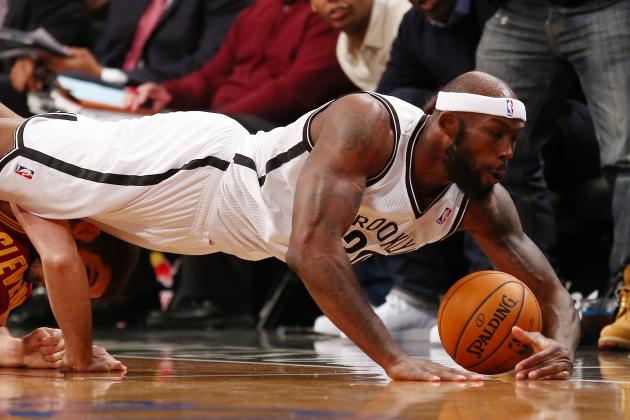 Elsa/Getty Images

The NBA's new flopping rule has aimed to crack down on any and all NBA players who try to trick referees by over-exaggerating contact. Thus far, some NBA players are already feeling the effects of the new rule in their wallets via their egregious and shameless flops.
The league defines a flop as, "any physical act that appears to have been intended to cause the referees to call a foul on another player," according to the New York Daily News. Whether you agree with the warnings and fines we've seen so far this season, the rule aims to eliminate an obnoxious part of the game, which can only be seen as a positive.
NBA referees have a hard enough time making accurate calls during the course of a game so that they don't change the game's outcome. Now, players who aim to trick referees into making phantom foul calls will face the consequences.
Even though the threat of fines and suspensions for flopping looms, that hasn't prevented the following players from doing so anyway.
Begin Slideshow

»
Kevin Martin has made a living in the NBA as a scorer and by primarily being an outside shooter, so it's interesting and a bit bizarre that he's received a warning from the league for flopping this season.
In the video, Oklahoma City's sixth man hoists up a three-point shot against the Detroit Pistons. Detroit's Jonas Jerebko makes a valiant effort to get a hand up to defend the sharpshooter's look, but he ends up committing a phantom foul.
Despite barely being touched on the fingertips by Jerebko, K-Mart flops to the ground as if he was hit by a freight train, earning an egregious call from the nearby referee.
Considering that Martin certainly tricked the ref into making a call that wasn't there, it's fair to say the league is correct to warn him about future offenses.
Even so, Martin doesn't have a history as a notorious NBA flopper and he's having a great season off the bench for OKC this season. I'd be surprised if Martin gets fined moving forward, but his act of trickery was certainly a flop.
Again, Jarrett Jack has never been known around the league as an infamous flopper. He's a hard-nosed player who has consistently been one of the best backup point guards in the NBA.
With that said, Jack was the first player to break the ice by receiving a warning about flopping from the league, according to ESPN.
Via Twitter, Jack was none too pleased with the news he received from the league. When you consider that Jack was warned during the preseason, he has a legitimate gripe.
Jack is another guy I wouldn't suspect to be a repeat offender, but you never know who will be called out for flops.
When NBA fans think of Chauncey Billups, the image that likely comes to mind would be the "Mr. Big Shot" who had so many tremendous years with the Detroit Pistons.
Since returning from injury with the Los Angeles Clippers, however, Billups has notched 22 points, seven assists, two steals and one flopping warning.
Similar to the Kevin Martin flop, Billups decides to hit the deck on a three-point attempt against the Utah Jazz. Like Martin, Billups fooled the refs into calling a foul when there was no real contact on the play.
At this point, we can't be sure if Billups will even be healthy enough to log another warning for flopping. Even if Billups can't stay healthy, it appears as if the Clippers (16-6) will be fine without him.
J.J. Barea has carved a nice niche in the NBA despite being an undersized guard. His impressive performance in Dallas earned him a big contract with the Minnesota Timberwolves, which he has yet to justify.
Perhaps Barea should be given a little slack on the flopping front considering he was once bludgeoned by former Lakers center Andrew Bynum in the playoffs, a play that Mike Tirico called "one of the biggest bush-league things I have ever seen."
The flop that earned Barea a warning from the league isn't nearly as bad as some of the worst in league history. That's especially true when you consider that Sacramento Kings guard Jimmer Fredette did make contact with his left hand.
However, Barea's over-exaggeration of the contact by flailing his arms in the air is most certainly what solidified the play as a flop in the eyes of league officials.
Omer Asik, one of the Houston Rockets' many new additions this season, has to be in consideration for the Most Improved Player award at season's end.
Although Asik isn't a great offensive player by any stretch (48.2 percent from the field and 58.6 percent from the free-throw line), his defensive and rebounding prowess is rivaled by few NBA players.
But even the talented Asik, who has shown big statistical improvements this season as a starter, can't avoid the flop police.
In real time, the flop that earned Asik a warning from the league doesn't look all that egregious.
However, in the slow-motion replay, Asik's arm-flailing antics simply look comical. Again, this was a case of a player fooling a referee, which happens entirely too often.
This flop by Zaza Pachulia of the Atlanta Hawks earned him a warning from the league, and for good reason.
If only for a few seconds, Pachulia appeared as if he was trying to rival Academy Award-winning actor Daniel Day-Lewis instead of being a basketball player.
Despite literally zero contact made by Washington Wizards forward Kevin Seraphin as he swung his elbows around after a rebound to create space, Pachulia reacted as if he got his nose broken by a rogue elbow.
These are the types of flops that have no place in the NBA.
In fact, this reminded me of a particularly impressive acting performance by the Miami Heat's Chris Bosh.
Patrick Patterson is the second member of the Houston Rockets to be warned for flopping this season, joining teammate Omer Asik.
Although Patterson has scored 20 or more points four separate times this season, he seems to have forgotten that when taking a charge at the pro level, you actually have to draw contact.
Taking charges has been the one legitimate NBA play that has been affected most by the new flopping rule. Considering that players face fines for repeat flopping offenses, stepping in to take charges may not be in the players' best interest.
Patterson did manage to get both feet set outside of the restricted area before Tyson Chandler got there, but Chandler avoided the contact and Patterson still went down like a sack of hammers.
But hey, at least Patterson forced Chandler to miss the bunny-shot attempt in the lane, right?
The flop that earned Cleveland's Donald Sloan a warning from the league is perhaps my favorite to date.
The way Sloan spins and flails his arms in the air is either comedic genius or graceful ballet—I still haven't figured out which.
Sloan has been shooting a paltry 35.2 percent from the field this season. He managed this flop while down by 20 points in garbage time, and now superstar point guard Kyrie Irving is back to log major minutes.
Given those three factors, don't expect Sloan to have a shot at flopping again in the near future.
Gerald Wallace is one of only two NBA players so far this season who has been fined by the league for a repeated flopping offense.
According to USA Today, Wallace was fined $5,000 for his second flop of the season against LeBron James and the Miami Heat (click the link for the video).
The first flop that earned Wallace a warning came against the New York Knicks' Carmelo Anthony (see video). Considering that Wallace is one of the league's grittier defenders and has to defend the opposing team's best player regularly, he needs to search for any advantage he can find.
However, if Wallace intends to flop moving forward, he'll need to do a much better acting job or stop doing so altogether to avoid more fines.
For a player who has earned the nickname "Crash" for his all-out hustle and demeanor, he may believe he earned the moniker for crashing to the floor for no reason.
Of all the NBA players who have been fined or warned for flopping so far this season, Reggie Evans is far and away the guy with the most experience.
Even before the new flopping rule was instituted, Evans gained a reputation as an egregious flopper, willing to crash to the floor at the slightest hint of contact. In addition to the flop shown is the flop which earned Evans his fine.
Even though he's an aggressive flopper, Evans has always been a junkyard dog, so to speak. He does all the dirty work to help teams win and has consistently been one of the league's best pure rebounders (14.9 rebounds per 36 minutes). Evans is averaging an absurd 19.9 rebounds per 48 minutes, which leads all NBA players.
As far as rebounders who help the team win by doing all of the dirty work, Evans is a tough guy to beat. However, he's also helped give the Brooklyn Nets the reputation of the worst flopping team in the NBA in the early going.
Here's a throwback Evans flop from his time in Los Angeles for good measure.