Los Angeles Lakers vs. New York Knicks: Live Score, Results and Game Highlights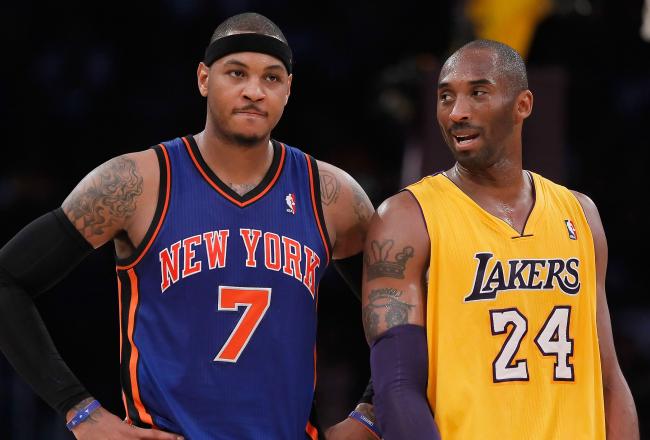 Jeff Gross/Getty Images
The New York Knicks took a commanding early lead against the Los Angeles Lakers and held on for a 116-107 victory.
Mike Woodson's club earned a win against their former coach Mike D'Antoni, and the Lakers continue their ineffective play and fall to 9-14.
Carmelo Anthony was on fire for the first two-thirds of the game, but he went down with an ankle injury in the 3rd quarter. The supporting cast stepped up and made enough plays to thwart a Kobe Bryant-led comeback.
How did the Knicks win? Check out our complete post-game coverage.
Up next for each team:
New York (17-5) hosts Cleveland at Madison Square Garden Saturday 7:30 p.m. ET
Los Angeles (9-14) travels to Washington, D.C. at Verizon Center Friday 7:00 p.m. ET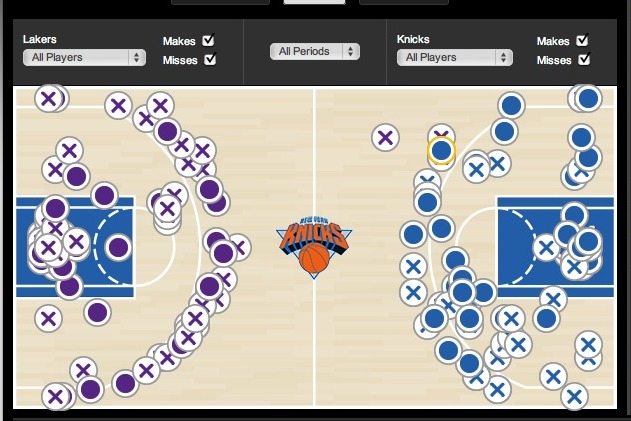 The shot chart says it all; New York got what it wanted all over the court.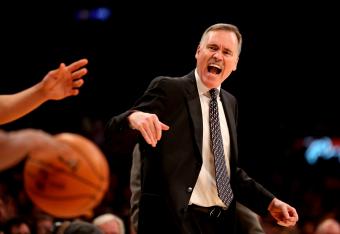 Storylines to keep in mind:
-LA continued to struggle defensively, a point of concern and contention among Laker followers. Can Mike D'Antoni get this team to consistently defend?
-LA is still waiting on the return of Steve Nash and Pau Gasol. Both are getting close to coming back, but will they solve all the dysfunction?
-New York seems to have the most deadly half-court attack in the Eastern Conference. Their ball movement torched LA all night.
-Carmelo Anthony was picking up steam in his MVP candidacy tonight, but got derailed by an ankle injury. Can he stay healthy for the remainder of this year?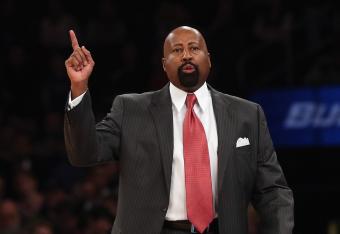 Keys to the game:
-Kobe Bryant had a quiet 31 points, 10 rebounds and six assists. It didn't matter, as the Lakers featured an incongruent seven-man rotation.
-Carmelo's huge first half buoyed an all-around blistering New York attack, as the squad shot 61 percent from the field in the first half.
-'Melo was relieved by Tyson Chandler, J.R. Smith and Raymond Felton in the second half. Chandler finished the game with 18, Felton had 19 and Smith had 18.
-How efficient was New York? 25 assists and 6 turnovers.
-How inefficient was LA? 13 assists and 13 turnovers.
-New York also grabbed 10 steals and had 16 fast break points.
Carmelo didn't return in the 4th quarter after suffering a 3rd quarter ankle injury, but he should be okay soon.
Knicks coach Mike Woodson just said he thinks Carmelo Anthony is day-to-day

— InsideHoops.com (@InsideHoops) December 14, 2012
Hopefully he returns soon, because he's on an MVP pace.
The story early on was a record-setting pace by 'Melo.
Carmelo Anthony's 22 points in the first quarter were a career-high for him in first quarter of any game.

— ESPN Stats & Info (@ESPNStatsInfo) December 14, 2012
He couldn't miss, and as a result, NYK ripped off 68 points in the first half.
LA gradually climbed back in this one despite being down by as many as 26.
I admire Kobe and Metta for at least having the pride and guts to make it interesting, even without Melo.

— Skip Bayless (@RealSkipBayless) December 14, 2012
Nevertheless, it's another loss for the Lakers.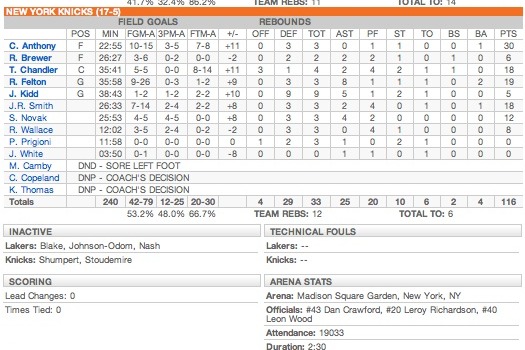 Knicks final box score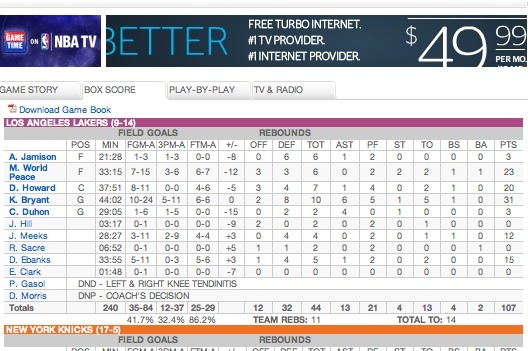 Lakers final box score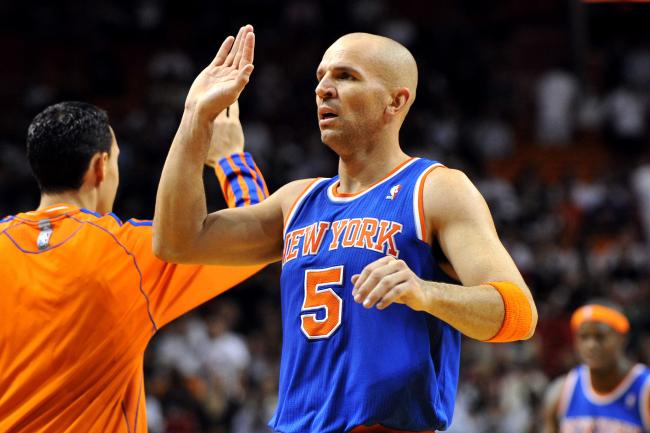 New York hangs on to defeat their old coach, postgame coverage coming up!
Knicks 116, Lakers 107, FINAL
It takes everything in Tyson Chandler to hit 1 of 2 free-throws.
Knicks 114, Lakers 107, 0:18 remaining in 4th quarter
A pair of Lakers buckets, including a steal and lay-up by Metta World Peace bring the Lakers within 6.
New York would love to have Melo right now.
Knicks 113, Lakers 107, 0:41 remaining in 4th
Raymond Felton has been a nice x-factor for Mike Woodson:
No doubt Melo, Kobe and D'Antoni will dominate postgame, but Felton's performance has been big. And he's finishing strong. #Knicks

— Jared Zwerling (@JaredZwerling) December 14, 2012
Knicks 111, Lakers 102, 3:14 remaining in 4th quarter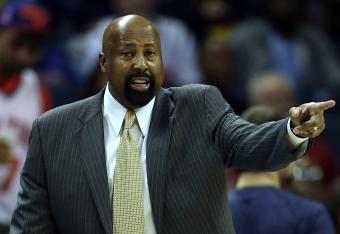 And just like that, J.R. Smith answers with a triple of his own.
Knicks 111, Lakers 99, 3:45 remaining in 4th quarter
Kobe's off-balance Jordanesque shot brings LA within single digits. It's a game now!
Knicks 108, Lakers 99, 4:04 remaining in 4th quarter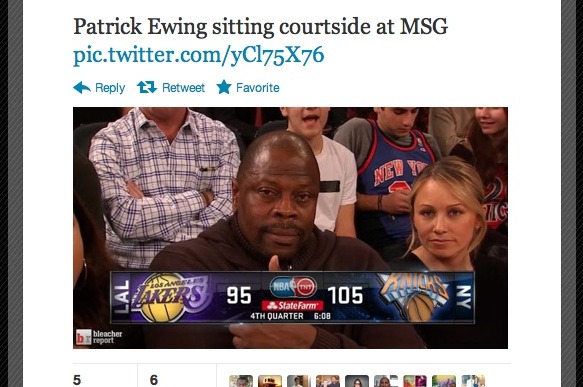 Ewing is loving this Knicks lead.
The Knicks have just 24 rebounds and are up by 10, with 106 points. Is that possible? Or legal?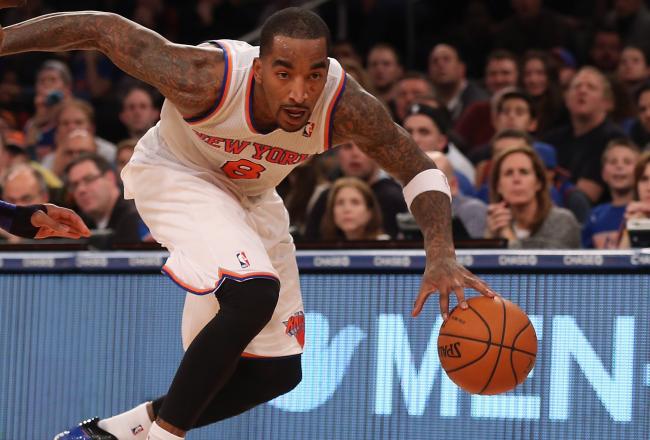 Knicks starting to slow the pace and and milk the clock. They're rewarded for their hustle with a foul call on Meeks.
Knicks 105, Lakers 95, 6:08 remaining in 4th quarter
He's not on the court, but we still can't get enough of Carmelo Anthony's early-season accomplishments.
Carmelo Anthony (sprained ankle): 30 pts in 22 minutes. Last player to score 30 while playing 22 or fewer minutes- David Robinson, 1995

— ESPN Stats & Info (@ESPNStatsInfo) December 14, 2012
Lakers still an arm's length away from the Knicks, down 104-91, with 7:25 remaining in 4th quarter
Turnovers update: Lakers 13 turnovers, Knicks 4.
Tough to lose when you turn it over four times.
Knicks 102, Lakers 89, 8:17 remaining in 4th quarter
Los Angeles once again must muster a fourth-quarter run if it wants a chance to win.
Still, same story every game: gotta play perfect 4th to edge out a win

— LakersTheBlog.com (@lakerstheblog) December 14, 2012
Lakers 100, Knicks 86, 9:00 remaining in 4th quarter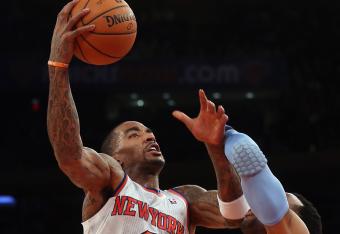 Without Melo, New York is still effective offensively, hitting the century-mark with more than nine minutes left in regulation.
Knicks 100, Lakers 84, 9:02 remaining in 4th quarter
Knicks spreading the floor and letting J.R. Smith facilitate and operate pick-and-rolls.
He rewards the team with an in-rhythm jumper.
Knicks 95, Lakers 82, 10:33 remaining in 4th quarter
Can the ailing Bryant lead a Laker comeback?
After missing 9 straight & dealing w/ back spasms, Kobe hit 3 shots & LAL within 13 after 3.Melo with bum ankle, possible interesting finish

— Brian Windhorst (@WindhorstESPN) December 14, 2012
Knicks 93, Lakers 80, 11:25 remaining in 4th quarter
This article is
What is the duplicate article?
Why is this article offensive?
Where is this article plagiarized from?
Why is this article poorly edited?