Analyzing Colin Kaepernick's Performance in His 4 Starts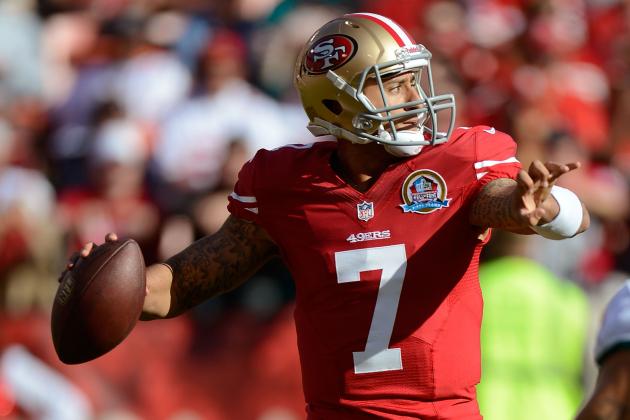 Thearon W. Henderson/Getty Images

Since Alex Smith suffered a concussion against the St. Louis Rams on Nov. 11, Colin Kaepernick has gone from thought-to-be interim San Francisco 49ers starting quarterback to the No. 1 guy on the depth chart.
Kaepernick was outstanding in his first start, but since then success hasn't come so easy for him.
In the following slides I break down Kaepernick's performance in each of his four starts, and I conclude by answering whether Jim Harbaugh made the right decision in this quarterback dilemma.
Begin Slideshow

»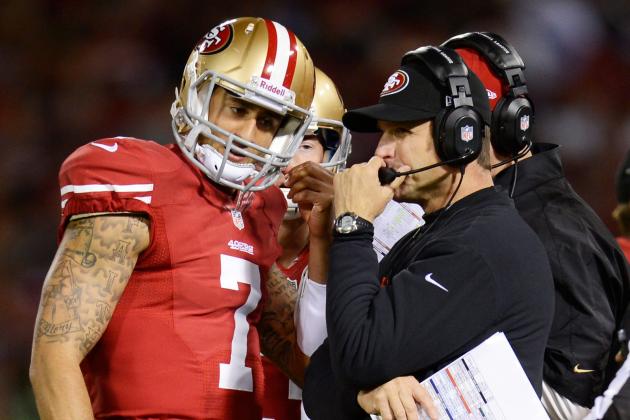 Thearon W. Henderson/Getty Images

Stats: 16-of-23, 243 yards, two touchdowns, no interceptions; four carries, 10 yards
Kaepernick couldn't have played much better in his first career start.
Most assumed the 49ers would call more designed quarterback runs, but against the Bears, the 49ers chose not to. They let Kaepernick air it out, and he delivered, averaging 10.6 yards per attempt and posting a 133.1 passer rating.
Kaepernick's second touchdown pass, a 10-yarder to Michael Crabtree, put the 49ers ahead 27-0 with 11:05 to go in the third quarter. From that point, the 49ers essentially shut him down, as he completed just two more passes for 12 yards.
Had Kaepernick been asked to keep the pedal to the metal for four quarters, he would've likely eclipsed 350 yards passing.
Considering the Bears have one of the best defenses in the NFL, Kaepernick's performance was arguably the best from a 49ers quarterback since before Alex Smith was the team's starter.
Grade: A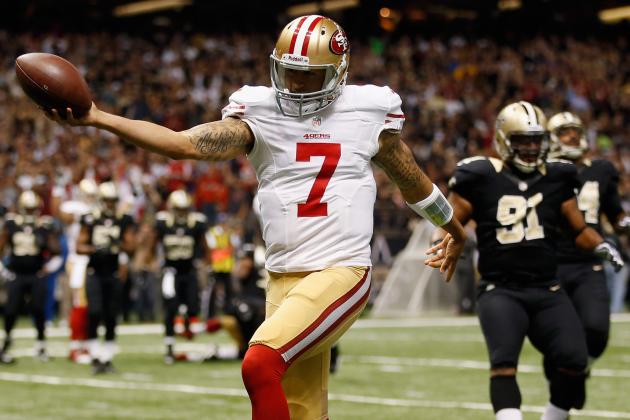 Chris Graythen/Getty Images

Stats: 16-of-25, 231 yards, one touchdown, one interception; six carries, 27 yards, one touchdown
The 49ers had 375 yards of total offense. They scored 31 points. They beat a perennial contender on the road.
What's there to complain about?
Well, Kaepernick wasn't as dominate in this outing as he was against the Bears. He threw a pretty embarrassing interception, and considering the Saints have one of the worst defenses in the NFL, his statistics look far less impressive.
The 49ers scored two defensive touchdowns, so Kaep and the offense only accounted for 17 points.
Still, he had a decent game. He averaged 9.2 yards per attempt (the qualified league leaders average 8.3 YPA), and he wasn't sacked once.
The 49ers only had nine offensive possessions, and they would've scored in five of them if David Akers hadn't missed two of his three field-goal attempts.
Grade: B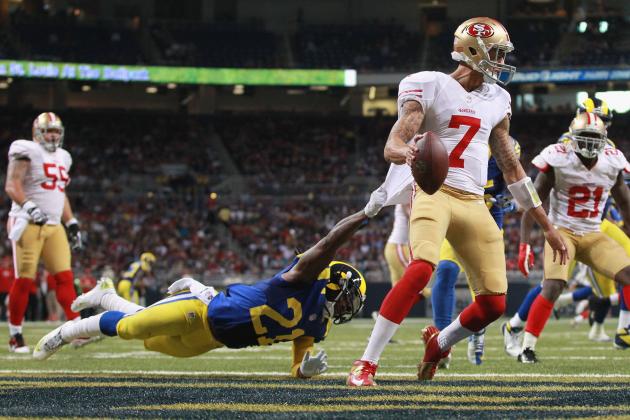 Dilip Vishwanat/Getty Images

Stats: 21-of-32, 208 yards, no touchdowns, no interceptions; nine carries, 84 yards, one fumble lost
"Alex Smith would've won that game," cried many of the 49er Faithful.
Although we'll never know if that hypothetical statement is true, what we do know is Kaepernick had his worst performance of his young career in St. Louis.
He only averaged 6.5 yards per attempt and took three sacks. Still, he played smart football (the safety was a blown call, blame him if you will), not turning the ball over until late in the fourth quarter.
Kaepernick's errant pitch with three minutes to go in the game essentially gave the Rams a free touchdown. If there's any consolation for 49ers fans, it's a correctable issue for the coaches: Don't make Kaepernick throw left-handed pitches, especially late in games.
The positive from this game was that Kaepernick bounced back and led the 49ers on a drive that resulted in a go-ahead field goal. Had Delanie Walker not dropped a pass in the end zone three plays before the field goal, Kaepernick would've likely been a hero.
In overtime, the second-year signal-caller got the 49ers set up for a potential game-winning field goal. Akers missed the 51-yarder, and Kaepernick never got another chance as the Rams kicked a field goal and won 16-13.
In summary, Kaepernick had a mediocre game that was highlighted by one abysmal play. Yet, I left this game feeling confident in him, considering he led two potential game-winning drives after the biggest gaffe in his NFL career.
Grade: D+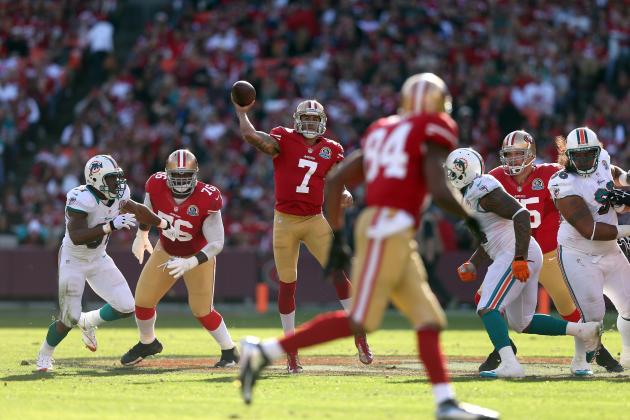 Ezra Shaw/Getty Images

Stats: 18-of-23, 185 yards, no touchdowns, no interceptions; six carries, 53 yards, one touchdown
Kaepernick's best throw against Miami went down as an incomplete pass. His bomb to Randy Moss on a trick play was thrown perfectly, but Moss was interfered with and dropped the ball. Although the refs missed what should have been a 46-yard penalty, the 49ers still ended up scoring a touchdown on that drive.
Up 20-13 with less than three minutes to go in the game and the Dolphins out of timeouts, the 49ers needed one first down to win. Kaepernick ran the read-option play to perfection, scoring a 50-yard touchdown that the 49ers really didn't need.
But don't underestimate how important that play might be in the future. In any event, the 49ers should run that play up a touchdown late in games and not the infamous one in St. Louis.
Prior to the late touchdown run, the 49ers had only 261 total yards. They were 2-of-10 on third downs. Kaepernick had a respectable 8.0 yards-per-attempt average, but he was sacked four times. It was an average offensive performance all around, but at the least Kaepernick took care of the ball and still found a way to lead the offense to 27 points.
Grade: C+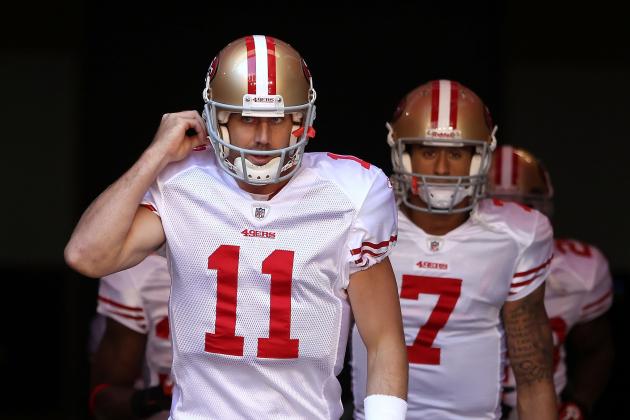 Christian Petersen/Getty Images

| | | | | | | | | | |
| --- | --- | --- | --- | --- | --- | --- | --- | --- | --- |
| Player | TDs | INTs | Attempts | YPA | Rating | RYards | RTDs | TOs | W-L |
| Kaepernick | 3 | 1 | 129 | 8.3 | 97.5 | 351 | 5 | 3 | 3-1 |
| Smith | 13 | 5 | 217 | 8.0 | 104.1 | 134 | 0 | 6 | 6-2-1 |
There are so many factors that can be taken into account when judging Jim Harbaugh's decision to start Kaepernick over Smith.
Some have suggested that the move has create a divided locker room.
Others believe a player should never lose his spot due to injury.
Although those are fair concerns, I believe the only question that really matters is: Which quarterback gives the 49ers the best chance to win?
The two quarterbacks basically have the same winning percentage. They share a similar turnover rate and sack rate.
But Kaepernick can extend plays and beat defenses with his speed in a way Smith can't, and that's why I give the former Nevada QB a slight edge, just as I said in this column.
Of course, we'll know a lot more about what Kaepernick is made of after this weekend. The New England Patriots have an incredible home-field advantage as well the league's best offense.
Will Kaepernick be able to match Brady pass for pass? Will he be intimidated by the hostile environment?
If he can pass the test this week against the Patriots, there's really no reason to turn back to Smith.
Follow @JoeyAkeley on Twitter.