TUF 16 Finale: Dustin Poirier vs. Jonathan Brookins Head-to-Toe Breakdown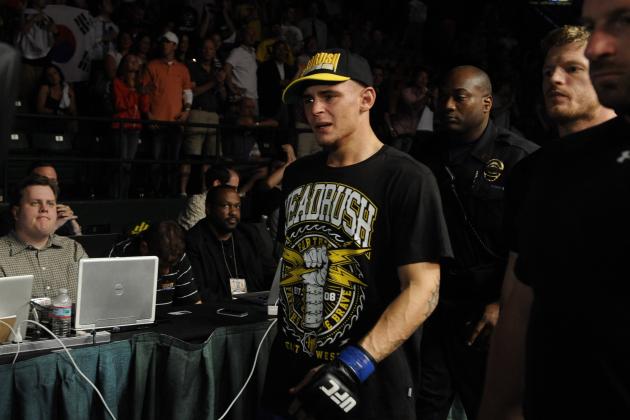 Rafael Suanes-USA TODAY Sports

The TUF 16 Finale is set for Saturday, December 15. The event will be headlined by a heavyweight contest between Roy Nelson and Matt Mitrione.
In addition to the main event—and The Ultimate Fighter 16 finals—the card will feature an exciting featherweight showdown between Dustin Poirier and Jonathan Brookins.
Here, we'll take a look at the matchup between Poirier and Brookins and break down who has the advantage in each area of the fight.
Begin Slideshow

»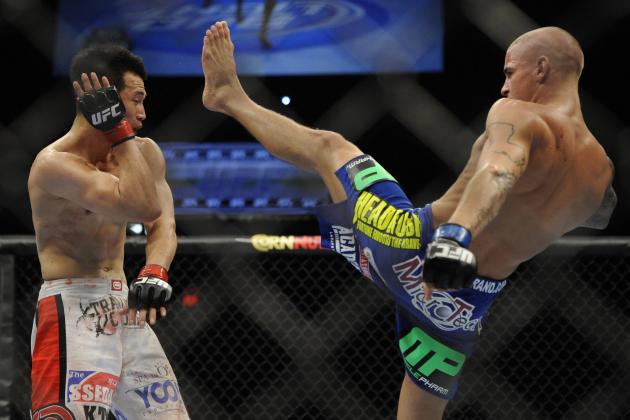 Rafael Suanes-USA TODAY Sports

Dustin Poirier
Though Poirier isn't a particularly powerful striker, he is a good one. He enlists a varied arsenal of punches and kicks to batter his opponents, which only increases the effectiveness of the other areas of his game.
Knowing that his foe is not particularly well-renowned for his ability to hit hard, Poirier should be able to let loose on Saturday night, even if he'll have to be wary of the takedown.
Jonathan Brookins
Brookins is not exactly a knockout artist by trade. He tends to use his striking as a means of closing distance in order to secure a takedown or gain the clinch, rather than as a vehicle for delivering damage.
That will certainly be the gameplan at the TUF 16 Finale, which means the question isn't how much offense Brookins can mount, but instead, how well can he avoid damage on the way in.
Advantage: Poirier
Brookins has a bad habit of keeping his chin untucked, and that is something he won't be able to get away with this Saturday. Though he has a good chin and Poirier has never exhibited one-punch knockout power, he simply can't get lit up on the feet and expect to win the bout.
Poirier's advantage in striking is undeniable; the only question being whether or not he'll have the chance to exploit it often enough to land with frequency. Though he can't be overly cautious, Poirier needs to keep the distance, or else Brookins' takedowns will dull his edge in the standup to the point that it will be a non-factor.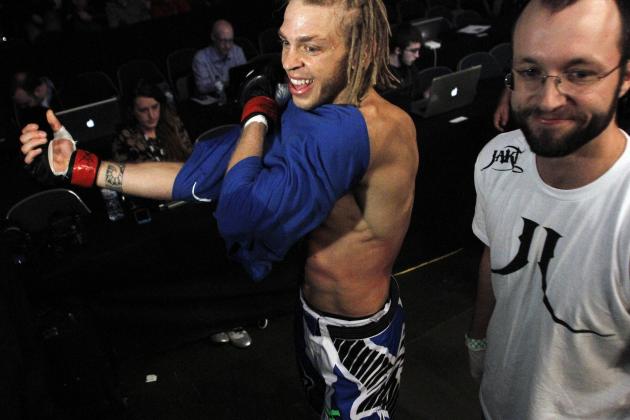 Matt Ryerson-USA TODAY Sports

Dustin Poirier
Even though Poirier hasn't spent that much time in the Octagon with good wrestlers, his ability to defend the takedown appears questionable in light of Chan Sung Jung's successes against him.
Because Brookins is so good at keeping downed opponents on the mat, Poirier is going to have to muster better defensive wrestling than he showed last time out, or Saturday will be a long night for him.
Jonathan Brookins
Brookins won The Ultimate Fighter 12 on the strength of his suffocating wrestling, which he uses to control opponents and shut down their offense. He'll no doubt look to do so against Poirier when the two square off this Saturday.
A key for Brookins will be closing the distance. He's quite good at gaining the upper hand in the clinch and grinding his way to a dominant position, so it isn't always necessary for him to shoot for the double-leg if he wants the bout on the floor.
Advantage: Brookins
I anticipate this matchup taking on a similar feel to Brookins vs. Erik Koch in the sense that Brookins will constantly be looking to maul his opponent, while Poirier will seek to create distance and land shots.
Koch was able to shut Brookins's takedown attempts down. Whether or not Poirier can replicate that success may just play the most influential role in determining the contest's victor.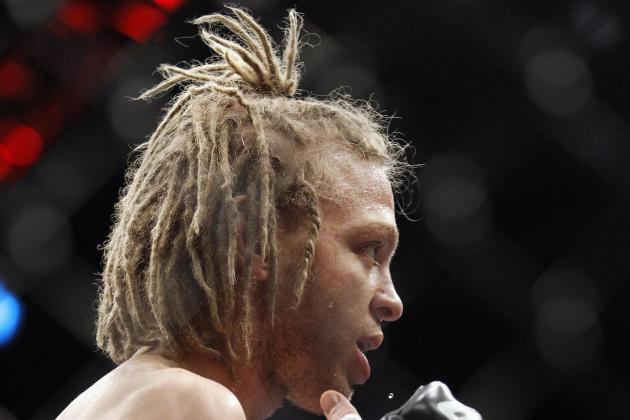 Matt Ryerson-USA TODAY Sports

Dustin Poirier
Poirier has shown off slick submission skills since joining the UFC. In five fights with the promotion, he has stopped both Pablo Garza and Max Holloway via submission.
In fact, as dangerous as he is on the feet, Poirier might be most dangerous on the ground. In 12 career wins, he has five knockouts and five submissions each, but lately, it has been his grappling that's been getting winning results.
Jonathan Brookins
With eight of his 13 career wins coming by way of submission, Brookins is a real threat on the ground. He specializes in the rear-naked choke, though he's also finished twice via guillotine.
Brookins' submissions are often a product of the suffocating wrestling he subjects opponents to, controlling them until they attempt to escape then taking the opportunity to wrap his arms around their neck.
Advantage: Brookins
An argument could be made either way here, but Brookins' submission game is really an extension of his wrestling, and I believe his wrestling will allow him to gain advantageous positions on Poirier. That is to say, if the fight goes to the mat, it's most likely Brookins will be on top, and on top is where both fighters will want to be.
A submission for either party is far from inconceivable, but a ground stoppage is Brookins's best chance to win, while Poirier's best bet is probably on the feet.
We'll call this a slight edge, but in this matchup specific scenario, Brookins should have an advantage in the submission department.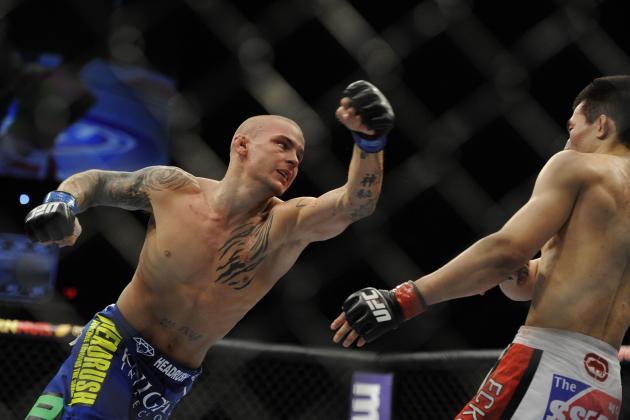 Rafael Suanes-USA TODAY Sports

Dustin Poirier: Keep the distance
It probably hasn't escaped Poirier that Brookins will want to take him to the mat. And realistically, stopping Brookins from achieving that end is only likely to work if Poirier sets up his defenses early.
That is to say, Poirier can't just try to sprawl after he sees Brookins shooting in. Instead, he must fight cautiously and keep his opponent on the outside as much as possible. Brookins is really not that much of a threat to Poirier in terms of striking, so most of the 23-year-old's attention should be given to ensuring Brookins cannot race in for a clinch.
If he's able to consistently maintain enough space, this is Poirier's bout to lose.
Jonathan Brookins: Takedown persistence
There is no need for Brookins to even try to strike with Poirier, nor is there any reason he should. Instead, he needs to cling to his opponent and do everything possible to drag him to the mat.
Brookins attempted to do this against Erik Koch, which led to a decision loss. If that experience has affected him and he's become more choosy about selecting his moment to shoot, he might find himself tagged repeatedly before he even tries.
If he can spend as much time as possible pinning Poirier against the cage, clinching with him or controlling him on the ground, Brookins will win this fight.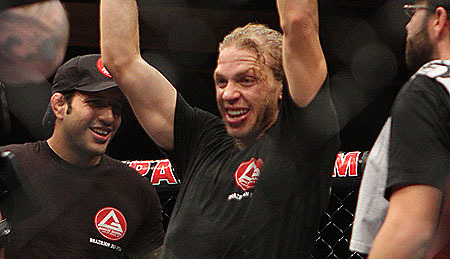 Photo by mmaweekly.com
Dustin Poirier
Poirier has a distinct advantage on the feet in this bout and needs to make the most of it. If he is able to do so, he'll cruise to victory. If he ends up fighting off his back, however, then his prospects won't be looking so good.
Brookins poses a troubling matchup for Poirier, and whether or not he is able to thwart his opponent's designs to control him all night will show us just how ready the youngster is to take the next step in his career.
Jonathan Brookins
Brookins needs a win bad, but necessity does not mean getting one will be easy. Not against a guy like Poirier.
To win at the TUF 16 Finale, Brookins has to stick to his strengths. He needs to commit whole-hog to the takedown, embrace the grind against the fence and keep pressuring Poirier until the final bell.
This could be a signature win for Brookins, and if he gets it, it will have come just when he needed it most.
Projected Winner: Brookins
Brookins enters the bout as a decided underdog, but I can't shake the belief that he has the ideal style to defeat Poirier.
I expect a tightly contested, grueling affair, but if Brookins plays his hand right and keeps up the pressure, it'll be his aggression, and the advantageous positions he achieves, that will decide the outcome of the match.