The Most Disappointing Starts in NBA History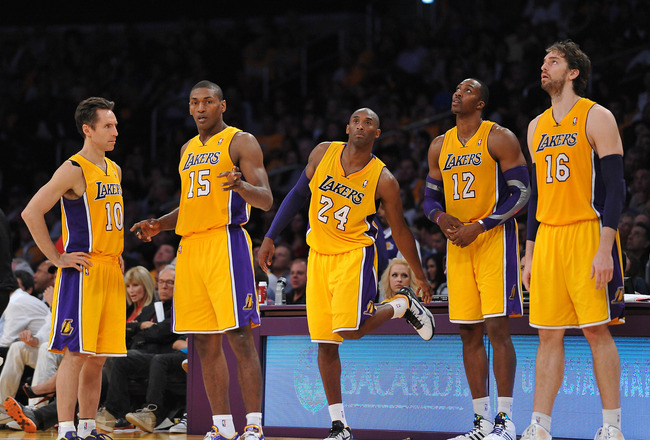 Jayne Kamin-Oncea-USA TODAY Sports
Disappointment is a part of the NBA, but there comes a point when it's excessive, demeaning and outright depressing. Just ask the Los Angeles Lakers.
Kobe Bryant and his current crew are off to one of the most disappointing starts in league history. Yes, there have been teams with much worse records, but have any of them come into the season generating as much hype as this year's Laker squad did?
Absolutely not.
And yet this degree of disillusion is no foreign concept. Plenty of teams have fallen victim to lofty expectations over the years.
I'm not talking about mediocre entities fighting for a playoff spot either. I'm talking modern and past super teams and convocations that were coming off glorious seasons. I'm talking about incredibly talented brigades that couldn't even begin to live up to the early season bars that were set for them.
But do any of those disenchanting starts compare to the nightmare the 2012-13 Lakers have been? And were any of them able to right their ship, thus providing some semblance of hope for the Lakers of today?
Let's find out.
All stats in this article are accurate as of December 12, 2012.
10. Cleveland Cavaliers (2007-08)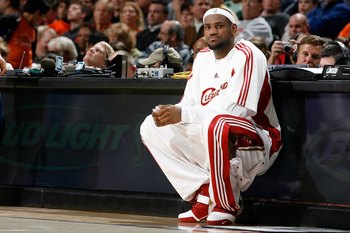 Gregory Shamus/Getty Images
Low Point: 10-14
Longest Losing Streak: Six games
Long before we had "The Decision," we had one of the many reasons "The Decision" came to be.
One season after winning 50 games and making it all the way through to the NBA Finals, the Cleveland Cavaliers, LeBron James and all, collapsed.
They began the season by battling to stay above .500, before incurring a six-game losing streak and a stretch that saw them lose seven of nine, culminating in that 10-14 record you see above.
It was disheartening to say the least. This was a team was fresh off a finals appearance, had a budding young legend in James and hadn't lost anyone of significance over the offseason. What was so wrong?
Whatever it was, the Cavaliers were able to correct it. Kind of.
They finished the season 45-37 overall to make the playoffs while receiving little to no help from a midseason trade that brought Ben Wallace, Wally Szczerbiak and Delonte West into the fold.
Cleveland once again struggled to play .500 basketball after the trade, going 15-13 to close out the season before falling in seven games to the Boston Celtics in the Eastern Conference semifinals.
Overwhelmingly impressive?
Not at all, but it struggled out the gate and managed to make the postseason at least. Perhaps the Lakers should take note.
9. Minnesota Timberwolves (1999-2000)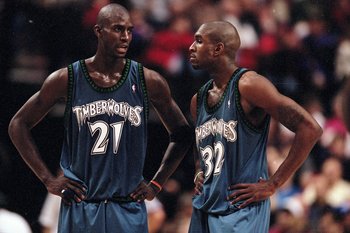 Otto Greule Jr/Getty Images
Low Point: 7-13
Longest Losing Streak: Eight games
Despite going just 25-25 during the lockout-shortened 1998-99 NBA season, the Minnesota Timberwolves entered the 1999-00 campaign facing high expectations.
They had a superstar in Kevin Garnett and an abundance of complementary talent in the form of Malik Sealy, Terrell Brandon and Wally Szczerbiak. Even Anthony Peeler and Joe Smith were cause for excitement back then.
But for some reason, something just didn't click to start the season. Minnesota lost 13 of its first 20 games, including a stretch that saw them lose eight consecutive contests, five of which came by 10 or more points.
Much to everyone's surprise, the Timberwolves opted to stand pat. They made no major additions and were able to right their sinking ship, going 39-12 to close out the season and actually eclipse the 50-game mark.
Sure, they lost in the first round of the postseason to the Portland Trail Blazers, but they were able to rebound from one of the most alarming starts in league history. How could such a talented team lose eight straight?
You got me, but they were able to carve up opposing teams the rest of the way.
Yet another turnaround the Lakers should make note of.
8. New York Knicks (2011-12)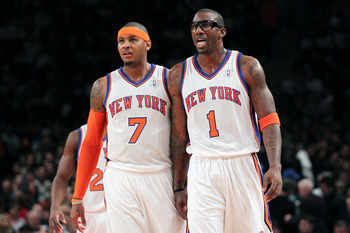 Anthony Gruppuso-USA TODAY Sports
Low Point: 8-15
Longest Losing Streak: Six games
The Eastern Conference needed a team to compete with the Miami Heat, and that team was supposed to be the New York Knicks.
After a 2010-11 campaign that saw the Knicks acquire Carmelo Anthony, they landed Tyson Chandler over the offseason to pair with Amar'e Stoudemire. Together, they would become the most formidable frontline in the NBA.
Or not.
Though injuries played a role in their dismal start, they somehow managed to begin the lockout-truncated season by losing 15 of their first 23 games. It became so bad, in fact, that the Knicks turned to an undrafted point guard in Jeremy Lin to solve their problems.
Solve them he did—temporarily. He became an overnight sensation, but the Knicks still struggled. They lost six consecutive games on two separate occasions before Mike D'Antoni ultimately called it quits.
Mike Woodson took over head coaching duties for the then 18-24 Knicks, leading them to an 18-6 finish and a playoff berth.
New York proceeded to fall in five games to the Heat, but at least a complete disaster had ultimately been avoided.
If that's even something to be happy about.
7. Miami Heat (2006-07)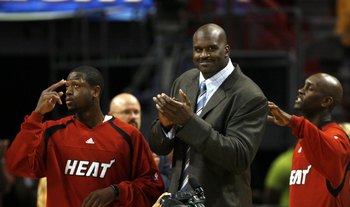 Eliot J. Schechter/Getty Images
Low Point: 13-19
Longest Losing Streak: Five games
Miami was fresh off an NBA championship heading into the 2006-07 season. But that wound up meaning very little.
The Heat began the season 9-13 and were never able to fully recover from Dwyane Wade appearing in just 51 games and Shaquille O'Neal 40.
Despite playing their way into a five-game losing streak that saw them fall to 13-19, the Heat were able to finish the season 31-19 to clinch a playoff berth, meaning they at least had an opportunity to defend their title.
But their championship defense went anything but well. Miami fell in succession to the Bulls during the first round of the postseason, essentially fueling a roster shakeup that took place over the offseason.
From a poor start to an even more disappointing finish, that's not how the Heat were supposed to follow up a championship.
6. Houston Rockets (1998-99)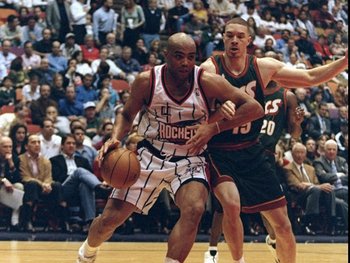 Robert Laberge/Getty Images
Low Point: 8-7
Longest Losing Streak: Three games
The 1998-99 Houston Rockets were one of the earlier NBA super teams. Except they didn't always play like it.
Just prior to the lockout-shortened crusade, the Rockets were able to swing a sign-and-trade that brought in five-time champion Scottie Pippen from the Chicago Bulls. He joined a roster that already consisted of Charles Barkley, Cuttino Mobley and Hakeem Olajuwon.
Though Houston never suffered an complete collapse, it failed to meet the high ceiling that was set for it upon Pippen's arrival.
Not only did the Rockets begin the season a lukewarm 8-7, but it took them a five-game winning streak to get there.
The mediocre tide turned prolific, though, upon the midseason arrival of Sam Mack and the improved play of Michael Dickerson.
Houston won as many as nine games in a row during the latter half of the season, ultimately finishing 31-19, earning it the fifth-best record in the Western Conference.
Disappointment spread further once again, however, once the Rockets fell in the first round of the playoffs to the fourth-seeded Lakers.
Still, the Rockets were able to navigate the rigors of an unfamiliar assembly to the point of playoff contention, which is more than the Lakers can say right now.
5. Miami Heat (2007-08)
Jonathan Daniel/Getty Images
Low-Point: 8-34
Longest Losing Streak: 15 games
Pat Riley's return to the sidelines wasn't exactly spectacular.
One year removed from a failed title defense, the Heat were supposed to be good. Like really good.
Shaquille O'Neal and Dwyane Wade remained incredible forces, and the team had added Penny Hardaway, Mark Blount and Ricky Davis to the roster.
Then the injury bug hit again.
Wade appeared in just 51 games all season, while Hardaway saw the light of 16 before being waived in December of 2007. And it gets worse.
After appearing in just 33 games, Shaquille O'Neal was dealt to the Phoenix Suns midseason in a trade that brought Miami Shawn Marion in return.
Simply put, promise turned to chaos in South Beach.
The Heat went on to win just 15 games that season and embarked on two separate losing streaks of at least 11 consecutive losses.
Somehow, some way, a depleted Miami team managed to disappoint even more than it did during its title defense.
4. Los Angeles Lakers (1981-82)
Getty Images/Getty Images
Low Point: 2-4
Longest Losing Streak: Three games
Believe it or not, Mike Brown is not the first Lakers coach to fall victim to a start-studded roster.
During the 1981-82 campaign, one year after winning 54 games, Paul Westhead was shown the door in at the end of a five-game winning streak, courtesy of a Magic Johnson-induced protest.
No the Lakers weren't terrible by any means, and when Westhead was fired, the team was 7-4.
But Johnson wasn't happy. He noted that the game wasn't "fun" anymore, essentially forcing the organization to choose between him and Westhead.
While it's easy to disagree with the essential tantrum Magic threw, there was cause for concern. The Lakers boasted the likes of him, Kareem Abdul-Jabbar and Kurt Rambis, after all.
Despite the lukewarm start, the Lakers went on a tear once Pat Riley took over. They traded for Bob McaDoo midseason, posted a 57-25 record overall and went onto win the NBA title.
Not a bad result for what was deemed a lackadaisical start, is it?
What we must understand, though, is that the early record may have been acceptable to some teams, but not the Lakers. They were supposed to be great, supposed to be dominant. Just like the Lakers of today.
But they weren't. Not at first.
One swift coaching change later, though, they were.
3. Miami Heat (2010-11)
Doug Benc/Getty Images
Low-Point: 9-8
Longest Losing Streak: Five games
It wasn't all smiles in South Beach upon the Big Three's formation.
LeBron James and company began the season struggling to play .500 basketball. Yes, after losing the first game of the retooled era, Miami never made an appearance under .500 again, but this was a team that was supposed to fight for 72 wins, not mediocrity.
But that's exactly what they did. Through 17 games, the Heat struggled, and much was made of the failure that was the trio of James, Dwyane Wade and Chris Bosh.
Miami hung tough, however. At no point did it abandon ship. Aside from adding the likes of Mike Bibby and Erik Dampier midseason, no major moves were made—Erik Spoelstra's job included.
Using three separate winning streaks of 12, nine and eight to assert the dominant version of themselves, the Heat laid claim to a 58-24 record.
From there, they essentially waltzed into the NBA Finals, where they met a resilient Dallas Mavericks squad and fell in six games.
And yet despite the absence of a championship, the season was anything but a failure. The Heat overcame premature struggles without any significant changes and managed to come within two victories of a title—in just their first season together.
That's a turnaround that's definitely worth paying attention to if you're the Lakers.
2. Los Angeles Lakers (2002-03)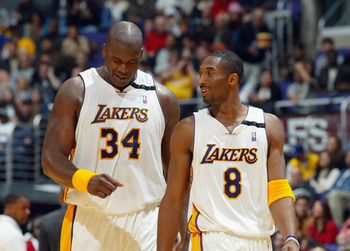 Lisa Blumenfeld/Getty Images
Low Point: 10-18
Longest Losing Streak: Four games
Coming off their third title in as many years, there was no limit to what the 2002-03 Lakers could accomplish.
Except apparently there was.
Kobe Bryant and company began the season without Shaquille O'Neal, posting a 3-9 record during his initial absence. Once he returned, however, the Lakers still struggled, losing 18 of their first 28 games in total.
There honestly really wasn't much cause for such a pathetic display. Sure, Shaq was injured to start, but what about when he came back? It wasn't like Los Angeles' roster changed from the previous season; it barely changed at all.
Luckily, though, the Lakers were able to salvage the season. They went 42-12 to finish the year and clinched a fifth-seeded playoff berth.
They're quest for a fourth straight championship fell short, however, courtesy of the eventual NBA champion San Antonio Spurs.
But while these Lakers didn't win a title, they did turn their season around in time to be considered a potential powerhouse.
Which means perhaps there's hope for the current Lakers yet.
1. Los Angeles Lakers (2012-13)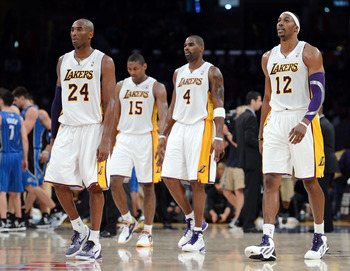 Harry How/Getty Images
Low Point (to date): 9-13
Longest Losing Streak (to date): Three games
Los Angeles Lakers, Take 3.
While plenty will deem this a premature conclusion, the Lakers should actually take such placement—and their three appearances in total—as a compliment. It shows that they've had talented enough teams from which we expected the world.
That said, this is unlikely to quell any worries Los Angeles currently has.
This year's Lakers team was one of the most heralded squads of all-time upon formation. Coming into the season, they arguably had four top-20 players, two of which could be considered top-five in Kobe Bryant and Dwight Howard.
And yet this team is currently entrenched in chaos.
Mike Brown was canned after a 1-4 start, Phil Jackson was spurned in favor of Mike D'Antoni and, prior to injuries, both Steve Nash and Pau Gasol were putting up some of the worst numbers of their career.
To make matters worse, these Lakers have become a porous defensive team at the rim and in transition, and Howard is struggling to remain aggressive on the offensive side of the ball.
I mean, what's next?
No other team has ever generated as much hype as this version of Hollywood basketball. Showtime was supposed to not only be back, but better than ever.
Instead, though, the Lakers have crumbled beneath the weight of injuries, underwhelming stat lines, a coaching change and overall expectations—to the point where it's time to panic.
More than any other struggling powerhouse in NBA history.
Keep Reading