Panthers vs Chargers: 5 Keys to the Game for San Diego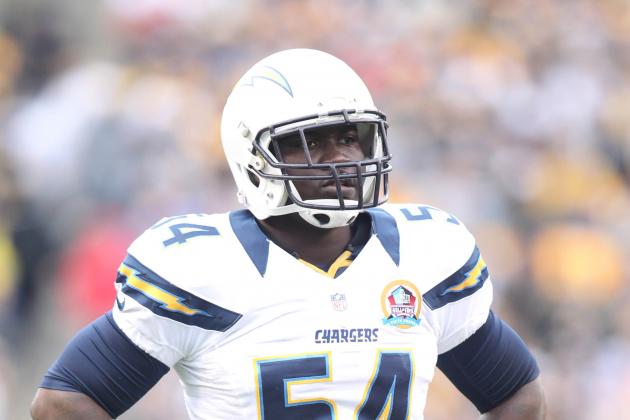 USA TODAY Sports

The validity and value of last week's game in Pittsburgh can be debated in another space. Most Charger fans are either in "show me" or "I've seen enough" mode. This weekend's game will be blacked out in San Diego as a result. But in terms of the game itself, here are five pivotal points.
Begin Slideshow

»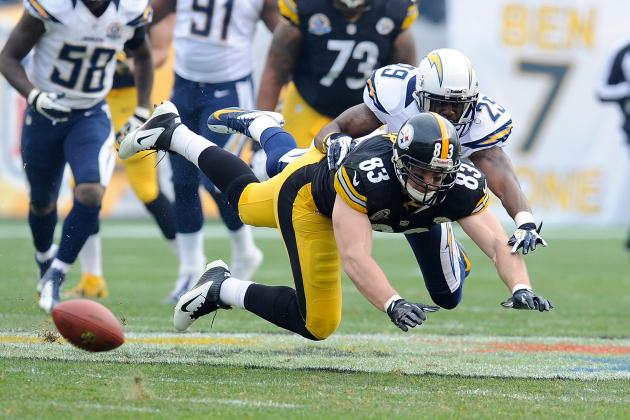 Joe Sargent/Getty Images

Newton has been all over the place in his sophomore season. The Chargers, even without Donald Butler and Antwan Barnes, were able to get heat on Ben Roethlisberger on Sunday. However, Newton won't be nearly as rusty or as limited physically.
John Pagano did a good job of disguising his pressures last week, even though it appeared the Chargers were blitzing much of the time. At least that's what Phil Simms was saying.
The strong play of Corey Liuget and Co. must continue if the Bolts want to win two straight for only the second time this season.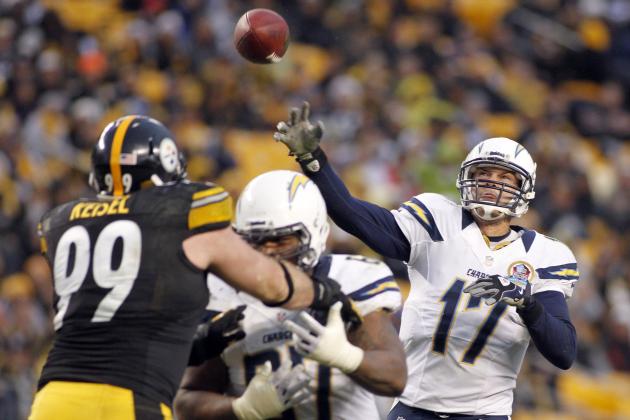 Justin K. Aller/Getty Images

He was far from accurate last week, as the stat line reveals. But Rivers didn't throw and picks or lose any fumbles. That's no small feat for a quarterback who still leads in league in turnovers.
Rivers wore gloves for the first time in his career in Pittsburgh. I didn't think it affected his play all that much. Kurt Warner wore gloves exclusively when he left the Giants for Arizona. His touchdown to Danario Alexander is the type of play we used to see from Rivers regularly.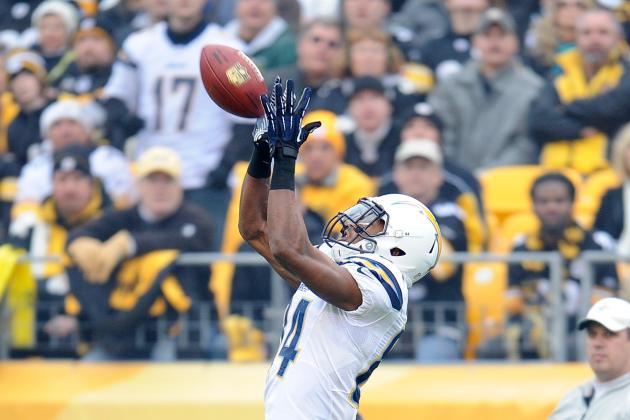 Joe Sargent/Getty Images

The knock on Alexander has always been staying healthy. That hasn't been a problem this season in San Diego. Then again, the same could be said for Jared Gaither in 2011 and we all know how that turned out.
Many of Rivers' bad habits developed by not having to be all that accurate when Vincent Jackson, Malcom Floyd, Antonio Gates, Patrick Crayton, Vincent Brown and Randy McMichael were going up strong for the ball. Alexander has been one of the bright spots of this dismal season, but it remains to be seen what the long-term effects of his strong play will be.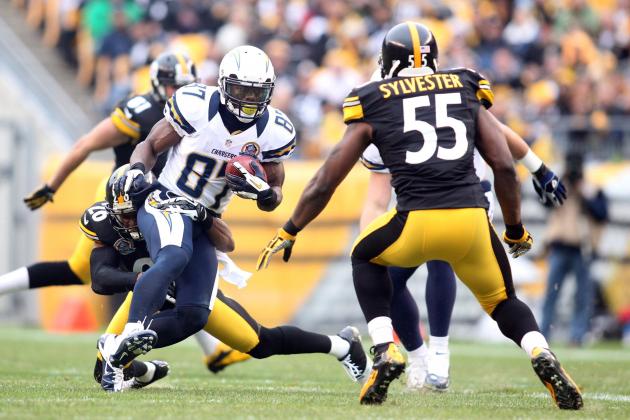 Charles LeClaire-USA TODAY Sports

Just as Laurent Robinson's release before the season opener in 2011 haunted Boltheads as they watched Robinson light it up in Dallas, Spurlock looks to be a player who really could have helped the team while they struggled to create offense earlier in the year.
Spurlock looked great on special teams and continually found separation from Pittsburgh's secondary, albeit depleted by injury. This is the slot receiver that the Chargers had hoped for early on. If Alexander is giving them what they had hoped to see from Robert Meachem, then Spurlock is doing the same thing in the place of Eddie Royal. Of course, Royal is paid a lot less than Meachem and is injured instead of being benched.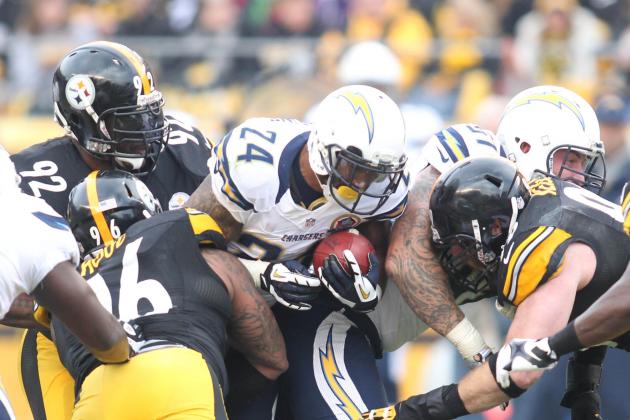 USA TODAY Sports

Is the inability of the Chargers to establish anything on the ground the fault of Norv Turner, the offensive line or Ryan Mathews? It's probably a combination of all three. Mathews has been asked often to run up the gut, as was LaDainian Tomlinson before him. However, he's been unable to hit holes quickly when they appear.
He also hasn't been able to bounce off tackles or be a weapon on screens, leaving Norv Turner clinging to Ronnie Brown on third downs for dear life. Mathews' blocking, route-running and reliability is all under scrutiny. However, at this point, the Chargers need to see what they have in No. 24.