UFC on FX 6 Weigh-In Results for Ross Pearson vs. George Sotiropoulos Fight Card
Use your ← → (arrow) keys to browse more stories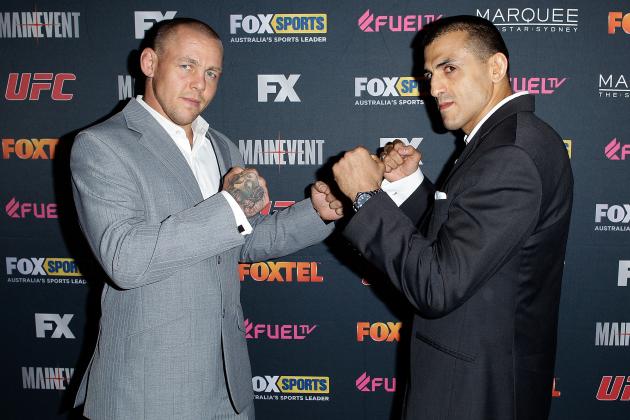 Brendon Thorne/Getty Images

George Sotiropoulos and Ross Pearson will highlight Friday night's UFC on FX 6 event from the Gold Coast Convention and Exhibition Center in Australia. The two lightweight competitors have coached opposite each other in a U.K. vs. Australia season of The Ultimate Fighter and will now meet inside the Octagon to decide which coach walks away with bragging rights for the their team and country.
Not only will the coaches meet on the FX portion of the card, but four fighters representing two weight divisions will also mix it up to decide who earns a UFC contract. In the welterweight final, New Zealand's Robert Whittaker will face Brad Scott from England, while in the lightweight final, English fighter Colin Fletcher will face Ireland's "Stormin'" Norman Parke.
Before we get to those bouts, a middleweight contest of some interest will take place as Hector Lombard faces Rousimar Palhares to open the FX card.
UFC on FX 6: Full Weigh-In Results:

Ross Pearson (155) vs. George Sotiropoulos (155)
Brad Scott (171) vs. Robert Whittaker (170)
Colin Fletcher (155) vs. Norman Parke (155)
Hector Lombard (186) vs. Rousimar Palhares (186)
Chad Mendes (146) vs. Yaotzin Meza (145)
Joey Beltran (204) vs. Igor Pokrajac (205)
Seth Baczynski (170) vs. Mike Pierce (171)
Ben Alloway (171) vs. Manuel Rodriguez (171)
Brendan Loughnane (155) vs. Mike Wilkinson (155)
Cody Donovan (204) vs. Nick Penner (205)