SEC Football: Why SEC All-Conference Team Could Beat the Best of the Rest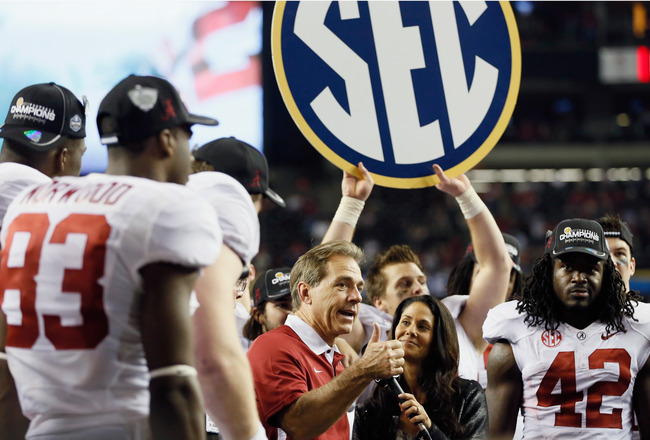 Kevin C. Cox/Getty Images
The SEC owns the last six national championships and is about to play for its seventh as Alabama takes on Notre Dame. SEC fans claim that their teams and players can take on the best that everyone else can throw at them.
So, what if college football had an interesting All-Star game in which the All-SEC team took on the remaining All-Americans? How well would the SEC hold up?
Actually, quite well. The SEC doesn't have a monopoly on talent, but there just seems to be more in this one conference than in the rest of the country.
So, why might the All-SEC team beat the best of the rest? Read on.
An Elite Offensive Line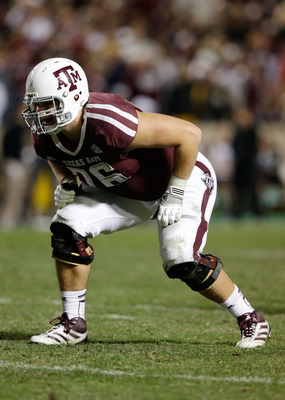 Scott Halleran/Getty Images
In the SEC, they know that winning in the trenches is the key to winning games and championships.
Three of the first-team AP All-American linemen come from the SEC: G Chance Warmack and C Barrett Jones from Alabama and T Luke Joeckel of Texas A&M. Warmack and Jones both have national championship experience to boot.
And then when you add Gabe Johnson of Mississippi State and Jake Matthews of Texas A&M as well, you have a line that would give any defense, even an All-American one, fits.
A Heisman-Winning Quarterback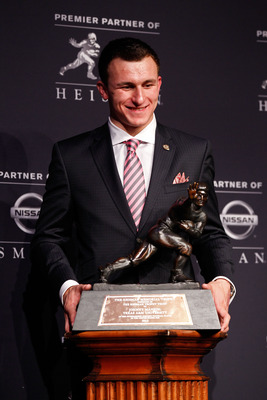 Mike Stobe/Getty Images
How could you go wrong with a quarterback who's nickname is "Johnny Football?"
Although he's a redshirt freshman, Johnny Manziel excels at beating teams with both his feet and his arm. A lot of people think of Tim Tebow, but I've seen Manziel make throws while on the run that Tebow wouldn't even dream of.
He's almost unstoppable as it is, but but him behind an All-SEC offensive line and with a stable of All-SEC running backs and you would need a NFL defense, and probably one of the better ones, to stop Johnny Football.
A Stable of Crushing Running Backs
Kevin C. Cox/Getty Images
The "best of the rest" would have a bit of an advantage in their own way with the likes of Wisconsin's Montee Ball and Oregon's Kenjon Barner, but the SEC has a set of bruising backs that would make any defense think twice about tackling them.
Todd Gurley of Georgia has been a revelation for the Bulldogs this season, while Mike Gillislee of Florida has carried much of the Gators offense to a one-loss season.
And look at the second team. With backs like Alabama's Eddie Lacy and Vanderbilt's Zac Stacy, this team would be able to run the ball down just about anybody's throat.
True, they might not be as flashy as an offense led by the likes of Oregon's Barner, but this set will wear down any set of defensive linemen and linebackers over the length of the game.
An Amazing Defensive End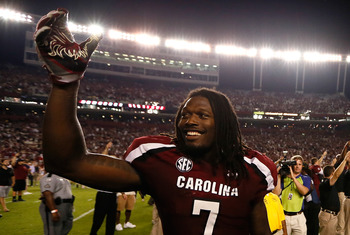 Kevin C. Cox/Getty Images
The SEC has only one first team All-American defensive lineman, but this one is quite a beast.
Jadeveon Clowney is one of the most disruptive defenders in the country with 13 sacks on the year. The way he sheds blocks and gets into the backfield is something to behold.
Too bad the rest of the country doesn't have some of those All-SEC offensive linemen to protect their quarterbacks from Clowney.
A Dominant Linebacker Corps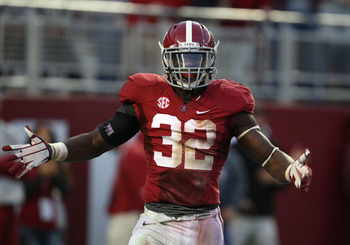 Mike Zarrilli/Getty Images
The SEC may not boast the best linebacker in the country as Notre Dame's Manti Te'o claims that distinction. However, two of the three first-team All-American linebackers, namely Georgia's Jarvis Jones and Alabama's C.J. Mosley, play for the SEC.
Between Jarvis Jones' pass rush and Mosley's overall defensive prowess, even the likes of Kansas State's Collin Klein would have a hard time moving the ball.
A Solid Secondary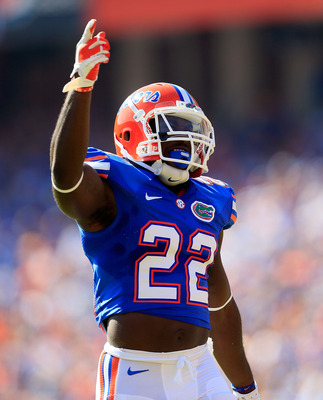 Sam Greenwood/Getty Images
The SEC claimed two AP first-team All-Americans in CB Dee Milliner from Alabama and Florida's Matt Elam. Milliner's instincts are phenomenal in anticipating the cut of receivers. Elam's toughness was manifested as he striped the ball from LSU's Odell Beckham and turned the tide of that game.
And don't forget about Mississippi State's Johnthan Banks who was the heart and soul of a decent Bulldog season. Throwing the ball against an All-SEC secondary would be a tall order indeed.
Top-Notch Coaching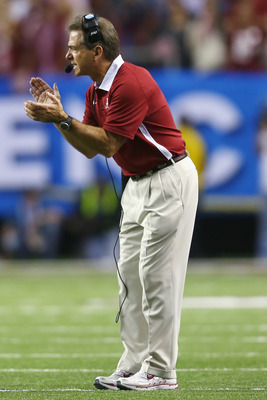 Mike Ehrmann/Getty Images
There's no doubt in my mind that if the All-SEC team faced the all-everybody else team that Alabama's Nick Saban would be tapped to coach this team.
And why not? Saban is on the verge of his second national title in a row as well as his third in the past four years.
Nobody coaching today has a resume that can match Saban's, and he is still at the top of his game.
Keep Reading