Tennessee Football: 6 Vols Who Will Benefit Most from Coaching Change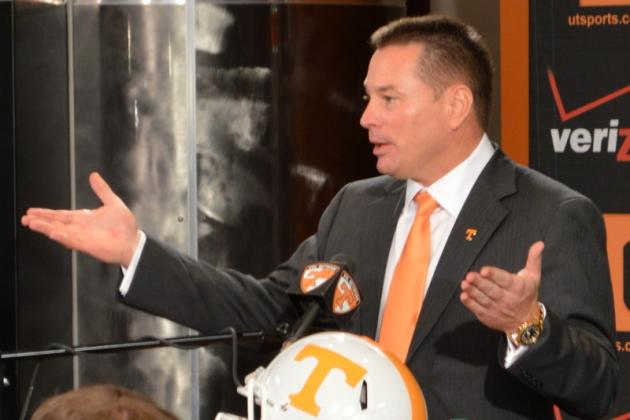 Courtesy of TNJN.com
The jury is still out on whether or not Butch Jones was the hire that will bring the Tennessee football program back to national prominence, but there are no shortage of players who will see vast improvements under the new system.
Jones and the program he's implementing will be a far stretch from the one players experienced under Derek Dooley. This will bring about major changes in all three facets of the game and affect the way each player prepares and executes his gameplan.
Additionally, a fairly new coaching staff along with major scheme changes both offensively and defensively will benefit some more than others.
Let's dive in and check out who will benefit most from the arrival of Butch Jones and his coaching staff.
Begin Slideshow

»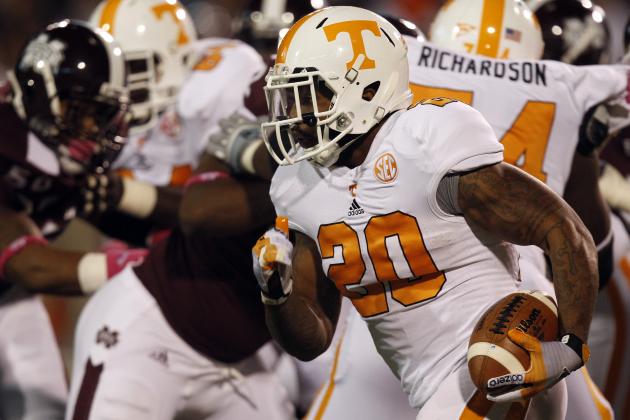 Butch Dill/Getty Images

Vols running back Rajion Neal had a magnificent season in 2012 until injury problems made him less relevant down the stretch.
With the no-huddle approach that Jones will be bringing to Rocky Top, Neal will benefit more than his counterparts, Marlin Lane and Devrin Young. Neal possesses the fastest motor and has the most raw strength and speed combination to get the job done, which is what no-huddle aficionados dream of.
If he's healthy, Neal will likely snag the starting spot due to the way he ran the ball in 2012. The passing game may not be the same since Tyler Bray and his two stud receivers have bolted for the NFL draft, but it will still be solid.
That will allow for Neal to bust his signature six to 10 yard runs that kept Vol drives going all of last season.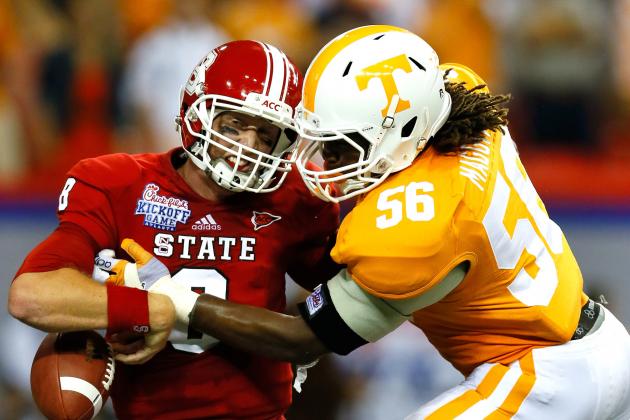 Kevin C. Cox/Getty Images

Nobody was stripped of what could've been a dominating season more than sophomore linebacker Curt Maggitt. After terrorizing backfields early on in the season, Maggitt missed much of the middle stretch and tore his ACL when he finally returned against Missouri.
Maggitt notched 56 tackles as a freshman and many feared him as part of the next wave of elite NFL-to-be linebackers. He still has a chance to join that group, but it will require exhausting conditioning and rehab to get back on the field before the start of next season.
Jones opted to bring his defensive coordinator from Cincinnati, John Jancek, to Knoxville. While he's not a household name, Jancek coached Georgia's linebackers from 2005-09 and was co-defensive coordinator for his last season in Athens before joining the Bearcats.
Having a defensive coordinator with expertise in the linebacker position didn't work last go-around with Sal Sunseri, but Jancek will have a trusted SEC veteran coach to coach up the LBs as former Auburn linebackers coach Tommy Thigpen landed the job.
With two experienced SEC linebackers coaches in the fold, Maggitt will return to his elite level for a great final two seasons as a Volunteer.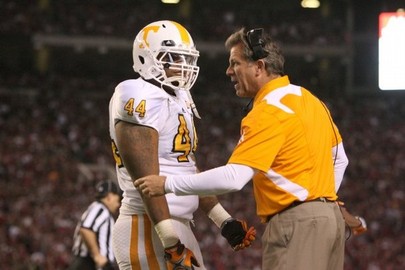 Courtesy of Go Vols Xtra
With the abrupt switch to the 3-4 last offseason under Sal Sunseri, a few players automatically diminished in value due to their skill set. One of those players was defensive lineman Maurice Couch.
Once Daniel McCullers' papers were signed to transfer to Tennessee, he was an automatic fit in the 3-4 scheme. But that left Couch to man one of the defensive end positions, which doesn't match him as well. At 6'2" and 300 pounds, Couch is undoubtedly a run-stuffer who thrives in the trenches instead of coming around the end.
He knows it, too. Here's his reaction on Twitter upon hearing Jones mention they were switching back to 4-3.
4 man front hell yea!!!!
— maurice couch (@MoTrilla44) December 7, 2012
Couch will be one of the leaders of this defense in 2013 and he'll need to show that in the trenches. With a new scheme that perfectly fits him, he will do just that.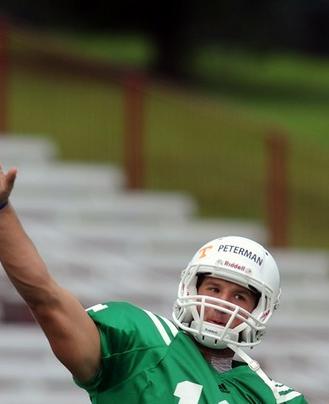 Photo via Go Vols Xtra
Redshirt freshman Nathan Peterman hasn't played a single snap for the Volunteers, but he has a real shot to emerge as the starting quarterback in 2013 and beyond.
Peterman joined Tennessee as the 15th best quarterback in his class (via 247 Sports), and he's impressed in camps and practices despite being buried in the depth chart last season behind Bray as well as Justin Worley, who's had his fair share of game experience.
But Peterman's skill set fits the Butch Jones system much better. He's a dual-threat quarterback who isn't afraid to pick up yards on the ground, which should work well in the Vols' new-found spread offense.
If Peterman can out-play Worley in training camp and emerge as a starter, he won't give it up and will be Tennessee's quarterback of the future.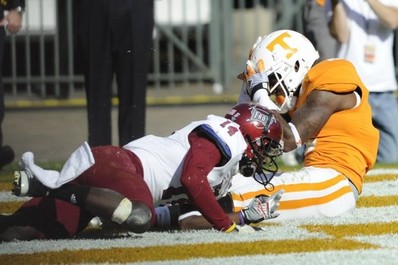 Photo via Knoxville News Sentinel
Rising junior receiver Vincent Dallas will inherit more responsibility than just about any player on the roster in his transition from 2012 to 2013.
After being the fourth or fifth receiver on the team last year, he'll likely be the top target in 2013 as Justin Hunter, Cordarrelle Patterson and Zach Rogers won't be lining up out wide.
With Jones' spread system, receivers will have to play a huge part and will often be counted on to keep drives going with the short-passing system. Dallas has shown an ability to separate from defenders, but needs to shore up his route-running.
Dallas will have a breakout season and emerge as one of Tennessee's best offensive weapons.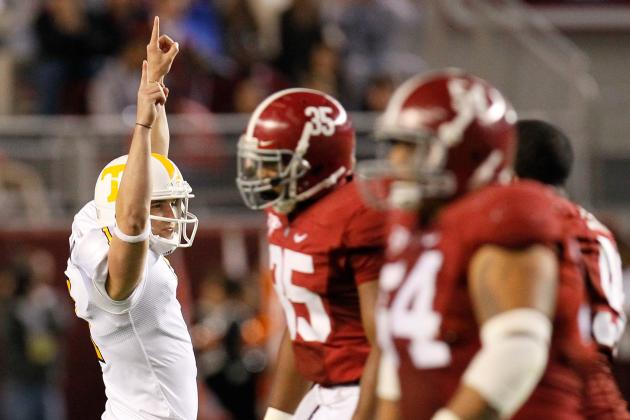 Kevin C. Cox/Getty Images

Oh, Michael Palardy. It's the name that injects fear into Tennessee fans' hearts when they hear it on a fourth down.
Once regarded as the top kicker in the country coming out of high school, Palardy has been incredibly unreliable in his Volunteer career and fell out of Derek Dooley's good graces in no time. The 2012 Tennessee team would almost never kick a field goal over 40 yards, instead opting to punt or attempt to convert.
But any Vol fan remembers Palardy's 50-yarder in Tuscaloosa in 2011, which tied the game heading into halftime. He has the ability to be a stud kicker and can kick under pressure.
Nobody truly knows what went wrong with the first part of Palardy's UT career, but perhaps a new coach who obviously puts a lot of trust into his players will help do the trick. If Butch Jones decides to go with Palardy as his top kicker, he'll stand behind him and won't ride his coat tails after a few missed field goals in practices.
That level of confidence will help Palardy turn his career around and prove why he was once thought of as an elite kicker.