25 Funniest Custom Jerseys Worn by Fans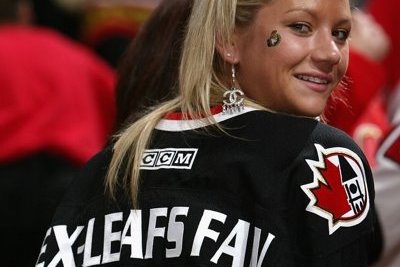 The jersey is the pinnacle of fan gear; even the replicas are expensive, and if you are a true super fan, getting that authentic, autographed jersey is going to max out your credit card(s). This is because nothing else advertises your team love/loyalty like a jersey.
The name, the number, the style, the way you wear it...say so much about where you fall on the fan spectrum, and a great icebreaker (or instigator).
One unintended consequence of this truth is the "custom" fan jersey. What once was only in the realm of the most dedicated and eccentric fan, or wannabe goofball, is now available to any person with a hundred or so bucks and Internet access. The online shops for all the major sports leagues feature custom jerseys, so if you can't live without a Dallas Cowboys jersey emblazoned with "The Dude," then you're set.
Custom jerseys are a crapshoot: sometimes we're laughing with you, but sometimes we're laughing at you. That's the risk you take. Either way, the result is often hilarious.
From jersey fouls to pure comedic genius, these are the 25 Funniest Custom Jerseys Worn by Fans.
Begin Slideshow

»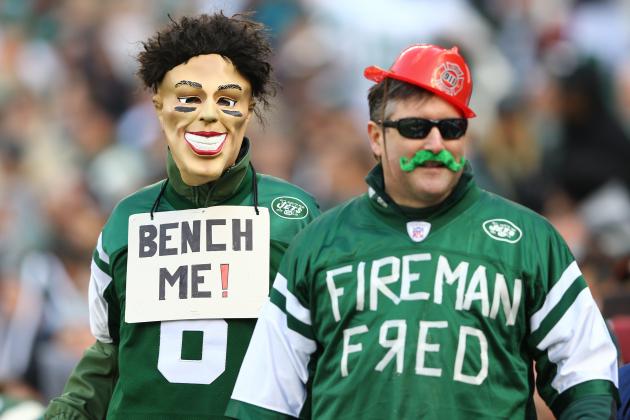 Al Bello/Getty Images

It looks like the Jets' Fireman Ed has officially been replaced by "FIREMAN FRED." Well, as official as anything can be when it's constructed by masking tape on the front of a jersey.
Whatever, though...it's the Jets.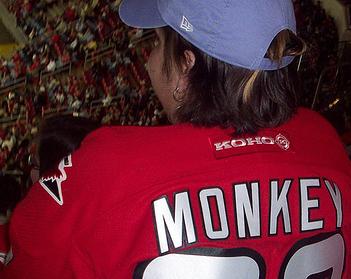 Image courtesy of Jenni Propst via Post-Gazette.Com
In 2009 the Pittsburgh Post-Gazette posted this photo that a reader sent to them from a Hurricanes/Lightning game she had attended the night before. This jersey has so many fouls, I'm not sure where to begin. Actually, there's only two—but they're big ones.
First of all, what kind of toolbag gets a customized jersey with the word "MONKEY" on the back? These things cost well over $100, mind you. And then there's the fact that she decided to go with the No. 99, perhaps the most famous number in NHL history.
For those of you non-hockey fans, Wayne "The Great One" Gretzky wore the No. 99 during his entire NHL career. It also happens to be the only number retired by every team in the NHL.
So yeah…put MONKEY on it. Jerk.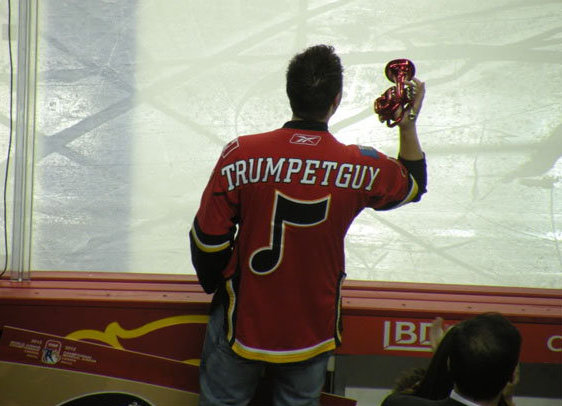 Image via Puck Daddy
How sad is it when someone decides to give themselves a nickname? How much sadder is it when someone decides to give themselves a nickname based on an attention seeking-gimmick? How much even sadder is it when someone decides to put their self-given gimmick-inspired nickname on the back of a customized hockey jersey?
And seriously…the best thing he could come up with was "TRUMPETGUY"? Dude didn't have anything else at home he could use as a prop? Maybe "CLARINETGUY" was already taken.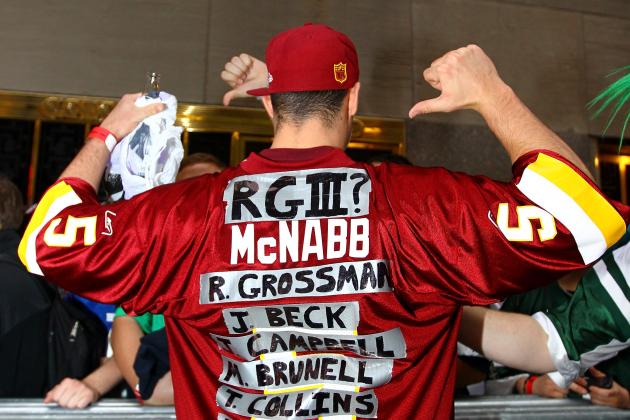 Al Bello/Getty Images

It looks like the Redskins may have stumbled onto something that could provide them long-term success and stability in rookie quarterback Robert Griffin III. Obviously great news for beleaguered Skins fans—they've suffered enough.
It's no secret that they've been flailing at the quarterback position for over a decade, but to see that motley crew of crap all lined up is a harsh reminder that they are one serious RG3 injury away from returning to obscurity.
Image courtesy of @twomins4hooking via JerseyFoul.Com
On New Year's Eve 2011, the U.S. National Junior Team faced off against Switzerland in a preview of what would go on to be the gold medal matchup. One fan in attendance (@twomins4hooking) spotted this America enthusiast, snapped his photo and submitted it to Jersey Foul.
Draping yourself in the American flag and busting out your finest Uncle Sam novelty hat is nothing new for patriotic Americans. But normally if you're going to go out of your way for the stars and stripes, you'd pick an American player to rep on the back of your jersey.
For those of you who are unaware, Jaromir Jagr is from the Czech Republic.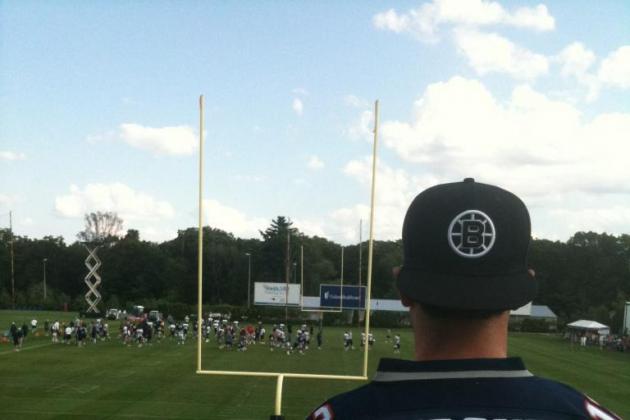 Image courtesy of Don via TheAwesomeBoston.Com
Meet Patriots fan Don. According to The Awesome Boston, Don had always wanted a custom jersey that would get him some attention. Well, he succeeded with his Mr. Bundchen jersey; of which he insists isn't a dig at Brady, but rather a compliment to the success of his supermodel wife Gisele.
I actually like this. It's kind of funny and understated. Much better than if he would have gone with "PENIS 69." Kudos to Don for exercising some restraint.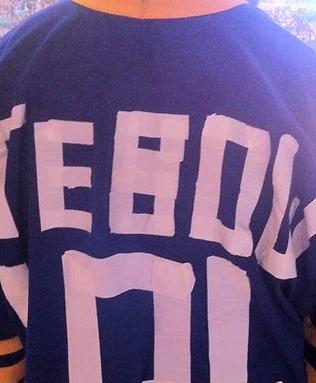 Image via Puck Daddy
Greg Gelz, who incidentally has a faux hawk, is a Sabres fan who told Puck Daddy in March 2012 that he created this Tim Tebow masking tape masterpiece as a slap in the face to all Jets fans. Who can resist trolling the J-E-T-S these days?
I have to admit that I like where Gelz, who is a Bills fan, was coming from with this, but I can't help think that he missed the mark a bit. Mostly because before I read his comments, I actually thought he was just a Tim Tebow fan from Buffalo.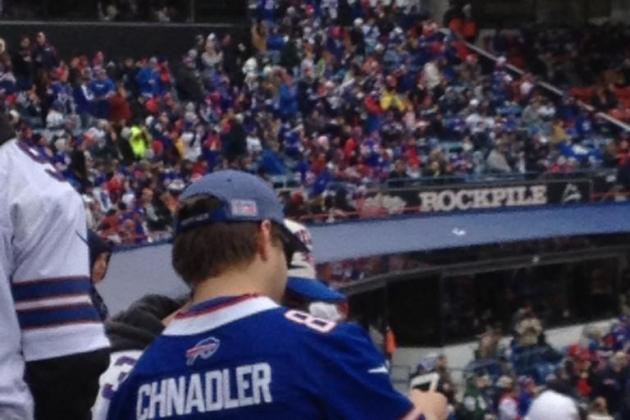 Image via @tdaleyj
When I first came across this photo on Twitter, I assumed this Bills fan probably got a discount on a misspelled Scott Chandler jersey. Sure he looks like an idiot, but who doesn't love a bargain?
But then I said "CHINANDLER" out loud and realized I'd heard that name before! In Friends, Chandler Bing's TV Guide was addressed to Miss Chnandler Bong. So we either have a bargain shopper or a Friends super fan here.
Either way, we have a major jersey foul.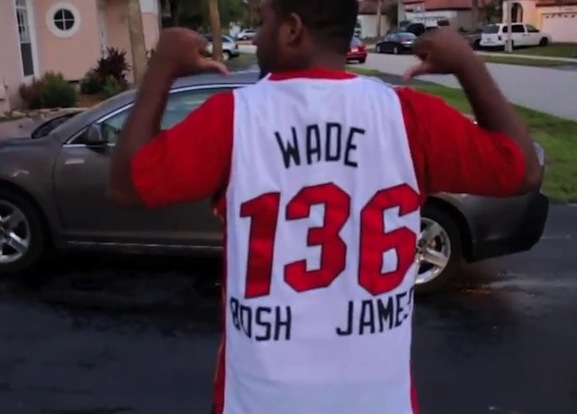 Image via Deadspin
I don't mean to be harsh here—but this guy is a total idiot.
In May 2011 this ridiculous goober made a much needed "how to" video on washing your belongings with a Celtics jersey. Thanks to his Deadspin notoriety, said goober has since deleted the YouTube video, but the report of his antics lives on.
As does this jersey.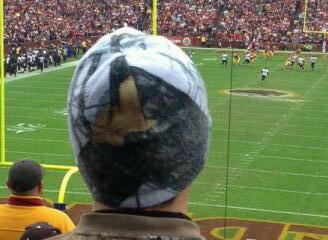 Image via @dcsportsbog
Now this is one I don't get at all. There aren't many Ravens fans that are publicly and passionately devoted to their quarterback, Joe Flacco. In fact, he hasn't even earned the respect of some of his teammates several years into his tenure.
This guy obviously is. He's at a Ravens road game, meaning he may have traveled there. He's got a custom camouflage jersey, complete with matching hat. That takes some work on his part. Yet, he has no idea that his "FIACCO" jersey is flagrantly misspelled and the world is laughing at him.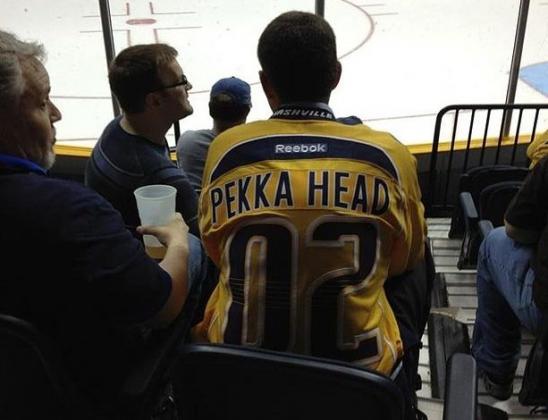 Image via Puck Daddy
In April 2012, Predators fan Victoria Martin submitted this jersey foul to the Puck Daddy blog and she was just as confused as I was as to what inspired this fan to forgo the traditional (and cheaper) "RINNE" jersey in favor of "PEKKA HEAD."
I suspect he's just a weirdo.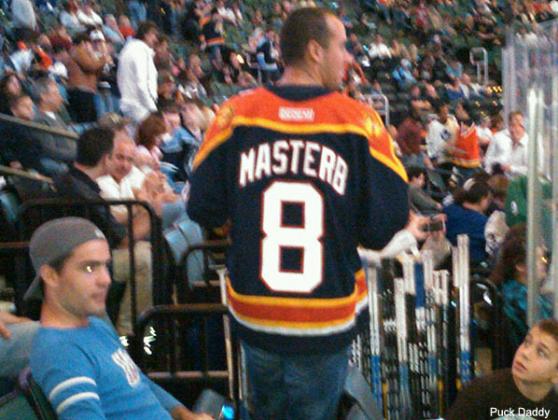 Image via Puck Daddy
This Panthers jersey made Puck Daddy's list of the Top 10 Jersey Fouls for 2011, and with very good reason. It's dirty, simple and stupid—much like the fellow wearing it, I'd imagine.
He's going to make some unlucky lady a horrible ex-husband someday.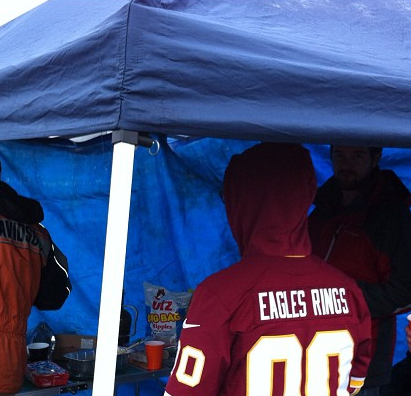 Image courtesy of Instagram @hyxspace via WashingtonPost
This awesome dig at the Eagles made me think back fondly on that series of old MasterCard "Priceless" commercials. Remember those? I loved them.
Ticket to see your Redskins play on Sunday: $75
Parking and transportation costs associated with the game: $35
Beers, hot dogs, nachos, foam finger and cash you lost when you dropped your wallet in the bathroom: $195
Being able to walk around as a human billboard advertising the failure of your team's hated division rival: Priceless.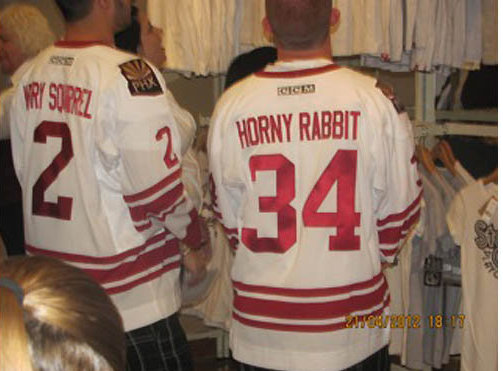 Image via Puck Daddy
The Coyotes have been ranked dead last in the NHL attendance for years and they've somehow been operating in bankruptcy for three years. The (literally) poor Coyotes may only have 6,000 fans or so, but those 6,000 fans are loyal.
Like "Horny Rabbit" and "Angry Squirrel." Don't ask me what that means—just report all future sightings of these guys to Puck Daddy for further evaluation.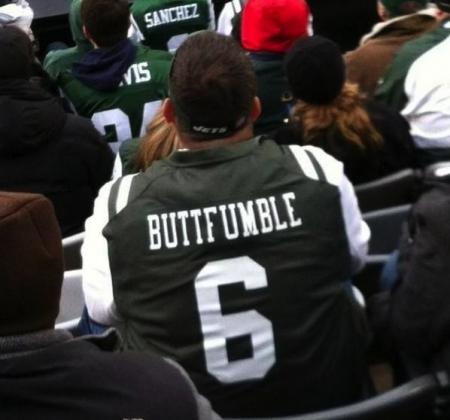 Image via Deadspin
The decline of the Jets and their quarterback Mark Sanchez has been sharp and jagged—particularly for the Sanchize. So bad, in fact, that he's been officially downgraded from the "Sanchize" to "BUTTFUMBLE."
Only a Jets fan would do this…and that's why I love them so.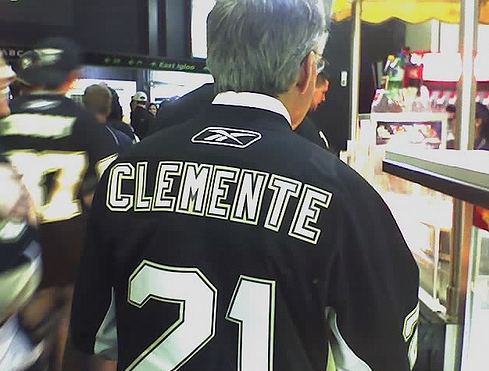 Image via Post-Gazette.Com
As much as it pains me to say at the moment, I was born and raised in Pittsburgh, Pa., and even I find this completely unacceptable. And I have a very high tolerance for yinzer behavior—but the line has to be drawn somewhere.
Everyone is well aware that the Pirates are coming off their 20th consecutive losing season and, despite some marginal success in the 80's and very early 90's, the team hasn't been truly relevant since the days of the late, great Roberto Clemente.
But how does slapping "CLEMENTE" on the back of a Penguins jersey make that any better? It's kind of a slap in the face to both the Penguins and the Pirates. Just wear your Clemente Pirates jersey or pick up a Crosby jersey, dude.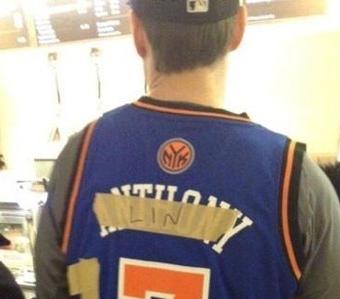 Image via JerseyFoul.Com
I'm torn on whether or not this is a true jersey foul, or a Knicks fan actually being smart. On one hand, adjusting your jersey to cover up the name and change the number of your star player with masking tape is both lazy and stupid. Not to mention cheap as hell.
This guy was quick to dump Carmelo Anthony during the national bout with "Linsanity" in early 2012 in favor of the flavor of the moment Jeremy Lin. Sure he looks like an idiot in that moment, but he looks a lot smarter now than anyone who actually went out an purchased a "Lin" Knicks jersey.
So…I'm on the fence. Let's just say this was a flagrant, but forgivable foul.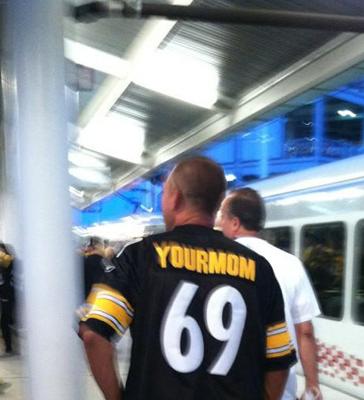 Image via BustedCoverage.Com
As a Steelers fan myself, I understand that sometimes fans of the black and gold make rash decisions after downing a sixer of Iron City Pounders. I happen to own a Jeff Reed jersey. Buying a drunken kicker's jersey wasn't my best investment, but at least I know it could've been worse.
Like dropping $200 on a customized jersey with "YOURMOM" emblazoned on the back, right above the number 69. That would definitely be worse. This guy is definitely a worse person than me. That makes me feel better.
Image via Puck Daddy
Upon stumbling across, perhaps, the most sexually explicit jersey foul ever, I had the exact same reaction to the jersey as Vince A. from Philly, who submitted the photo to Yahoo's Puck Daddy blog. Vince is from Philadelphia and I've been to sporting events in Philadelphia, so it takes a lot to shock us.
The issue with this absolutely ridiculous jersey isn't the fact that it says "DOGGIESTYLE" across the back, nor the fact that he decided on the frat-bro standard number 69. It's just that these are two entirely different sexual activities!
Talk about having your cake and eating it too. Sorry, I couldn't resist.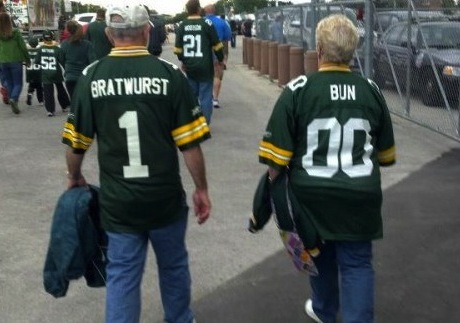 Image via SportsPickle.Com
It's nice to know that this old Green Bay couple is still so much in love after all these years that they feel the need to display their sexual attraction to each other via sausage innuendos on their Packers jerseys.
I mean…it's obviously completely gross, totally inappropriate and probably inspired a few awkward conversations between parents and their children who wondered WTF.
But who cares! Nothing matters except for the fact that these perv jerseys inspired his headline on MSN: "Hot dog! Packers fans' customized jerseys are real wieners. Very punny!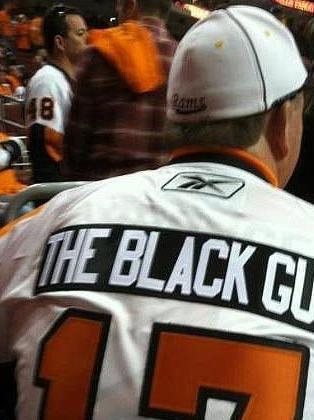 Image via Puck Daddy
In May 2012 this Flyers fan tested the boundaries of racial comedy with his customized "THE BLACK GUY" jersey. The "black guy" in question is Philadelphia's Wayne Simmonds. This dude was spotted and photographed by a number of fans in his goofy getup; his behind was splashed all over the interwebs within hours.
His jersey raises a lot of questions, but chief among them, in my opinion, is why he's wearing it over his Chris Pronger jersey. Perhaps he was planning for a potential confrontation? Or maybe he was just worried he'd spill something and wanted to be prepared.
Image via BustedCoverage.Com
I'm actually not sure if B/R standards specifically addresses the phrase shown on the backs of these disgruntled Jets fans, but something tells me that delving too deep into this could get me in some trouble with someone, somewhere who's wearing a suit.
So I'm just going to sit back and let the picture tell the story. After all, a picture's worth a thousand dirty sanchezes.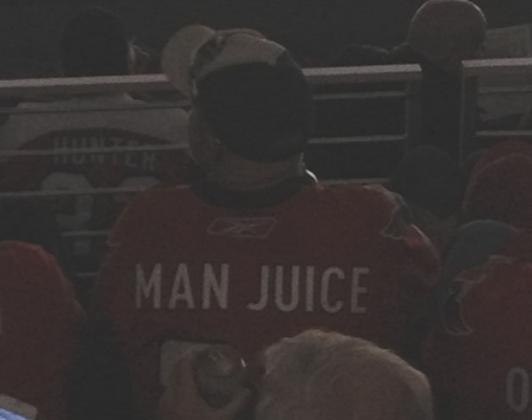 Image via Puck Daddy
Daniel Mahon, the reader who submitted this ditty to Puck Daddy, asked "I wonder what these people will do when Semin is gone next year." I think that's a good question for anyone stupid enough to buy an actual Semin jersey, despite the fact that he's been on his way out of Washington for over a year.
But Mr. "MAN JUICE" here doesn't fall into that category. It doesn't matter if Semin stays or goes, "MAN JUICE" isn't going anywhere.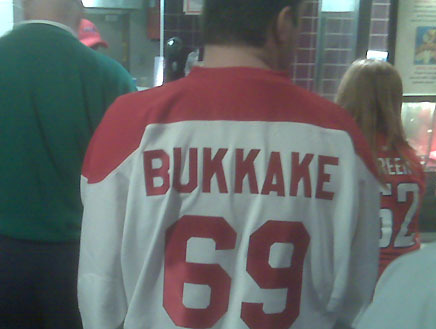 Image via MisterIrrelevant.com
Okay. "MAN JUICE" was one thing, but "BUKKAKE 69" is something else altogether. I guess this is what decades of playoff futility has brought to Washington.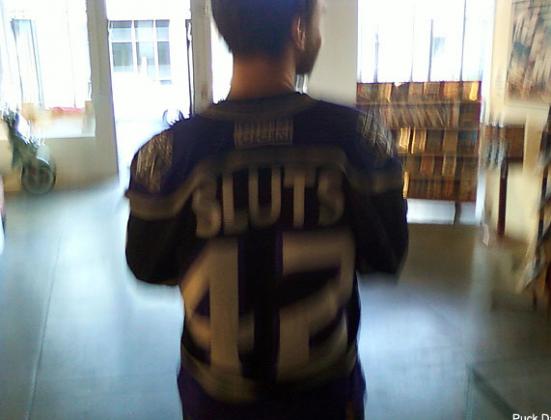 Image via Puck Daddy
Yahoo's Puck Daddy blog is seriously the gold standard of jersey fouls; without which, I'd never have had the opportunity to see this gem out of Los Angeles. A jersey that just says "SLUTS" on the back would speak pretty well for itself, but there's actually a story to go along with this.
According to a Kings fan named Erik, who could not resist asking for the inside slut scoop, the offender decided on "SLUTS" just because he likes the word "sluts." Clever. And apparently the number 42 has something to do with…like…like, man….and the universe and stuff.
If you want to see my Jeff Reed jersey foul, you're going to have to follow me, Amber Lee, over on the Twitter machine. If you ask @Blamberr nicely enough, she may provide photographic evidence. Follow @blamberr