6 NBA Teams Greatly Exceeding Expectations in 2012-13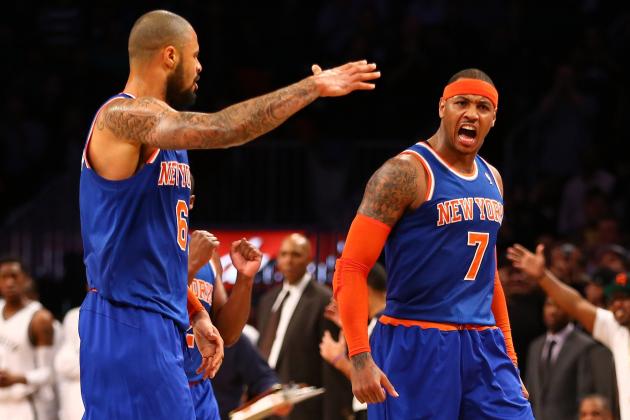 Al Bello/Getty Images

The 2012-13 NBA season is a quarter of the way through, and some teams are already making their critics eat their words for underestimating them. Once midlevel or below-average teams now rank among the elite, exceeding any and all expectations others may have had prior to the start of the season.
Teams playing better than anticipated can be beneficial for a couple of reasons. First, surprises are always nice, and there is something uplifting about seeing an underdog team come out of the woodwork to play well. More importantly, it makes the landscape more intriguing and provides an edge to the competition down the road. This is what's going to make the rest of the season all the more fun to watch.
A handful of teams have done better than expected already, and it's going to be interesting to see if they can maintain their fast starts. These teams have played some mind-blowing basketball thus far, and it would be a shame to see them stop now that the season is entering its next stage.
Begin Slideshow

»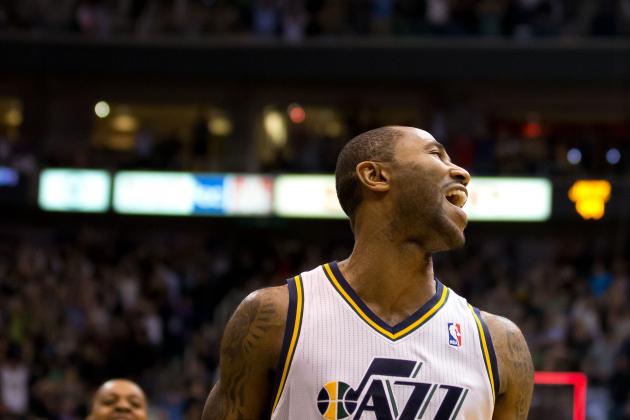 USA TODAY Sports

Record: 13-10, 2nd in Northwest Division
The Jazz just barely made the playoffs last season, and the top-seeded San Antonio Spurs swept them in the first round. Their team is vastly improved this season, now that the energetic Mo Williams has replaced the underachieving Devin Harris at the point.
That isn't to say that the Jazz are far better than they were last season. They still need some help at guard and are currently five-and-a-half games out of first place in their division. Seeing as how they share a division with the Oklahoma City Thunder, it's a safe bet that Utah won't be leading the Northwest anytime soon.
Despite that, this team is not to be counted out. Al Jefferson and Paul Millsap are two fine frontcourt players and Utah's prime go-to guys.
The team also just came away with a stunning victory against the very same San Antonio Spurs that knocked it out of the playoffs last season, extending Utah's winning streak to four games and showing just how much heart the Jazz have as a unit. Down the stretch, that heart will only help them continue to perform well.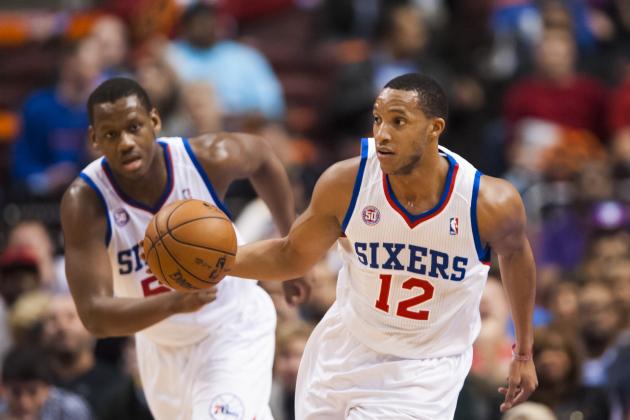 USA TODAY Sports

Record: 12-10, 4th in Atlantic Division
The Sixers showed promise last season, but they were dogged by their lack of a star to take over in crunch time. Over the summer, they traded Andre Iguodala and acquired Andrew Bynum as part of the Dwight Howard trade. Following a career season with the Los Angeles Lakers, it appeared that Bynum would be their new star.
Instead, Bynum has yet to play in a game because of knee issues. Despite that, Philadelphia is playing some solid basketball because youngsters like Evan Turner and Jrue Holiday are finally stepping up and becoming the go-to guys.
Holiday is turning into one of the NBA's better scoring point guards, averaging 18.4 points and 8.9 assists per game, and Turner is becoming an excellent young point forward. Over his last five games, he is averaging 18.0 points and 7.6 rebounds per contest.
Philadelphia's record may not seem like much, but it's pretty impressive considering that the team's starting center has been either the undersized Lavoy Allen or renowned draft bust Kwame Brown. They are still young, but the Sixers finally have some players who can take the reins and assume the role of a star during close games.
Once Bynum comes back, if at all, the team will get even better.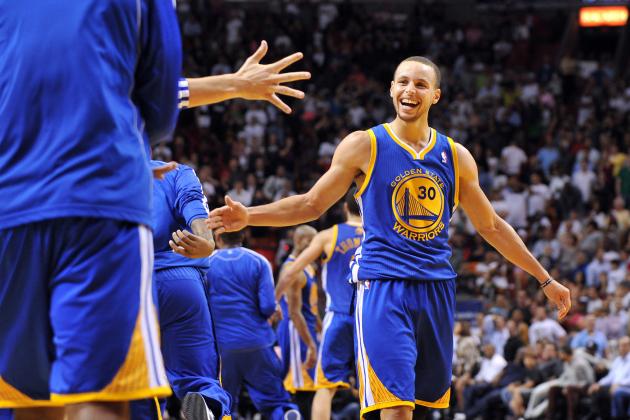 USA TODAY Sports

Record: 15-7, 2nd in Pacific Division
The Warriors are healthy, happy and the real deal. Not only is the team just a game out of first place in the Pacific Division, but it just defeated the defending-champion Miami Heat at AmericanAirlines Arena. This extended the Warriors' winning streak to five games, the team's first such streak since 2007.
Golden State certainly has some holes to fill, particularly at center, since Andrew Bogut is out indefinitely, but the defense has still looked strong in his absence. David Lee is a phenomenal rebounder as always, and Stephen Curry is as much of a pest as he ever was. Festus Ezeli is young, but he provides good size in the low post and could become a solid center in time.
Even second-year guard Klay Thompson is starting to show some potential, slowly emerging from his early-season slump and becoming a reliable shooter.
Yes, the Warriors are a young and inexperienced team, but they are not letting that slow them down. This team is ready to make a statement and will not be satisfied until the season ends with a playoff appearance.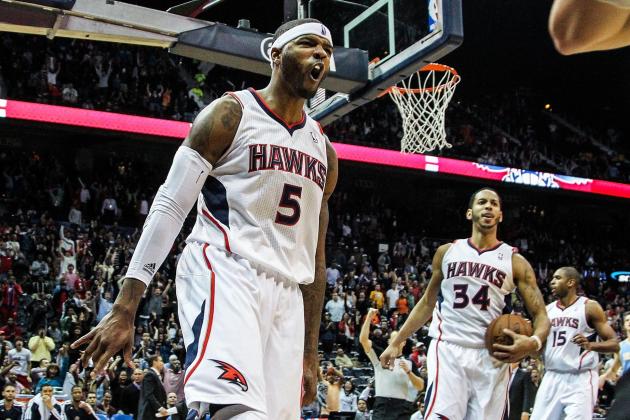 USA TODAY Sports

Record: 14-6, T-1st in Southeast Division
The Hawks made an interesting move over the summer. GM Danny Ferry traded star shooting guard Joe Johnson and his heavy contract to the Brooklyn Nets, in return receiving a group of reserve players. On the outside, it looked as though the team was looking to dump some salary and begin the first step of a rebuilding phase.
Instead, Atlanta has played phenomenally without Johnson. Following a slow start, the Hawks have won 10 of 12 and are tied with the Miami Heat for first place in the division.
This has all been done on the back of Josh Smith, who has stepped up as the team's star player and best defender. He scores points just as well as he rebounds and blocks shots, making him quite a triple-threat.
The return of center Al Horford from last season's injury and emergence of young point guard Jeff Teague have also helped Atlanta, whose balanced attack on both sides of the floor has it performing better than anyone could have anticipated.
Keep in mind that Johnson has career averages of 17.7 points per game and 37 percent from three-point land. Big money or not, that's a big loss that is potentially tough to overcome.
Atlanta has overcome it, and then some. The team now is playing some great basketball and will continue to do so for the remainder of the season, so long as everyone stays motivated.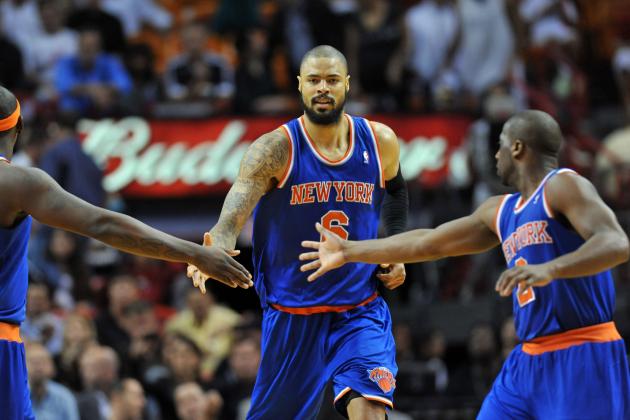 USA TODAY Sports

Record: 17-5, 1st in Atlantic Division
Once the Knicks decided to keep Mike Woodson on as head coach, there was every indication that the team would play better than it had in three-and-a-half years under Mike D'Antoni. Woodson had led the team to an 18-6 record over the final month and a half of the regular season, and the front office adding Jason Kidd and Raymond Felton and re-signing key shooters J.R. Smith and Steve Novak had fans excited about the season.
However, nobody could have expected them to be the best team in the Eastern Conference.
Actually, let me rephrase that. Nobody could have expected them to be the best in the Eastern Conference and not have any production from Iman Shumpert or Amar'e Stoudemire, both of whom are recovering from knee surgeries.
New York has also defeated the defending-champion Miami Heat twice this season, both times by a 20-point margin. Even more amazing is that star Carmelo Anthony missed one of those games with an injury, further proving how deep and talented this team is.
And let's not forget the beatdown they put on the struggling Lakers Thursday night. The 116-107 final score was not an indication of how one-sided the matchup truly was, especially with Melo being limited by an ankle injury.
The season is still far from over, and there's no telling how the Knicks will perform once Stoudemire and Shumpert return. But assuming both fully buy into Woodson's system, the Knicks' future is looking quite bright.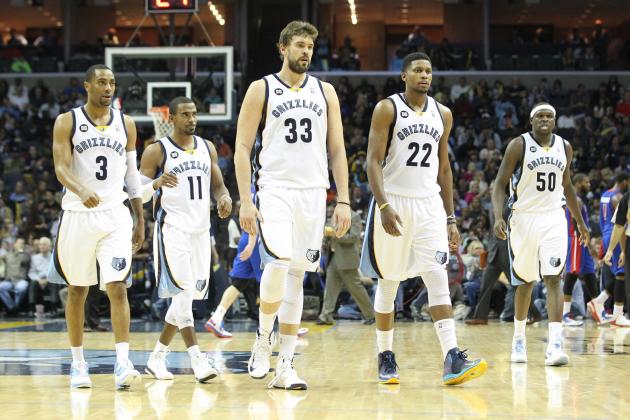 Nelson Chenault-USA TODAY Sports

Record: 14-5, 2nd in Southwest Division
The Grizzlies have proved to be a young and talented team the past few years, and they showed great improvement last season en route to claiming the No. 4 seed in the Western Conference. They look even better this season, even if they are currently on a two-game losing streak.
After starting the season 8-1, the Grizzlies haven't been as hot, but there's no doubt that the players have improved since 2011-12.
Zach Randolph is turning into a dominant rebounding forward and currently ranks second in the NBA with 12.8 per game. Rudy Gay has picked up right where he left off as the team's primary scorer, and Marc Gasol is a dominant force at center.
Even point guard Mike Conley is looking better than ever, averaging a career-best 13.9 points per game to go with 6.3 assists and 2.6 steals.
Granted, Memphis is still a young team. For all we know, it could drift back down to earth as the rest of the season progresses.
It still doesn't take away from the fact that the Grizzlies are one of the NBA's best young teams, and that they are performing well above expectations this season.