Tottenham Hotspur's 20 Best Strikers of All Time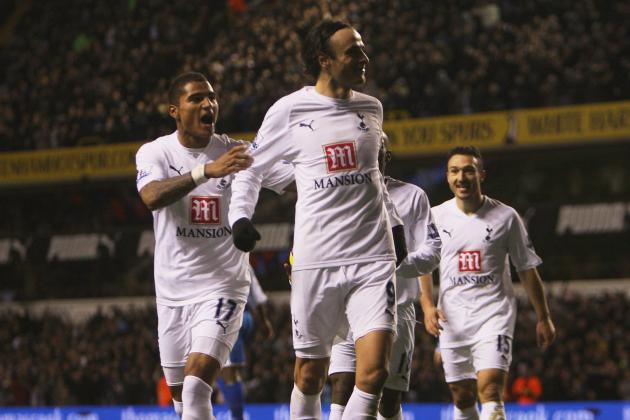 Hamish Blair/Getty Images
Does Dimitar Berbatov rank on the list of Tottenham's 20 best strikers of all time?
Tottenham Hotspur have been blessed with some great goalscorers over the years.
In a variety of shapes, styles and sizes, they have ensured that life has rarely been dull at White Hart Lane, enchanting, delighting and only rarely (comparatively frustrating).
Separating some of these forwards has not been an easy task, and you may well disagree with their placings. Feel free to voice your opinion after reading.
Without further ado, here are the 20 best strikers in the history of Spurs...
Begin Slideshow

»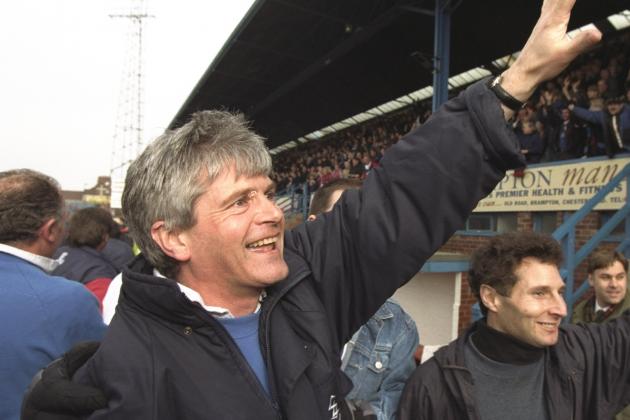 Getty Images/Getty Images
John Duncan.
20. John Duncan
John Duncan arrived at Tottenham during a spell when they struggled to rebuild following Bill Nicholson's retirement.
His goal record stands up well (62 in 120) though, and it was notable that Spurs went down in 1976-77 when he missed most of the campaign with a back injury. Duncan's goals helped fire them back into the top-flight the following season, helping kick-start the next great era in the club's history.

19. Marc Falco
Marc Falco did not draw the plaudits Garth Crooks and Steve Archibald did during the early 1980s, but he was a valuable squad member who could be more than relied upon to score goals.
That he did, notching 92 in 238 appearances, becoming a regular for a few years beginning with the 1983-84 campaign.

18. Bert Bliss
A member of the 1921 FA Cup winning side and a Division Two winner a year earlier, Bert Bliss was one of the era's most prolific forwards, recording 105 goals in 217 games.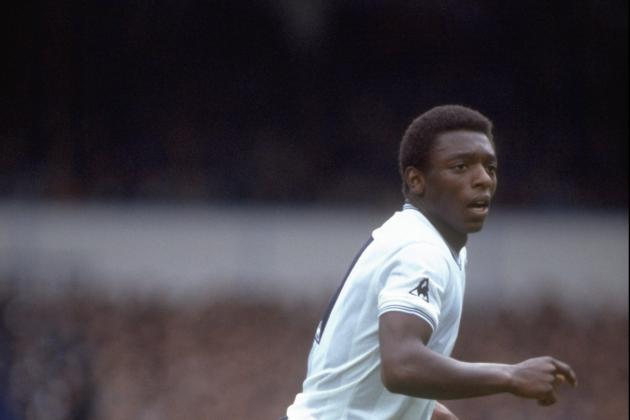 Getty Images/Getty Images
Garth Crooks.
The latter half of Garth Crooks' Tottenham tenure petered out somewhat as injuries hit and he fell out of favour (though he did enjoy a renaissance of sorts in his final campaign).
The first half though was a happier affair, arriving at Spurs not long after Steve Archibald, a man with whom Crooks would form a strike partnership that would pay such handsome dividends for the club—in particular in that first season of 1980-81 that culminated in the club's sixth FA Cup success.
Crooks' movement was a major outlet for the great passers of that side, from which point he possessed the bravery and goalscoring instincts to make the most of the service provided to him.
Among the 75 goals he netted was one against Liverpool that gave Spurs a first win at Anfield in 73 years.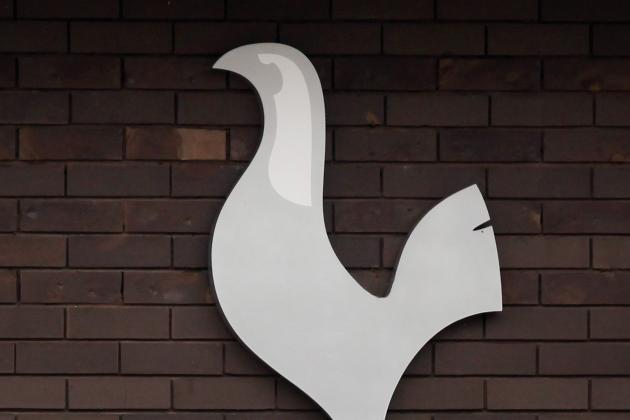 Oli Scarff/Getty Images

16. Les Bennett
World War Two deprived Les Bennett of several years of football, but he made his impact thereafter with 119 goals in 295 games.
Bennett was part of the 1950/51 title winning side and was a valuable balancing act in Arthur Rowe's fast-flowing team, bringing patience when it was needed.
15. George Hunt
Tottenham's all-time leading scorer until the arrival of Bobby Smith, George Hunt scored 138 times in seven seasons during the 1930s as Spurs made their way into the top-flight.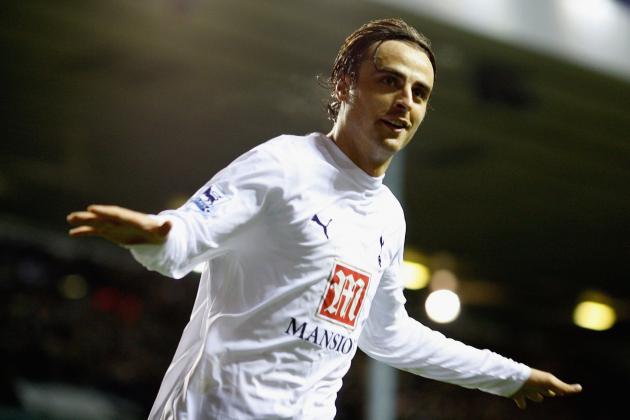 Clive Mason/Getty Images

The nature of Dimitar Berbatov's exit clouded over the two marvelous seasons he had enjoyed at White Hart Lane at the time, but as the years go by it will be difficult to look back on them without anything other than reverence for a unique talent.
The 45 goals he scored over the 2006-07 and 2007-08 campaigns was a more than healthy haul, but it was the way he finished so many of them that especially delighted.
Berbatov played with a freedom he was not granted in his Manchester United years and flourished because of it, developing an understanding with Robbie Keane that translated into one of the great forward partnerships of the past decade.
A fifth-place finish and a League Cup winners medal was not enough to satisfy Berbatov's ambitions, but for Spurs that was pretty good, and they undoubtedly had the Bulgarian to thank for helping them do that much.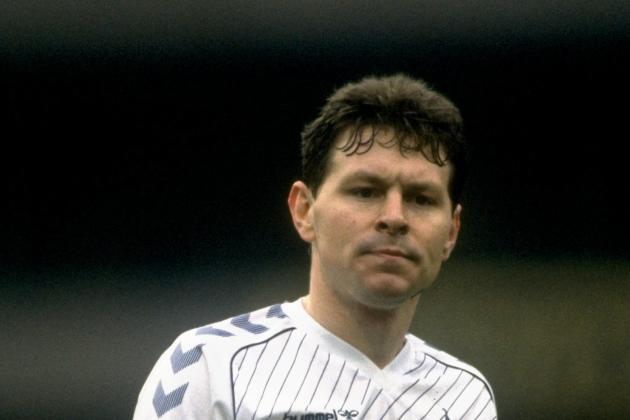 Simon Bruty/Getty Images
Clive Allen
With the current Tottenham team often operating with a lone striker, Andre Villas-Boas and company would do well to take a look at class of '86-87 for tips on how to make the most out of the system.
That year, Clive Allen led the line and scored an extraordinary 49 goals in 54 appearances, making the most of the incredible service laid onto him by the likes of Glenn Hoddle, Chris Waddle and Ossie Ardiles.
As good as that service was, it would have mattered little if Allen did not possess the ability to take his chances, and he did that in impeccable fashion that season.
The injuries that preceded it, and the expectations that followed that season meant Allen (the son of another great Spur, Les Allen) never matched the highs he achieved in that campaign.
But his overall 84 in 135 appearances holds up well, and few if any will come close to matching what he did in that one extraordinary year.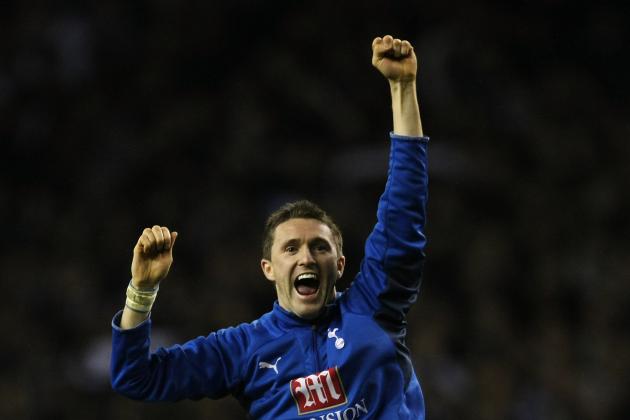 Clive Mason/Getty Images

The conclusion to Robbie Keane's second spell at Tottenham was not how anyone would have hoped for his time at the club to finish, but it does not detract from the good times that came before then.
The Irishman joined at a time when Spurs were struggling to break into the Premier League's top six and shone, and while he then played second fiddle to Jermain Defoe for a time, he soon rose to cement himself as one of the division's most exciting forwards for a good few seasons.
Having fought his way back into the starting lineup, Keane was a major player in two successive fifth-place finishes and a League Cup success in 2008.
The partnership he established with Dimitar Berbatov during two of those seasons was so good it came as a major blow when they both left.
Keane returned and played a part in ensuring Spurs moved away from the relegation zone in 2008-09 before adding a few more goals to his tally to leave him placed among the club's 10 highest scorers.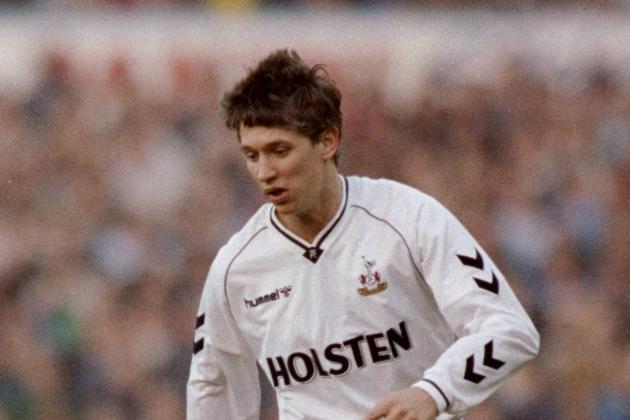 Ben Radford/Getty Images
Gary Lineker.
11. Les Allen
Tottenham's record win came in February 1960 when they beat Crewe Alexandra 13-2 in an FA Cup replay—five of those goals came from Les Allen.
Overall he struck 61 times for Tottenham in 138 games over six years, but statistics do not tell the full story of Allen's time at the club.
That is most accurately told by his contributions to the double-winning team of 1960-61.
Allen was not one of the stars, but he was more than deserving of his medals come the year's end, providing a good counterpoint to the more aggressive Bobby Smith with a tireless work ethic that paid dividends for his teammates.
The goals came too that year, including a volley that sealed the championship in a 2-1 win over Sheffield Wednesday.
10. Gary Lineker
Winning the FA Cup in his second season is not to be sniffed at, but it is something of a shame that the stars did not align in such a way that Gary Lineker was not part of a more consistently successful Tottenham side.
Spurs got two seasons of him playing with his England colleague Paul Gascoigne, though sadly Chris Waddle had departed by then, robbing White Hart Lane the chance to host three of the national team's best players together.
Lineker scored 80 times in 138 games regardless, a remarkable record in keeping with the tallies he had recorded at Leicester City, Everton and Barcelona previously.
Some lethal strikers have played for Tottenham before and since him, but Lineker compares well with the best of them.
Had they got a couple of more years out of him, he may have ranked even higher on this list.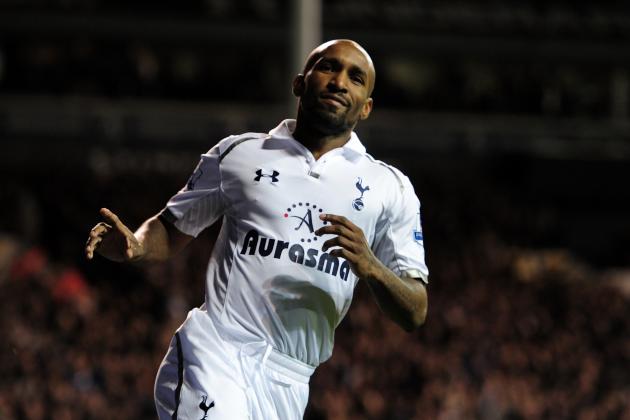 Jamie McDonald/Getty Images

Jermain Defoe's move to Portsmouth in 2008 lasted just under a year and feels like something of a dream now, coming as it did in between two four-year spells at Tottenham.
The latter is of course on-going, with Defoe currently playing some of the best football of his career with 13 goals already this season.
The England international is arguably a better all-round player than he has ever been, but goals have certainly been a consistent feature of his Spurs career.
After signing from West Ham in January 2004, Defoe's first season-and-a-half as a Lilywhite saw him play a major part in getting the club back on track after a frustrating couple of years.
Defoe himself endured a tricky couple of seasons thereafter as he lost form and gave way to Robbie Keane and Dimitar Berbatov as the first-choice front-two.
Things were different when he returned from Portsmouth, with Defoe getting the nod over the similarly-returning Keane.
While he has not been a guaranteed starter since then, the 30-year-old has continued to rack up the goals and is racing up the list of the club's all-time top scorers.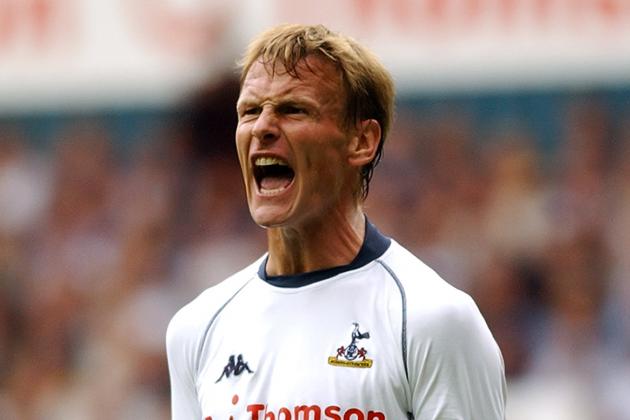 Ben Radford/Getty Images
Teddy Sheringham.
Teddy Sheringham's most famous night came in a Manchester United shirt, scoring in the 1999 Champions League final to help the Red Devils secure an unprecedented treble.
The England striker undoubtedly played some great football in Manchester, but there is a strong case to be made he played his best stuff for Tottenham Hotspur.
Sheringham was a talented forward before the arrival of Jurgen Klinsmann in 1994-95, but the partnership he established with the German saw the true nature of his talents emerge.
It was already known he was a fine goalscorer and a player of great footballing intelligence, but the latter particularly came to the fore in providing a partner that complemented Klinsmann like no other had done.
Sheringham was a class act whoever he played alongside, something in evidence over two separate spells with Spurs during which time the likes of Chris Armstrong, Les Ferdinand and Robbie Keane all benefited from working alongside him.
One hundred and twenty-five goals in 277 appearances for Spurs was the sum of his efforts, but few at the club can claim to have been as well rounded a forward as Sheringham.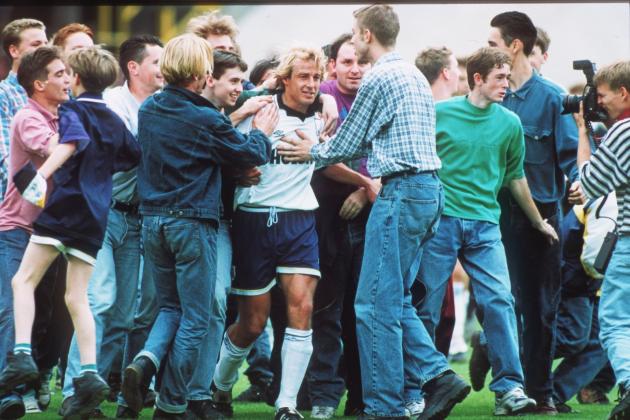 Getty Images/Getty Images
Jurgen Klinsmann.
Jurgen Klinsmann's stay at Tottenham was brief in comparison to many on this list, but such was the quality of this World Cup winner that he is up there with the best of them.
The German striker took England by storm when he arrived following USA '94, scoring 29 goals altogether as he established an immediate understanding with Teddy Sheringham up front.
Spurs finished seventh in 1994-95 and reached the semifinals of the FA Cup, but what they might have achieved from there went unknown as Klinsmann was unable to resist the lure of a move back home to Bayern Munich.
Fast forward to December 1997 and Klinsmann returned to a struggling Tottenham after an unhappy spell with Sampdoria as he sought regular first-tram football ahead of the following year's World Cup.
His goals helped Spurs out of trouble, culminating in a terrific four-goal haul against Wimbledon which sealed their survival for another year.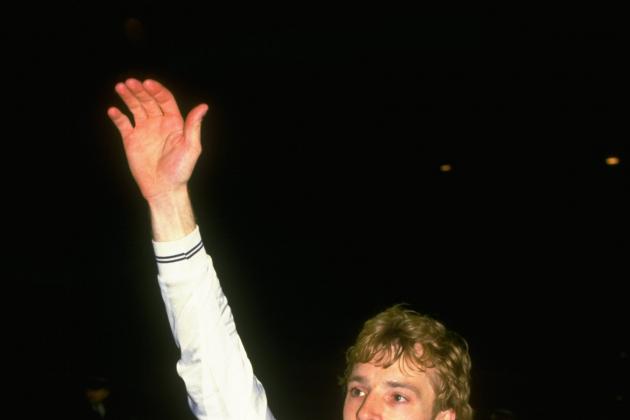 David Cannon/Getty Images
Steve Archibald.
One of the last of Tottenham's great Scotsman, Steve Archibald, was one of the remaining pieces in the jigsaw that Keith Burkinshaw assembled in forming the group that did so well in the first half of the 1980s.
A stylish forward at home in the company of Glenn Hoddle and Ossie Ardiles, Archibald thrived on the service of his teammates and combined terrifically with Garth Crooks.
He was no soft touch though, combining toughness along with the great forward ability that was necessary to succeed as he did in the English game.
The 1980-81 and 1983-84 seasons when Spurs won an FA Cup and UEFA Cup respectively were deemed by most as his best, the latter proving to be his final campaign.
Archibald finished with 78 goals to his name in all with the White Hart Lane faithful just wishing he could have stayed longer.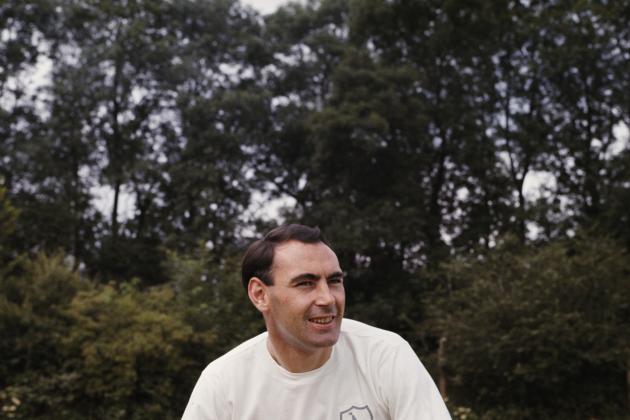 Don Morley/Getty Images
Alan Gilzean.
5. Len Duquemin
Arthur Rowe's famed "push and run" side hold a significant place in Tottenham folklore, after all they were the first group of players in the club's history to win the First Division title (having won the Second Division a year earlier), in 1950-51.
Even so, they are a somewhat neglected bunch, coming as they did before television and wider media coverage had begun to take affect as it had by the time of Bill Nicholson's double-winning team a decade later.
One of their chief figures was the understated but vital Len Duquemin—Tottenham's main figure of goals in the post-war years.
His 134 goals from 308 games is all the more impressive for the fact he did not have the opportunity in either the League Cup or European competition, all of his came in the league and FA Cup.
Duquemin put in the kind of running that allowed Rowe's philosophy to come to life, providing a vital option for his teammates and their quick-passing game that thrived on movement—and as his goal scoring record shows he was a pretty darn good finisher too.
4. Alan Gilzean
Alan Gilzean scored an excellent 133 goals for Spurs in over 400 appearances, but it was the sheer quality of so many of his contributions for which he stands out.
His control and touch were regarded as impeccable, with his ability to utilize both in aerial situations regarded by some as almost unparalleled in recent times.
Jimmy Greaves and Martin Chivers, the two players with whom Gilzean formed such devastatingly effective partnerships, scored more for Spurs overall.
But it is doubtful they would have struck as many goals had it not been for the Scotsman beside them, who was as equally adept and intelligent a provider as he was a goal scorer.
Gilzean recently returned to White Hart Lane after a lengthy absence, receiving an extremely affectionate response when making an appearance at halftime during the win over West Ham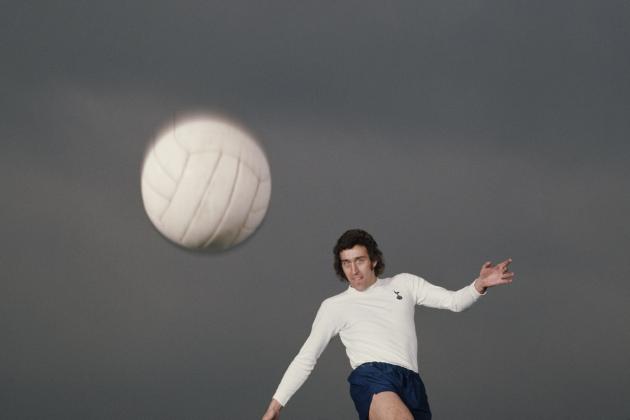 Tony Duffy/Getty Images
Martin Chivers.
Martin Chivers joined Tottenham when Jimmy Greaves was still in town, but it was only when the club's record goalscorer moved on that their next great marksman began to really hit his stride.
It helped that the move that took Greaves to West Ham saw Martin Peters come the other way, he along with Alan Gilzean would work excellently with Chivers over the coming years as the pivotal performers in the Spurs attack.
Chivers' critics highlighted his inconsistency, but when he was good, he was one of the best around, playing a major role in the last great successes of the Bill Nicholson era.
His overall tally came to 174 in 367 appearances, standing out among them were a double in the 1970-71 League Cup Final and a particularly memorable brace in the following season's UEFA Cup final first leg against Wolverhampton Wanderers.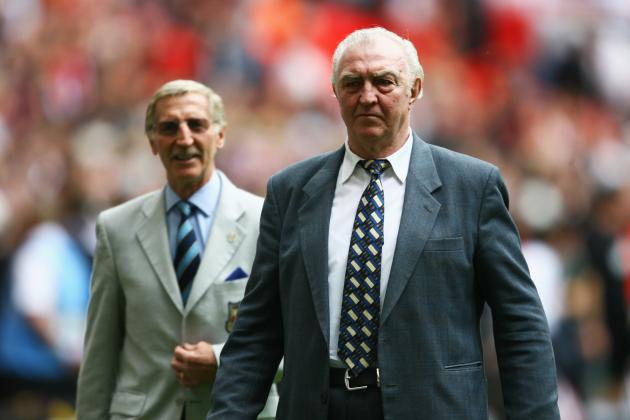 Shaun Botterill/Getty Images
Bobby Smith.
As the primary source of goals in Tottenham's great double-winning team of 1960-61, Bobby Smith would have been a certainty for a place on this list regardless of what he did otherwise.
Considering that campaign was one of four in a row (dating back to 1957-58) in which he scored over 30 league and cup goals, contributing to an overall tally of 208 in 319 matches, Smith was obviously far more than a one-season wonder.
The 60-61 campaign, of course, stands out in Smith's career because of its momentous place in Spurs history, but he had long before established himself as a vital part of the team.
A physically intimidating presence upfront, Smith's size and power was a large part of his game and stands as one of the great, traditional British forwards of that mold.
Undeniably though, Smith had class in abundance beyond those traits, something well in evidence to those luckily enough to watch him perform alongside similarly skillful practitioners such as Cliff Jones and John White.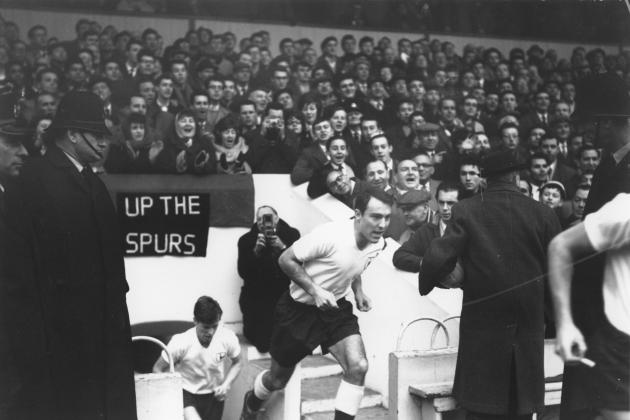 Douglas Miller/Getty Images
Jimmy Greaves.
Jimmy Greaves may have arrived at White Hart Lane even earlier but for confusion in the transition process between managers Arthur Rowe and Jimmy Anderson.
The teenage striker was overlooked and it was Chelsea who would enjoy his early years: Greaves scoring an astonishing 124 goals in 157 appearances for the Blues.
Considering he would go onto score a further 266 in 381 games for Tottenham (he is still the club's record scorer), it is a tantalising prospect to imagine how many more he might have scored had he been at the club even longer.
Of course, we do not know how circumstances might have differed had he arrived in the mid-1950s rather than in 1961 when Bill Nicholson signed him from AC Milan after Greaves had endured a difficult spell with the Italians.
What we do know is that Greaves was a phenomenal goalscorer for Spurs, and is regarded by many as the greatest English football has ever produced.
He had more about him than his finishing, but goals was what he was truly about.
It is a toss-up between him and Smith to be Spurs' number one forward, both having played their part in tremendous successes for the club as well as scoring prolifically.
Greaves get the edge in this list, but either way you can't go wrong.