The status of Washington Redskins superstar rookie Robert Griffin III remains up in the air. Luckily for the Redskins, they have a backup in Kirk Cousins that has shown he's more than capable of handling the load if Griffin doesn't suit up.
Rich Campbell of the Washington Times reports Griffin practiced on Wednesday and illustrated a lot of progress since fans last saw him limping off the field. Head coach Mike Shanahan wasn't ready to make any declarations, though.
The week has been a microcosm of the entire season for Griffin and Cousins. The second overall pick has dominated the headlines while his fellow rookie has been lying in wait, ready to take the reins of the Redskins offense at a moment's notice.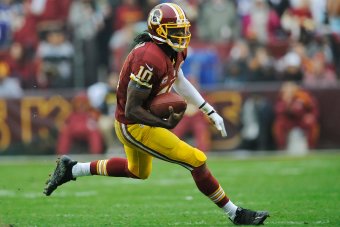 Patrick McDermott/Getty Images
Cousins certainly rose to the occasion after taking over last week. He showed incredible touch on a TD pass to Pierre Garcon, lofting it perfectly over the Baltimore Ravens defense. He then illustrated his scrambling ability, tying the game with a two-point conversion on a keeper.
The Redskins proceeded to win the game in overtime, keeping pace in the NFC playoff race. Most people counted them out when they were 3-6, but four straight wins have them just one game out with three weeks left.
Washington goes on the road to face the Cleveland Browns on Sunday. The Browns have been on a hot streak of their own lately, which means whoever starts under center for the Redskins must play well.
Cousins isn't on the same level as Griffin. He can't hurt an opposing defense in as many ways, which is why he went in the fourth round. However, fans have quickly learned he can hold his own.
In extremely limited duty, the Michigan State product has completed seven of 11 passes for 137 yards and two touchdowns. The most impressive stat is his yards per attempt, which currently stands at 12.5, thanks in part to a long TD pass to Santana Moss earlier in the season.
Can the Redskins beat Cleveland without RG3?
To put that in perspective, Griffin is actually tied for the league lead in that category among qualified quarterbacks at 8.3. Cam Newton and Colin Kaepernick have the same mark.
It proves Cousins isn't going to enter the game and simply throw it to check-down options. He's going to take some chances, which is exactly what the Redskins offense must do to succeed against an improved Cleveland defense.
Griffin's playing style puts him in danger on a weekly basis, making it no surprise he's been knocked out of games twice already. That's why it's so important for the Redskins to have a reliable backup, and Cousins has filled that role perfectly.
As it stands now, it looks like Griffin is trending in the right direction and will likely play on Sunday. That could change in a heartbeat, of course, if he has some type of setback in practice. However, the early signs are positive.
If for whatever reason he can't go, the Redskins can rest easy knowing Cousins can handle the job.