NBA Players Who Are Useless to Their Current Teams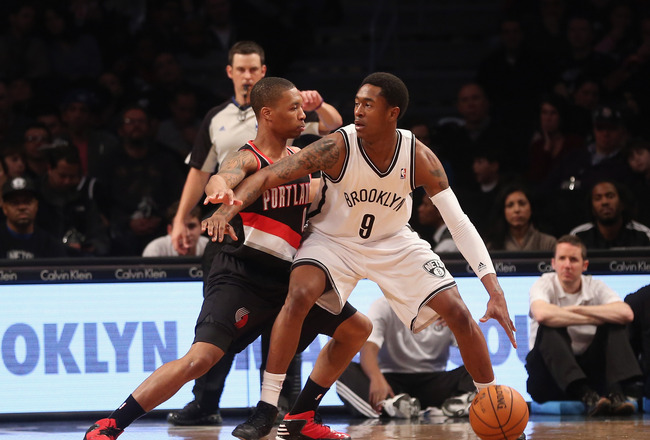 Bruce Bennett/Getty Images
There are times when, for different reasons, NBA players who could benefit other teams are wasting away on their own teams. They aren't necessarily useless players, but they become useless to their own team.
Sometimes a player just wears out his welcome or clashes with a coach. Sometimes a veteran player is displaced by a younger player. Sometimes a player just needs a new environment.
Whatever the reason, they waste away on the bench when they could be adding valuable minutes to another team. These are useless players to their own teams who have fallen out of the rotation but who could offer something to their present teams in terms of trade bait and offer something to new teams in terms of play.
Rodrigue Beaubois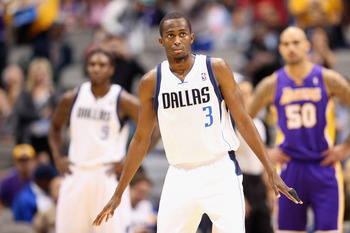 Ronald Martinez/Getty Images
When the Mavericks signed Derek Fisher and made him their starter, the move of Darren Collison to the bench grabbed all the headlines. The lost story is that Rodrigue Beaubois has been knocked out of the rotation almost entirely.
Beaubois has averaged barely over four minutes per game since Fisher arrived and has missed one game entirely. He also only played 2:27 in the Mavericks' double-overtime game against the Boston Celtics, a game which saw Collison and Fisher combine for more than 72 minutes of playing time.
Beubois is a serviceable backup point guard, but clearly, he's the odd man out in Dallas. Averaging 10 points and six dimes per 36 minutes is hardly elite level, but it is better than many backups in the league.
It would behoove the Mavs to entertain offers for the speedster.
Austin Daye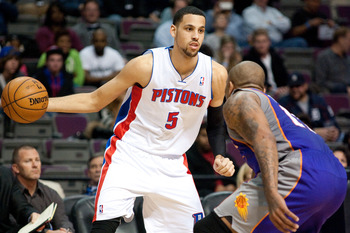 Tim Fuller-USA TODAY Sports
Austin Daye has his weaknesses without question. His rebounding skills are second to virtually everyone. Among players at least 6'11", only Andrea Bargnani has a lower rebound percentage than Daye over the last two years.
Daye has fallen completely out of the Pistons rotation this year, having played a total of 22 minutes all season long. He hasn't seen the court as of yet in December.
While he does have his weaknesses, he has his his strengths too. He's a respectable shooter with decent range. He has a career three-point percentage of .340 and has shown improvement on the defensive end over the last year.
There's something that could be developed from Daye, but it looks like the Pistons are giving up on him. It wouldn't hurt for them to check around and see if they can at least get a draft pick in return for him.
Drew Gooden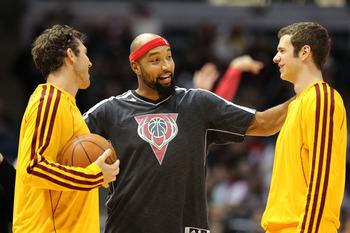 Mike McGinnis/Getty Images
It's pretty evident that Drew Gooden is not part of the Milwaukee Bucks future. After spending a good portion of the season inactive, he's finally seen the court twice in the last week, but that might just be to show that he still has two arms, two legs and a modicum of game left to him.
It's a bit baffling why Gooden has fallen so far out of the Bucks rotation. Last year, he played well enough for them, averaging 14 points and seven boards in just 26 minutes a game. That's not too bad for a player who is only making about $6.7 million a year.
The reason might be nothing more than overcrowding. The Bucks have plenty of young bigs who are playing well. Larry Sanders has taken over as the starting center. Ersan Ilyasova is a productive player who signed a new contract this summer. He struggled early, but has been finding his rhythm lately.
Then there's rookie John Henson who has been pushed down in the rotation the last couple of games while Gooden has seen the court.
The one thing the Bucks could use is a reasonably effective small froward. They've tried Tobias Harris and Marquis Daniels starting there, but neither has been particularly impressive.
Gooden isn't entirely "useless," because the Bucks like the leadership he brings. However, the right offer would still perk their ears.
Jordan Hamilton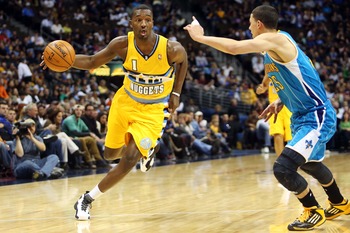 Chris Humphreys-USA TODAY Sports
The Denver Nuggets have more wings than an aviary. As a result, some of them aren't getting much playing time, including players like Wilson Chandler and Jordan Hamilton.
Hamilton has the ability to be a polished scorer. His natural abilities are there.
What he needs is a little more polish and a lot more playing time. He's not getting it in Denver.
He's only played 427 minutes between last year and this year combined. But when he has played, he's done a very good job of racking up points, netting 16.6 per 36 minutes. He's not a bad rebounder either, as he grabs 8.6 boards per 36 as well.
Given minutes, Hamilton could blossom into a star, or at the very least, blossom into a second-scoring option, especially if he learns to draw contact.
He's wasting away on the bench right now. The Nuggets should consider shopping him around to see what they can get for him.
Derrick Williams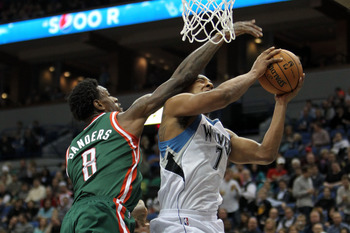 Brace Hemmelgarn-USA TODAY Sports
Derrick Williams was the second overall pick taken in the draft in 2011. If the draft were held again today, he's probably not even in the lottery.
Part of the issue with Williams is trying to figure out where he should play. He's not tall enough to play the 4, and he's not quite quick enough to play the 3. With Minnesota. he hasn't been playing either of late
In fact, coach Rick Adelman has declared that Williams is down to third in the rotation for both positions, according to Ray Richardson of TwinCities.com,
Adelman said Tuesday, Dec. 12, that Dante Cunningham has moved ahead of Williams in the rotation at power forward behind Love. Adelman also has used Josh Howard behind Kirilenko at small forward.
Still, it's not like Williams is unproductive, averaging 16.3 points and 9.1 boards per 36 minutes. Surely someone in the Association must think that there's hope for a player many thought could have gone first in the draft at the time.
What they could get for him in return is a bit of a question mark. There's a good chance this would be a case of Minnesota wanting back more for a No. 2 overall selection than most teams are willing to give, but there's a good chance that someone will overpay too.
His best use to the 'Wolves if they aren't going to pay him, though, is clearly as a trade chip.
MarShon Brooks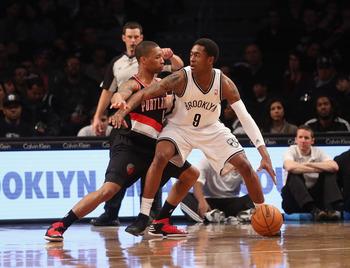 Bruce Bennett/Getty Images
When the Brooklyn Nets traded for Joe Johnson, they insisted on keeping MarShon Brooks. One wonders why at this point. Brooks wasn't getting many minutes to start the season, but over the last six games, he's getting even fewer.
Over the last six games, Brooks is getting just 8.5 minutes per game and seems to be falling completely out of the rotation.
Brooks is not an elite defender, but he has the potential to be an elite scorer if he can learn to become a better passer and work his way into the overall offensive scheme of things.
However, the Nets have an offensive threat at the 2-guard in Joe Johnson. They have a defensive specialist in Keith Bogans. As a result, Brooks has become superfluous.
On the bright side, when he's gotten the chance, Brooks has been extremely productive, scoring more than 20 points per 36 minutes. If the Nets shop him around, he would bring a far greater return than the 25th overall pick the Nets used to obtain him in the first place.
Keep Reading