Handing out L.A. Lakers Team Awards Through the Season's First Quarter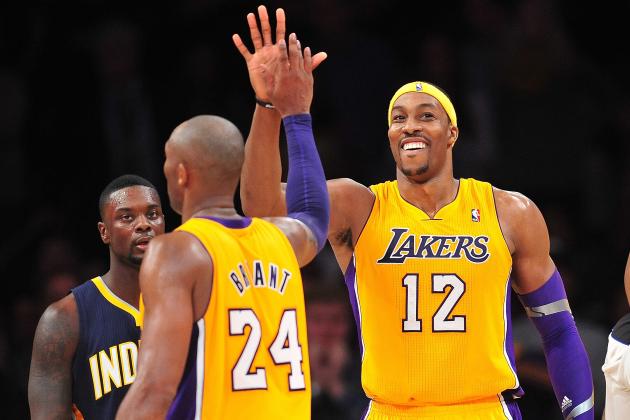 Gary A. Vasquez-USA TODAY Sports

The Los Angeles Lakers have made it through the first quarter of the NBA season a little bruised up with a losing record. Yes, the team that was projecting a 60-plus win season is now struggling to put the pieces together to win at least 50.
The depth on this Laker team is almost non-existent, and injury problems to starting point guard Steve Nash has left this team in a major bind. To compound that, power forward Pau Gasol can't find himself in the new Mike D'Antoni offense and is suffering from tendinitis in his knees.

Even though the Lakers have a losing record, there are still some awards that need to be handed out for the first quarter of the season. Let's take a closer look at who has earned some credence for their play so far.
Stats used in this article were accurate as of December 13, 2012.
Begin Slideshow

»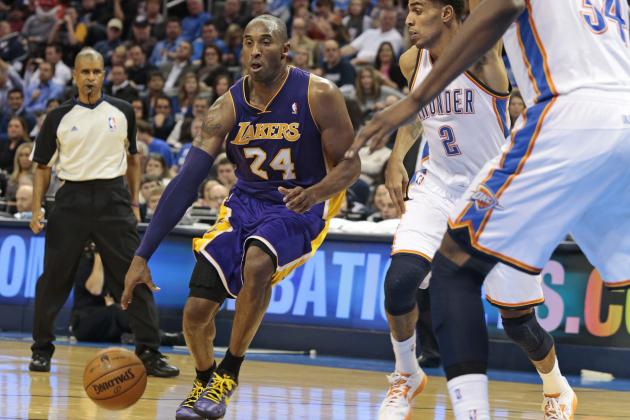 Brett Deering/Getty Images
Kobe Bryant's play hasn't dropped off in the new offense.
Even with the introduction of Dwight Howard to the Lakers, Kobe Bryant is still this team's MVP. In essence, Kobe has been Kobe as he tries to drive every teammate as hard as he tries.
Kobe has not shown his age as he is averaging 29.2 points per game, which includes a career-high 48.8 percent shooting and 39.3 percent from behind the arc.
On defense, he is averaging 1.6 steals and is pulling down five boards per game.
He is still transitioning into D'Antoni's new open offense, and as a result, he is averaging 3.8 turnovers per game compared to his 3.5 clip last season. The lack of depth and new faces also factor into that bump.
He is still the offensive leader of the team, and without Nash, every set play should start with the ball in his hands. He is currently the backcourt's Band-Aid, with the Lakers having to rely up Chris Duhon and Darius Morris to temporarily run the point.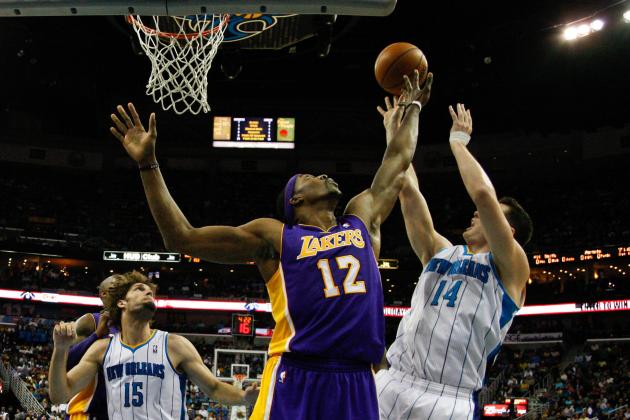 USA TODAY Sports
Dwight Howard has been a defensive force again this season.
Dwight Howard came into the season not fully healed from offseason back surgery, but he has been playing significant minutes and trying to rebuild his stamina. His defense has not suffered, as he remains one of the premier frontcourt defenders in the Association.
Howard should be the Lakers best defensive player since he is a three-time NBA Defensive Player of the Year (2009-11), but he is being exposed a little bit more because of the talent around him and the razor-thin bench.
Howard does have the benefit of having Kobe Bryant filter the top layer in the frontcourt before they make their way into Howard's fortress. Howard has averaged 2.6 blocks per game so far this season with a steal to go with it.
Howard will also feel more at peace once the rotations are finally set. He is currently being teamed with Antawn Jamison while Pau Gasol heals from knee tendinitis and finds himself. He is averaging 12.1 RPG and 8.5 on the defensive end, which are below his last two season in Orlando.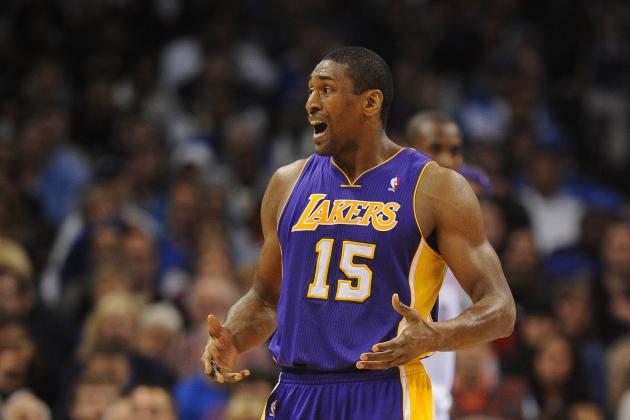 USA TODAY Sports
Metta World Peace has revived his career this season.
Metta World Peace has had a complete resurgence this season as he came to camp healthy and showed the progress on the floor. Last season, MWP dealt with a nerve issue and played at a heavier weight.
This season, MWP is averaging 12.6 PPG, the most points he has averaged since he was playing with the Houston Rockets in 2008-09. His numbers are also up when it comes to rebounds (5.3 RPG compared to 3.4 last season) and steals (1.5 per game this season versus 1.1 last season).
He is putting in the extra effort, and the free-flowing style definitely suits him. He has also increased his three-point percentage with more open looks and is converting more of his free throws. This might be the best time to get something back for him in return since he is playing at one of his highest levels in years.
World Peace should continue his success when Nash eventually returns to the floor, as Nash is prolific with the D'Antoni-style offense. He will just have to adapt when Pau finally finds himself in the offense.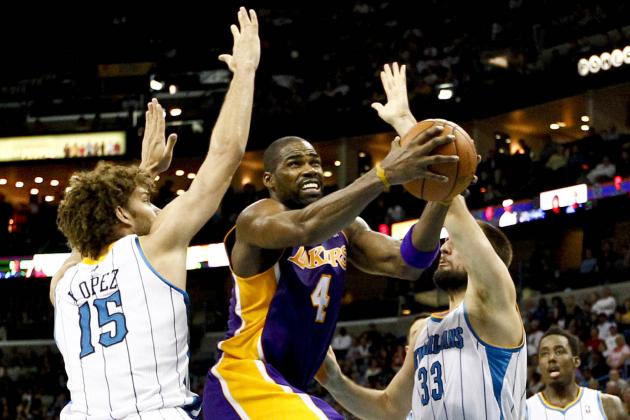 USA TODAY Sports
Antawn Jamison has been the Lakers' de facto sixth man so far.
Antawn Jamison has not produced at the same level with the Lakers as he has his entire career. His career average is 19.3 PPG, and he is currently averaging only eight points a game with the Lakers. Yes, he is playing only 20.9 minutes per game and has averaged 36 during his career.
He is currently playing in the place of the injured Pau Gasol, and there is a possibility that Gasol will replace Jamison as the sixth man off the bench.
The 36-year-old veteran has been inconsistent except for a recent stretch where he scored over 10 points in seven of eight games, was hot behind the arc and even contributed on the boards.
Yes, age has made Jamison at least a step slower, but he still has the legs to get up and down the court in the run-and-gun offense of Mike D'Antoni. Jamison should get into the flow and post numbers that are closer to his career averages and bump up his current lowly production.
The key question posed now will be if Jamison can adjust and flourish with his new teammates.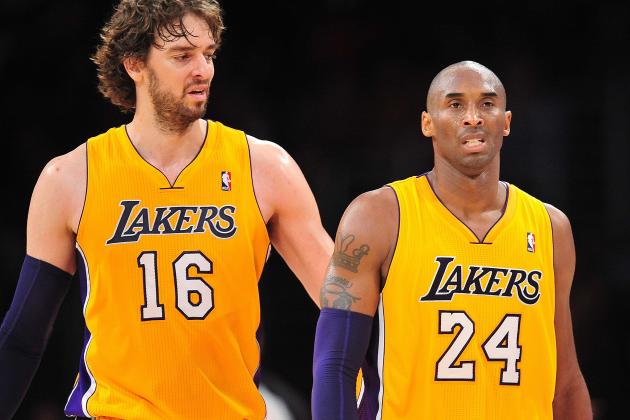 Gary A. Vasquez-USA TODAY Sports
Pau Gasol has had to hear a lot from Kobe this season.
Pau Gasol was supposed to thrive in an offense that gave him even more protection with the addition of Dwight Howard. Instead, Gasol has gone missing and is currently taking a prolonged timeout because of tendinitis in his knees.
Gasol has been struggling with the new Mike D'Antoni pick-and-roll offense, as he is being pushed further out with his shots and has not been making them. He is currently averaging only 12.6 PPG compared to his career average of 18.5.
Kobe Bryant has called out Gasol twice for failing to adjust to the new style of play. Gasol looks lost and sometimes looks like he has even given up. That is partially the reason why D'Antoni has benched Gasol for the final minutes of the fourth quarter.
Pau needs to check his ego at the door and adapt to this new style of play. He has had some successful plays, but he needs to be able to anticipate and get out ahead on transition plays in order to secure easy buckets.
This is the biggest question left for the Lakers when all the starters return to good health. Can Gasol be relevant and can the Lakers change their losing ways? The Lakers better hope so.
Follow me @ScottInTheBay