Week 15 Picks Against the Spread for Every NFL Game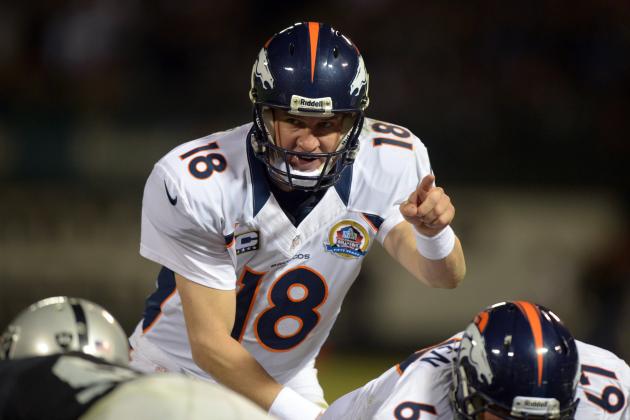 USA TODAY Sports

With Week 15 of the NFL season comes another exciting week full of interesting games that could go either way.
That means we have an especially difficult week for betting against the spreads.
Without a single double-digit spread, Week 15 has several close matchups and no easy picks. Nearly every game could go either way.
In such a difficult week for gambling, every bettor needs help with just which team he should trust. After all, the spread can prove difficult to overcome for the most talented of gamblers.
*All spreads come courtesy of FootballLOCKS.com
Begin Slideshow

»
Jake Roth-USA TODAY Sports

The Eagles got their first victory in over two months last week, but don't expect their streak to continue. In Week 14, Philadelphia played against Tampa Bay, the owner of the NFL's worst pass defense. That isn't the case here, as the Cincinnati comes in at No. 10.
The Bengals aren't an elite team by any means, but they are considerably better than the Eagles are. Philadelphia will struggle to contain A.J. Green, and it won't be able to put up much offense against a solid Cincinnati defense.
One of these teams remains in the playoff hunt. The other is among the worst teams in the NFL with one win since October. This is pretty simple.
Pick: Cincinnati Bengals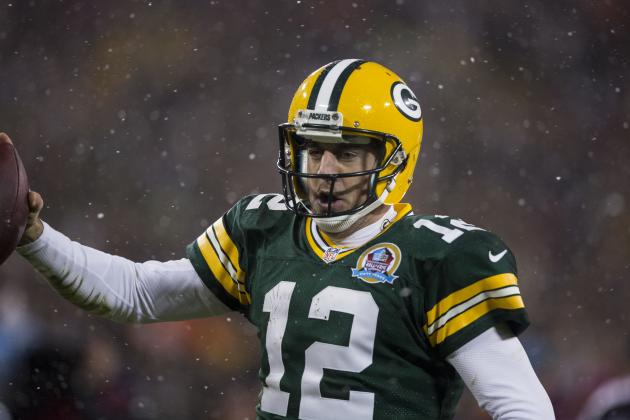 Tom Lynn/Getty Images

After getting off to a great start, Chicago has struggled as of late, dropping four of its last five games. Green Bay hasn't been perfect either, but it poses an interesting threat to the Bears.
The Packers offense is still among the NFL's best, while Chicago's offense has proved rather inept in recent weeks, largely because of its awful offensive line. Right now, the Packers are simply the better team.
Playing in Chicago does help the Bears some, but it's not enough.
Pick: Green Bay Packers
Jeff Zelevansky/Getty Images

The Falcons have recently shown us that they're not as good as their record suggests. The team's loss to Carolina made this even more apparent.
New York, on the other hand, is getting past a recent slump and just annihilated the Saints, 52-27. The Falcons pass defense doesn't seem prepared for Eli Manning to come into town.
Atlanta is still good enough for this to go either way, but the team's recent struggles loom large. The 1.5-point spread is a small point in New York's favor.
Pick: New York Giants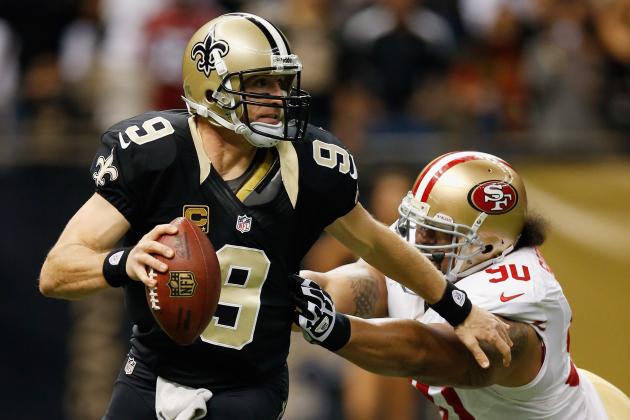 Chris Graythen/Getty Images

As the team's loss to Philadelphia showed, Tampa Bay's defense is awful, largely because of a porous secondary and inept pass rush. The No. 32 pass defense seems unlikely to slow down Drew Brees and the Saints when it couldn't even stop Nick Foles.
On offense, however, the Buccaneers should be able to move the ball. New Orleans' No. 30 pass defense isn't far above Tampa Bay's, and its run defense comes in dead last. Doug Martin should have a field day.
This game could go either way, as many points will likely be scored. Typically, however, a dominant pass attack wins out in the NFL. That's exactly what should happen here.
Pick: New Orleans Saints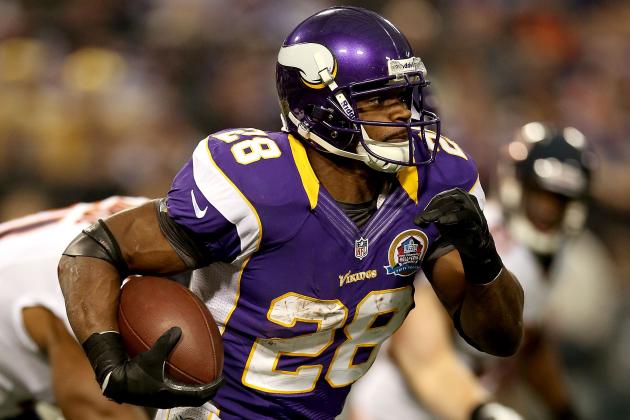 Matthew Stockman/Getty Images

In 2012, no one has been able to stop Adrian Peterson. This has been especially true in Minnesota's last seven games, in which Peterson has rushed for at least five yards per carry and 100 yards each game.
Tampa Bay, the owner of the NFL's No. 1 run defense, held Peterson to a mere 8.2 yards per carry. Do you expect St. Louis to stop him?
The Rams might be able to score some against the Vikings, but they will not be able to slow down Peterson. That should win Minnesota the game.
It has seven other times this year.
Pick: Minnesota Vikings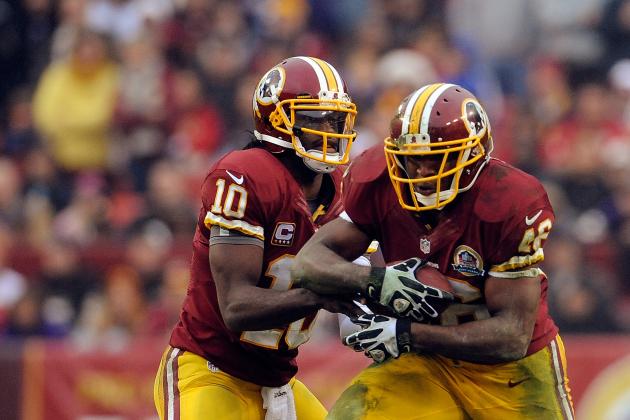 Patrick McDermott/Getty Images

The small spread is due to uncertainty regarding Robert Griffin III's health, but he seems likely to suit up for the game. If he does, Washington is the clear favorite.
Cleveland hasn't been bad in 2012, but its defense will struggle to contain both Griffin and Alfred Morris. The Browns offense may be able to put up some points, but it isn't exactly high-octane like Washington's is.
This is simply too small of a spread to side with the Browns, despite their three-game winning streak. Don't bet against RG3.
Pick: Washington Redskins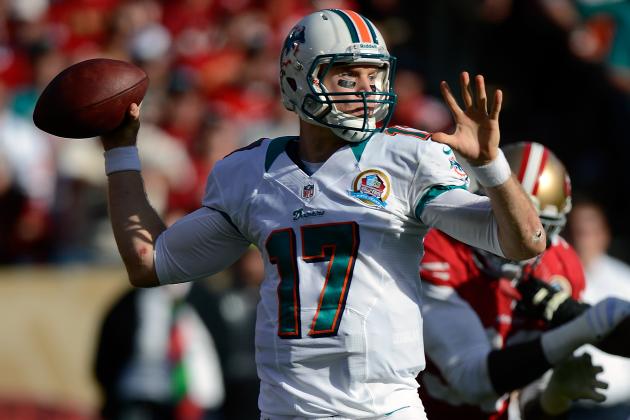 Thearon W. Henderson/Getty Images

The Dolphins have lost two in a row, but they fell to good teams and avoided blowouts. The Jaguars, on the other hand, are still among the NFL's two worst teams.
Miami isn't a team that generally dominates, but that just might happen here. Jacksonville will struggle to move the ball, and the Dolphins should be able to put points on the board.
This is a fairly large spread, but it isn't big enough. The Dolphins are the easy pick.
Pick: Miami Dolphins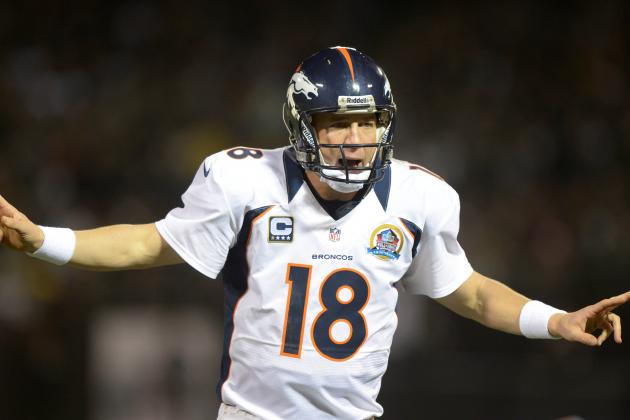 USA TODAY Sports

Baltimore isn't nearly as good as its record implies. Losses to a Ben Roethlisberger-less Steelers team and the Redskins show that.
Denver, however, is among the AFC's best teams. Peyton Manning is having a stellar year, and there is nothing in the Baltimore defense that hints the team will be able to stop him.
This is a pretty one-sided matchup in the Broncos' favor. The 2.5-point spread is not nearly big enough to make an impact here.
Pick: Denver Broncos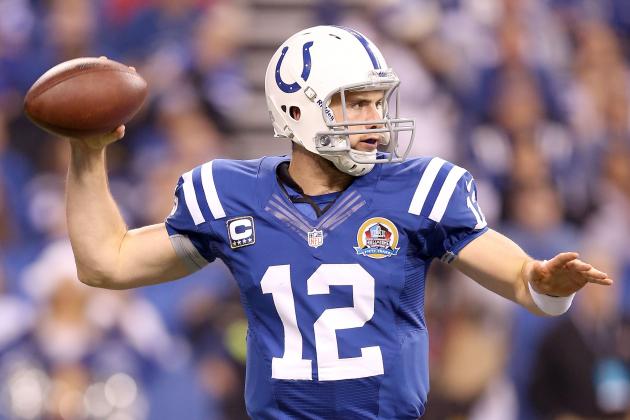 Andy Lyons/Getty Images

Lately, Houston has been allowing quite a bit of offense, especially in the pass game. That will likely continue against the Colts.
Indianapolis isn't as good of a team as the Texans are yet, but the Colts do have some firing power, and they can score. The bigger trouble will be on defense, though Houston's offense is stoppable.
Look for the Colts to compete here but come up short. Of the win, that is.
Not the point spread.
Pick: Indianapolis Colts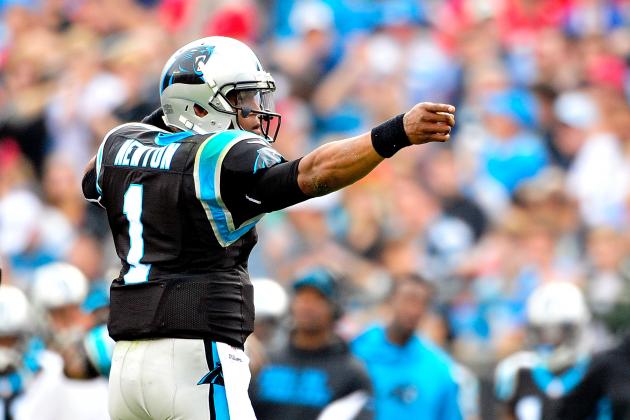 Grant Halverson/Getty Images

Cam Newton is on a roll, posting passer ratings above 110 each of the past three weeks. Is San Diego going to bring his hot streak to an end?
Probably not.
San Diego beat the Steelers last week, but the team hasn't been particularly good in 2012. Neither has Carolina, but at least its offense has been scoring, with 87 points in the last three weeks.
It's possible for either team to win this given the inconsistencies on both sides. When in doubt, though, go with the team that's been hot.
Pick: Carolina Panthers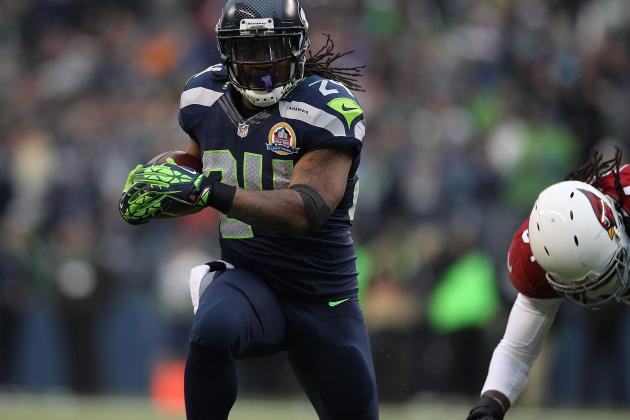 Kevin Casey/Getty Images

Coming off a 58-0 blowout win over Arizona, Seattle is heading into this game with some momentum. Marshawn Lynch has already rushed for 1,266 yards as he goes up against the No. 28 run defense.
Buffalo is having a rough season, and the team's reluctance to properly utilize C.J. Spiller has only added to it. The Bills seem unlikely to do much against Seattle's dominant defense.
Seattle is clearly the better team here, and its offense matches up well against Buffalo's defense. The same can not be said for the Bills offense against the Seahawks defense.
Pick: Seattle Seahawks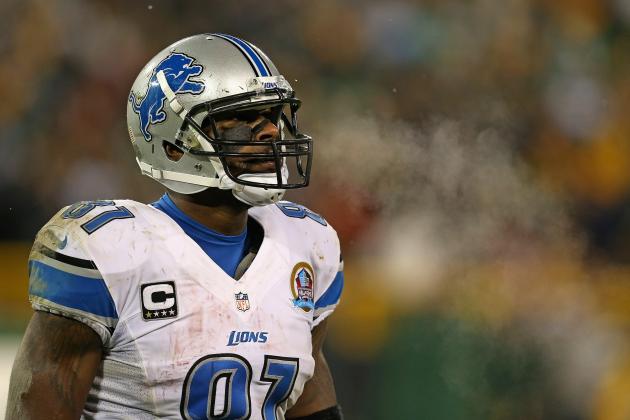 Jonathan Daniel/Getty Images

Right now, there are few teams worse than the Cardinals. Even in Arizona, the spread should be larger.
Until recently, the Cardinals defense had been solid, but the team gave up 58 points against the Seahawks in Week 14. With a completely dormant offense, Arizona doesn't have much hope.
Detroit will put up plenty of points, as it usually does, and even its shaky defense should dominate against the Cardinals offense. Expect another easy loss for Arizona.
Pick: Detroit Lions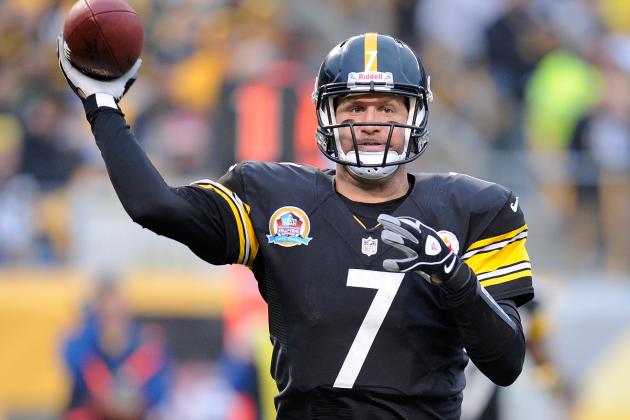 Joe Sargent/Getty Images

Though they lost to the Chargers last week, Pittsburgh is still a good team. It boasts the NFL's No. 1 defense with a solid offense to boot.
Dallas hasn't been nearly as good. The Cowboys aren't terrible, but it's hard to find a true strength or identity to the team.
As Dallas will struggle to score, the Steelers should be able to put up some points in Ben Roethlisberger's second week back.
Pick: Pittsburgh Steelers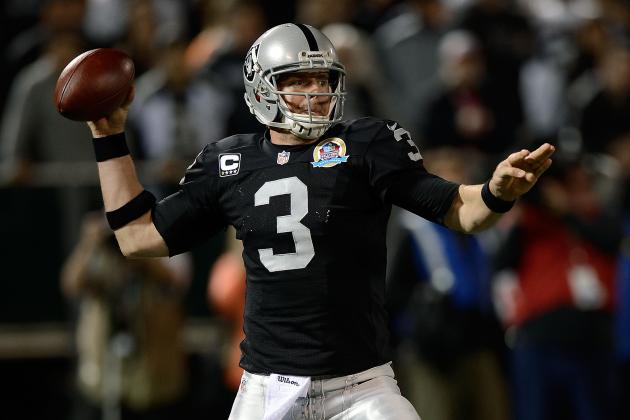 Thearon W. Henderson/Getty Images

Unless the Chiefs are playing the Jaguars, there is no reason to side with Kansas City.
Even against the Raiders.
Oakland is also among the NFL's worst teams, but it isn't nearly as bad as the Chiefs, who were blown out by the Browns a week ago. The Raiders can at least move the ball on occasion, though their defense isn't particularly good.
This probably won't be an easy win, but Oakland is the superior team right now.
That's saying something.
Pick: Oakland Raiders
Jim Rogash/Getty Images

Once again, the Patriots find themselves in the mix of the week's most interesting matchup.
Going up against San Francisco's elite defense, New England may not be able to score at will, and the Patriots defense isn't exactly elite.
The 49ers' No. 2 run defense will negate the Patriots' No. 7 run offense, allowing them to focus on the pass. Even focused on the pass, though, San Francisco will struggle to stop Tom Brady.
On the other side of the ball, things are also complicated. Neither team has a dominant unit, and the 49ers should score some points but not too many.
This game will probably go to the Patriots, but 5.5 points makes San Francisco a tempting pick.
Pick: New England Patriots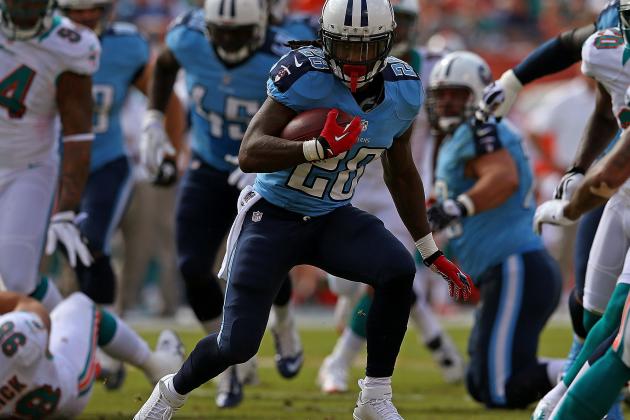 Mike Ehrmann/Getty Images

Neither of these teams are particularly good, as they have shown on many occasions.
However, the Jets are worse.
Tennessee is, on occasion, capable of putting up some offense. That's more than anyone can say about the Jets, who haven't scored more than 19 points since Week 7.
The Titans won't exactly score at ease, but their offense will be considerably more alive than New York's. That will make the difference.
Pick: Tennessee Titans