5 Things That Must Change for the Dallas Cowboys in 2013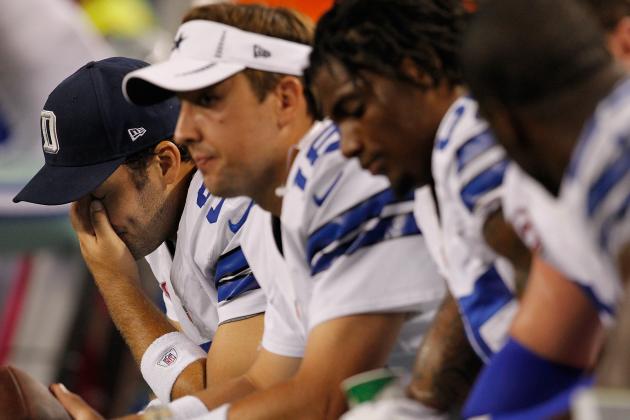 Tom Pennington/Getty Images

Oscar Wilde once said, "Experience is simply the name we give our mistakes."
How fitting an expression for the Dallas Cowboys and their owner, Jerry Jones. There is no shortage of experience on this roster. And no shortage of mistakes.
As the end of the 2012 season is rapidly approaching, the situation has become critical. Mistakes have cornered this team into a stretch of must-win games. Their playoffs essentially started last week in Cincinnati when they woke up to tragedy but were able to overcome their emotions and managed a close road win to keep their season alive. Now they have to win their final three games, and even that doesn't guarantee a spot in the playoffs.
As much as we love the drama, it sure would be nice to have a season that doesn't end with us firing the head coach. To put it frankly, the Cowboys are on their way to missing the playoffs for a third straight year. There are three phases teams go through in the NFL: winning, rebuilding and regressing. I don't consider them to be in rebuild mode, and they certainly haven't been winning.
Even if they were to pull off a season-saving miracle and make a playoff appearance, their stay will likely be short. It's an all-too-familiar story with this franchise, and it's time for a change. Here are five things they must fix to stop the regression and get back to winning football.
Begin Slideshow

»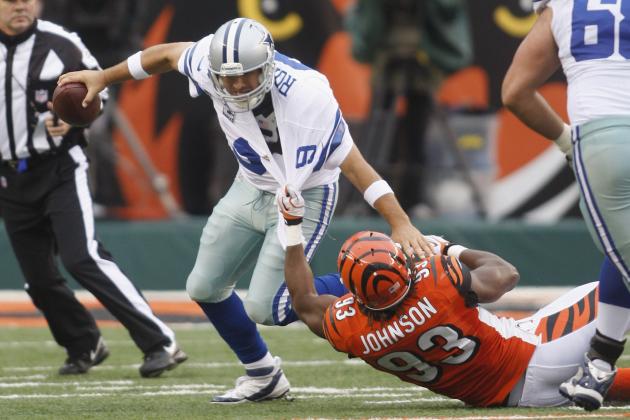 John Grieshop/Getty Images

The theme of 2012 has been the poor play of the offensive line. We've written about it over and over again. There is no question that the Cowboys need to address this situation in the draft and maybe even in free agency.
According to Pro Football Focus, the Cowboys have allowed the second-most quarterback hurries, the fourth-most sacks and given up more pressure than all but two other teams. I think it's safe to say that they would lead the league in all of those categories if not for Tony Romo's ability to flee the pocket.
Remarkably, they're ranked 15th in total points and 10th in yards per game. Imagine how good this offense could be if the offensive line wasn't one of the worst in football. Imagine if Romo had a little more time and didn't have to scramble every other play.
They have elite talent. But what good is it without proper protection? This is priority No. 1 for 2013.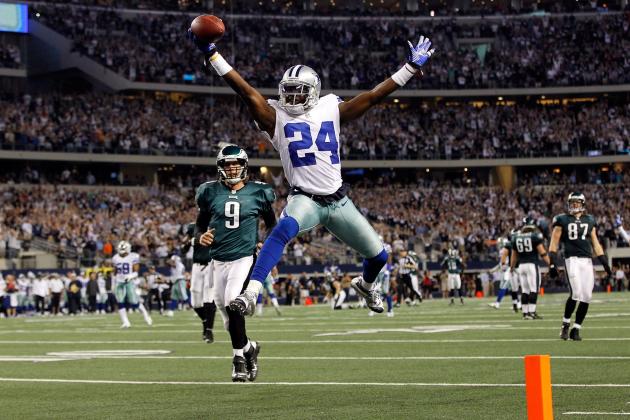 Tom Pennington/Getty Images

There is no discernible way to create turnovers. There is, however, a way to control the turnover differential.
The Cowboys have given up the ball 24 times and have taken it away only 14, ranking them as the seventh-worst team in the league.
You can't be playoff contenders with those kinds of numbers. Protecting the football is as important as scoring points, and they go hand in hand.
Tony Romo has 16 interceptions through 13 games. That's unacceptable for any quarterback, and especially disappointing for a veteran. Not all of them have been his fault, but he needs to make better decisions.
His style of play lends itself to mistakes. It's a matter of finding that balance between reckless play and risky play. Risky is okay to a certain degree. In fact, it's required at times. But reckless, something we've seen Romo be too many times, often leads to losing seasons.
Turnovers are momentum killers and put way too much pressure on the defense. This is an area that the Cowboys absolutely have to improve on if they hope to compete.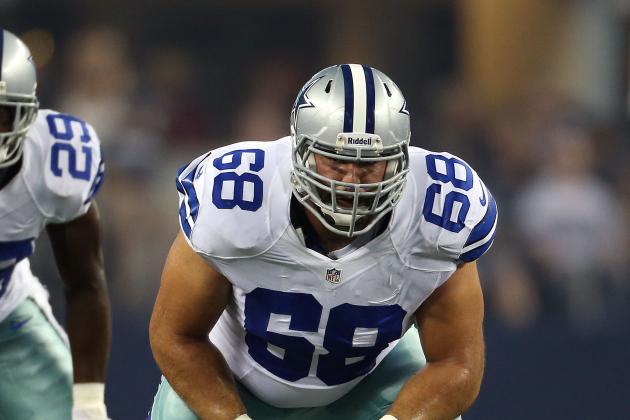 Ronald Martinez/Getty Images

Speaking of momentum killers. Nothing sucks the life out of a good drive or defensive stand like penalties. The Cowboys are the second-most penalized team in the league, which is costing them 58 yards per game, according to Team Rankings.
That's a reflection of coaching. But it's also a reflection of Doug Free, whose 13 penalties lead the league. It's interesting how nearly all of the Cowboys' problems can be blamed on the five guys lined up in front of Romo.
False start and holding penalties are a disease to this offense. Nothing is more frustrating than seeing a big gainer get called back because Free can't block without cheating.
The defense gets their fair share too. But you'd expect a defense to be flagged more. It's usually a sign of aggression and we're all for that. Unfortunately, most of the Cowboys penalties have come on offense.
Discipline has been a long-standing issue with this team. They have been at least the sixth-most penalize in the league since 2007, which is interesting considering that's when they hired Jason Garrett. Surely it's just a coincidence.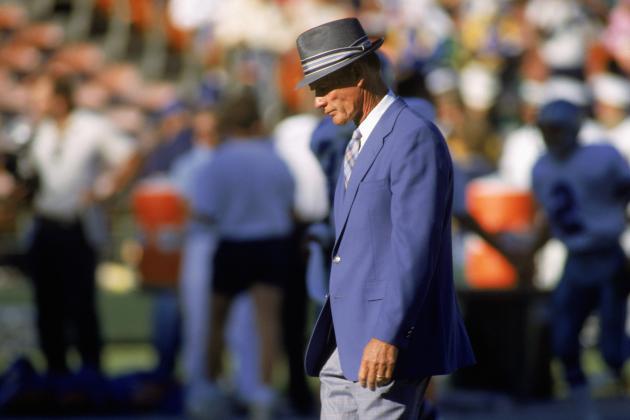 Stephen Dunn/Getty Images

When Bill Parcells came to the Cowboys, he brought with him a change in defensive philosophy and converted them to a 3-4 base defense. They've never looked back.
But maybe they should.
The once-great Tom Landry is widely credited for inventing the 4-3 while he was the New York Giants defensive coordinator. He implemented his system with the Dallas Cowboys when he took over as the head coach, and the rest is history.
The Cowboys need to get back to basics. They don't have the depth, size or talent on their defensive line to create pressure with just three down linemen. Making the switch would be fairly easy.
Current nose tackle Jay Ratliff has always been undersized for his position but makes up for it with his speed. It's come at a price as he hasn't been able to stay healthy, and at age 31, his speed is nowhere near what it once was. If they decide to keep him on the roster, he would make a great defensive tackle working a one-gap assignment. That would allow him to make use of his agility and avoid double-teams on every snap.
DeMarcus Ware is one of the best pass-rushing linebackers in the NFL. Imagine how good he would be if his day-to-day assignment was to line up opposite an offensive tackle as a defensive end and rush the quarterback. That is, after all, what he did in college and did it quite well.
The big question is Anthony Spencer. He represents a tricky situation in terms of salary. The fear is that he's too old to sign to a long-term contract and too expensive to franchise tag for a second year in a row.
Essentially, they can't afford to keep him and can't afford to lose him. If he does stay, he would serve as the perfect strong-side linebacker in a 4-3 defense. He's really the key to the entire concept.
Sean Lee would be great in the middle, and now that we've gotten to know Bruce Carter a little better, we can have faith in his abilities as a weak-side linebacker. But without Spencer, this theory is going to be much harder to institute. Bruce Carter isn't good enough in coverage, and we don't know enough about Alex Albright.
One way or the other, if Spencer goes they'll need to find his replacement. And that might be easier to do with a 4-3 defense.
They've already been running a hybrid defense that features a little bit of both (mostly 3-4). Now it's time to utilize the upcoming draft and make a commitment to running a 4-3 as the default.
The bottom line is that the Cowboys haven't been getting enough pressure on the quarterback. I'm of the opinion that unless they find an outstanding nose tackle, a change to a 4-3 corrects the problem sooner and probably for less money.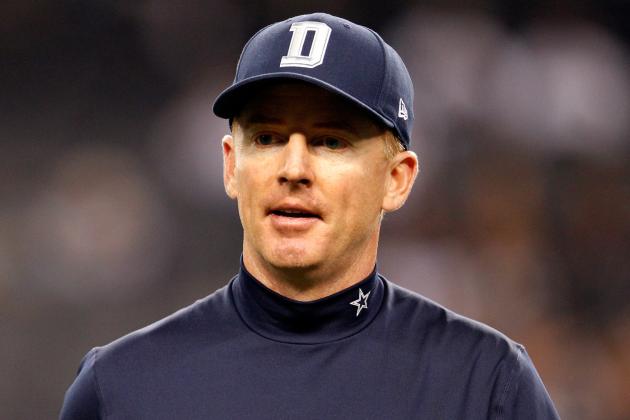 Tom Pennington/Getty Images

The win over the Cincinnati Bengals last week may very well have saved Jason Garrett's job. So for those of you that are so intent on getting a new head coach, you better hope that the Cowboys get blown out in their next three games.
I don't think Garrett is going anywhere. But that's not to say that he won't have certain aspects of his responsibilities taken away from him.
As previously mentioned, ever since Garrett was hired as the offensive coordinator and then promoted to head coach, the Cowboys have been one of the most penalized teams in the league. The blame falls on the talent, but it's the coach who's ultimately responsible, especially when it's a persistent problem.
We've seen this offense come out flat in the first half of games far too often. Whatever game plan and preparation Garrett is putting them through has consistently failed. Dedication to the run, play-calling on short-yardage situations, clock management and halftime adjustments are all areas of concern that have held this team back in big games. Garrett is at the source of all it.
It's time to hire him some help. Speculations suggest that Norv Turner will be fired at season's end. You may not like the sound of it, but where he fails as a head coach he more than makes up for as an offensive coordinator. His experience is something Garrett could definitely use in all those close games the Cowboys seem to find themselves in.
This isn't necessarily a petition for Turner. Anyone who's had any level of success in the NFL, specifically on offense, would greatly improve the Cowboys' chances of regaining their status as football's elite.