Miami Recruiting: Hurricanes' Top 5 Targets and Odds They Commit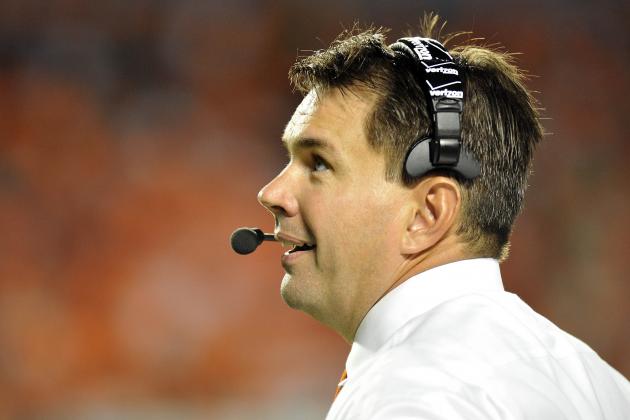 Steve Mitchell-USA TODAY Sports
Al Golden is working on bringing top recruits to the program.
The Miami Hurricanes coaches have been busy recruiting since the season ended, and there are plenty of top recruits left uncommitted.
Players from all over the country are interested in the Canes, but the staff is attempting to secure a solid commitment to the program.
With NCAA sanctions looming, the 2013 class has proven itself to be a formidable challenge. However, head coach Al Golden is not unfamiliar with challenges on the recruiting trail after rebuilding a perennial bottom-dweller in the Temple Owls.
After putting together the eighth-best class in 2012 according to ESPN, the Hurricanes will be taking a select amount of athletes this year. Jon Bastian of CaneInsider notes that Golden is planning on signing around 15 recruits in 2013.
Miami must be very selective with a limited amount of spots, but the coaching staff has plenty of talent to choose from all over the country. Here are Miami's top five targets and odds they will sign.
Begin Slideshow

»
Matthew Thomas is considered to be one of the top linebacker recruits by ESPN.com, Rivals.com and Scout.com.
The Booker T. Washington High School product is fresh off a state championship and ready to focus on choosing a school. In an interview with Jon Bastian, Thomas said he will be announcing his decision on national signing day.
This gives the Hurricanes plenty of time to convince the stud linebacker to stay home in Miami. Thomas has yet to take his official visit to the campus, but it's right down the road so that fact raises no concerns.
However, since the possible back-to-back champion Alabama Crimson Tide, Georgia Bulldogs and Florida State Seminoles are hot on his trail, the future looks bleak.
Thomas would be an immediate impact player for the Hurricanes, but the likelihood of him throwing up "The U" are not fantastic.
Odds: 15 Percent
Honestly, all that needs to be seen to know this kid is a beast is watching the first clip of the scouting video.
Offensive lineman Denver Kirkland is 6'5" and 335 pounds and is rated as the 112th-best prospect by Rivals.com.
Kirkland currently has narrowed his choices to five schools, but Florida State and Miami appear to be on top of his list. He is also planning to make his decision on national signing day.
His recruitment is based on two things, and two things alone—academics and the coaching staff. Miami boasts the best academics in the state of Florida according to U.S. News, but who knows if that really means anything. The Hurricanes do have an advantage since the entire coaching staff likely returning while FSU's staff is slowly being dismantled.
Though playing with his high school teammate Matthew Thomas at the next level is a huge possibility, the Hurricanes have a solid chance to snag Kirkland. And who knows, if the stellar lineman wants to attend Miami, it might draw Thomas as well.
Odds: 40 Percent
" };

Miami has extended its recruiting reach into Louisiana in hopes of nabbing a pair of 4-star recruits. Top tight end Standish Dobard is a solid commit to the Canes, but Tim Williams is still on the board.

The third-best defensive end recruit has been high on the Hurricanes for quite sometime. No recent updates have been given about a change to his list, so it is safe to assume Miami remains in good shape.

Williams might not wait until signing day to choose, but a decision should not to be expected shortly. He is planning on taking an official visit to Coral Gables as well as a couple other schools in January.

He is a promising player who could absolutely fight for playing time as a freshman for the Hurricanes.

Williams is by no means a lock, but his odds are a cautious prediction based on his relationship with the coaching staff as reported by Rivals.com via B/R's Andrew Kulha.

Odds: 40 Percent
" };

Former Miami commitment Alex Collins is a powerful running back who is highly coveted by many top programs.

Though the 5-star is no longer "officially" committed, Miami still has a great chance to sign Collins. He is also considering Florida State, Florida and Wisconsin, but recent events play into the Hurricanes' favor.

Bret Bielema bolted Wisconsin for the head coaching job at Arkansas, and Eddie Gran left FSU to become the offensive coordinator at Cincinnati.

247sports.com notes that Collins was "shocked" by both Bielema and Gran choosing to leave their respective schools, but understands the reasoning behind their decisions.

Miami may have regained some ground due to the two coaches, but Will Muschamp and Florida will likely be a tough competitor in the race for Collins.

Odds: 30 Percent
" };

One name that surfaced last season was Miramar High School linebacker Jermaine Grace. The 4-star recruit was a teammate of two current Canes—Tracy Howard and Malcolm Lewis.

All signs last year pointed to Grace following in the footsteps of those two players especially since he is good friends with Howard.

Grace is considered to be a borderline linebacker prospect who could be switched to play safety. However, a young and loaded Miami secondary projects him to stay as a Sean Spence-like linebacker.

As for the odds he commits, well, he said it himself to Rivals.com.

Odds: 70 Percent