Washington Wizards vs. Houston Rockets: Postgame Grades and Analysis for Houston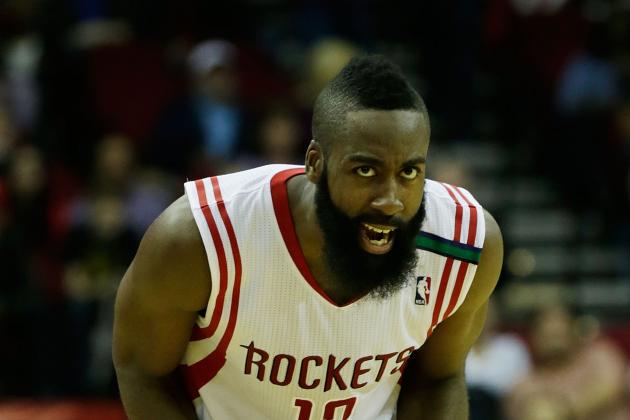 Scott Halleran/Getty Images
Harden seized every opportunity tonight.
It's not often that a team commits 16 turnovers in the first three quarters and still finds itself with a three-point lead going into the fourth quarter.
But against the Washington Wizards, such things are possible.
The Rockets really didn't play very pretty basketball. They shot just 44 percent from the floor and, as mentioned, turned the ball over a lot. However, against the Wizards, it didn't matter. Washington shot 39 percent from the floor and hit just 7-of-25 from three-point range. The Wiz had balanced scoring, just not enough of it.
The story for the Rockets though was the dominance of James Harden. Harden's play was enough to beat the Wizards 99-93 on a night when most of his teammates were way off the mark.
Let's have a look at the postgame grades for the Houston Rockets.
Begin Slideshow

»
Two nights ago (Dec. 10), Jeremy Lin had a 38-point game against the San Antonio Spurs. It was done without James Harden in the lineup, so the question was whether Lin could replicate that success with Harden back at his side.
Turns out, he couldn't.
Lin shot just 4-of-8 from the floor and had just 10 points. He did have six assists and five rebounds, but he also turned it over three times. Lin just wasn't looking to do as much as he did against the Spurs, when he attempted 21 field goals and dished out seven assists.
It all really begs the question of whether Lin may be best suited not to have much talent around him. He had his best games in New York last season before Carmelo Anthony returned.
Can Lin succeed playing with superstars like Harden, or does he need to be the only decent player on the court to have a big night?
Grade: C -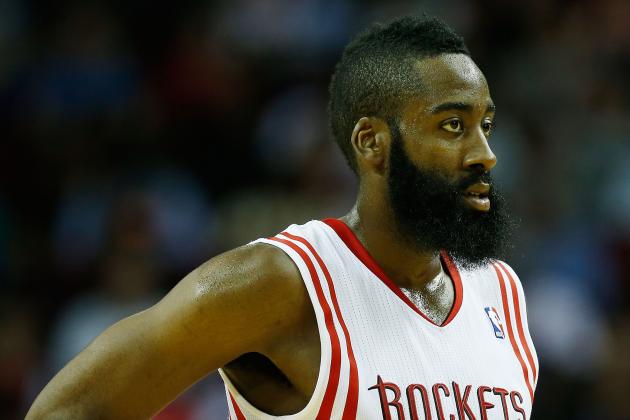 Scott Halleran/Getty Images
The Houston Hardens?
The "Houston Hardens." Does that sound like a more appropriate name than the Rockets?
James Harden scored 17 points in the first quarter. So did the Wizards.
Harden attacked the basket early and often. He was aggressive and it paid off. How good can Harden be? He's ranked fifth in the league in scoring after spending the last couple seasons ranked third on Oklahoma City. He's embracing a bigger role and doing it very well.
Harden is able to shoot threes, put it on the floor and he finishes strong. He attempted nine free throws as a result of his aggressive offense, and he made all nine of them.
Defensively, some fault can be found, as Harden allowed the struggling Bradley Beal to score 20, but Beal still hit just 6-of-15 from the floor and turned it over three times, so his success was mostly just a result of a higher usage rate.
Grade: A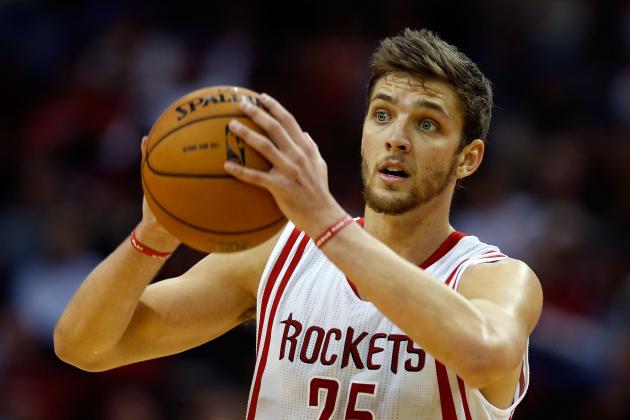 Scott Halleran/Getty Images
Parsons had 11 of his 18 in the fourth quarter.
Chandler Parsons struggled through the first three quarters of the game, but he got it going when it counted most.
He hit a three to extend the Rocket lead to eight points with 1:30 remaining in the game, then came back and hit another three on the next possession, driving home the final dagger.
Parsons had 11 points in the fourth quarter after scoring just seven the first three quarters. Parsons also did his job on the boards, grabbing eight rebounds (seven of which were in the first half). Even when he wasn't scoring, he stayed involved in the offense, so perhaps it was just a matter of time until his shots started dropping.
You have to hand it to Parsons for hanging in there when he was just 3-of-10 from the floor after three quarters. He finished with 18 points on a night he easily could not have scored in double figures.
Grade: B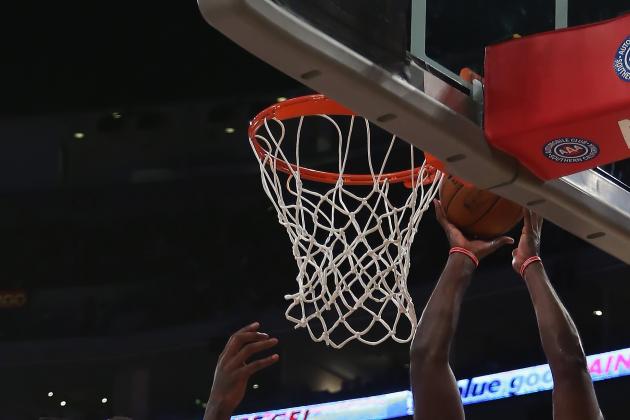 Jeff Gross/Getty Images

Patrick Patterson had a pretty standard night for what he's been doing this season, despite some struggles with his shot.
Patterson hit 4-of-11 from the floor and only grabbed four rebounds, but he made a few really nice defensive plays, igniting some easy buckets for the Rockets in transition.
It would be easy to look at his box score and give him a poor grade based on the fact he made less than half his shots. But that would be ignoring the defense he played and forgetting the fact that Patterson did what was asked of him, save missing some shots he might hit other nights.
Grade: C +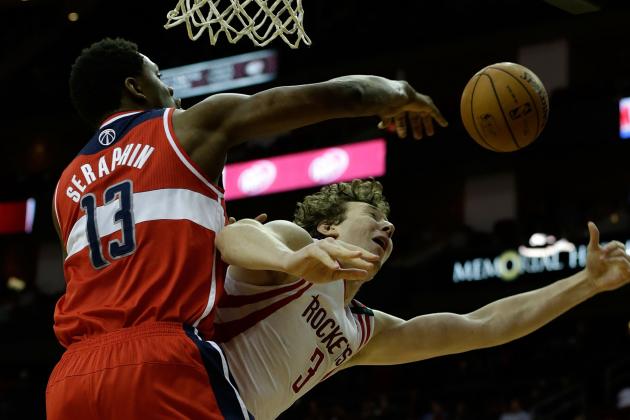 Scott Halleran/Getty Images
Asik even hit 3-of-4 from the line after hacks like this one.
Omer Asik is earning the contract that was so heavily criticized this summer.
Many felt Asik couldn't do much more than bang around and grab some rebounds. That might be partly true, but he's doing more than grabbing "some rebounds." He's grabbing a lot of rebounds.
Asik had 16 boards (three offensive) and scored nine points against the Wizards.
On the season, he's averaging 10.7 points and 11.4 rebounds per game. Oddly, he isn't blocking anywhere near as many shots on a per-minute basis as he did in Chicago, but that may just be a result of trying to stay out of foul trouble now that he's being called upon to play more minutes.
Overall, it was a very solid game for Asik. He's getting a lot more comfortable offensively and even tried some moves we didn't know were in his arsenal, not the least of which was a sweeping skyhook (which he missed).
Asik's work ethic should enable him to become a very good NBA player as time goes on.
Grade: A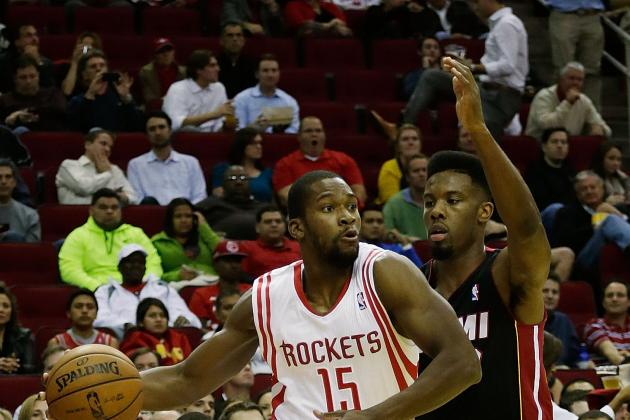 Scott Halleran/Getty Images
Douglas hit an amazing shot to close the first half.
Toney Douglas had the highlight of the game when he hit a half-court buzzer-beater that gave the Rockets a three-point lead at the half. Douglas led the bench in scoring and outscored starter Jeremy Lin.
Some may have to wonder if Douglas might not be better suited to start for the Rockets than Lin, but that is a near impossibility since Lin is being paid an average of $8 million-plus a year over the next three seasons—and is under the "hype-roscope."
Either way, Douglas is good at getting buckets and his 12 points in 19 minutes attest to that. Going into tonight's game, he was averaging 7.7 points per game in 18 minutes a night, so he bested his average.
Grade: B +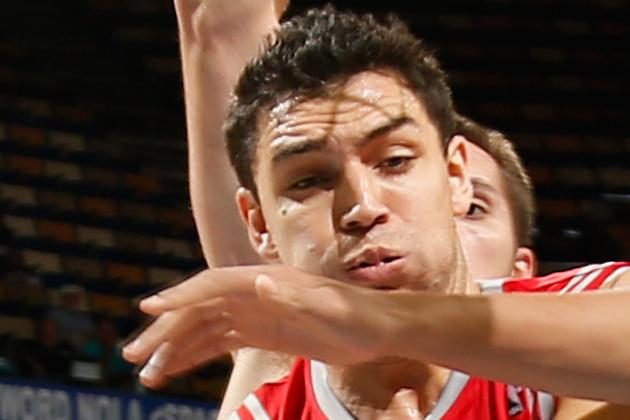 Chris Graythen/Getty Images
Delfino struggled badly tonight.
Removing sixth man Toney Douglas from the conversation, the Houston bench didn't do much tonight. Excluding Douglas, the bench shot a combined 2-of-8 from the floor and had five turnovers to three assists.
Greg Smith did have a few nice blocks and grabbed four rebounds—but scored just one point.
Carlos Delfino usually has a good positive effect when he comes off the bench, but all he did tonight was turn it over a few times and snatch four rebounds, while missing four of his five shots.
Grade: F