UCLA Basketball: Early-Season Grades for the Bruins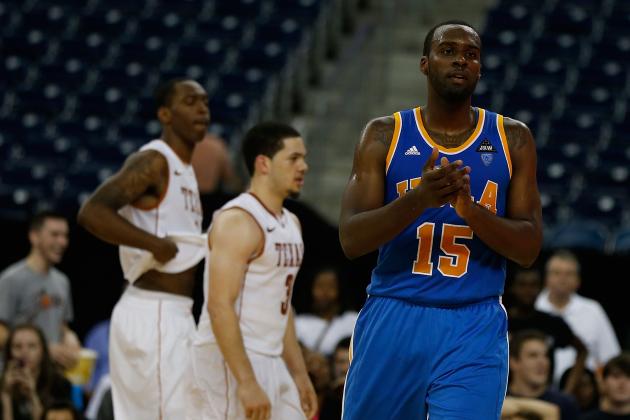 Scott Halleran/Getty Images

Scrap the potential that had this UCLA team highly ranked in the preseason. We've witnessed the reality of what this team looks like in action, and it hasn't been a pretty sight.
After nine games this season, the Bruins stand—or rather sit—at 6-3, which would seem above-average if you were unaware of the details.
In those three losses, the Bruins proved no match for tough competition (Georgetown, San Diego State) and kicked what should have been a blowout game against Cal Poly.
While it was recorded as a win, the team's recent sloppy win over Texas might as well have been chalked up as a loss for UCLA, who sank to the level of an awful Texas team that gave up the game in the final minutes.
Don't get too discouraged, Bruins fans; there is still hope for this season. However, we'll call it as we see it right now.
Begin Slideshow

»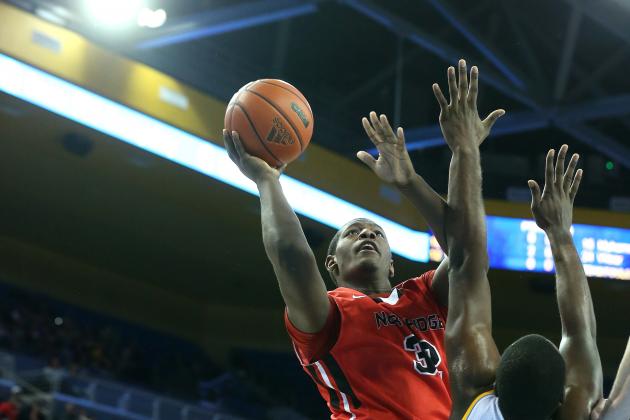 Stephen Dunn/Getty Images

While UCLA has shown short spurts of well-played defense, it has generally been a defensive nightmare this season.
The 2-3 zone that Coach Howland has infused into the Bruins' defensive scheme works very limitedly and consistently breaks down against good outside shooting teams.
Regardless of whether the blame resides in Coach Howland's defensive system or a lack of fitness from an oft-fatigued team, UCLA has looked sluggish on defensive, which has cost the team its three non-conference losses.
So far this season, the Bruins' D is deplorable.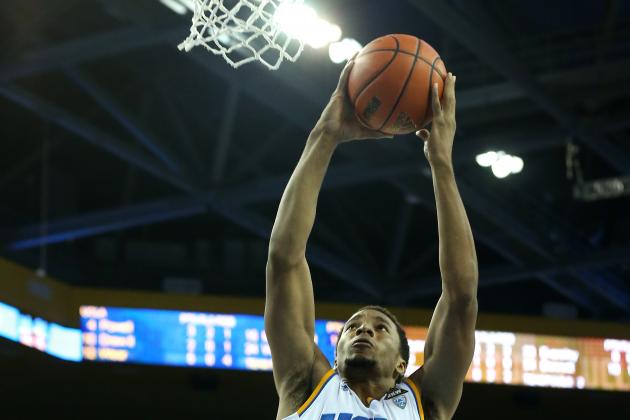 Stephen Dunn/Getty Images

UCLA averages 76 points per game (56th, nation), which would be applauded on many teams but not this Bruins team, which was expected to be a national championship contender.
Nevertheless, the Bruins currently have four players (Adams, Muhammad, T. Wear, and Norman Powell) averaging double figures in scoring, which is no surprise for a team that is much more confident in taking shots than the UCLA teams of the past seasons.
While scoring has improved, UCLA's ball movement is often stagnant, especially when top-facilitating point guard Larry Drew II isn't in the game.
If the Bruins want to be an NCAA-caliber team, they must spread the floor better and form a more cohesive offense.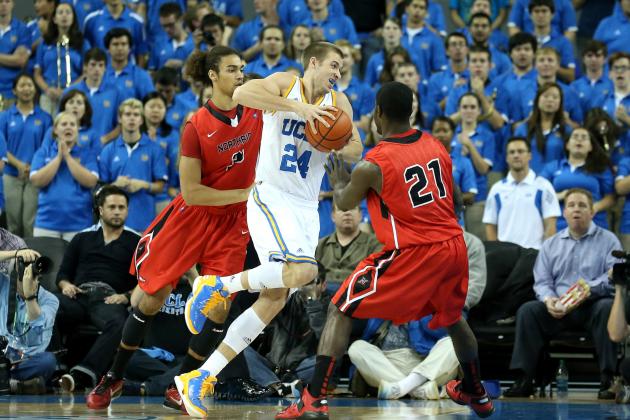 Stephen Dunn/Getty Images

Forward Travis Wear has exhibited steady development since a very mediocre first season in Westwood last year after transferring from North Carolina; however, he still has plenty of work to do.
While has improved his jump-shot and has shaken the tentativeness he had last season, Wear is still a sub-par defender and isn't nearly the physical force that he should be in the paint at 6'10".
Although he averages seven rebounds per game, Wear still hasn't found a way to use his size as an advantage, and has been dominated on the boards by smaller forwards.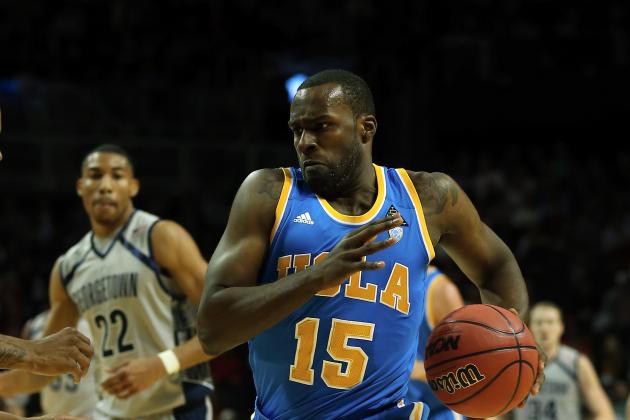 Elsa/Getty Images

Top recruit Shabazz Muhammad began his UCLA career with a 15-point game after clearing NCAA eligibility and has never looked back, averaging 16 points per game with five rebounds.
As key a contributor as he's been to the Bruins' offense, Muhammad is still getting acclimated to the college game and has admitted that he's been stifled by the jump from the prep level.
The 6'6" forward has plenty of room to grow, especially on defense, and will be a huge force for the Bruins once he turns the corner.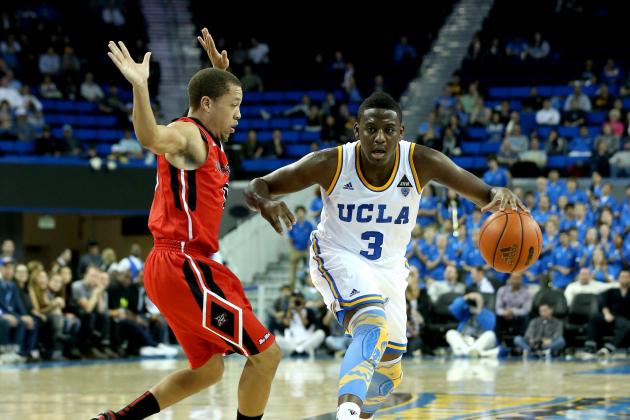 Stephen Dunn/Getty Images

In spite of all expectations, Jordan Adams has not only been the best freshman out of UCLA's incoming class but has also been the best player on the team.
Averaging a team-high 18 points per game, Adams can flat out shoot and attacks the basket like former Bruin and NBA stud Russell Westbrook.
He's a confident, accurate shooter who can score from practically anywhere on the court. It's no secret that Adams has singlehandedly won games for UCLA, as he did in the Bruins' recent last-minute win over Texas.
Adams still has a few kinks to work out as a freshman, but he's been phenomenal so far for the Bruins.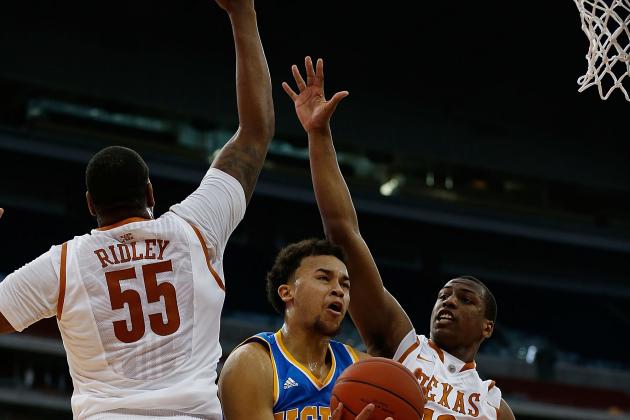 Scott Halleran/Getty Images

As a Top 5 recruit, UCLA was expecting more from Kyle Anderson, who hasn't had quite the impact on the court as was anticipated.
At 6'9", the guard tagged "Slow-Mo" for his deliberate movements on the court has played a hybrid role on the Bruins between forward and guard that has hampered his success so far as a Bruin, which is evident in his stat line (7.1 PPG 7.9 RPG 3.3 APG).
While Anderson has above average court vision and is crafty in attacking the basket, he isn't much of an outside shooter and doesn't have quick enough feet to guard the perimeter on defense.
As good as his court vision is, Anderson often makes foolish decisions on the court that lead to turnovers. His offensive play is generally promising, but needs refinement.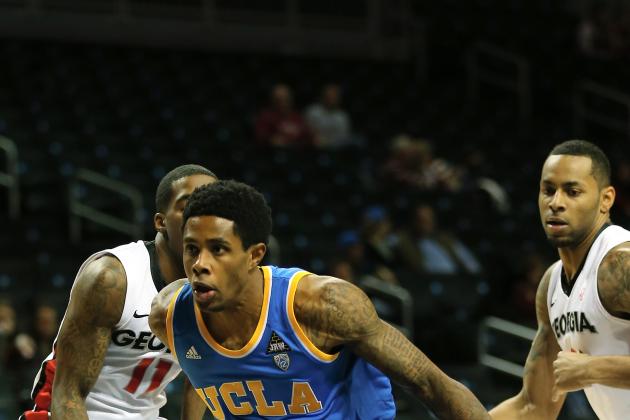 Elsa/Getty Images

Larry Drew II has been an excellent facilitator so far for UCLA, averaging eight assists per game and thrice posting double-figure assists in a game.
Better yet, the redshirt senior brings a hard-nosed attitude to the court and has served as the Bruins' sole upperclassman leader this season.
However, as efficient a passer as he is, Drew has been a mediocre shooter and is a non-threat from three-point range (3-for-16, 18.8 %), which has limited his overall efficiency as a point guard.
Drew has impressed thus far, but he'll help his team tremendously on offense if he can improve his jump-shot.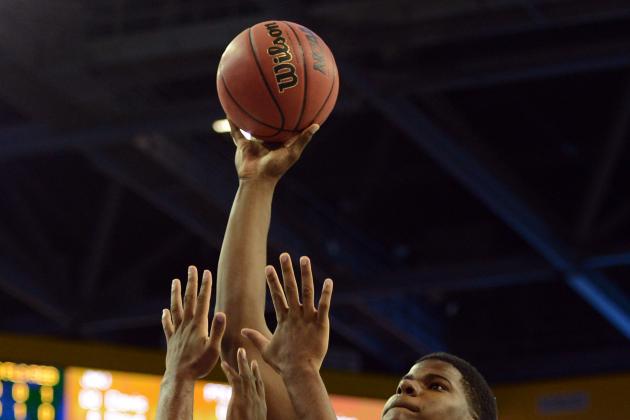 Harry How/Getty Images
UCLA's freshman Tony Parker
With the recent transfers of juniors Tyler Lamb and Josh Smith, UCLA quickly dropped from being a deep team to a team that will be stifled if one of its starters were to be injured.
Smith's transfer has led to freshman forward/center Tony Parker taking his minutes as a backup big man for the Bruins. Although he has displayed promising potential as he continues to learn the ropes of the college game, he's beginning to look increasingly like Smith with the alarming quantity of fouls he accrues in his time on the court (currently averages a foul every 3.7 minutes) and his sub-par offensive performance.
Lamb's transfer has made sophomore guard Norman Powell, who was a starter earlier in the season, UCLA's go-to guard off the bench. While Powell has improved his jump-shot and has been a consistent offensive contributor, he isn't the sharpest tool in the shed. He singlehandedly blew the Bruins' game against Cal Poly by being unaware of the score and intentionally fouling the opposition when the score was tied with seconds remaining in the game.
Then there's David Wear, who has displayed a much more confident and accurate jump-shot this season like his brother, but also like his brother, isn't much of a defender. While he can corral rebounds, he struggles to put in easy tip-in opportunities at the rim, which is a significant detriment to the Bruins.
Unfortunately, these three are the only bench players that UCLA has, as the remaining four players on the roster have played a collective total of 16 minutes this season and will only be placed in the game by necessity or in blowout games.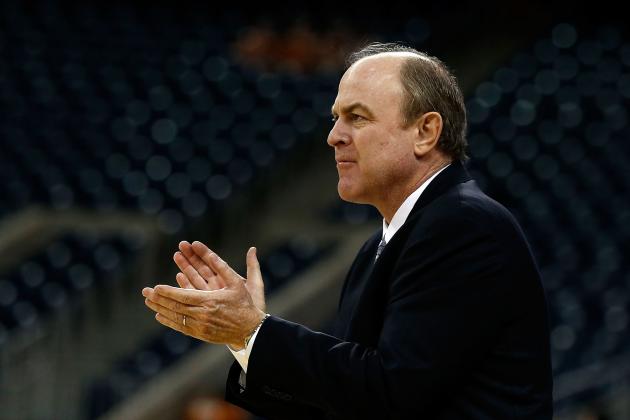 Scott Halleran/Getty Images

Coach Ben Howland has had his work cut out for him and has simply not arisen to the task of pulling this group of young talent together to make a good basketball team.
While Coach Howland, now in his ninth season with UCLA, can't be held entirely accountable for the woes of this season, it doesn't appear as though he had done much to help the situation. There are certain things that are out of his control, but there are also many things that he could potentially amend.
The Bruins often look uninspired and unmotivated on the court—a coach can help maintain or boost team morale. The team often looks fatigued, especially in the late stages of a game—a coach ultimately bears the onus for his team's physical condition.
The outcome of UCLA's past few seasons under Howland suggest that he may have lost control of the program. Although he once guided the Bruins to three straight Final Fours, the coach who once won Pac-10 Coach of the Year (2005-06) has far deviated from the coach who earned that honor.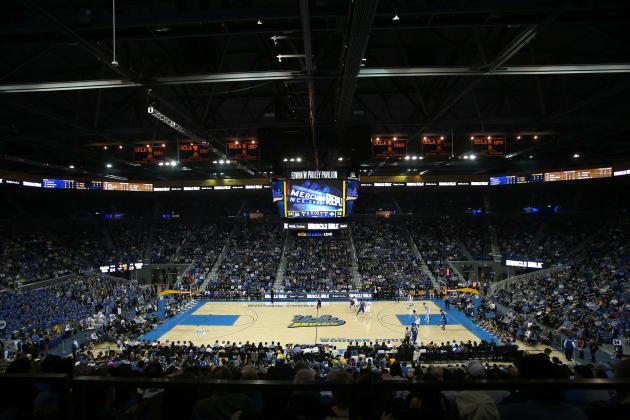 Stephen Dunn/Getty Images

Top recruiting class or not, UCLA hasn't been able to execute in winning its most important games this season, and a team is ultimately judged on its performance and unfortunately not the immense potential that is still reserves.
There have been highlights, like the stellar performance of Jordan Adams, but those numbered highlights have been overshadowed by the same cloud that has lingered over this program for the past few seasons.
The reality is: this team has no cohesiveness, cannot play defense, is out of shape, and doesn't receive the positive guidance it needs from its coach.
There's still hope for this season but it's dissipating at a startling rate. The Bruins must work out their many kinks before Pac-12 conference play starts in January or it'll be a long season for all aboard this sinking ship.