Bengals vs. Eagles: Final Player Grades, Analysis for Philadelphia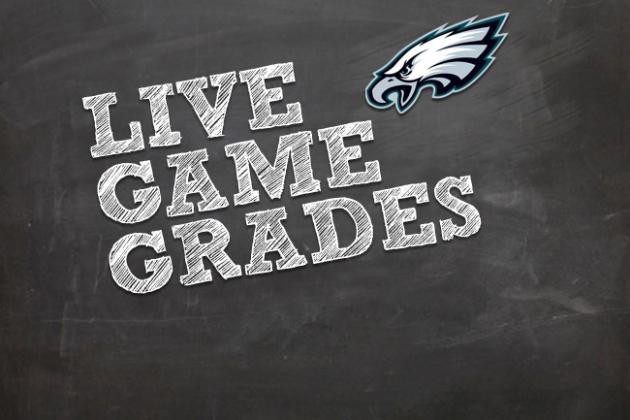 Al Messerschmidt/Getty Images

FINAL: Bengals 34, Eagles 13
The Cincinnati Bengals (8-6) kept their playoff hopes alive in the AFC, as they took advantage of a slew of Philadelphia Eagles turnovers in a primetime win.
The win was coach Marvin Lewis' first road primetime win in nine tries as the team's coach. Meanwhile, the Eagles are just looking to get the season over with, as the team dropped to a dismal 4-10 under Andy Reid.
Stay tuned to this article for player evaluations and individual grades.
Begin Slideshow

»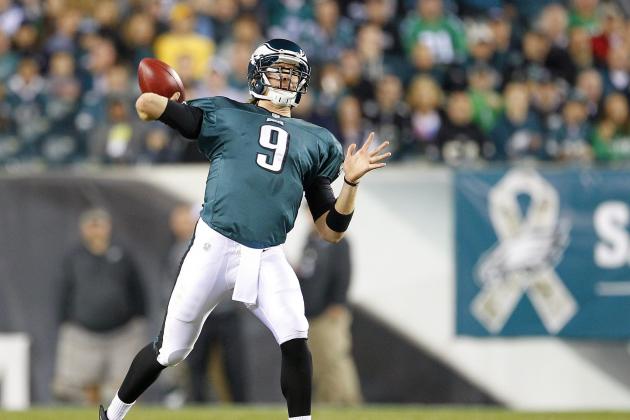 Rich Schultz/Getty Images

Nick Foles: C
It was not one of Nick Foles' better games as a starting quarterback for the Eagles. He completed fewer than half of his passes, going just 16 of 33. He passed for 182 yards, averaging a paltry 5.5 yards per attempt. He connected with Riley Cooper on a touchdown pass but also threw a costly interception when he overthrew Jeremy Maclin on a deep ball.
In all, it was a rough night for Foles, who was facing arguably the toughest defense he has seen since he took over as the Eagle starter four weeks ago.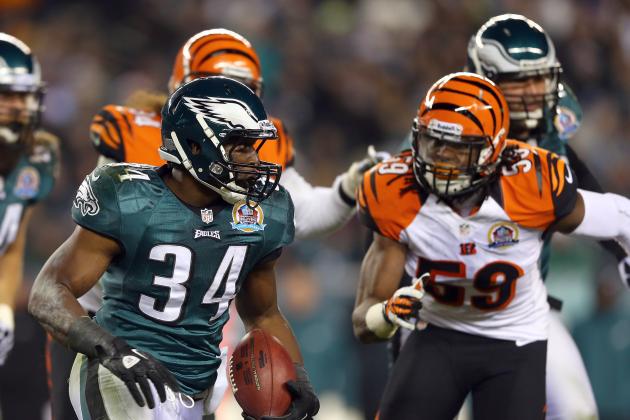 Elsa/Getty Images

Bryce Brown: F
If Bryce Brown doesn't learn how to hold onto the football, he will be out of a job. He had an absolutely brutal performance as a ball carrier. Brown totaled 28 rushing yards on 16 carries, losing a fumble that was returned for a touchdown. This means Brown's last 28 carries have gone for just 22 yards. His refusal to run between the tackles is a big reason for this, or the fact that teams may have just figured him out.
Dion Lewis: C-
Dion Lewis took some snaps when Brown was benched, receiving one carry for three yards and one catch for minus-four yards.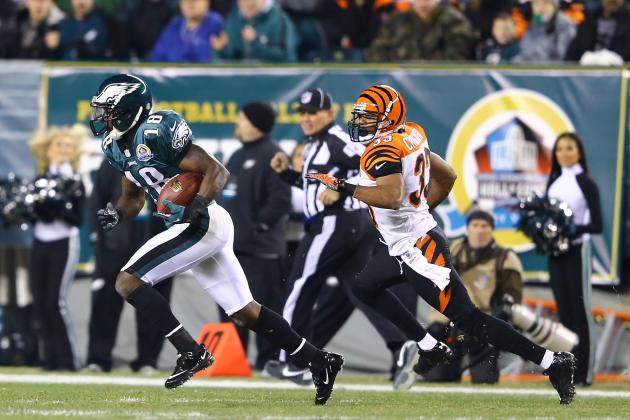 Al Bello/Getty Images

Jeremy Maclin: B
Jeremy Maclin played well today, totaling four catches for 73 yards, including a deep 46-yard pass. He had his corner beat on another deep ball but Foles completely underthrew Maclin and the ball was picked off.
Jason Avant: B
Jason Avant caught a big 25-yarder on third down and a 16-yarder on third down, continuing his reputation as a clutch possession receiver that makes big plays on third downs.
Riley Cooper: B-
Riley Cooper remains one of Foles' top targets, likely because he's a big, tall receiver that saw a lot of reps with Foles on the second-team offense. Cooper caught three passes for 20 yards and a touchdown pass.
Damaris Johnson: D
Damaris Johnson had no catches today and provided little as a punt returner.
Marvin McNutt: F
Marvin McNutt doesn't even see the field as a receiver but he was solely responsible for the punt being blocked in the first quarter.
Rob Carr/Getty Images

Clay Harbor: D
The Eagles had to be hoping for more from Clay Harbor, who was starting in place of Brent Celek. Harbor had a great performance last week but caught just three passes today and lost a fumble.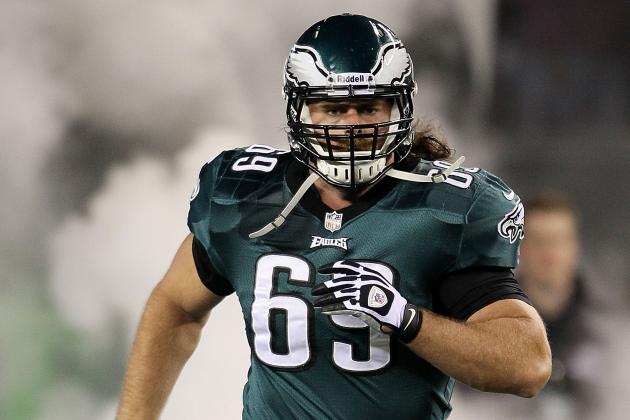 Alex Trautwig/Getty Images

King Dunlap: B-
It was a solid night for King Dunlap, who held up fairly well against a stout Bengals pass rush.
Evan Mathis: A-
Evan Mathis played his usual strong game, doing so against the team that let him go. He missed one play due to injury but returned before the Eagles had to put Danny Watkins in.
Dallas Reynolds: D+
Dallas Reynolds had a rough game, although he was going up against future All-Pro defensive tackle Geno Atkins. Reynolds' worst play was a false start, a rarity for a center.
Jake Scott: C-
Jake Scott struggled as a blocker today, getting called for a block in the back penalty and failing to contain Atkins well.
Dennis Kelly: B-
Dennis Kelly held up well today, especially against the underrated Bengals pass-rushing defense that entered the contest second in sacks.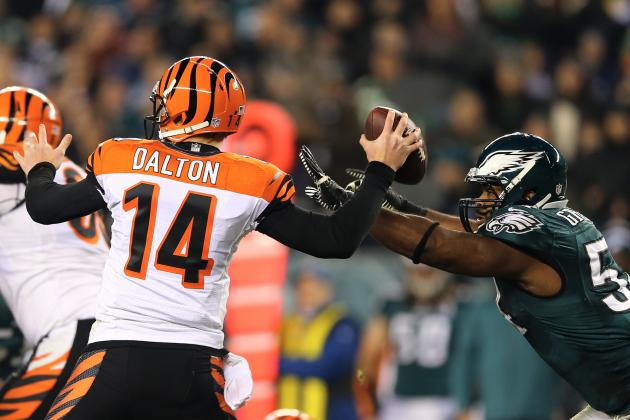 Elsa/Getty Images

Trent Cole: A
Trent Cole finally showed some life today, doing so against Pro Bowl caliber left tackle Andrew Whitworth. Cole registered five tackles, a sack, a pair of pressures, a quarterback hit, a tackle for a loss, and a deflected pass.
Cullen Jenkins: A-
Cullen Jenkins was a big part of the Eagles' success on the defensive line. He registered two tackles and a sack, as the Eagles picked up a season-high six on the season.
Fletcher Cox: A
Fletcher Cox played probably his best game as a pro tonight. He was in Andy Dalton's face all night long, finishing with four tackles (three of them solo), 1.5 sacks, and two quarterback hits.
Brandon Graham: A+
Brandon Graham was an absolute animal tonight, and he did so against former first round tackle Andre Smith, who has been playing very well recently. Graham had six tackles, 2.5 sacks, a forced fumble, a tackle for a loss, and three quarterback hits. That's ridiculous.
Cedric Thornton: B-
Cedric Thornton continues to shine as a reserve interior lineman. He had four tackles and two for a loss tonight. His one blemish came though when he fumbled away a pooched kickoff.
Darryl Tapp: B
Darryl Tapp had a tackle tonight and finished with a fumble recovery, on the one that Graham forced early in the game.
Vinny Curry/Phillip Hunt: C
These two reserve ends played limited snaps and finished with a tackle apiece.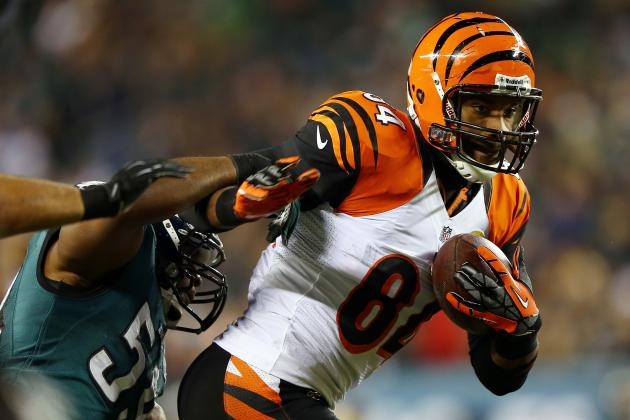 Elsa/Getty Images

DeMeco Ryans: A-
DeMeco Ryans led the Eagles with nine tackles, which seems to be a regular for the team's stud middle linebacker. He turned in a fine play in pass coverage, providing a diving knockdown of a pass across the middle.
Mychal Kendricks: C
Mychal Kendricks totaled three tackles and one for a loss today, although his big play came when he was faked out of his pants on Dalton's 11-yard touchdown run.
Jamar Chaney: B
Jamar Chaney played fine as a linebacker, totaling six tackles on the game. That actually finished second on the team (although Chaney did commit a costly penalty).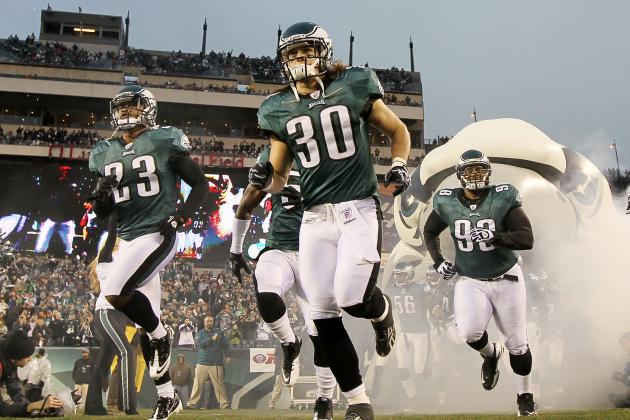 Jim McIsaac/Getty Images

Dominique Rodgers-Cromartie: B
Dominique Rodgers-Cromartie shut down A.J. Green for most of the day before giving up a late jump ball touchdown on a perfectly thrown ball by Dalton. DRC allowed six receptions for 57 yards, but that's a solid total against a top-five receiver.
Nnamdi Asomugha: B
Nnamdi Asomugha actually didn't allow a catch all day, although it does say something about the team's $60 million cover corner that he wasn't assigned to cover the top receiver on the other team.
Nate Allen: B-
Nate Allen didn't play nearly as poorly as he usually does. He finished with five tackles tonight and played solid defense in pass coverage.
Colt Anderson: C+
Colt Anderson is an aggressive defender that gives it his all every play, even if he isn't good enough to start regularly. Anderson had five tackles of his own.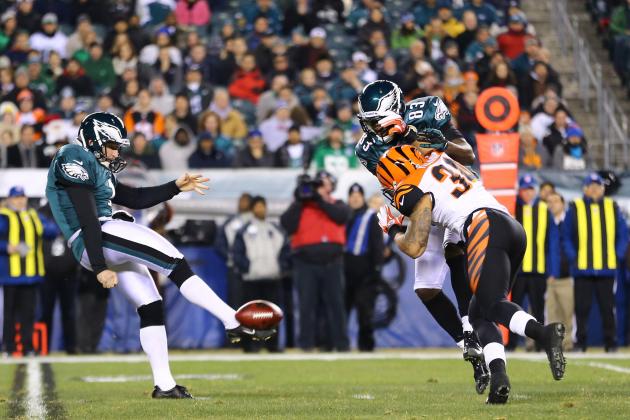 Al Bello/Getty Images

Alex Henery: A
Alex Henery attempted two field goals and made them both, which Eagles fans have grown to expect from Henery.
Mat McBriar: D
Mat McBriar had a rough night. He had an early punt blocked when he punted the ball into his own receiver's butt. He finished the day with six punts for an average of just 43.0 yards per kick.
Brandon Boykin: C
Brandon Boykin had as mediocre of a game as a kick returner as you'll see in this league. He returned six kicks, averaging 21.7 yards per return and not coming close to breaking one all day.
Damaris Johnson: C
Damaris Johnson had just one punt return today for a boring six yards.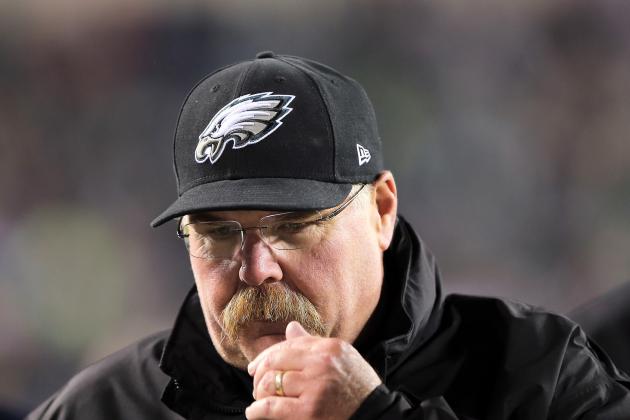 Elsa/Getty Images

Andy Reid: D
Andy Reid's Eagles have now dropped to 4-10 after losing their ninth game in their last 10 meetings. Reid's job with the Eagles is all but done as he has to just put up with the bleeding for two more weeks. Special teams coordinator Bobby April's performance tonight was especially brutal, and he will undoubtedly be looking for a job after the season.