Andrea Pirlo and 7 Other Ageless Players in European Football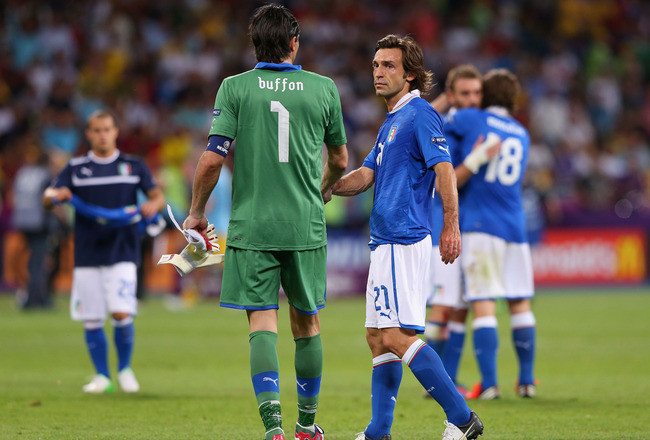 Alex Livesey/Getty Images
Over the past few seasons, there have been countless players throughout Europe who have stood out for both their quality and their age.
At Manchester United, the return of Paul Scholes from retirement last season, along with the consistency of fellow veteran Ryan Giggs, galvanized the club for much of the campaign and both had little control over losing the title to "noisy neighbors" Manchester City in the final minute of overall league play.
After 20 years of service to United, Scholes and Giggs continue to feature under Sir Alex Ferguson at 38 and 39 years old, respectively.
In international competition, the example of Italy is also often brought up to cite the value of experience, as the national setup regularly featured footballers well into their thirties under Marcelo Lippi for their 2006 World Cup victory and prior to his failure on the same stage in 2010.
This list will look at some of the most valuable players of old age still plying their trade in domestic and continental competition throughout Europe.
As there are still numerous footballers, especially in the Italian Serie A, who play until the not-so-ripe age of 35, it will look at players who probably have a few years left in the tank, and not those soon retiring like Brad Friedel of Tottenham Hotspur or Francesco Totti of Roma.
Let's begin with the greatest Italian playmaker of the past decade…
Andrea Pirlo (Juventus)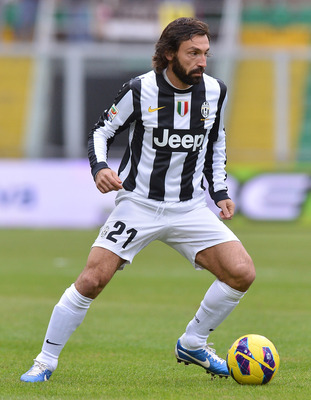 Tullio M. Puglia/Getty Images
For years, Andrea Pirlo has been known throughout Italy as "l'architetto" or "the architect."
His playmaking ability from a deep central position was largely responsible for much of AC Milan's success in the early-to-mid 2000's and he proved pivotal to the Italy team that won the 2006 World Cup and reached the Euro 2012 final.
Yet, when Milan allowed then-31-year-old Pirlo to leave without renewing his contract, there were some in the world of football who saw it as a sensible move for a club looking toward the future and seeing out the previous generation of Pirlos, Gattusos, Inzaghis, and Nestas.
It eventually proved a mistake as Pirlo—now 33 years old—joined rivals Juventus and pioneered their undefeated league campaign, contributing a league-leading 13 assists, as they won the 2012 Serie A title.
Juventus are currently four points ahead of Inter Milan in the race for their second successive title.
Javier Zanetti (Inter Milan)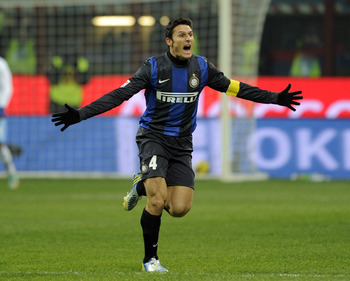 Claudio Villa/Getty Images
If there is one man who has exceeded all age barriers and suffered from not even a minor dip in form over the years, it is former Argentina international and Inter Milan captain Javier Zanetti.
The 39-year-old right-back turned midfielder has featured over 700 times for Inter since 1995 and has been a regular starter throughout all 18 league seasons.
He is the current Serie A all-time appearance holder, Argentine all-time caps leader (despite being overlooked for the 2006 and 2010 WCs), and became the first person to captain an Italian club to the historic treble (Serie A, Coppa Italia, Champions League) in 2010.
The Argentine was labeled by current Inter coach Andrea Stramaccioni as being "not human" and is a persistent, forging presence in the side that looks to recapture the Italian title after triumphing in four consecutive seasons from 2006-2010.
Carles Puyol (Barcelona)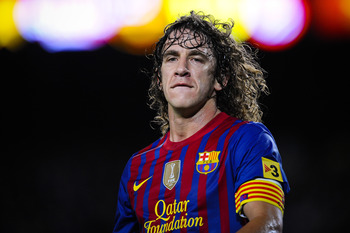 David Ramos/Getty Images
The value of some players cannot be measured in statistics such as goals scored or overall appearances in a single season.
At least, that is the case with Barcelona captain Carles Puyol.
The 34-year-old centre-back has captained the club since 2004 and collected over 500 appearances in all competitions. Like Zanetti with Inter, Puyol has valiantly steered Barcelona, leading the club to a treble in 2009, a host of league championships and two Club World Cup triumphs.
While the Catalan hero has struggled with injuries for the past three seasons, he is still vital to the first-team for his relentless running and willingness to put his body on the line to protect his goalkeeper.
On the international stage, Puyol continues to feature when fit and was a key component to Spain's Euro 2008 and 2010 World Cup victories
Miroslav Klose (Lazio)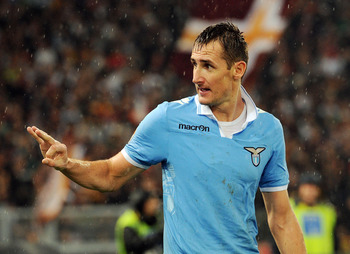 Giuseppe Bellini/Getty Images
When talking about lethal finishers, there are perhaps none more deadly than the following two men on this list.
German striker Miroslav Klose is two goals away from overhauling Gerd Muller as the nation's all-time leading scorer, with 67 goals in 126 appearances. And, the 33-year-old veteran is still a regular in Joachim Low's squad despite the emergence of Mario Gomez, Tomas Muller, and Marco Reus in recent years.
While Klose has not been as successful at club level, he has played for both Werder Bremen and Bayern Munich, the latter where he collected two Bundesliga trophies, German Cups, and appeared in the 2010 Champions League final.
These honors barely compare to his being the only player in football history to score four goals in three consecutive World Cups and is the competition's second all-time leading scorer with 14 goals, along with compatriot Gerd Muller.
Currently at Lazio, Klose has led the team in goalscoring for his only two campaigns at the club, scoring 26 goals in 52 total appearances.
Antonio Di Natale (Udinese)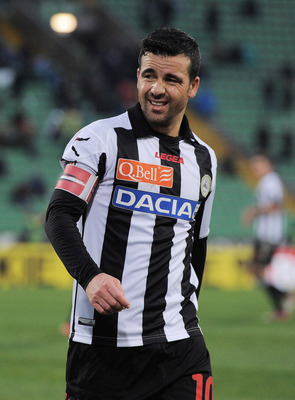 Dino Panato/Getty Images
Antonio Di Natale is what many would call a late bloomer.
Although his pedigree for goalscoring was nurtured during his time at Empoli, it was not until the 5'7'' striker moved to Udinese in the 2004-05 season that his club career truly flourished.
Since then, he has collected Serie A top scorer awards in 2010 and 2011, also being named Italian Player of the Year in 2010. Di Natale is currently the club's all-time leading goal scorer with 144 goals in 277 league matches, and has captained the side since 2007.
At international level, the 35-year-old striker has had the misfortune of playing in the same generation as Francesco Totti and Alessandro Del Piero, thus only making 42 appearances and scoring 11 goals for Italy.
In the Euro 2012 tournament, his goal in the final was the only one conceded in the entire tournament by eventual winners Spain.
Mario Yepes (AC Milan)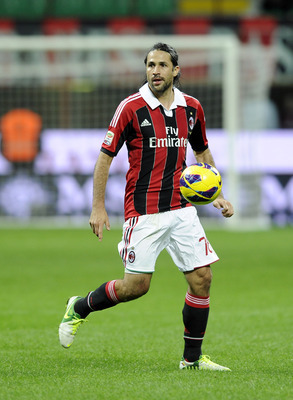 Claudio Villa/Getty Images
Colombia international and heralded AC Milan centre-back Mario Yepes is far from being a household name.
Yet, at 36 years old, he has proven to be one of the most reliable defenders in European football and arguably the greatest in Colombian history.
Following three successful seasons with Argentine behemoths River Plate, Yepes moved to France's Ligue 1 in 2001,where he featured for Nantes, where he was known as "El Rey," and Paris Saint-Germain until he was sold to Chievo for the 2008-09 Serie A season.
While he wandered around a lot of mid-table clubs prior to signing with Milan in 2010, the Colombian's international career thrived, triumphing in the 2001 Copa America and captaining the South American country since 2008. Yepes is currently the third-highest-capped player in the country's history with 86 appearances.
At Milan, the centre-back found playing time hard to come by in his first two seasons, featuring in a mere 28 games in all competitions. However, he has slowly cemented his place in the starting XI, signing a one-year contract extension and showing that he is one of the most intimidating defenders in Italy.
Frank Lampard (Chelsea)
Mike Hewitt/Getty Images
In the past decade, there have been two English midfielders who have set themselves apart in their continuity and pedigree. In fact, while there has been much debate as to whether or not they should even feature together in the England national team, they are both now into their thirties and yet continue to play key roles for club and country.
However, Steven Gerrard will surely be remembered in the annals of football history for his leadership and skillful long passing, it is 34-year-old Chelsea midfielder Frank Lampard who has arguably accomplished more in terms of thrill and triumphs.
Since signing with the Blues in 2001, Lampard has won three EPL titles, four FA Cups, and the 2012 Champions League. He also finished top scorer—as a central midfielder—on an incredible four occasions, also making history as the only player to score at least 10 goals in nine consecutive EPL campaigns.
Very few box-to-box midfielders could lay claim to such goalscoring prowess, especially in England where Lampard is the highest-scoring midfielder in league history.
Last season, it seemed the ageing star was on his way out at Chelsea, but eventually recovered to lead the team in both league and overall goals scored. With such a threat in their side, it is unlikely that the club will want to see the player leave anytime soon.
Gianluigi Buffon (Juventus)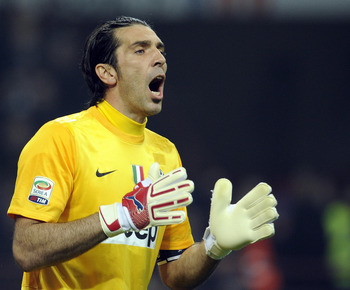 Claudio Villa/Getty Images
Finally, there is a third Italian on this list and the man who the International Federation of Football History and Statistics has labelled the best goalkeeper since the millennium: Gianluigi Buffon.
The 34-year-old is renowned for his shot-stopping and leadership skills and is currently the captain of both Juventus and the Italian national team.
Buffon was key to the latter's 2006 World Cup victory and is tied with Paolo Maldini as the second-most-capped Italian international of all-time with 126 caps. For his club, he has won three Serie A titles, three Italian Super Cups, and was named the league's top goalkeeper on seven occasions.
A severe back injury in 2010 severely limited his time on the pitch, but Buffon recovered and looks set to continue his reign as one of the Europe's most phenomenal keepers for several more years.
Keep Reading