Indiana Basketball: 5 Keys to the Game vs. Butler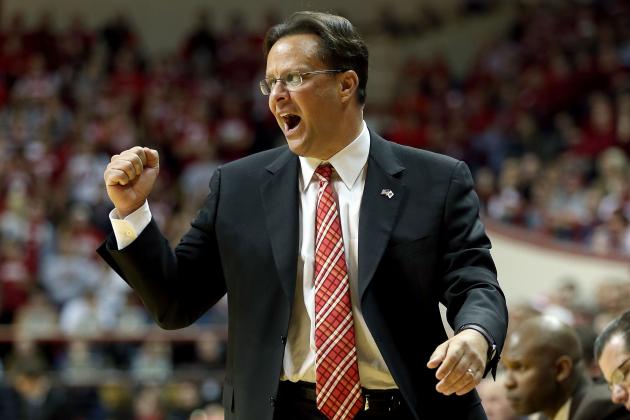 Andy Lyons/Getty Images

Saturday's matchup between the No. 1 Indiana Hoosiers and 7-2 Butler Bulldogs will be an opportunity for both teams to look at where they are as they approach the middle of the second month of the season.
Up to this point, both teams have had strong starts. Butler began with a run to the championship of the Maui Invitational, including a big win over North Carolina. As for Indiana, the preseason pick by many to win the national championship, it is attempting to continue to remain unbeaten after defeating Georgia and Georgetown to win the Legends Classic in New York.
Consequently, this looks to be a pretty competitive matchup on Saturday, as both teams have something worth playing for. Butler will be attempting to build its resume in order to hope for an at-large bid at the end of the season. Indiana will be looking to continue its nine-game winning streak with a win over a quality opponent.
Add that up, and the fact that these are two teams that have been in a large national spotlight in the past few seasons, and this looks to be a very intriguing Saturday slugfest. Here are the five keys for Indiana if it hopes to come away with a win.
Begin Slideshow

»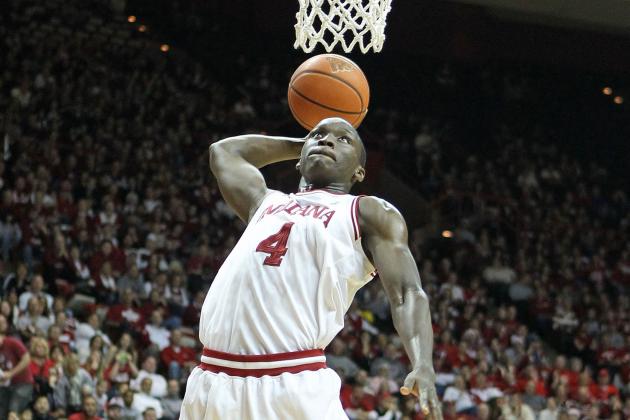 Andy Lyons/Getty Images

Perhaps one of the fastest and most effective offenses in the country, Indiana will look to continue to create more possessions against a generally deliberate Butler team. So far this season, Indiana leads the country in scoring per game at 89.1 points per game, and that will be a big key in winning on Saturday.
When North Carolina was pitted against Butler, it struggled to score, putting just 18 points on the scoreboard in the first half, and it's a team that is also in the top 10 in the country so far in just that. In order to prevent that from happening to them, Indiana will have to look to get out in transition.
Defense is going to be a large part of this. While their offense receives most of the national attention, the Hoosiers defense has also been very effective this season. They are giving up just 57.4 points per game, which puts them at 24th in the country, but that number is even more impressive considering the amount of possessions that usually occur in their games.
Another big key inside of this is to win the turnover battle. Indiana is giving up just 12.4 turnovers per game, another impressive feat considering its style of play and the fact that it has a freshman starting point guard that currently holds a 2.9 assist-to-turnover ratio. However, the Bulldogs generally are not a team that turns the ball over much, either, averaging 11.7 giveaways per game.
As mentioned, the Hoosiers come into the game as the best offensive teams in the country in terms of scoring. Butler, however, is a team that knows how to slow a game down to its preferred pace and make games much more deliberate. Indiana will have to find a way to get past that and impose its will on the Bulldogs.
What has made this offensive unit so effective so far is its shot-making ability and passing. The team is currently shooting 51 percent from the field, including Christian Watford shooting 44 percent from behind the three-point arc, and Jordan Hulls a staggering 52 percent from behind the line.
Beyond them, though, Victor Oladipo has been a very effective scorer this season in getting to the basket and getting to the free-throw line. And, it's impossible to talk about the Hoosiers scoring without mentioning Cody Zeller, who is shooting 62 percent from the field and averaging over 15 points per game.
It will be a large task for the Bulldogs to contain this offense, but they already proved that they can do that by shutting down an electric North Carolina offense. This Indiana team has so many weapons that must be contained, however, and that will be a daunting task for anyone attempting to beat them this season.
In a very public decision, the NCAA decided to suspend Indiana freshmen Hanner Mosquera-Perea and Peter Jurkin after allegedly accepting impermissible benefits from their AAU coach in high school. This Saturday will be the first time each of them will be able to see the court during the regular season, and it will be important for the Hoosiers to blend them into the offense in a way that will continue to let them impose their will on this opposing defense.
Forward Mosquera-Perea will most likely see significant minutes as the season goes on, but only time will tell how Tom Crean will choose to implement him this weekend. As for Jurkin, he will most likely be pitted as the backup to Cody Zeller to play when he needs a rest and the occasions when Zeller finds himself in foul trouble.
It will be very interesting to see how these two are integrated into this team, and Saturday will be the first chance for the Hoosiers to do so.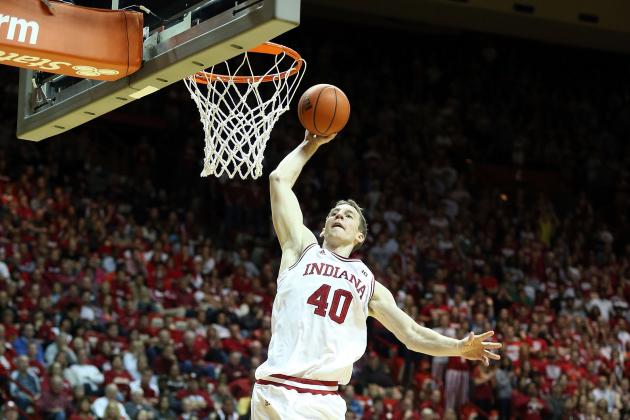 Andy Lyons/Getty Images

It's simple. When one of the best players in the country is on the team, find a way to get him the ball. Indiana struggled to do this at times last season, but it's doing a much better job at finding him in places to score, and allowing him to play his game in the post.
What makes this even more important on Saturday is Butler's lack of frontcourt depth. The starting center, 6'11'' Andrew Smith, is a bit foul prone, and that will be a huge advantage for Indiana if it can get him off of the floor early in the first half. Smith has been playing and attacking much better over the last couple games, and it will be important for Zeller to keep going right at him.
Additionally, Zeller is coming off of his most effective game of the season statistically, going for 19 points and 19 rebounds last Saturday, and it will be important for him to keep that momentum rolling against Butler.
As shown in those video highlights from their matchup with the IUPUI Jaguars, the Butler Bulldogs are a very effective three-point shooting team. With Rotnei Clarke leading the way, shooting 45 percent from three with an unlimited range and ability to step way beyond the arc, they also enjoy consistent three-point shot-making from Kellen Dunham, Andrew Smith and Chase Stigall.
In order for Indiana to win this game, it will have to shut down this barrage of three-point shooters for the Bulldogs, and that is something that it has struggled with over the last several years. This will be very important on Saturday, however, as these players have the ability to take over a game together in hitting consecutive three-pointers.
Indiana will really have to tighten up the perimeter defense, and Will Sheehey and Victor Oladipo should play a big role in that. These two forwards have played tremendously on both ends of the floor this season, but have especially stepped up on defense. These two will be very key in shutting down Clarke and Dunham.
And in order to come away with a win, that will be very important.