Jaguars vs. Dolphins: 10 Keys to the Game for Miami
Ezra Shaw/Getty Images
After last Sunday's loss to the San Francisco 49ers, the Dolphins are virtually out of the playoff race in the AFC. Before the season started, not many would have imagined they would be in the race until this point in the season in the first place. They have outplayed expectations and look to have a solid team in place for years to come.
Miami will now look to shift gears and finish the season strong to carry some momentum into next year.
They will be hosting a struggling Jacksonville Jaguars team that has a familiar face at quarterback for Dolphins players and fans in Chad Henne. This won't be as physically or mentally challenging as the last two games the Dolphins have played against the 49ers and the New England Patriots.
The Dolphins will look to take care of business at home before finishing the season against two divisional opponents.
Here are 10 keys to the game for Miami.
Let Ryan Tannehill Sling It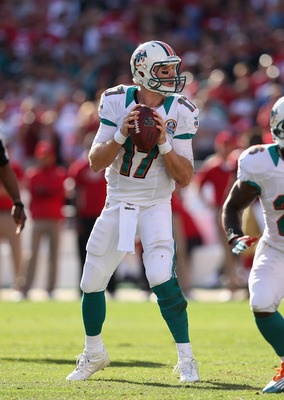 Ezra Shaw/Getty Images
With the playoffs out of reach, there's no reason for Miami to play conservatively. They have been limiting Ryan Tannehill to a lot of short and intermediate throws in order to keep the game manageable for the rookie signal-caller.
Now that there's not much to play for, Miami doesn't have to worry about being conservative. They should let Tannehill throw the ball on short, intermediate and deep throws consistently.
Even if he's not connecting on most of his throws, don't shy away from it. Give him more freedom with his arm and see if he can make the throws he hasn't been asked to make this season.
This is a good game to let Tannehill free, since the Jacksonville defense is ranked 24th in passing and has been struggling all season.
Use Reggie Bush Creatively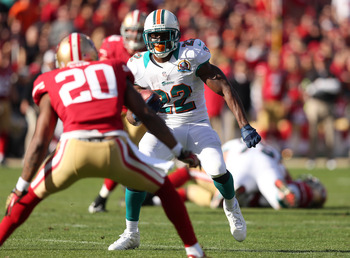 Ezra Shaw/Getty Images
Miami's coaching staff finally decided to use Reggie Bush on plays other than rushing through the middle against San Francisco.
Bush was used as a running back and slot receiver and was even sent outside the numbers on a couple of plays. Bush is one of the league's most dynamic backs and should be used accordingly. He is not Frank Gore or Adrian Peterson, who can run down the middle on every play.
With Miami's lack of talent at wide receiver, Bush adds another weapon in the passing game that Tannehill can take advantage of.
He is a mismatch against linebackers and, when used in space, can gain yards after the catch by making people miss. Miami will need to figure out a way to give Bush the ball other than handing it off.
Can the Secondary Step Up?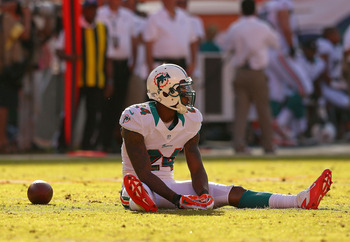 Mike Ehrmann/Getty Images
Miami will be facing a poor secondary, but theirs is actually worse. Jacksonville is ranked 24th in passing defense, while Miami is ranked a spot lower at 25th.
The Dolphins have clearly struggled all year in this area and have shown little improvement week to week. Reshad Jones has been the only bright spot for this unit, but other than that, they've been pretty bad.
Sean Smith, considered Miami's best cornerback, has been highly inconsistent. The top cornerback simply can't be that inconsistent. He's been paired against the opposing team's best wide receivers all season and has shown that he should not be the top cornerback on any team.
Miami is thin at the position after trading Vontae Davis before the season started and losing Richard Marshall early in the season.
Nolan Carrol has been close to terrible and is simply not starting material. R.J. Stanford has looked lost at times and should not be playing as often.
It is evident Miami needs help at cornerback, but this week, against a weak passing offense, they can show us if they can stop weaker teams.
Cameron Wake Needs to Keep His High Level of Play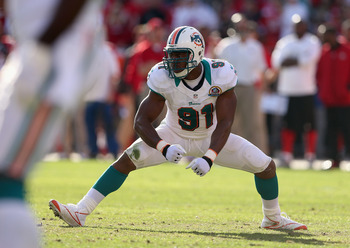 Ezra Shaw/Getty Images
Cameron Wake is as good as as they come as far as pass-rushers in the NFL. He has 14.5 sacks this season and will be looking for more this Sunday.
Wake has been terrorizing offensive linemen and quarterbacks this season on a weekly basis. Even though his stat sheet says he has 14.5 sacks, he has been close to sacking the quarterback on multiple occasions.
On Sunday, Wake will be facing one of the worst offensive lines in football. The Jaguars have given up 40 sacks this year, and that number will probably rise after the game.
If Wake plays with the same effectiveness as he has for the entire season, there's no question he will leave the game with multiple sacks.
Anthony Fasano Needs to Step Up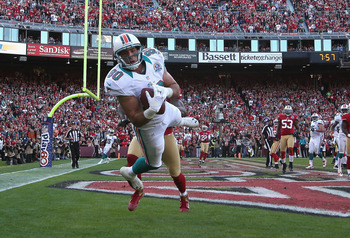 Ezra Shaw/Getty Images
Anthony Fasano had one of the best touchdown catches of the year against San Francisco last week. It showed his athleticism and ability to catch the ball.
However, Fasano is not a big threat as a receiving tight end, and his productivity has been lacking. In the last seven games, Fasano has caught only eight passes, including one touchdown. In contrast, Fasano had 22 catches in the first six games of the season.
His productivity has obviously dropped, but he is a key offensive player who can give Tannehill a safe target on short passes. Fasano won't run 20-yard out routes or outrun a lot of linebackers, but he needs to find the soft spot on the defense and begin catching passes.
Fasano can also be a threat in the red zone. Miami doesn't have tall receivers who can catch fade passes for touchdowns, so it's Fasano's job to get open in the red zone. If his productivity picks up, Miami will be able to move the ball.
Make Chad Henne Feel at Home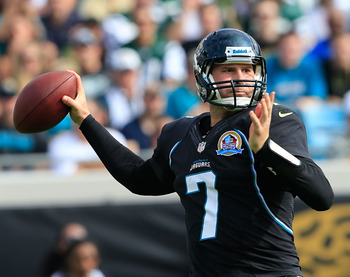 Sam Greenwood/Getty Images
During his time in Miami, Chad Henne was a big disappointment for the organization as well as the fan base. In his 31 games as a starter for the Dolphins, Henne threw 31 touchdowns to 37 interceptions. Henne was supposed to be Miami's franchise quarterback when he was drafted in the second round of the 2008 NFL Draft after a stellar career at Michigan. Things didn't turn out as planned.
This will be the first time Henne will play against his previous team as the starting quarterback of the Jaguars after Blaine Gabbert was injured.
Miami fans know all too well Henne's ability (or lack thereof) at playing quarterback. He didn't have a successful stint in Miami, and the best thing the fans and players can do is make him feel at home. He struggled mightily at home when he was a Dolphin, and this time shouldn't be any different.
Don't Put Daniel Thomas on the Stocking Shelves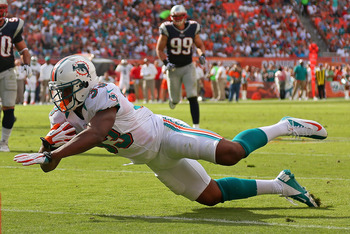 Mike Ehrmann/Getty Images
To everyone's dismay, Joe Philbin didn't play Daniel Thomas until late in the game against San Francisco. He gave Reggie Bush the majority of the carries, as he always does, but decided to use rookie Lamar Miller instead of Thomas.
This wasn't the reason the Dolphins lost the game, but it was a puzzling decision. Miami has a good combination of speed and strength when they use Bush and Thomas. With Miller, Philbin is getting another speed back, similar to Bush.
Philbin won't run the ball 40 times a game, but if he is going to run it, he needs to give both backs touches throughout the game.
Thomas did struggle early in the season, but he has been able to secure the ball as of late and is gaining the tough yards. Against a weak Jacksonville defense, Thomas should be effective in short yardage situations and in the red zone.
Special Teams Needs to Bounce Back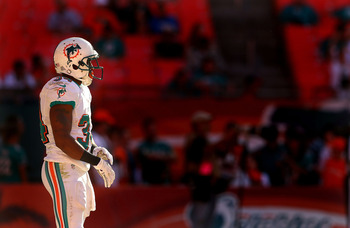 Mike Ehrmann/Getty Images
Earlier in the season, Miami was considered to have one of the best special units in the league. As of late, they haven't shown too much consistency.
Brandon Fields is undoubtedly one of the best (if not the best) punters in the league. He constantly reverses field position and pins the opposition deep in their own end zone. Dan Carpenter has also been picking it up lately. If only he had been this consistent at the beginning of the season. Marcus Thigpen has played decently but has had some mistakes.
The rest of the special teams unit, however, have been pretty badly—muffed kicks, bad penalties and walking into the end zone after recovering a punt. This is clearly not the same unit we saw from the start to midway point of the season.
This is a good game for this unit to put it back together and finish the season on a positive note.
Other Pass Rushers Need to Step Up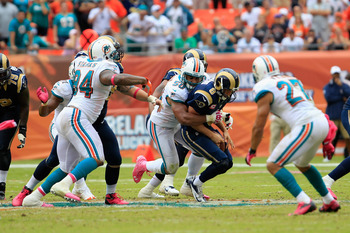 Chris Trotman/Getty Images
We all know what Cameron has done and is capable of doing as far as pass-rushing. However, aside from Wake, the Dolphins really struggle in rushing the quarterback.
The Jacksonville offensive line is one of the worst in the league at giving up sacks, which should allow the Dolphins to generate some pressure off the edge. Randy Starks and Paul Soliai are run-stuffers and will rarely get to the quarterback. Jared Odrick is also a run-stopper first and won't generate a consistent pass rush.
Miami has a raw defensive player in Olivier Vernon, who has great pass-rushing skills. If given the opportunity to rush the passer in this game, Vernon will be able to generate pressure and help Wake with the pass-rushing assignments.
The Dolphins should also look to blitz more often against this offensive line. Chad Henne is not a mobile quarterback, so the Dolphins won't have to worry about a running threat if they blitz.
Play Freely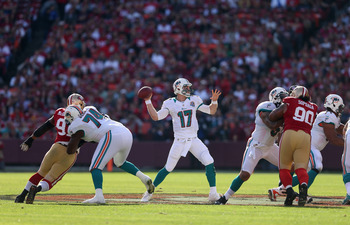 Ezra Shaw/Getty Images
Miami is out of the playoff race, which means they basically have only pride to play for. With nothing on the line, they should come out without any pressure or expectations.
They have been playing extremely conservatively throughout the entire year since they were in the playoff hunt deep into the season. Coaches tried to limit Tannehill's throws and basically looked for their defense to win games.
Miami will play an opponent that is considered to be inferior and should not have a problem taking care of business. The defense will be flying around the field, and the offense will be looking to score plenty of points.
Keep Reading

Miami Dolphins: Like this team?