6 Key Premier League Battles to Watch This Weekend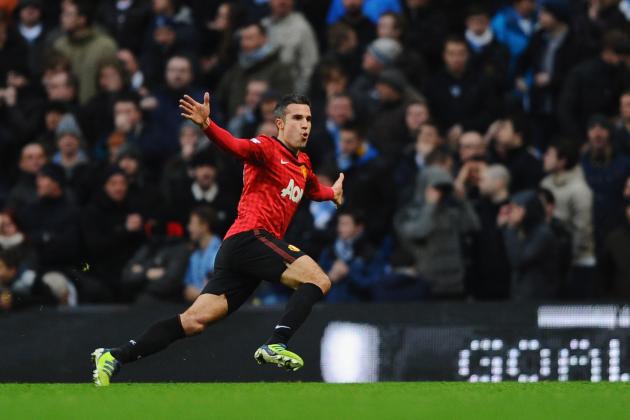 Laurence Griffiths/Getty Images

It's that time of the week where I sit down and look at some of the key battles cropping up in the Premier League this weekend.
Fans of Chelsea and Southampton get the week off due to Chelsea's involvement in the World Club Cup, which might help them to get some last-minute Christmas shopping done!
Last week, despite my prediction of a City win in the Manchester derby, Robin van Persie scored a late, deflected winner to clinch victory for United, which moved them six points ahead of the reigning champions at the top of the table.
Arsenal's win over West Brom was morale-boosting, although there was some controversy about one of their penalties.
Everton got a win against Spurs to end their recent winless run, although their goals came in the dying minutes.
All in all, it was a fantastic week and I pretty much got my "games to watch" spot on.
Hopefully it works out the same this time around, so let's take a look at the six games I'll be watching over the course of the weekend.
Remember guys, just because I might have a different opinion to you doesn't make it right or wrong, so please bear that in mind when leaving a comment below!
Begin Slideshow

»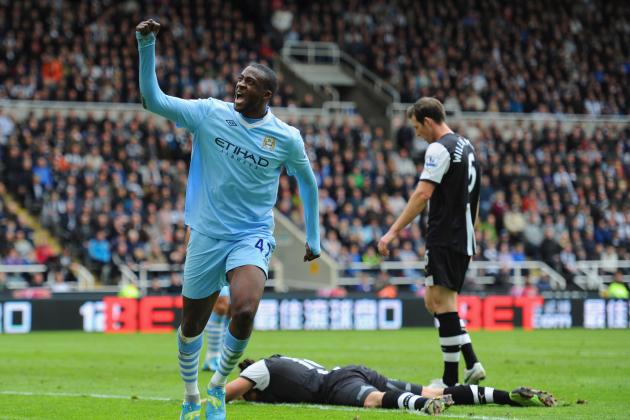 Michael Regan/Getty Images
Yaya Toure celebrates scoring at St James' Park last season
When these sides met in the same fixture last season, City won 2-0 thanks to a couple of late strikes from Yaya Toure and their quest for their first-ever Premier League title continued.
This time around, City go to St James' Park out of Europe altogether and still licking their wounds after last week's derby defeat to Manchester United.
Newcastle are in somewhat indifferent period of form at the moment.
Their morale-boosting win at home to Wigan a couple of weeks ago was undone by their 2-1 loss at Fulham on Monday night, although the return of Hatem ben Arfa couldn't have come at a better time.
The skilful Frenchman has been sorely missed over the last few weeks and Alan Pardew will be glad to have him available again.
In Ben Arfa, Demba Ba and Papiss Cisse, Newcastle carry a potent threat and City would be wise not to underestimate the Geordies on Saturday lunchtime.
City's loss to Manchester United last week will be a bitter pill to swallow, especially since they did so well to overturn a two-goal deficit.
Samir Nasri's baffling decision to hide behind the other two players in the wall and stick his leg out as a token gesture will have annoyed Roberto Mancini.
Nasri hasn't exactly been impressive at City, and he's one of a few under-performing players who need to start earning their exorbitant wages.
When Carlos Tevez came on last Sunday, his enthusiasm and drive affected the game and I'll be shocked if he doesn't start against Newcastle.
I still think that Mancini's best strike pairing is Aguero and Tevez, but that's just my opinion.
In terms of the match itself, there'll be plenty of good football and both sides will want to give their fans something to cheer about after losing their matches last week.
I just think City's strength in depth makes them more likely winners, although Newcastle have the ability to cause them problems if they're given the chance to.
My Prediction: Newcastle United 1-3 Manchester City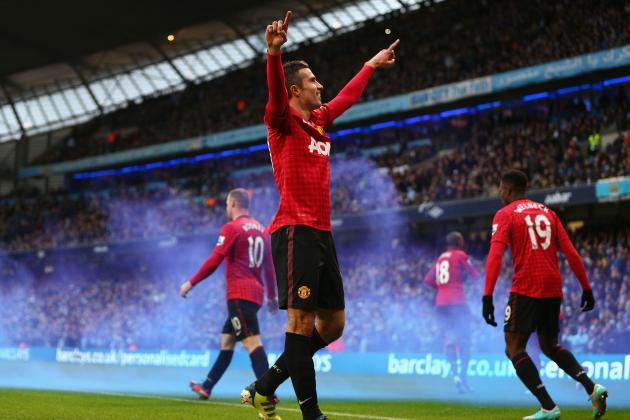 Clive Mason/Getty Images
Robin van Persie celebrates his late winner in last week's Manchester derby
After his late winner in the Manchester derby last week, Robin van Persie must be on top of the world.
The summer signing from Arsenal has already paid back a huge chunk of his transfer fee, and the fact he scored the winner at City (which ended their unbeaten home run) will only further endear him to the United fans.
If truth be told, United haven't been spectacular this season.
They're shipping goals for fun and Sir Alex Ferguson will be concerned about that.
Up front, his strikers are in form and that's no more evident than with Wayne Rooney.
After getting a public kick up the backside from his manager before the Reading game, Rooney has now scored four goals in his last two games, and the striker will want to keep that run going this weekend.
There was some trouble during last week's game, which resulted in Rio Ferdinand being struck by a coin.
Ryan Giggs has had his say on the matter this week.
Talking to the BBC Sport website, Giggs claims that United players were "blameless" for the incident.
I wasn't going to talk about what happened, but here's my two cents.
Every player has the right to celebrate a goal for his team.
Football wouldn't be football without passion; however, there's a fine line between celebrating a goal and antagonising opposition fans.
I'm not saying what happened was right, because nothing like that should ever happen and I genuinely hope that City find out who the fan was and ban him for life.
Sadly, you're always going to get morons like that who ruin it for the majority of fans.
It's just the way things are, but I don't think United players were blameless.
United's opponents on Saturday are Sunderland, who go to Old Trafford on the back of a vital 3-0 win at home to Reading this past Tuesday night.
That win couldn't have come at a better time for the Black Cats, because to say that their fixtures over the next few weeks are tricky would be an understatement, especially given the form they're in.
In their next five games, Sunderland play Manchester United away, Southampton away, Manchester City at home, Tottenham at home and Liverpool away.
That's a fixture list that no manager would want to see over the Christmas period, so Martin O'Neill will have been glad to get three points and three goals against Reading on Tuesday night.
Steven Fletcher hit the back of the net against Reading, but you'd think he'll struggle to get chances against United.
However, as I said earlier, United are shipping goals for fun right now, and if Sunderland play their cards right, they might get a chance or two.
They were excellent against Chelsea last week for the last 30 minutes or so, but they were three down by that time.
One thing they won't want to do is concede an early goal at Old Trafford.
If they do, the score might be embarrassing and it'll suck the confidence right out of Sunderland ahead of the busy Christmas period.
I expect United to dominate this match and, in the end, they should win comfortably.
My prediction: Manchester United 3-0 Sunderland
Chris Brunskill/Getty Images
Djibril Cisse is congratulated by his team-mates after putting QPR 2-1 up at Wigan last Saturday
QPR fans, players and officials must have thought their winless run was going to end last Saturday after Djibril Cisse put them 2-1 up against Wigan.
Their lead lasted less than five minutes as James McCarthy equalised to earn a point for Wigan and extend QPR's winless run.
QPR are now the holders of an unwanted Premier League record: No other team in Premier League history has failed to win one of their opening 16 games.
This might be one miracle that's beyond even the powers of Harry Houdini, I mean Redknapp.
Although there's been signs of improvement since he took over from Mark Hughes, Redknapp has a very difficult job on his hands to keep QPR up this season.
QPR defender Ryan Nelsen spoke to the BBC Sport website this week about the task ahead of them and said:
It's astonishing to tell you the truth... There's not been that many games where we have been out of it, but that's the fine line of the Premier League... There's no excuses. We're confident we can still get out of it. We feel if we can get one win then we will get two and we'll get going.
Whether that happens remains to be seen, but there's only so much the manager can do.
He can prepare the players as well as he can, but when they cross the white line at 3 pm on a Saturday (or whenever the game kicks off), the players have to carry out his instructions.
It's as simple as that and to be honest, QPR look so disjointed at times it's as if there's 11 strangers on the pitch.
Saturday sees another tough task for Rangers as they take on their London rivals Fulham.
Fulham haven't exactly been in great form themselves over the last few weeks.
Their 2-1 win against Newcastle on Monday night was their first win since mid-October, so Martin Jol's men will be glad to have got that monkey off their backs.
In Dimitar Berbatov, Fulham have a player who I believe could still play for one of England's top clubs.
His languid style might not win him many fans, but his touch, ability and vision are second to none and those attributes are priceless at any level.
Any success that Fulham have this season will be down to Berbatov's ability to score goals and find that killer pass.
Their defence has been boosted by the return of Brede Hangeland from suspension and he'll bring a sense of solidity to the Fulham side.
The big Norwegian spoke to BBC London 94.9 (reported via the BBC Sport website) after making his return against Newcastle and was asked about the potential banana skin that his side face this weekend.
Hangeland warned against complacency and replied:
We know they have lots of talented players and that first win will come sooner or later. We'll do our best to make sure it doesn't come on Saturday.
As far as the match goes, QPR fans might have to start watching these games through their fingers the longer this winless run goes on.
Sadly for them, I don't see things getting any easier this weekend, and I reckon Fulham will leave Loftus Road with all three points on Saturday.
My Prediction: QPR 1-2 Fulham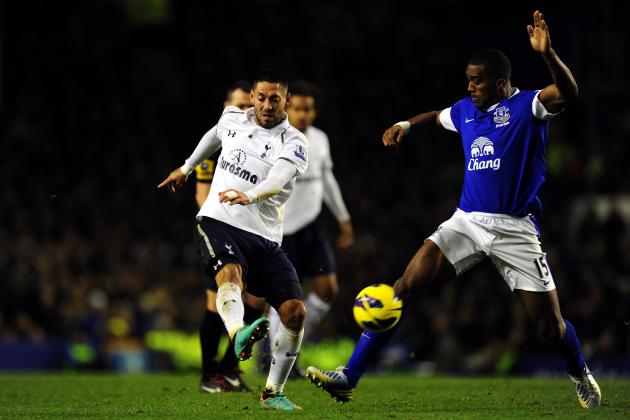 Stu Forster/Getty Images
Clint Dempsey unleashing his deflected shot at Goodison last week to put Spurs 1-0 up
As the clock approached 90 minutes at Goodison last week, Andre Villas-Boas must have thought his side would be travelling back south with all three points, courtesy of Clint Dempsey's deflected 76th-minute strike.
Unfortunately for the Portuguese, David Moyes' side had other ideas as they scored two late goals to win the game 2-1.
That result must have devastated AVB.
He'd managed to keep Marouane Fellaini relatively quiet, which is no easy task, and for all the possession Everton had, Spurs always had an answer.
I only saw highlights of the game, but it looked like Emmanuel Adebayor had a quiet afternoon, which shouldn't be a surprise.
More often than not, he starts off at a new club like a house on fire, then fades into mediocrity.
Spurs definitely missed Gareth Bale's pace and power last weekend and as I'm writing this, it's not clear whether he'll play any part against Swansea on Sunday.
I'm going to take a poll here.
Hands up if you saw Swansea being battered 4-2 at home by Norwich last weekend?
I certainly didn't, but I did say it'd be the sleeper game of the weekend and it was.
It was a thrilling end-to-end game and fans of both sides definitely got their money's worth at the Liberty Stadium last Saturday.
Being 3-0 down at half-time wouldn't have been a nice feeling and Swansea came out revitalised for the second half.
Once again, Michu impressed and added another goal to his impressive tally of 12 goals in 16 league games.
That's a record that players like Wayne Rooney and Fernando Torres would kill for at this stage in the season, so the Spaniard's achievements should be respected.
It's not just the Michu show though, because others like Pablo Hernandez, Johnathan de Guzman and Wayne Routledge have also been impressive.
Going forward, the Swans are fine, but it's at the back where they can be ruthlessly exposed.
No disrespect to Norwich, but they're not a top-four English side and they made Swansea look like amateurs for long spells of the game last week.
As they prepare to head south this weekend, I'm sure that Michael Laudrup will have worked hard with his players to make sure they're disciplined ahead of what will be a very tough test against Spurs.
Whether Bale is fit, they'll still have to contend with the likes of Jermain Defoe, Clint Dempsey, Aaron Lennon and one of their former players, Gylfi Sigurdsson.
The Icelandic midfielder was outstanding for the Swans last season, but all that will go out of the window at 1.30 pm GMT on Sunday afternoon when the game kicks off.
I wouldn't be surprised if Spurs won this game comfortably, but the last time Swansea were in London, they left the Emirates with a clean sheet and all three points.
It's tough to call, but I think home advantage will just see Spurs come out on top.
My prediction: Tottenham 2-1 Swansea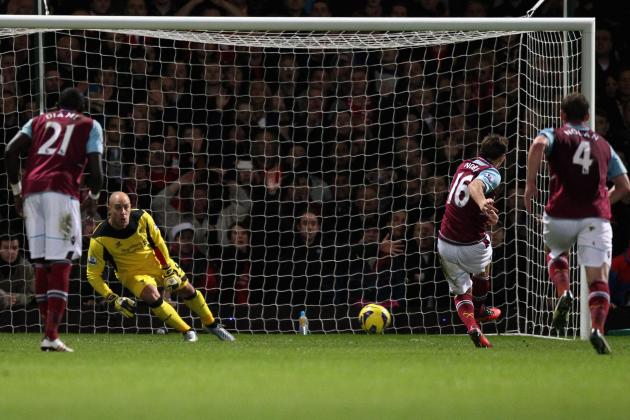 Ben Hoskins/Getty Images
Mark Noble slots home the equaliser from the penalty spot against Liverpool last Sunday
Sunday's dinner-time kick-off sees West Brom take on West Ham.
Both sides have every right to feel aggrieved at how their results went last week.
Let's start with the home side shall we?
West Brom were on the receiving end of at least one very dubious penalty decision at the Emirates last weekend, and it looked like Goran Popov was fouled in the run up to the second penalty.
If Steve Clarke can be pleased about anything from last week's performance (and there were plenty of positives), then he can at least take some solace from the fact that it took two penalties from Arsenal to beat his side.
As always, The Baggies were hard-working and well-disciplined.
From what I saw of the game, they were very unlucky to lose and deserved to get something out of the game.
You make your own luck though and Steve Clarke will look for an immediate response from his players this Sunday.
Going into the game, West Brom have lost three in a row and while there's no need to panic, Clarke will want to stop the rot as quickly as possible.
He'll also want to shake off the curse of the Premier League Manager of the Month award, which he won yesterday!
The Baggies have either been all or nothing at home this season: In eight games at The Hawthorns, they've won six and lost two.
One thing's for sure, if they're going to pick up another three points on Saturday, they'll have to work really hard.
As frustrated as Steve Clarke was last Saturday at Arsenal, Sam Allardyce will probably have felt the same way on Sunday as West Ham lost 3-2 to Liverpool.
Despite fighting back from a goal down to go in at half-time 2-1 up (thanks in part to Mark Noble's goal above), a couple of quick-fire goals in the last 15 minutes saw Liverpool pick up all three points.
West Ham were terrific for long periods of the game and more than matched Liverpool.
They were dealt a blow with the news of Mohamed Diame's hamstring injury which, according to various sources including The Daily Mail, will keep the Senegalese midfielder out for up to 12 weeks.
It's a big loss for West Ham, because Diame has really impressed since signing for The Hammers in the summer.
Much like Clarke, Big Sam will have taken plenty of positives from the way that his team have played in home fixtures against Chelsea and Liverpool in recent weeks, so there's no reason to be worried.
He's experienced enough to know that games like Sunday's are the ones that will decide their season, not games against Liverpool, Arsenal or Chelsea.
There's only a four-point gap between West Brom and West Ham, which reflects the terrific starts they've had to the season.
Sunday's game will be keenly contested and it might come down to a set piece to separate these two sides.
If you were going just by home form alone, then you'd have to pick West Brom, but I can see West Ham heading back down to London with a point.
My Prediction: West Brom 1-1 West Ham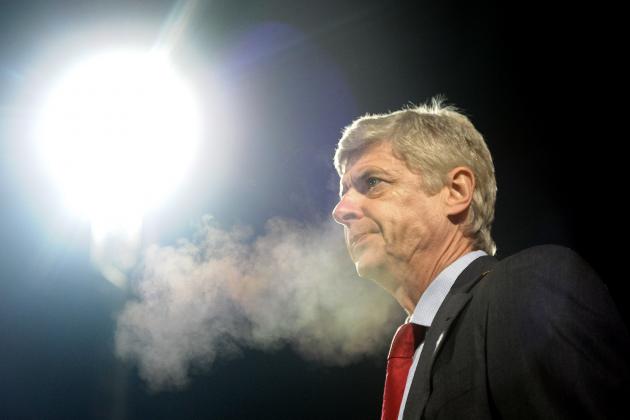 Laurence Griffiths/Getty Images
Arsene Wenger is under the spotlight at Arsenal after recent results
The 17th week of Premier League fixtures come to a close, as does this article, with Monday's match between Reading and Arsenal.
Both sides are struggling for form and when they meet on Monday, logic would dictate that something's gotta give.
In their last home match, Brian McDermott's side will feel that they probably deserved a point against Manchester United.
Instead, they lost out by the odd goal in seven and they've lost their last five games on the bounce, scoring in just two of those.
It's a time of the season that is going to determine how Reading will fare going forward.
There are going to be a lot of games coming thick and fast over the next few weeks and McDermott will find out a hell of a lot about the character of his players as things start getting tough.
I almost laughed when I read that Danny Guthrie refused to travel with the rest of the Reading team to Sunderland for their crucial game last Tuesday because he wasn't mentally ready.
After the game, McDermott told BBC Radio Berkshire (via the BBC Sport website):
Danny decided his head was not right to travel yesterday morning [Monday]... You'll have to ask him why that is. It's not helpful as we need our players going in the right direction.
Of course, the only person who knows the reason is Danny Guthrie, but you'd have thought that he'd want to help his team-mates to get out of what's already looking like a relegation battle.
In Guthrie's absence, Reading lost 3-0 at Sunderland to leave them six points adrift of safety.
I understand that Guthrie hadn't played for a few weeks, but his manager's right.
If they're to get out of this mire, Reading need everyone pulling in the right direction because they don't have a massive squad.
I just hope that, for Guthrie's sake, this can be sorted out.
Although they've been without a win since mid-November, McDermott will be confident that, after the way his side played against Manchester United a couple of weeks ago, Reading can pile more pressure on Arsenal.
Talking of Arsenal, they're heading to the Madejski on Monday in probably the worst form that they've been in since Arsene Wenger took over.
Don't let last Saturday's result fool you.
Arsenal were very lucky to beat West Brom at the Emirates.
There were two dubious decisions which led to the penalties that won the game for Arsenal.
I came across an interesting fact when I was reading about The Gunners this week.
Since they walloped Southampton 6-1 at the Emirates on September 23rd, Arsenal have won just four of their last 12 league games.
For a side that harbour ambitions of finishing in the top four and winning the title every season, that's just not good enough.
Arsene Wenger's belief in his players is commendable, but surely the time has come where he's got to admit that he's made mistakes and that his current squad aren't good enough.
Even last night, when Arsenal were unceremoniously dumped out of the Capital One Cup by lowly Bradford City, Wenger still stood by his players.
Speaking after the game (sourced from an article by Richard Rae on The Independent newspaper's website), Wenger said:
You feel embarrassed when you don't give everything. I feel they will be more frustrated and disappointed [than embarrassed].
I understand that, sometimes in football, these things happen.
Cup shocks are a thing of beauty and they're why we, as football fans, get so excited about them.
However, on paper, Arsenal should've wiped the floor with them.
Too many players these days (and this isn't specific to Arsenal) think that all they've got to do against smaller clubs is show up and they'll win.
That's a disrespectful and arrogant way to go about your business in any walk of life.
I think the time has come for Wenger to admit that some of his players aren't strong enough mentally, or good enough technically, to wear an Arsenal shirt, but his pride won't let him admit that.
How many of the current Arsenal squad would've got in to their Champions League final squad in 2006?
Two, maybe three at a push, but that's it.
It seems ridiculous to suggest that Arsene Wenger is under pressure, given everything that he's achieved during his tenure at the club, but that's the situation he's faced with.
Since 2005, they've won nothing and the fans, starved of success and paying the highest ticket prices in the country, have the right to voice their displeasure at what they're seeing.
Wenger has to do something and there would be no better time for that than at the Madejski on Monday night.
I said earlier that Brian McDermott would find out a hell of a lot about the character of his players over the next few weeks.
Arsene Wenger is in the same position.
Last season, he had Robin van Persie to get him out of sticky situations.
This time, he doesn't and it's time for his players to stand up and be counted.
This match will be nervy, tense and probably decided by the odd goal.
If Reading play the way they did against Manchester United a couple of weeks ago, Arsenal will leave with their tails between their legs.
I just think that, as a squad, the Reading players will be hungrier than Arsene's troops and there'll be intense pressure on Wenger's men after another disappointing performance.
My Prediction: Reading 2-1 Arsenal