Ranking LA Lakers Who Will Most Benefit from Steve Nash's Return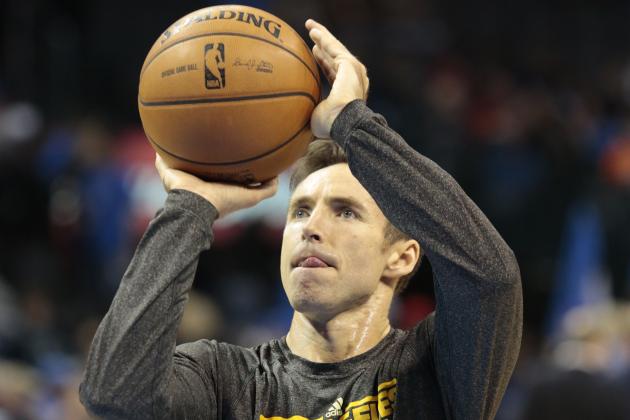 Brett Deering/Getty Images

The Los Angeles Lakers' woes will require much more than a quick fix.
Even former two-time MVP Steve Nash will have trouble turning around the 12th-ranked team in the Western Conference (9-13).
But with the despair that encompasses each loss, comes a minute relief that the Lakers could soon be getting back their star point guard. Nash told David Leon Moore of USA Today Sports that he could be "another two weeks" from making his return.
Nash's return will help jump-start the stalling Lakers offense. This team has struggled with turnovers (16.46, second highest in the league) and offensive creativity, both areas Nash can immediately address.
Perhaps his biggest effect, though, will come from the burst of energy this roster should experience. The Lakers have looked sluggish on both ends of the floor.
There have been questions about the leadership of this franchise and its ability to overcome the biggest disappointment of the 2012-13 season. Nash may be the convincing argument that his teammates have needed to buy into coach Mike D'Antoni's system. Or perhaps Nash's approach will foster the collective effort that the fiery Kobe Bryant has been unable to coax.
Begin Slideshow

»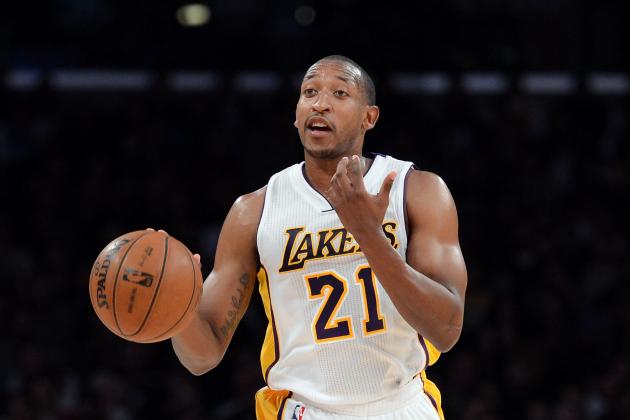 Harry How/Getty Images

The fact that either of these players have factored in the Lakers starting backcourt should be reason enough to calm the panic caused by L.A.'s rough start.
These two weren't just destined for the second team, they were fighting for a roster spot.
But after the losses of Nash and Steve Blake (out six-to-eight weeks after abdominal surgery), Morris and Duhon were thrust into playing minutes they might have struggled to find in the NBA Developmental League. The key to any success this franchise has found has come from limiting the impact of this duo.
So there may not be anyone more anxious for the return of Nash than these two. Sure, they'll lose a starting job and could even plummet out of D'Antoni's rotation altogether, but that might be a better alternative than shouldering some of the blame that neither player is equipped to solve.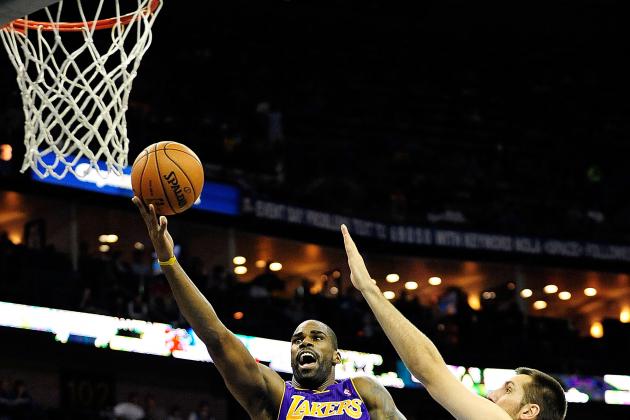 Stacy Revere/Getty Images

Jamison's inclusion in the team's offseason haul appeared exactly like the kind of under-the-radar moves that can push a franchise into a championship.
He even enjoyed a brief run as the potential answer for the starting lineup given the struggles of teammate Pau Gasol. Once Gasol was forced to the sideline with tendinitis in his knee, though, those arguments stopped.
The Lakers have lost four of the five games that Gasol has missed, with the lone win coming against the 5-15 New Orleans Hornets. Jamison has managed just two double-digit scoring performances and one double-digit rebounding effort in those five games. He even lost his starting job to Jordan Hill during the team's 100-94 loss to the Cleveland Cavaliers.
Jamison's role was assumed to be limited when he joined the crowded Lakers frontcourt. But even realistic expectations couldn't have foreseen the unsightly totals he's amassed (eight points and 4.6 rebounds per game).
Perhaps the 36-year-old has simply aged out of his effectiveness. Or perhaps this club hasn't yet figured out how to exploit his unique skill sets.
With Nash back in the roster, expect Jamison to find more open looks on the perimeter, either out of pick-and-pops or kick-outs from dribble penetration. Jamison could find more opportunities for his trademark runners given Nash's ability to prod defenses and find cutting teammates.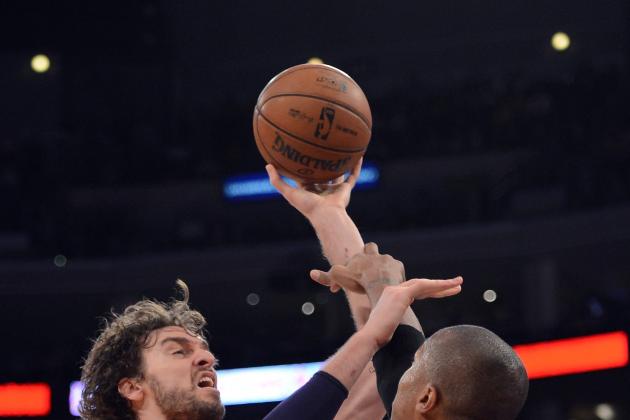 Harry How/Getty Images

Given those struggles without Gasol in the lineup, perhaps the big man will return to a slightly more forgiving fanbase than the one he left behind.
Then again, if his performances look anything like the ones he managed before the injury (13.0 points on 42.0 percent field-goal shooting), that leash may be shortened quickly.
As badly as Lakers fans want Nash to be the answer for this club, basketball minds understand that the real key for this franchise is Gasol. The four-time All-Star has already brought this franchise two titles and could facilitate another title run.
Prior to the injury (which could have played a larger role in his struggles than anyone realized), Gasol's biggest problem was finding spots in D'Antoni's offense where he could be successful. Gasol wanted more touches in the post, but D'Antoni hesitated to give up his floor spacing.
There are some logistical barriers for the big man and his coach to reconcile (which former Phoenix GM Steve Kerr detailed to Sam Amick of USA Today Sports).
But if there's a point guard who can find a way to make this work, it's Nash.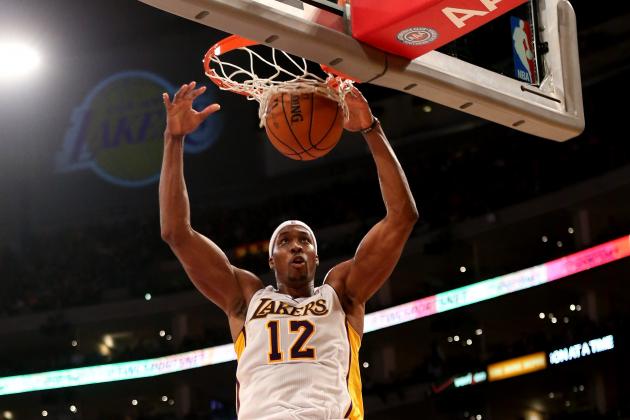 Stephen Dunn/Getty Images

Considering that Howard's still working his way into shape from back surgery, his numbers can't be called disappointing (18.4 points, 12.1 rebounds and 2.6 blocks per game).
What is disappointing for Lakers fans is the fact that the offensive guru D'Antoni has struggled to find ways to maximize Howard's abilities on that end of the floor.
During the team's nine wins this season, Howard has averaged 12.8 field-goal attempts. But that number falls to just 10.2 attempts in the club's 13 losses.
Seems like a simple fix, right? Get Howard the basketball.
But it's a little more complicated than that.
For starters, there just aren't many post isolation plays in D'Antoni's offense. His system is predicated on dribble penetration and ball movement, not looks for the big man.
There's also the fact that Howard's still figuring out how to be an efficient offensive player when he does find the basketball near the hoop. His back-to-the-basket game is still a work-in-progress even after eight seasons in the NBA.
With Nash on the floor, Howard can find his touches exploding to the rim off pick-and-rolls. It takes the thought process and footwork out of the equation—see ball, dunk ball.
That's something Howard's never struggled with.
Stephen Dunn/Getty Images

On the surface, it might appear Bryant's the least in need of assistance.
His 29.2 points per game is best in the NBA. His 48.8 field-goal percentage and 39.3 three-point percentage are both personal bests.
Throw in five rebounds, 4.8 assists and 1.6 steals, and you've got the fourth favored horse in the MVP race (according to Bleacher Report's Bryan Toporek).
As much as those numbers are indicative of a great season by any player (let alone a 34-year-old), they're also signs that this team has relied too heavily on Bryant.
He needs someone who commands defensive attention. He needs a capable distributor to remove one of his countless responsibilities. He needs a veteran voice that can reach the teammates that his own passionate pleas cannot.
Bryant may not relinquish his alpha dog role on his Lakers team, but he'd gladly accept any assistance that Nash could offer.
He can't afford to keep logging 37.6 minutes per game—not with the kind of mileage that his 16-year career has logged on those knees. But until Nash is healthy, D'Antoni can't afford to lessen that workload.