Pat Barry Talks Preparations for TUF 16 Finale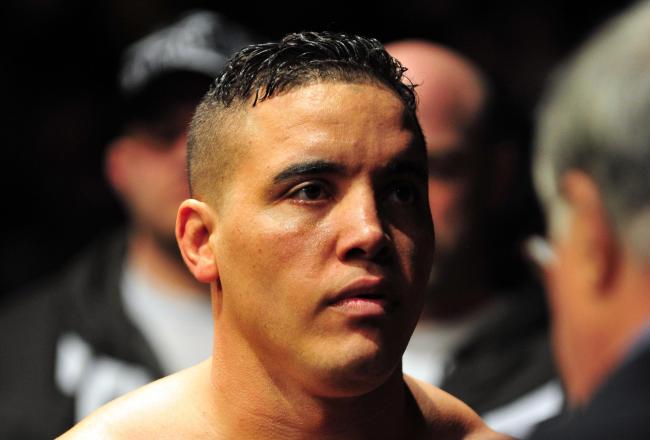 Don McPeak-USA TODAY Sports
Pat Barry is one of the most popular heavyweights in the UFC.
His affable, good humored nature, combined with his ferocious do-or-die fighting style endears him to fans like no other, and has kept him in the promotion, despite going 2-4.
His last fight was a first-round TKO loss to Lavar Johnson, and the Louisiana native must know that his career is hanging by a thread.
On Saturday night, he goes up against Shane Del Rosario at The Ultimate Fighter 16 Finale in Las Vegas.
Barry spoke to B/R's The Ultimate Show on his preparations for his upcoming contest against Del Rosario, giving an insight into his training camp.
Once upon a time, Barry was a stalwart member of Team Death Clutch in Minnesota, home of Brock Lesnar and a stable of other MMA heavyweights. However, with the departure of Lesnar, Death Clutch all but evaporated, but it seems Barry stayed put alongside head trainer Greg Nelson.
Barry still trains with Nelson at his new gym, The Academy, where he trains his wrestling and ground game.
"My ground game is my Achilles heel," Barry told The Ultimate Show. "I'm far behind everyone else, so of course naturally over the three years I've been doing it, that's what I've been focusing on the most."
Ron Chenoy-USA TODAY Sports
Barry revealed that he splits his time between Nelson's gym and Trevor Wittman's Grudge Training Center in Denver, CO, where he works his striking.
Unfortunately for Barry, Denver isn't the most hospitable place for an athlete.
"Man there is no oxygen in Denver. None!" laments Barry. "Beautiful weather. The people are really nice; the mountains are great to look at, but don't go outside and go for a jog because you'll lose confidence in all of your ability instantly."
Barry says that he is grateful to be offered a fight against Del Rosario—a fighter he clearly respects and bears no animosity towards.
True to his character, the man they call "HD," even offered to split training partners with his opponent after discovering that he shared Del Rosario's dilemma of lacking suitable heavyweights to prepare with.
"As soon as [Del Rosario] was offered the fight, he made the Tweet that he was looking for heavyweights to train with because he's the biggest guy at his gym," said Barry. "Well Death Clutch is over, so I'm the biggest guy at my gym. So I responded to him, and I said, 'Hey Shane man, if you find any, let me know. And he said, nah I'll send them to you after. And I said, nah c'mon man you gotta be fair, let's split it down the middle. If you find a stash, give me half, and if I find a stash of heavyweights, I'll give you half. And he said, aright, deal.' So I'm guessing he hasn't found any cos I haven't heard from him."
Barry continues to display the kind of good-natured humor which has endeared him to fans and kept him in the UFC despite struggling as an MMA pro. He's not one for trash talking or psyching himself up to fight his opponents.
He openly admits that he never understood fighters who need to hate their opponents to motivate themselves to fight.
"You know what happens if I hate you? If I don't like you at all...You don't exist," says Barry. "We have to fight, that's our job. This is what we signed up to do. Eventually we're going to bump into each other. I'm your friend before; I'm your friend after; I'm your friend during. It doesn't matter."
But don't let his cuddly demeanor fool you. Barry is a fight finisher, who has only ever gone the distance once in his career, when he won a decision against Joey Beltran—and he counts that as a defeat.
His intentions are bad, and Barry says he goes into the cage to punch his opponent's brain out of his neck. He guarantees his fight against Del Rosario won't go the distance.
The action takes place in Hard Rock Hotel and Casino this weekend where Roy Nelson and Matt Mitrione will headline the main event.
This article is
What is the duplicate article?
Why is this article offensive?
Where is this article plagiarized from?
Why is this article poorly edited?