NCAA Tournament: The Top Five Game Changing PlayersThis Season
Here are who I consider the top five game changing players in the NCAA Tournament.

1: Blake Griffin, Sophomore, Oklahoma
2: Ty Lawson, Junior, North Carolina
3: DeJuan Blair, Sophomore, Pittsburgh
4: Terrance Williams, Senior, Louisville
5: Byron Eaton, Senior, Oklahoma State
I consider these five players the best game changers, not because they are the best players on their teams (even though three out of the five are), but because they can change the outcome of games at any given moment with their ability to just take over a game and take control of the pace, making play after play and gaining their team momentum.
No. 1: Blake Griffin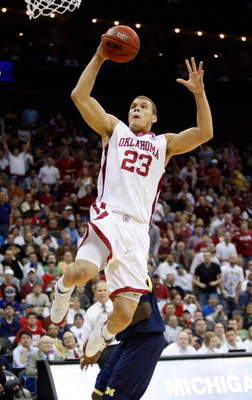 Probably the best player in college basketball, Griffin is one of the most highly-talented prospects for the NBA Draft.
Griffin averages 22.1 points per game and leads the country in rebounds with 14.1. Capable of controlling the outcome of a game single handedly, Griffin scored a career-high 40 points against Texas Tech in February.
Without him in the lineup, his team suffered losing two straight, and three of four after he returned. Griffin helped led his team to a two seed in the NCAA tournament and has placed them in the Sweet 16, where they will play upcoming three seed Syracuse.
No. 2: Ty Lawson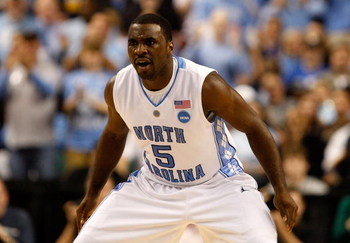 When you think North Carolina, you think Tyler Hansbrough. When in reality, the player that has the most effect on the game is their explosive junior point guard Ty Lawson.
Lawson averages 15.9 points and 6.5 assists per game. However, it's his ability to change the pace of the game at any given moment that makes him one of the best players in the country, if not the best point guard in the land.
Lawson and the Tar Heels are a No. 1 seed and face fourth seeded Gonzaga in the Sweet 16. Lawson, who has only played one game in the tournament so far, is still suffering from a toe injury. However, he still has that ability to change the game at will.
No. 3: DeJuan Blair
DeJuan Blair is not known for his offensive ability, but his rebounding. Blair is one of the most dominant rebounders in the NCAA, averaging 16 points per game and 12.6 rebounds.
Blair is an absolute monster on the offensive glass, giving his team chance after chance to score and hold teams at bay by controlling the ball.
His defensive rebounding keeps teams from playing at the pace they like to play, as he swallows any rebound in his area. Blair had his team ranked No. 1 earlier in the season, and now has propelled them to the Sweet 16 as a No. 1 seed.
His team is considered a championship contender, but he must help Pittsburgh break their Sweet 16 curse against fourth seeded Xavier.
No. 4: Terrance Williams
Although Williams is not a leading scorer for Louisville, he is their leader. The 6'6" senior forward from Seattle does a little bit of everything for the Cardinals.
Averaging 12.8 points, 8.5 rebounds, and 5.1 assists per game, Williams does it all for his team, including scoring a season-high 26 points in a loss to UConn.
However, his leadership is what helped his team win the Big East Tournament Championship and in the regular season. Louisville is a No. 1 seed and has a chance to continue their run to the NCAA Championship game with Williams at the helm against a Cinderella team, 12 seed Arizona.
No. 5: Byron Eaton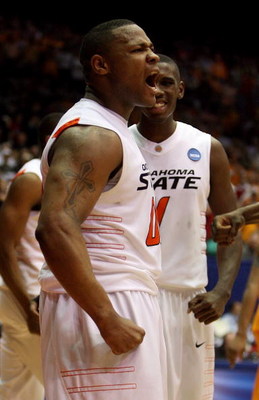 In his senior season at Oklahoma State, point guard Byron Eaton finally matured into the star point guard that he was envisioned to be when signed out of high school as a McDonald's All-American.
Eaton averaged a career high in points, 14.3, and also averaged 5.7 assists and 2.2 steals per game. The career steals leader at Oklahoma State, Eaton played with a never die mentality his senior year.
At times, he brought his team back from the dead to win, or when it looked like they might not hold onto a lead, he would make a momentum shifting play.
Reaching the NCAA Tournament for the first time in his career, he played at the top of his game against Tennessee. This included making a game-winning three-point play with 7.2 seconds left.
Even though his career is over after a loss to No. 1 seed Pittsburgh, he finished strong with a double double, dropping 15 points and 10 assists, including five steals.
Keep Reading