Handing out Houston Rockets Team Awards Through the Season's 1st Quarter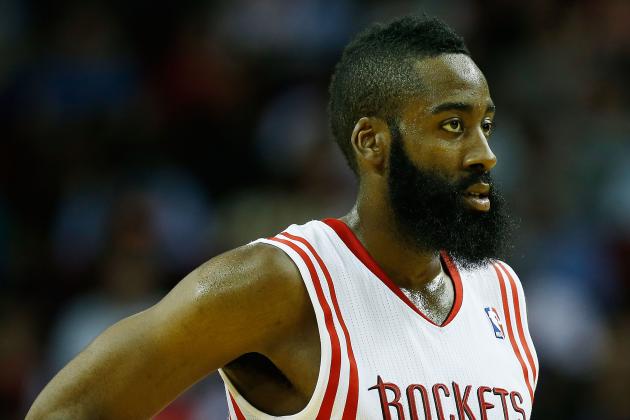 Scott Halleran/Getty Images

Although it certainly doesn't feel it, we are already one quarter of the way through the 2012-2013 NBA season.
The Houston Rockets have been as tough a team as any to figure out this year.
With almost an entirely new roster, Houston came out of the gates hot led by James Harden, winning its first two games. However, it then lost three straight and have since teetered around the .500 mark, currently sitting at 9-11.
Despite its struggles at times, there have been several pleasant surprises for the team this year, and it is right in the thick of the playoff mix with 25 percent of the season past.
Here are some of the Rockets team awards so far this season.
Begin Slideshow

»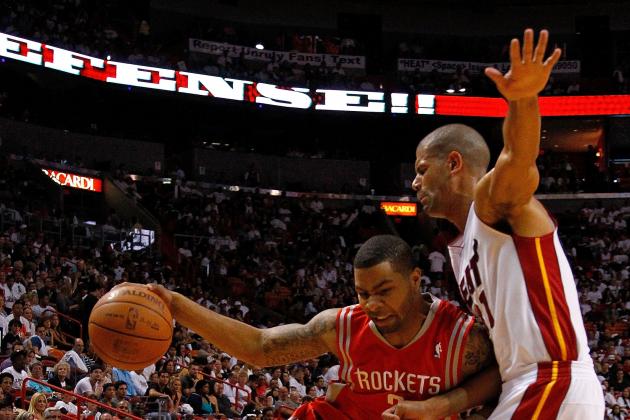 Mike Ehrmann/Getty Images

The Rockets have one of the weakest benches in the Western Conference, relying on their starters to score over 70 percent of their points per game.
However, they have had one player who comes off the pine stand out this season, second-year man Marcus Morris.
Morris struggled to find a role with the team in his rookie season last year, playing just over seven minutes per game.
However, this year, he puts in the second-most minutes off the bench of any Houston player. He is averaging a solid 8.2 PPG and 4.3 RPG in just over 20 minutes per contest.
Morris is the only real productive big man off the Houston bench, so his role in the team is extremely valuable moving forward this season.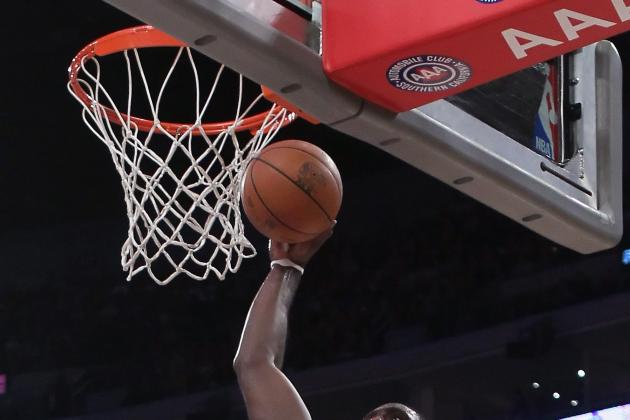 Jeff Gross/Getty Images

After a mediocre two seasons to start his young career in Houston, Patrick Patterson has become the everyday power forward for this Houston team and is excelling in his new role.
Patterson started only seven games combined in his first two seasons, but this year, he has started all 19 he has played in for the Rockets.
His PPG average has gone up accordingly from 7.7 last year to 13.4 this season. His field-goal percentage has also gone up over 50 percent, and although his rebounding is still low, it is up from last season.
Patterson has shown a new-found feel for the offense under coaches Kevin McHale and Kelvin Sampson and demands attention now when he receives the ball in the paint, as well as in the elbow area.
The Kentucky alum has also added a new aspect to his offense game: the long ball.
Patterson attempted just five total threes in his first two seasons, but this year, he has already taken 39 of them, making 12.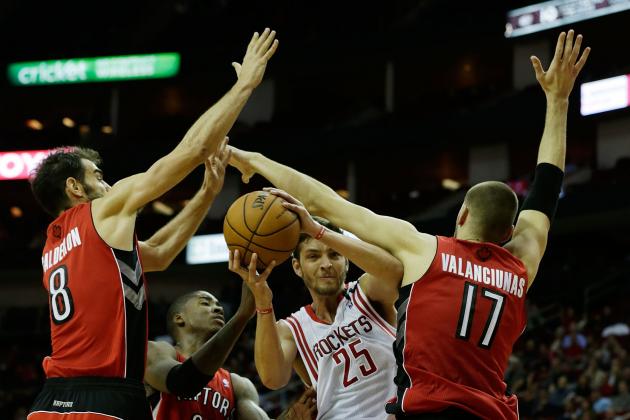 Scott Halleran/Getty Images

Much of the conversation about the Rockets this season has been centered around new additions Jeremy Lin and James Harden.
While both Lin and Harden are crucial to the team's success, so is the Rockets' second-leading scorer, Chandler Parsons, who seems to get little love from the press outside of Houston.
Parsons was passed on until the second round of last year's NBA draft, but he is now proving to be one of the best players to come out of that draft class.
Parsons sits only behind Harden in scoring at 15.6 PPG, and he also is second on the team in rebounding from the small forward position at 6.6 per contest and averages over three assists per game.
Parsons has scored 20 or more points in four different games this year, including 31 in a win over the Knicks earlier in the season.
If Parsons continues to improve his defense and shot selection, he could easily be an All-Star for the Rockets sooner rather than later.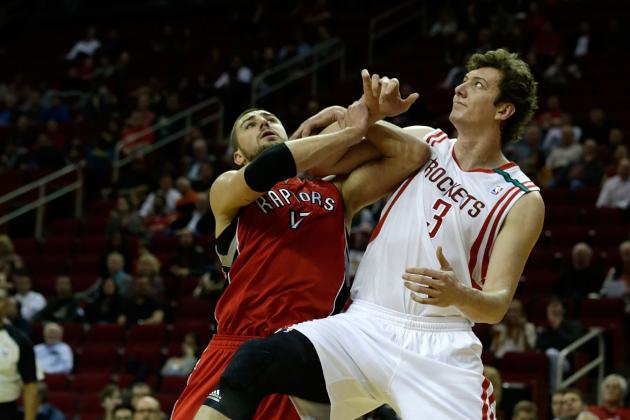 Scott Halleran/Getty Images

Many questioned the Rockets front office this offseason when they signed Turkish center Omer Asik to a three-year, $25 million contract.
Asik was a good role player in Chicago, but he never was seen as a capable starting center, especially not for that much money.
However, Asik has proved all of the doubters wrong and is making the Rockets look like geniuses so far.
Asik is fourth in the NBA in rebounding at 11.4 RPG and has proved to be a defensive presence for the Rockets inside, something they would severely lack without him.
Asik also has over one block per-game to lead the squad and is playing well offensively too. He is currently one of only nine NBA players averaging a double-double.
Having Asik protect the basket has allowed the Rockets to save face in what is already the worst defensive team in the NBA. Without Asik in the lineup, who knows how many points Houston would be giving up.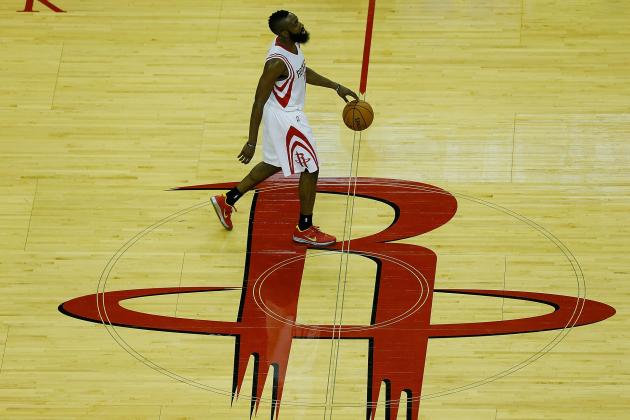 Scott Halleran/Getty Images

Although Omer Asik, Chandler Parsons and Jeremy Lin could possibly make a case for team MVP, the obvious selection is the team's leading scorer, James Harden.
Harden was acquired just before the beginning of the season from Oklahoma City, and he has turned his former sixth man role into that of a potential superstar for the Rockets.
Harden is fifth in the NBA in scoring at 24.7 PPG and gives Houston the dynamic scorer that it so desperately sought all offseason.
Harden still has plenty of room to improve in his game, and at 23, still has time to make those improvements.
Still, Harden is clearly the Rockets' best offensive player, and they rely on him to produce night in and night out in order to be successful.
Harden has been under double figures just once this year and has been over 20 in 12 games of the 19 he has played in.
When he shoots as well as he has from beyond the arc, Harden is extremely difficult to defend, as many two guards are finding out this year.
If the Rockets are going to make a serious push in the playoff picture, it will based largely on Harden's scoring abilities.