The Weirdest Ejections in NBA History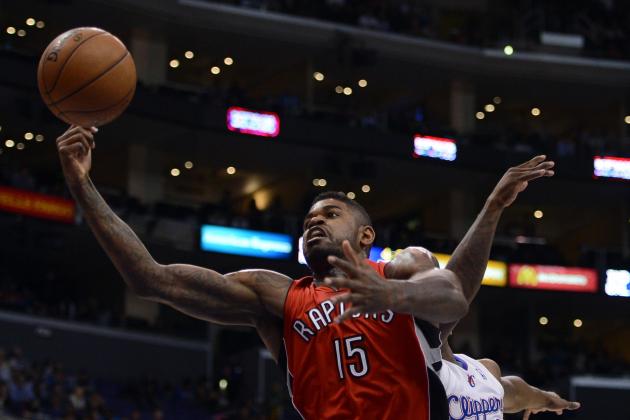 Harry How/Getty Images

After Amir Johnson was tossed from a game against the Portland Trail Blazers a few nights back, it got me thinking about some of the league's weirdest ejections.
Johnson was run from the game against the Trail Blazers for trying to wrestle the ball away from the referee, which earned him a technical, and then tossing his mouthpiece at him and nailing him right in the back, which earned him an ejection.
It was strange, to say the least.
At least two or three times a year, we get to see something go down between a player and an official that would only happen in the NBA. They don't shout at each other's faces like in baseball; rather, it's a bit stranger.
Players and referees are on a personal level in the NBA. There aren't helmets and huge fields separating them, so there's a lot of interaction between the two parties, and sometimes, things get heated.
That's when things get interesting.
I'm sure there are a lot of strange ejections living in the past that we have no knowledge of because of poor record-keeping or more lenient rules, but these days, we've got a lot on video, which is definitely a plus.
Begin Slideshow

»
Normally when a player racks up two technical fouls and ends up run from the game, they get mad and start to argue with the referee.
In a game against the Knicks a few years back, however, Kevin Garnett inexplicably earned a few technical fouls, the second of which came when he and Jermaine O'Neal were chatting during a free throw.
After grabbing those two techs, Garnett didn't get furious (which is really surprising); instead, he just laughed. An early night and a short workload isn't always a bad thing, after all.
The most surprising thing about this entire sequence of events isn't really that Garnett got chucked, just that he handled it all so well. Nobody got an elbow to the head or some angry eyes in the process.
You've got to love when little things go down between NBA players when they end up doing little things back and forth, creating a bit of animosity.
Well, here we see Grant Hill and Reggie Evans getting into a butt-patting contest, one that the referee didn't seem to like very much.
This ref, who looks very much like Neil deGrasse Tyson, decided that he'd seen quite enough between the two and ran them out of the game before anything escalated further.
There you have it, folks: what might possibly be the only ejection in the history of the NBA for excessive butt-grabbing.
There's no doubt lingering on this call that Tracy McGrady should have been ejected, but it's rare that you see a player get so caught up in his emotions that he ends up throwing something into the crowd, let alone twice.
Technically, McGrady didn't throw anything into the crowd, but he did go off and punt the ball into the crowd. Twice.
The best part about the whole thing is after a mediocre punt on the first one, he got his leg into the second and really blasted it out of the end zone.
There was a long period of time when Vince Carter was public enemy No. 1 in Toronto after wriggling his way away from the Raptors and getting traded to the New Jersey Nets, abandoning Toronto.
Something tells me this didn't help him much.
Here, Carter playfully slapped Mo Peterson in the face, at which point Mo Pete returned the favor, but the referee saw Peterson and pointedly tossed him.
Of course, after that happened, Carter went to tell the ref that there was no malice meant by it all, but the damage was done.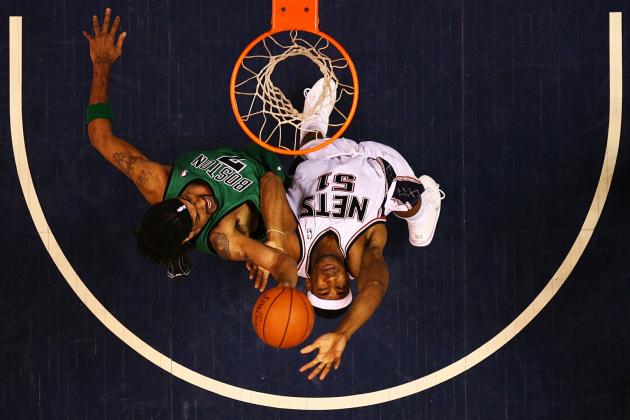 Al Bello/Getty Images

Sean Williams had a short run in the NBA, but he did leave behind a legacy that few people can claim. And I'm talking anyone in the entire world, not just basketball players.
After being cut by the Dallas Mavericks, Williams decided to take in a game courtside at Dallas' D-League squad, the Texas Legends.
Apparently, Williams was joking about the referees with a few of the players, at which point the referees got upset and chucked him from the game. He was ejected not as a player, but as a fan.
Sean Williams took his popcorn and went home.
We can all agree that Shaquille O'Neal can get out of hand sometimes, whether it be shoving players or just being overly playful in nature.
Sometimes it proved detrimental to his team in the form of a foul; other times, it earned him a technical, but he didn't usually get ejected unless he earned it.
I think it's safe to say he didn't earn this one.
Shaq threw down a monster jam on Andrei Kirilenko and jerked around a bit at the top of the dunk. His arm jerked down on top of Kirilenko, completely inadvertently.
He was, of course, tossed.
Referees don't like jawing, but they seemingly don't like physical gestures from players either.
Aaron Brooks learned that firsthand in a game with the Phoenix Suns a few years back when he...uh, well, Brooks grabbed his junk in a way that was "directed" toward referee Ken Mauer.
Brooks might not have said much, but the intent was definitely there, and referees don't seem to like the insinuation going on there.
Knowing what happened, Brooks laughed, shuffled off and waved to the crowd en route to the locker room.
Ron Garretson could be a dictator on the court, and if you didn't respect his word, he would lay down the law, and it would be swift and sure.
Rasheed Wallace found out the hard way.
On the surface of this clip, it looks like Wallace did nothing, and really, he didn't do much.
However, after earning a foul and a technical earlier in the game for barking at Garretson from the sidelines, Garretson warned him to cool out and quiet down, which Rasheed did.
Of course, after Garretson told him to stop staring at him, trying to intimidate him, and Rasheed did not oblige. 'Sheed kept staring, so Garretson tossed him.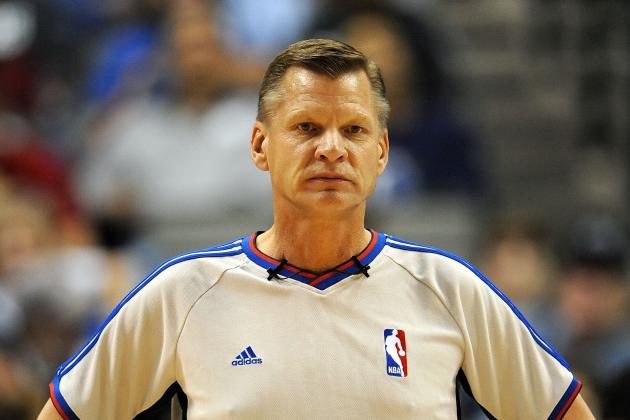 Ronald Martinez/Getty Images

Steve Javie will go down as one of the most disciplinarian of referees in the history of the league, and he's probably the only one to ever toss a team's radio play-by-play man and a team's mascot.
Back in 1991, Javie was officiating a game for the Washington Bullets as Hoops, the team's mascot, incited the crowd against the referees after a few calls went against Washington. Javie did the only level-headed thing he could have done: He threw him out.
Fast-forward to 1994: Javie was officiating a Portland Trail Blazers game when he had an issue with their analyst, Mike Rice, disputing calls from the scorer's table. Javie did the only thing he knows how to do and subsequently tossed him.
Easily the most infamous ejection in the history of the league had to come at the hands of Joey Crawford, and of course, the world's most unpopular referee obliged.
During a late-season game in 2007, Tim Duncan was sitting on the bench and said something to Crawford, so Joey C. T'd him up. No harm no foul, kind of.
Duncan was laughing about earning the technical foul, something that didn't sit well with Crawford, so he called a second tech on Duncan, tossing him out of the game.
You see the smile slowly fade from Duncan's face as he realizes what happened, with all of the Spurs bench slowly figuring it out as well, leading to a crazy clump of confusion.
In the end, justice was served when the league suspended Crawford indefinitely, but it was a huge black eye for the league in the long run.