Power Ranking This Week's Most Important Games by Playoff Significance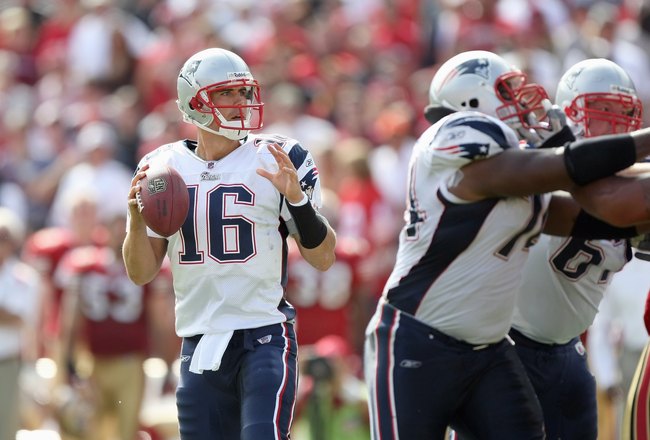 An interesting note: Matt Cassel was the Patriots QB when last they met the 49ers.
Jed Jacobsohn/Getty Images
It's the stretch run of the 2012 NFL season, and as Week 15 gets underway, there are any number of games on this week's slate that have huge playoff implications.
And no, I'm not talking about the New York Jets visiting Nashville to take on the Tennessee Titans.
Let's get one thing straight: The New York Jets aren't going to the playoffs. No way, no how.
However, there are at least 10 games this week that have a real bearing on the postseason, and here's a look at them in ascending order of importance.
10. Minnesota Vikings at St. Louis Rams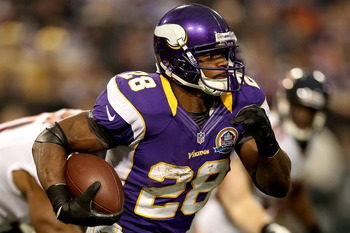 Matthew Stockman/Getty Images
Frankly, the Minnesota Vikings don't have much more of a chance of making the playoffs than the New York Jets do, as much like the Jets with Mark Sanchez, the Vikings are terrified that Christian Ponder will be forced to drop back and attempt a forward pass.
However, the Vikings have one thing that neither the Jets nor any other team in the NFL has: Adrian Peterson.
Peterson leads the NFL in rushing, is averaging an eye-popping six yards a carry and has gained over 100 rushing yards in seven straight games.
With 134 yards in each of his last three games, Peterson will hit the 2,000-yard mark on the season, and the Vikings will need that sort of stellar effort against a St. Louis Rams team that has made great strides in their first year under new head coach Jeff Fisher.
9. Cincinnati Bengals at Philadelphia Eagles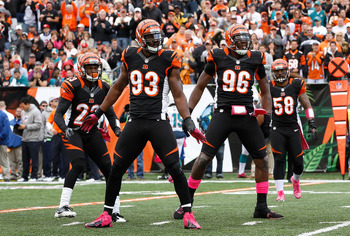 Tyler Barrick/Getty Images
I hate the Thursday night games.
For a league that's supposedly emphasizing player safety, to make teams play on a short week all season long is the height of hypocrisy.
It's doubly unfair to the Cincinnati Bengals, who must travel on that short week to Philadelphia after a heartbreaking loss to the Dallas Cowboys last Sunday.
The short week will likely leave the Bengals without defensive end Michael Johnson this week, but if Cincinnati is going to keep its fading playoff hopes alive, a pass rush that has accrued the most sacks in the NFL this year is going to have to get in the face of rookie quarterback Nick Foles.
8. Washington Redskins at Cleveland Browns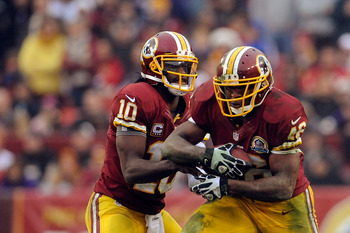 Patrick McDermott/Getty Images
Speaking of rookie quarterbacks.
Fans of the Washington Redskins were breaking out the Xanax last week, as although the team got a badly needed overtime win over the Baltimore Ravens, quarterback Robert Griffin suffered a scary-looking knee injury late in the game.
Thankfully, that injury has been diagnosed as a minor knee sprain, but Griffin's availability for Sunday's matchup with the Cleveland Browns is still very much in doubt.
Whether it's backup Kirk Cousins or Griffin under center, you can bet that we'll see a heavy dose of running back Alfred Morris as the Redskins try to keep their postseason dreams alive and halt the Browns' three-game winning streak.
7. Seattle Seahawks at Buffalo Bills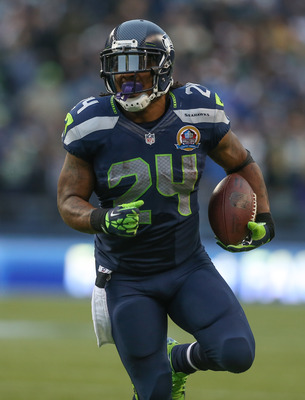 Otto Greule Jr/Getty Images
I hate the games in Toronto and London nearly as much as I do Thursday games.
It's not a huge deal this year with the Bills already out of playoff contention, but making a team disrupt its routine this late in the season for a cash grab is asinine.
At first glance, this game may appear to be all about the Seahawks solidifying their hold on a wild-card spot, but in actuality, the ramifications are even bigger than that.
A Seattle win, coupled with a San Francisco loss in New England Sunday night, would set up a huge Week 16 showdown in Seattle between the 49ers and Seahawks for the NFC West lead.
Expect a huge dose of running back Marshawn Lynch against his old team as the Seahawks hold up their end of the deal.
6. Denver Broncos vs. Baltimore Ravens
Ezra Shaw/Getty Images
This game's relatively low ranking on this list isn't an indictment of the game itself, but the fact is that the Denver Broncos have already clinched the AFC West, and barring a titanic faceplant, the Baltimore Ravens are set to repeat as AFC North champions.
However, there are still a couple of subplots of note in this game.
First, the Denver Broncos will be searching for a victory that will help them keep pace with the New England Patriots for the No. 2 seed and a first-round bye in the AFC West playoffs.
For the Ravens, a win would all but sew up the division title while putting a stop to a two-game skid that cost offensive coordinator Cam Cameron his job.
The red-hot Broncos and reeling Ravens. Peyton Manning against Ed Reed.
Get your popcorn ready!
5. New York Giants at Atlanta Falcons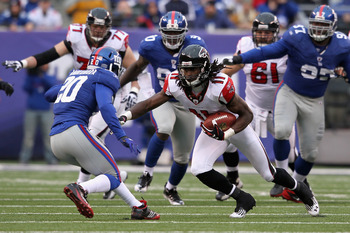 Nick Laham/Getty Images
This is a matchup between two potential playoff teams that would appear to mean a lot more to one team than the other.
At 8-5, the defending Super Bowl champion New York Giants are making their annual pilgrimage to the playoffs the hard way, and with both the Dallas Cowboys and Washington Redskins nipping at their heels, the G-Men can't afford another loss.
The 11-2 Atlanta Falcons have a two-game lead in the race for home-field advantage and have already sewn up the NFC South title, but the Falcons are trying to bounce back from last week's loss and will be looking for payback after getting drilled in the playoffs by the Giants last year.
This game could easily come down to the defensive backfield, where New York's 27th-ranked pass defense will have its hands full with talented wide receivers Julio Jones and Roddy White.
4. Green Bay Packers at Chicago Bears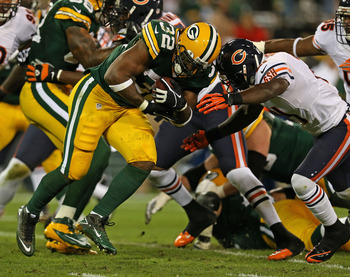 Jonathan Daniel/Getty Images
This NFC North showdown features two teams chugging along in opposite directions, as the Green Bay Packers have lost only once in their last eight games, while the Chicago Bears have dropped four of five.
For the Bears, this is a must-win game, as not only would a loss to the Packers hand Green Bay the division title, but a sixth defeat would suddenly leave a Bears team that seemed a shoo-in for the postseason a month ago in danger of missing the playoffs altogether.
Unfortunately, the Bears will be facing a Green Bay team that will likely have linebacker Clay Matthews back with a banged-up Jay Cutler, and the Packers pounded Chicago back in Week 2.
3. Indianapolis Colts at Houston Texans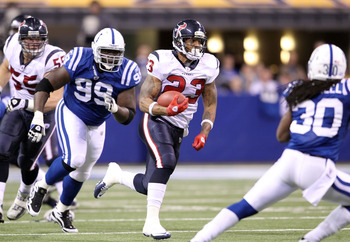 Andy Lyons/Getty Images
With Houston's lopsided defeat at the hands of the New England Patriots, this week's matchup between the Texans and Indianapolis Colts just got a whole lot more interesting.
Granted, the Texans still hold a two-game edge over the Colts, but guess what?
The Colts and Texans play twice in the season's last three weeks.
It seems a little strange to start picking an 11-2 team apart, but as the Patriots showed quite aptly in shredding a Houston defense that has now allowed nearly 350 passing yards a game over the past month, the Texans secondary has problems.
Can the Colts keep their Cinderella run going right up to an AFC South title?
2. Pittsburgh Steelers at Dallas Cowboys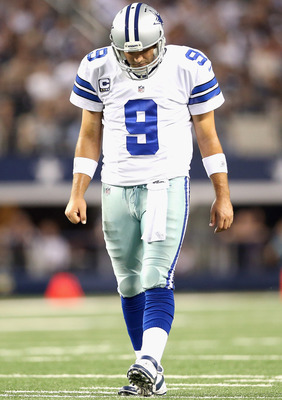 Ronald Martinez/Getty Images
Once upon a time, there was no bigger rivalry in the NFL than the Dallas Cowboys and Pittsburgh Steelers, with the two teams meeting three times with a Lombardi Trophy on the line.
The stakes aren't quite that big this time, but they're big nonetheless.
At 7-6, both teams are in full-on scramble mode, and neither team can afford another loss unless they want to be watching the playoffs on TV like the rest of us.
This has the makings of a very intriguing game between two evenly matched clubs, and its outcome may come down to the old axiom of which team makes the fewest mistakes.
Given Tony Romo's December history, Dallas fans just started sweating.
1. San Francisco 49ers at New England Patriots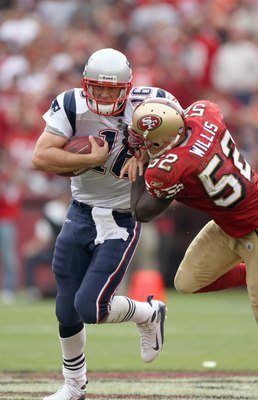 Jed Jacobsohn/Getty Images
This is another game that, at first glance, might not seem to mean much, but it actually carries a great deal of significance as far as the playoffs are concerned.
The New England Patriots are trying to hang onto the second seed and a first-round bye in the AFC, while for the 49ers, a loss at Foxboro could set up the aforementioned showdown in Seattle in Week 16 with the division lead at stake.
This game should be a riveting matchup of offense vs. defense, but the 49ers are going to have their hands full with a New England team that just annihilated the Houston Texans and has now won a mind-boggling 21 games in row in the season's second half.
Keep Reading