UFC on FX 6: Questions We Have About Hector Lombard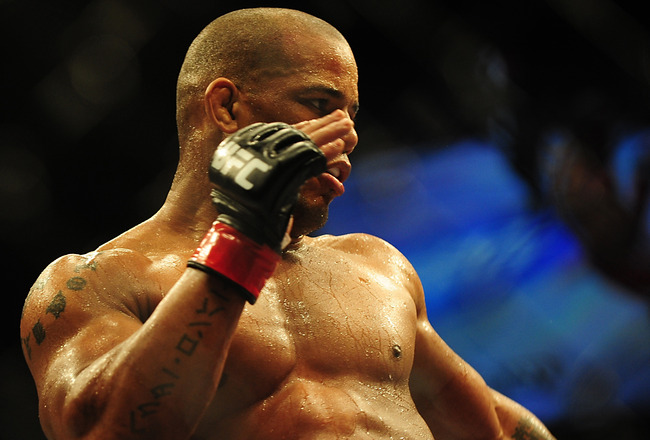 Anne-Marie Sorvin-USA TODAY Sports
This Saturday at UFC on FX 6, Hector Lombard will seek to redeem his lacklustre UFC debut as he faces Brazilian Rousimar Palhares in his adopted home of Australia.
In many ways both men are the most similarly cast fighters in the UFC—two 5'8" middleweight submission specialists coming off of losses. Both, at the beginning of this year, considered potential title contenders.
Here are five pressing questions we have for Lombard, the former Bellator middleweight champion, as he hopes to overcome his most immediate obstacle.
Is He Ready for the Big Stage?
Anne-Marie Sorvin-USA TODAY Sports
In his eight years as a professional, former Olympic judoka, Lombard fought and dominated in the smaller MMA promotions such as XFC, CFC, AFC and Bellator. Between 2007 and 2011, when he was fighting in these organisations, he went undefeated in 25 fights.
However, as soon as he entered the Octagon, with the ink barely dry on his UFC contract, he choked—losing a three-round split decision to Tim Boetsch.
Many blamed first-fight jitters, or a hidden injury. Either way, it was clear that, having fought and defeated obscure fighters in obscure promotions, Lombard was far from ready for the big time.
That excuse of being new to the world's premier mixed martial arts promotion won't hold this time. On Saturday, we'll find out whether he really is ready for the big time.
Will His Cardio Hold Up as a Middleweight?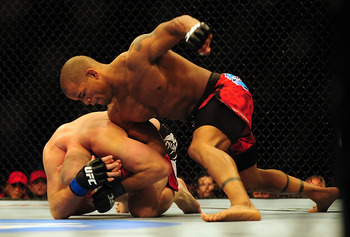 Anne-Marie Sorvin-USA TODAY Sports
The next burning question is whether his strength and conditioning is up for fighting as a middleweight.
Of course, a former Olympian, Lombard is a supreme athlete. However, fighting at 185 pounds at a height of 5'8" makes him one of the most muscled middleweights out there. Men of his stature are much more accustomed to fighting at lightweight, let alone welterweight or middleweight.
With so much muscle on his frame demanding an immense amount of oxygen, a fighter like Lombard is prone to gassing out quickly.
We saw this in his fight against Boetsch as he quickly faded after the first round.
Admittedly, Rousimar Palhares, who has a similarly muscled-out frame, won't be the man to test this. However, Palhares has been fighting in the UFC since 2008 and is much more accustomed to the demands of competing at the elite level.
Lombard still needs to prove that he is as well.
Are His Submissions as Good as Palhares?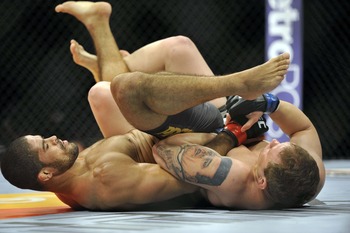 Joe Camporeale-USA TODAY Sports
Both men are BJJ black belts, with Lombard having the added honour of a fourth dan judo black belt.
This makes for an intriguing grappling match up. However, despite the judo pedigree, Lombard uses his grappling to keep the fight standing, allowing him to dominate with his powerful fists.
Whether he can employ this tactic against heel-hook specialist Palhares is another matter.
The Brazilian is a master at submitting wrestlers by attacking their legs when they least expect it. Lombard will have to stay on his toes if he wants to avoid a similar fate.
Will He Knockout the Brazilian?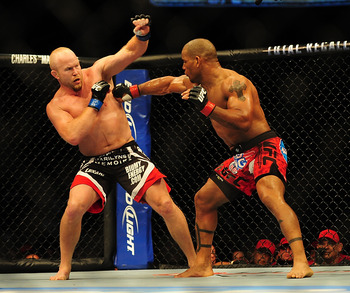 Anne-Marie Sorvin-USA TODAY Sports
As a grappler, Lombard has phenomenal power in his fists. Twelve of his lasts 17 wins have come by KO or TKO.
That makes Lombard a dangerous and extremely popular fighter, which the UFC was keen on porting to its promotion when they signed him.
Palhares isn't impossible to finish with strikers either. In his last two losses, both Nate Marquardt and Alan Belcher ended his night via TKO.
MMA fans will be looking to see some of that magic from Lombard this weekend, but whether he'll deliver is another question.
Can He Become a Title Contender?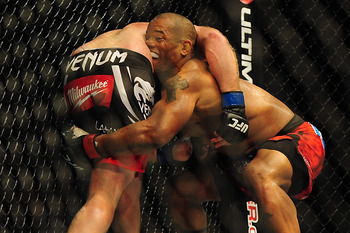 Anne-Marie Sorvin-USA TODAY Sports
Lombard entered the UFC riding a phenomenal 20-fight winning streak. He was almost guaranteed a title shot against Anderson Silva had he won his first match.
In the end, his loss to Boetsch cost him dearly. It was a lacklustre performance which severely derailed his title aspirations, and now he has a long way to climb back up to the contender's spot.
Not only does he have to defeat Palhares, he has to defeat him convincingly. But even that is just the start if he wants to challenge for the belt.
With that in mind, the biggest question surrounding Lombard is whether he has the endurance to start a title run on Saturday night, which would take him all the way to the championship.
Keep Reading