Atlanta Falcons Progress Report: This Team Is Nowhere Near Playoff-Ready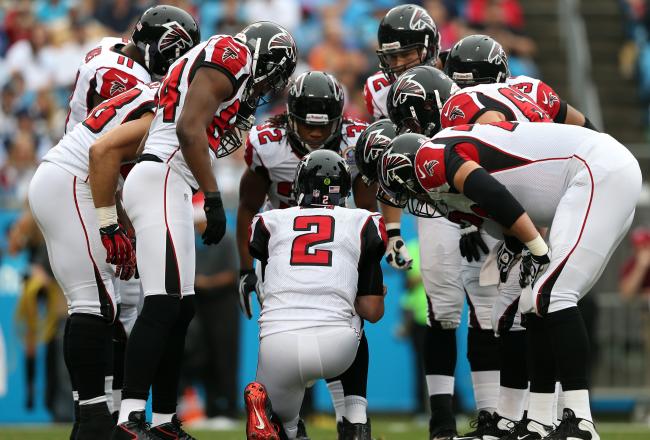 Streeter Lecka/Getty Images
One of the most important aspects of being playoff-ready in the NFL is peaking at the right time. Perfect examples of this phenomenon were offered over the last two seasons when the New York Giants in 2011 and the Green Bay Packers in 2010 both squeaked into the playoffs and then ran roughshod over the competition to a Super Bowl crown.
Both the Packers and the Giants stepped over the Atlanta Falcons on the way to their titles, and now the Falcons are sitting at 11-2 and hoping to make their own championship run.
The problem is…Atlanta is nowhere near ready to explode onto the scene.
The Falcons lost their Week 14 game to the 3-9 Carolina Panthers by 10 points. In losing, Atlanta showed two scary aspects that, if not fixed, could lead to the season's demise.
Atlanta's offense is not moving well and its run defense is extremely lacking.
Look no further than Atlanta's third-down efficiency against the Panthers to see an issue. Atlanta converted on just two third-down opportunities of the eight it saw. The week prior, the Falcons were 1-of-11 against the New Orleans Saints on third down.
The inability to put together long drives is causing the Atlanta offense to sputter and it's wearing out the defense.
The Panthers also pasted the Falcons with 195 yards on the ground, lowering Atlanta's rank in the league to No. 23. When opposing teams average 127 yards on the ground per game, it's inevitable that the defense will have to stay on the field for long periods of time, fighting off long drives.
Injury Update
Neither cornerback Asante Samuel nor strong safety William Moore played on Sunday during Atlanta's loss to Carolina. Samuel was active and dressed, but never came close to putting on a helmet. He was the emergency option, on the field in case a few defensive backs fell to injury.
Moore was inactive, and this was a huge blow to Atlanta's run defense. Moore is a huge hitter, an impact guy who loves laying a lick on a ball-carrier. Without Moore in the game, the middle of Atlanta's defense is softer than normal.
Samuel is expected to practice this week, head coach Mike Smith reported during his Monday press conference.
Stock Up
Running back Jacquizz Rodgers is slowly becoming a more integral part of the Falcons offense. He only carried the ball four times on Sunday against the Panthers, but that was because the Falcons got behind and were forced to think pass.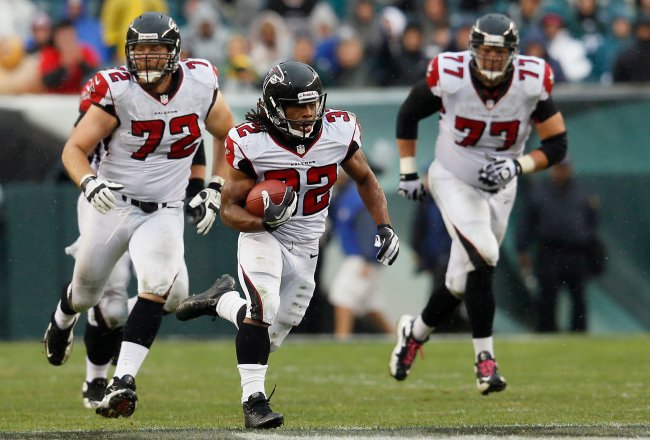 Rob Carr/Getty Images
When Rodgers did carry the ball he averaged 5.3 yards per carry. And he also did damage in the passing game, catching six passes and being a target seven times.
The fanbase has been screaming for Rodgers to take over as the featured back for many weeks now. Experts are starting to echo the sentiment.
Former running back Marshall Faulk commented on the Rodgers-versus-Michael Turner situation on NFL GameDay Final.
"Based on what they are trying to do, Jacquizz Rodgers fits the system right now and Michael Turner would suit this offense better if he was coming in and he was the changeup."
Stock Down
Rookie right guard Peter Konz has had a couple of rough weeks. He's still one of the key components of Atlanta's future on the offensive line, but he's going to have to improve in pass protection.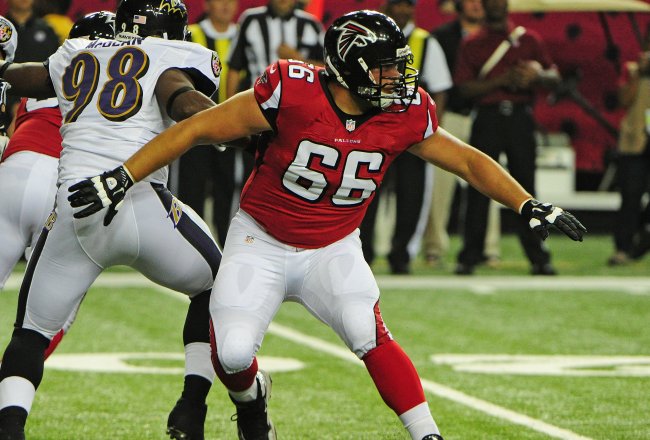 Scott Cunningham/Getty Images
Against New Orleans in Week 13, Konz gave up a sack, a quarterback hit and a hurry. Last week against Carolina he gave up another sack and two quarterback hits.
Konz has played every snap on offense since he took over as a starter in Week 8. He's got plenty of time to pick up the system and develop, but over these last three weeks of the season he really needs to show some improvement.
Outlook
It's impossible to imagine that a team with an 11-2 record is in trouble, but that's seemingly the case.
If Atlanta's play on both sides of the ball isn't cleaned up in a hurry, this franchise could be headed for one of the biggest disappointments of recent memory—a one-and-done playoff performance.
The Falcons have the talent, on paper, of a Super Bowl contender. Executing on Sundays has been an issue of late.
Unless otherwise noted, all quotes and statements were obtained firsthand.
Knox Bardeen is the NFC South lead writer for Bleacher Report and the author of "100 Things Falcons Fans Should Know & Do Before they Die." Be sure to follow Knox on Twitter.
This article is
What is the duplicate article?
Why is this article offensive?
Where is this article plagiarized from?
Why is this article poorly edited?