Georgia Football: Why Aaron Murray Should Not Declare Early for the NFL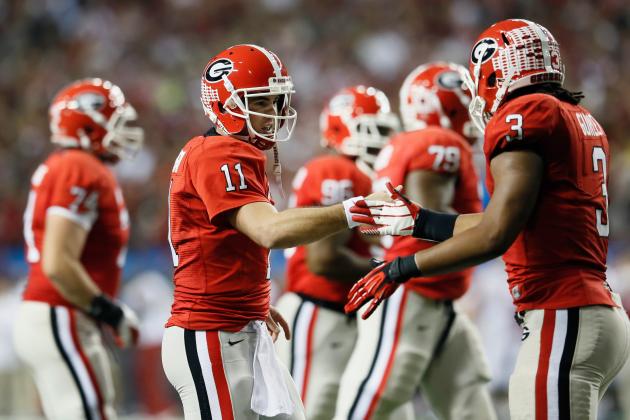 Kevin C. Cox/Getty Images

Aaron Murray has a big decision ahead of him. Does he enter the NFL Draft as a junior, or stick around for a senior season?
It's a tough question that any rising junior on the pro radar faces, but a number of signs point to why Murray should not declare early, and stay in Athens for his senior season.
Murray has a very talented supporting cast and will return to a team that is expected to challenge for championships again in 2013.
No quarterback wants to leave business unfinished, and without a national championship Murray will have done that. Here are the five reasons that Aaron Murray should skip the NFL this year and return to Georgia for his senior year.
Begin Slideshow

»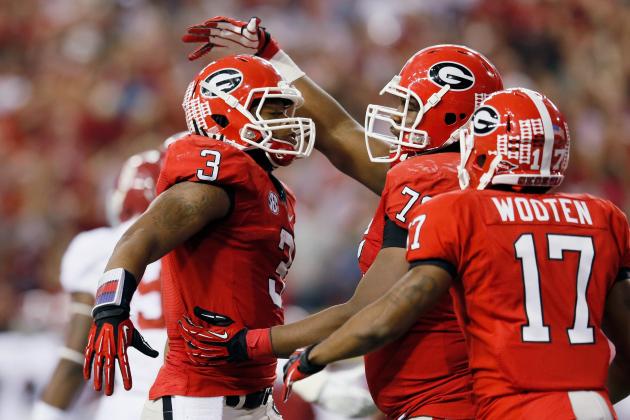 Kevin C. Cox/Getty Images

Georgia will return a large chunk of its starting lineup this year and a pile of backups with game experience. This team will be looking to make a third straight run at the SEC title game, and with the lineup that returns the Bulldogs look the part.
There will be gaps in the secondary with the departure of some seniors, but there are a number of experienced backups on roster that received a lot of playing time with the early season suspensions to a number of defensive starters.
If Murray returns to Georgia, he will be on a loaded team that knows how to make title runs. With senior leadership at quarterback, the Bulldogs will be able to walk away with a title.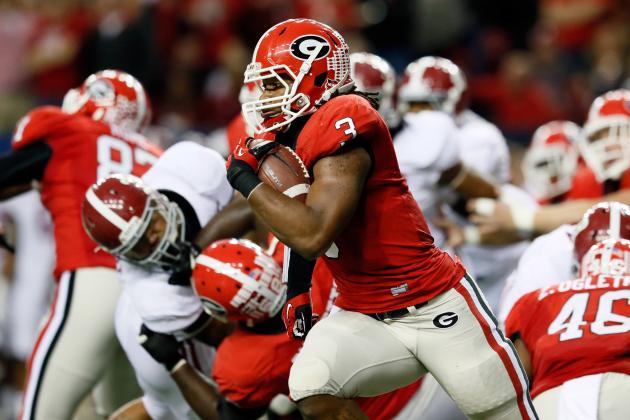 Kevin C. Cox/Getty Images

Todd Gurley finished the year as the Bulldogs premier back, but Keith Marshall was a stud second option for the Bulldogs.
By the end of the season, Gurley had accumulated 1,260 yards on the ground and 16 touchdowns. He had eight games with over 100 yards this season, sharing carries for the majority of the year with Marshall.
Marshall finished the season with 723 yards and eight touchdowns. He was a solid addition to the backfield, and will bring a solid speed option next year.
With these two backs for Georgia, Murray will return and make a title run.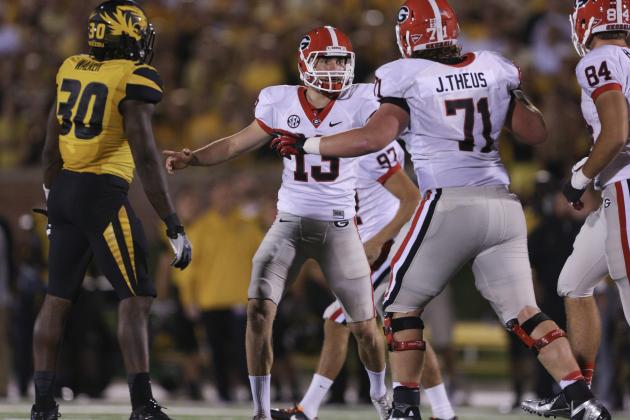 Ed Zurga/Getty Images

The Georgia offensive line returns every starter from this season, anchored by stud freshman John Theus.
The Bulldogs will have one of the most complete offensive fronts in the country and will lead the way for the Georgia ground game to produce two 1,000 yard rushers next year.
Murray will also be able to take his time while selecting receivers next season with these five protecting him upfront. This will be a big sale for the Georgia staff to Murray during a time of possible transition.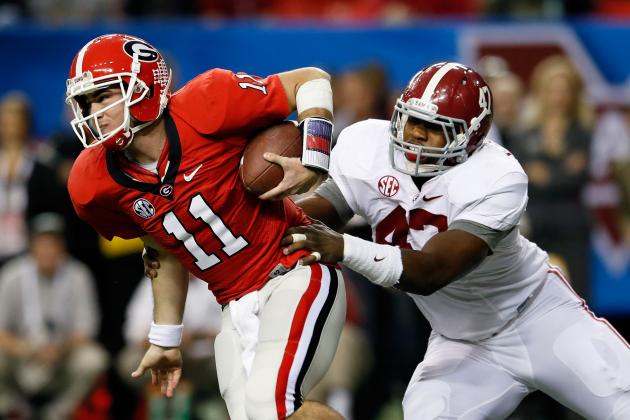 Kevin C. Cox/Getty Images

Aaron Murray knows that his team has a great shot to return to Atlanta in 2013. The Bulldogs are loaded with talent, and to leave now would leave a legacy that is unfinished.
He has guided the Bulldogs to two consecutive SEC title game appearances only to fall short to Alabama and LSU. Next year Georgia will be challenged in the East, but they will head into the year as the expected front runners.
After the game against Alabama, he left a lot on the field. Radi Nabulsi of ESPN had this to say recently about the possible departure of Murray:
Aaron Murray told us that he loses sleep over the Alabama game still. Says he can't get away from it.

— Radi Nabulsi ESPN (@RadiNabulsi) December 12, 2012
Murray knows that he could seal his fate as one of the best quarterbacks in Georgia history with a title in 2013. Seth Emerson of the Macon Telegraph tweeted this about Murray's possible return:
Georgia TE Arthur Lynch, who is Aaron Murray's roommate, thinks Murray is "leaning towards staying," but could see him leaving too.

— Seth Emerson (@SethEmerson) December 12, 2012
It's easy to follow the money, but staying at Georgia feels right for Murray.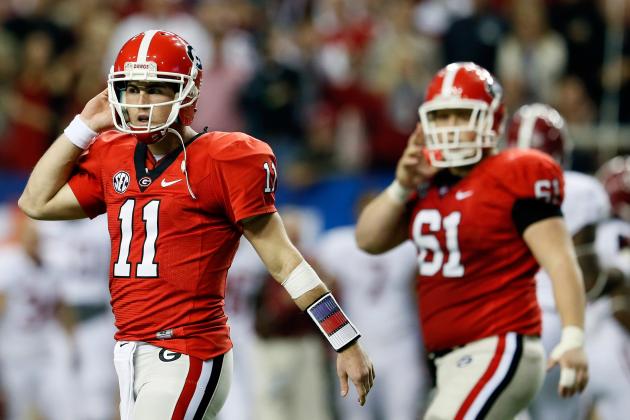 Kevin C. Cox/Getty Images

Whenever a player is looking to leave early for the draft, they usually want to land in the first round. When the projection is lower than that, staying for a senior season is typically protocol.
Aaron Murray is not projected to be a first rounder, and according to Mel Kiper, he should stay for his senior season. In an interview with WSB's Zach Klein, Kiper had this to say:
I would go back for another year if I were Aaron Murray because I think unless you're a guaranteed first-round pick it's wise to go back. Especially when you play at Georgia with the talent around the quarterback there, even though (Tavarres) King will be moving on. But you've got (Malcolm) Mitchell coming back, the great young running backs around you, the line, you've got a lot of good components in terms of the situation there, in terms of the talent around the quarterback. So I would go back.

The thing working against Murray is in some of the big games he had some struggles. Obviously against Alabama he didn't get the win, but he was right there with them the whole way. And of course you think about the height, what's he gonna measure out at: Is he gonna be six feeet, a little over it, what exactly is he gonna be? He's not gonna be 6-2, 6-3. And of course this quarterback year is pretty wide open.
When a player gets a solid nod to stay another year by a draft analyst like Mel Kiper, they tend to listen. It would be in Murray's best interest to continue developing his skill, and stick around for another season.