NFL Week 15 Predictions: Latest Odds and Picks Against the Spread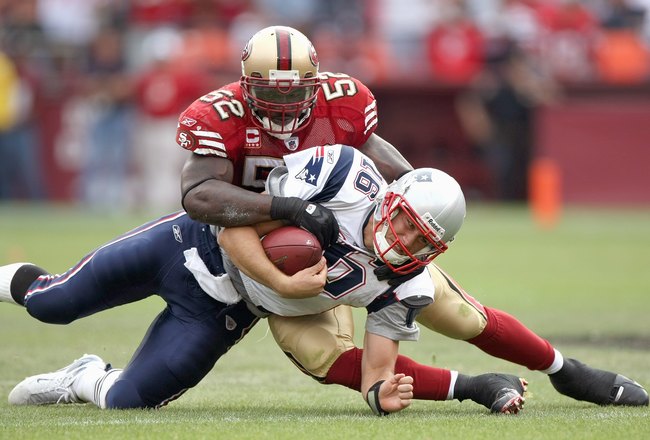 Jed Jacobsohn/Getty Images
We've hit Week 15 of the 2012 NFL season, and that means that many games have taken on added importance, as more than a few games are do-or-die affairs that could have a huge impact on the postseason picture.
With many NFL teams' backs against the proverbial wall, that air of desperation can make both handicapping and picking NFL games extra tricky, but that won't stop us from taking a stab at it.
So here, for your reading enjoyment, are this week's 100 percent accurate can't-miss mortal lock picks for every game.
Unless, of course, I'm completely wrong, which is possible I suppose.
Home teams in caps.
Point spreads courtesy of VegasInsider.com.
Cincinnati Bengals (-4) over PHILADELPHIA EAGLES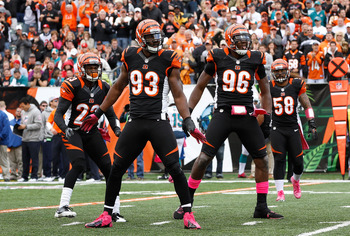 Tyler Barrick/Getty Images
The Cincinnati Bengals are one of those teams that can't afford another loss, as last week's heartbreaker against the Dallas Cowboys leaves precious little margin for error.
The Bengals may also be without the services of defensive end Michael Johnson, which is a big blow to a defense that leads the NFL in sacks.
With that said, Cincinnati is still going to be able to pressure rookie quarterback Nick Foles, and given that Foles has shown a propensity for making mistakes under duress, the Bengals will parlay a couple of short-field drives into a badly-needed win.
Green Bay Packers (-3) over CHICAGO BEARS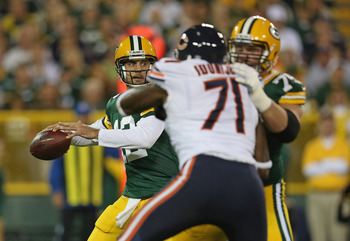 Jonathan Daniel/Getty Images
I'm already starting to get nervous, because only two games into this week's picks, I've already selected two road underdogs, which is usually bad juju.
However, the Green Bay Packers and Chicago Bears are two teams headed in opposite directions, as the Packers have won seven of their last eight games, while the Bears have dropped four of five.
Add in the fact that Chicago quarterback Jay Cutler has a bad neck and the Packers may get linebacker Clay Matthews back, and we're one hit away from Jason Campbell under center and this game getting ugly.
ATLANTA FALCONS (-1.5) over New York Giants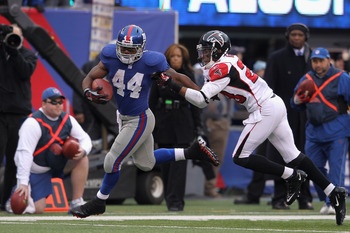 Nick Laham/Getty Images
The New York Giants are impossible to figure out.
The G-Men looked phenomenal a few weeks ago against the Green Bay Packers, came out flat against the Washington Redskins and then once again looked great in blowing out the New Orleans Saints last week.
This week, the Giants travel to face an 11-win Falcons team coming off only their second loss of the season with last year's playoff embarrassment at the hands of the Giants still fresh in their minds.
Add in Atlanta's talented wide receivers and New York's 27th-ranked defense, and the Falcons are the play.
NEW ORLEANS SAINTS (-3.5) over Tampa Bay Buccaneers
Mike Ehrmann/Getty Images
There's not much being played for at the Superdome Sunday other than pride, as the 6-7 Tampa Bay Buccaneers and 5-8 New Orleans Saints are both all but done in the playoff chase.
While this game may not have postseason implications, it should be entertaining, as with two of the league's three worst pass defenses on display, the scoreboard's going to light up like a pinball machine.
Given that, I have a hard time betting against Drew Brees in a shootout at home, so I won't.
Minnesota Vikings (+3) over ST. LOUIS RAMS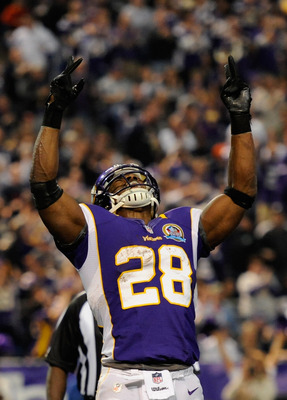 Hannah Foslien/Getty Images
All right, enough with the picking favorites thing...it's underdog time.
Minnesota Vikings running back Adrian Peterson is having an MVP-caliber season, and if the sixth-year pro can average 134 rushing yards over the past three games, "All Day" will eclipse the 2,000-yard mark on the season.
That's going to be no easy task against the league's 13th-ranked defense, but given that Peterson has topped 100 yards in seven straight and just gashed the Chicago Bears for 100 yards in a quarter, I'm not about to put it past him.
Washington Redskins (OFF) over CLEVELAND BROWNS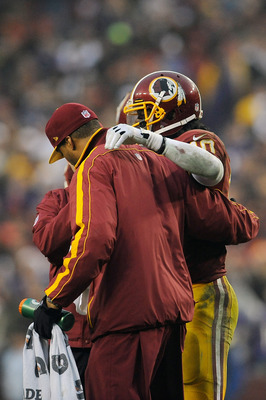 Patrick McDermott/Getty Images
With the playing status of rookie quarterback Robert Griffin still very much in question, there isn't a sportsbook in Vegas taking action on this game right now.
So, with that said, I'll just pick this game outright.
Given how leaky the Washington secondary has been this year, this is probably going to be a close game, but whether it's Griffin or Kirk Cousins under center, the Redskins will ride running back Alfred Morris to a squeaker against a Cleveland run defense that ranks in the bottom half of the league.
What, you thought the Browns could win four games in a row? C'mon.
MIAMI DOLPHINS (-7.5) over Jacksonville Jaguars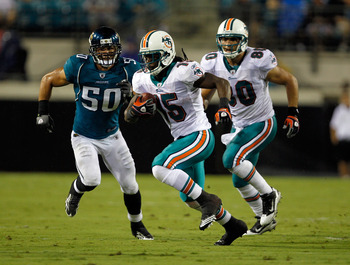 Sam Greenwood/Getty Images
The thought of laying more than a touchdown on the Miami Dolphins makes me vaguely queasy.
However, the Jacksonville Jaguars are on their fourth starting running back, their second quarterback, may not have their best wide receiver and have a defense that ranks 31st in the NFL.
There; that's better.
Denver Broncos (-2.5) over BALTIMORE RAVENS
Ezra Shaw/Getty Images
Another road favorite? Yep, it's the Mayan Apocalypse.
The Baltimore Ravens are reeling, having dropped two games in a row, and the team has already made what some might see as a panic move by firing offensive coordinator Cam Cameron and instilling Jim Caldwell as the play caller.
The same Jim Caldwell who has never called plays in the NFL and guided the Indianapolis Colts to a 2-14 mark in 2011.
Oh yeah, I'm picking that team over a red-hot Broncos team led by Peyton Manning that hasn't lost since Week 5.
NOT.
Indianapolis Colts (+8) over HOUSTON TEXANS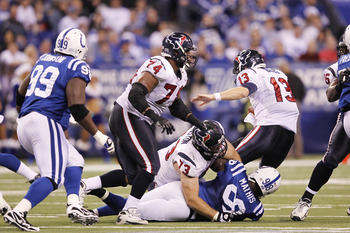 Joe Robbins/Getty Images
This game isn't so much a matter of thinking that the Indianapolis Colts will win outright as it is not trusting the Houston Texans to cover a spread this big.
The Texans, for as good as they are, were exposed Sunday night.
Houston's secondary has allowed nearly 350 passing yards a game over the past four weeks, and the vaunted Texans running game is 19th in the NFL in yards per carry.
This game will be a lot closer than the spread indicates, and I wouldn't be stunned if the Colts win outright.
Carolina Panthers (+3) over SAN DIEGO CHARGERS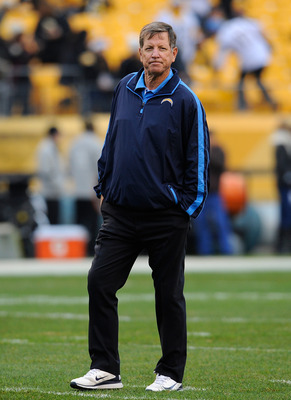 Joe Sargent/Getty Images
This game is a hard one to figure, as both these teams have been fairly significant disappointments this season, but both are also coming off big wins a week ago.
Generally speaking, even though the Panthers upset the Atlanta Falcons a week ago, I'd be leery of them making the West Coast trip, especially given that the spread is a fairly small one.
However, although the San Diego Chargers traveled east and stunned the Pittsburgh Steelers last week, I just can't trust them to play two good games in a row.
After all, Norv Turner is still the head coach.
Seattle Seahawks (-3) over BUFFALO BILLS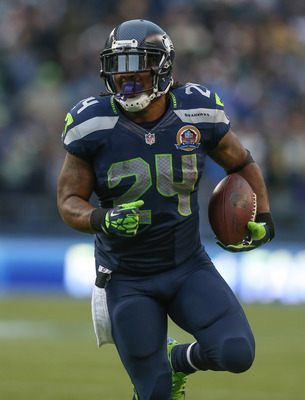 Otto Greule Jr/Getty Images
This would be another instance of me taking a road favorite, but with this game in Toronto and the Bills mired in another miserable season, it's entirely possible that there will be as many Seattle supporters in attendance as Buffalo ones.
This game is going to be all about "Beast Mode".
Seattle running back Marshawn Lynch faces the team from which he had an acrimonious exit, and given that the Bills rank 28th in the NFL in run defense, he should have a field day.
Skittles!
Detroit Lions (-3) over ARIZONA CARDINALS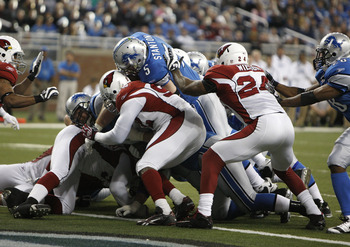 Gregory Shamus/Getty Images
Ack! Another road favorite! Either this week is bucking conventional betting wisdom or I'm going to get pasted.
With that said, this spread could be 10 and I'd still take the Detroit Lions to not only cover, but win outright.
Yes, the Lions are having a hugely disappointing season, but after following up four straight wins with nine straight losses, the Arizona Cardinals are redefining the word "collapse."
Plus, there's that whole losing 58-0 thing last week.
DALLAS COWBOYS (+1.5) over Pittsburgh Steelers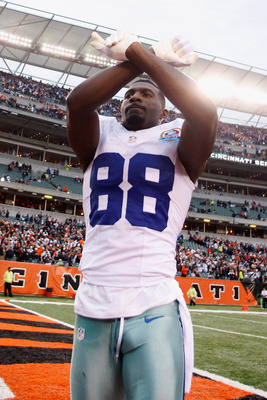 John Grieshop/Getty Images
Most of the reasoning behind the game screams that you should lay the point and a half and take the Steelers.
The possible absence of Dallas wideout Dez Bryant.
Cowboys quarterback Tony Romo's history of December faceplants.
However, I can't shake the feeling that Bryant plays and has a huge game against a Steelers secondary that looked very vulnerable without Ike Taylor last week.
Plus, one of these home underdogs is going to cover.
Kansas City Chiefs (+3) over OAKLAND RAIDERS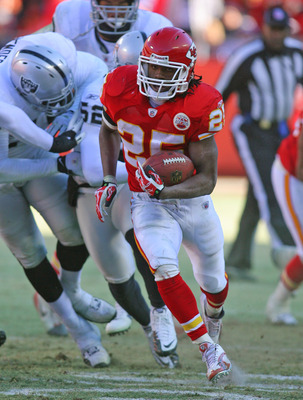 Tim Umphrey/Getty Images
This game is so ugly they should put a paper bag over the stadium.
With a combined record of 5-21, this game has a lot more to do with draft position than playoff implications, and given how both teams have played of late, it could come down to which squad wants to lose more.
I can't think of real reason to pick either team in this game, but Kansas City running back Jamaal Charles will be the best player on the field and his team's getting three.
Good enough.
NEW ENGLAND PATRIOTS (-5.5) over San Francisco 49ers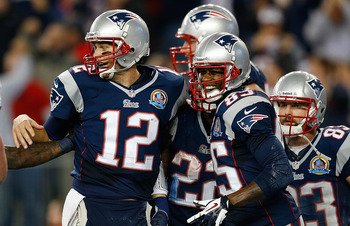 Jim Rogash/Getty Images
Sunday night's big showdown in New England has the makings of a Super Bowl preview, as the San Francisco 49ers come to town in a classic matchup of offense vs. defense.
However, we just watched quarterback Tom Brady and the Patriots tear a solid Houston Texans defense to shreds, raising the Patriots' winning streak in the second half of the season to an eye-popping 21 games.
The 49ers are a very good team, but Bill Belichick is sure to have a couple wrinkles ready for young quarterback Colin Kaepernick. The Patriots defense has improved as the season has progressed, and for the second straight week, the Patriots are about to send a message to the rest of the NFL.
TENNESSEE TITANS (-1.5) over New York Jets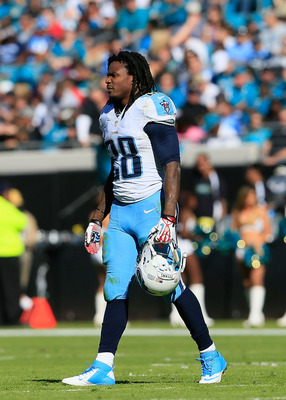 Sam Greenwood/Getty Images
If I hear one more commercial talking about the New York Jets "playoff chances," my head's going to pop off.
Have these people seen the New York Jets play?
The Jets' one-trick-pony please God don't let Mark Sanchez throw the ball offense is only going to work for so long, and with Titans running back Chris Johnson set to face a Jets defense that's 29th in the NFL against the run New York's playoff dreams will thankfully be put out of our misery.
Keep Reading