USC Football: After Surprise Visits, Will These Mega Recruits Be Trojans?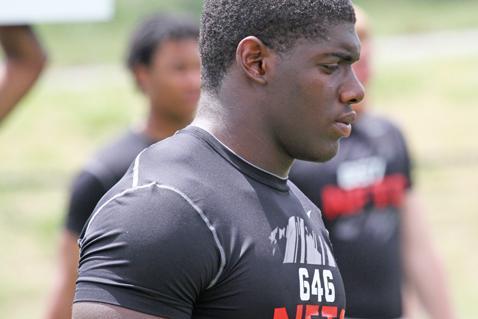 Carl Lawson (photo from floridastate.247sports.com)
With the 2013 high school recruiting season winding down, there still may be some surprises in store for Lane Kiffin and his staff as they put the finishing touches on what is widely perceived to be one of the top classes in the nation.
There may only be a couple of scholarships available, but the Trojans have been drawing interest from some very high-profile recruits who have scheduled or expressed an interest in visiting the campus.
Of course, in recruiting, nothing is for certain. In the case of high school football players, these visits sometimes only represent an opportunity to garner a free vacation.
Nonetheless, for the programs that seek their services, trips to the schools represent a chance to turn a young player's head to the benefits that school offers.
This slideshow will look at four highly regarded players who will visit USC and offer some speculation as to the likelihood that they don the cardinal and gold.
Will any of these players be the next to star for the Trojans?
Only time will tell, but getting a visit is a good start...
Begin Slideshow

»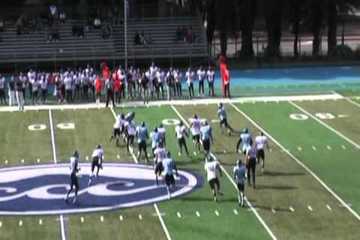 photo from 247sports.com
On Dec. 14, the Trojans will get a visit from a mammoth tackle whose journey in college football began at the JC level.
Desmond Harrison, who played this year at Contra Costa in California, is a 6'8", 320-pound behemoth who is ready to contribute immediately.
Surprisingly nimble for such a big man, Harrison uses his hands well to shake would-be tacklers and is especially strong in clearing holes for the running game.
Harrison has received over 20 offers and has already made trips to major powers such as Oklahoma and Texas. However, USC will be the last to host him and as such, will be the school most fresh on his mind when he makes his decision.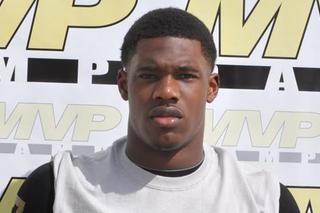 photo from miami.247sports.com
Though a date has not been scheduled yet, Quinton Powell—a Scout.com 4-star linebacker from Daytona Beach, Fla.—has the Trojans on his radar for a visit.
Powell, who recently decommitted from Florida, is an extremely athletic 'backer whose greatest attribute is running down ball-carriers on the edges.
According to Scout.com's Amy Campbell, Powell will also try to visit Oregon and Miami in addition to the Trojans.
At 6'2", 195 pounds, Powell will need to add weight at the next level, but he has both the frame and desire to do that.
Though Oregon has yet to present Powell with an offer, he does hold offers from all the aforementioned programs as well as Clemson, South Carolina and others.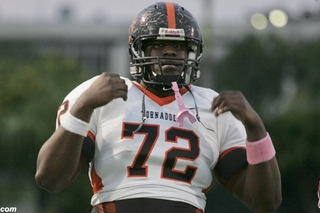 photo from floridastate.247sports.com
Another big-time recruit who is making overtures about a Trojan visit is Miami, Fla. offensive tackle Denver Kirkland, who will be a fixture for years to come for the lucky program that signs him.
Kirkland is a mobile 6'4", 290-pound tackle whose athleticism allows him to dominate in the run game.
Though he needs some work in pass protection, Kirkland has the tools to hone that part of his repertoire at the next level.
According to Scout.com's Campbell, "USC has been a school the senior lineman has liked for years, so he'd like to visit the Trojans if it works out."
The Trojans would certainly be happy to accommodate Kirkland. They've long since made an offer, as have other major programs, including Auburn, Florida and Florida State.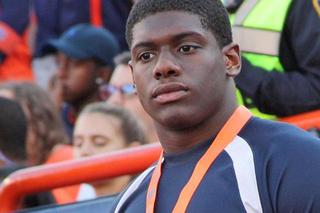 photo from tennessee.247sports.com
A surprise visitor to the Trojans, according to the Atlanta Journal-Constitution, will be Alpharetta, Ga. defensive end Carl Lawson.
Lawson, who still remains committed to Auburn despite head coach Gene Chizik's recent firing, will take other visits as well—including one to Clemson, who has now emerged as a favorite for the multi-talented player's services.
Lawson is ESPN.com's No. 2 overall player and is a relentless pass-rusher who also is effective against the run.
For USC, some face time with Trojan defensive line coach Ed Orgeron could work wonders. Everyone knows that USC almost always delivers a surprise or two on national letter of intent signing day.
Could Lawson be that next surprise?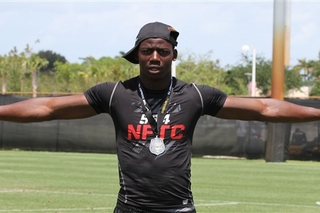 photo from 247sports.com
Just added to the January 18th visit week to USC is Miami, FL linebacker Matthew Thomas.
Thomas, a Scout.com 5-star prospect, is also rated the No. 2 outside linebacker in the nation by that service and to watch him play, it is easy to see why.
A tall and rangy athlete, Thomas uses his 6'4", 210 pound frame to track down ball carriers on the edges where is lateral speed can be used to most effect.
He will need to add more weight at the next level but he certainly has the body to do so with little problems.
In addition to the Trojans, Thomas is also interested in Alabama, Florida State and Georgia, where he has already made visits, and Miami (FL), his hometown school.