UFC 156: Joseph Benavidez vs. Ian McCall Head-to-Toe Breakdown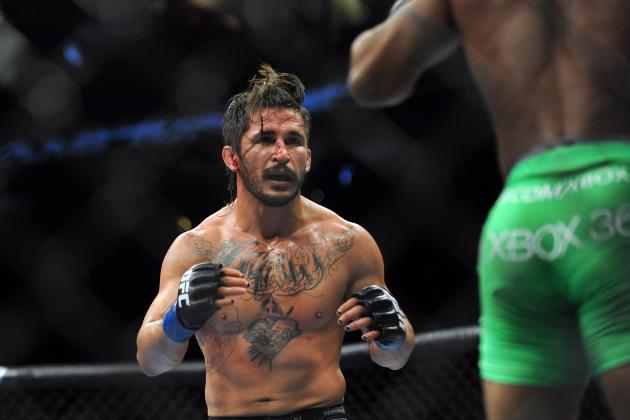 Steve Mitchell-USA TODAY Sports

Two of the UFC's top flyweights will be looking to get back into title contention early next year as Joseph Benavidez and Ian McCall are set to face off at UFC 156 in February.
Both men are coming into this bout following recent losses to champ Demetrious Johnson who won the inaugural 125 lb crown during the exciting four-man flyweight tournament earlier this year. A win for either fighter may earn them another crack at "Mighty Mouse," provided he defends his belt against John Dodson in January.
I am very interested in this fight as Benavidez and McCall have widely been regarded as top-three 125ers over the past few years and should provide an amazing show at UFC 156.
Let's take a look at the head-to-toe breakdown of this exciting flyweight matchup.
Begin Slideshow

»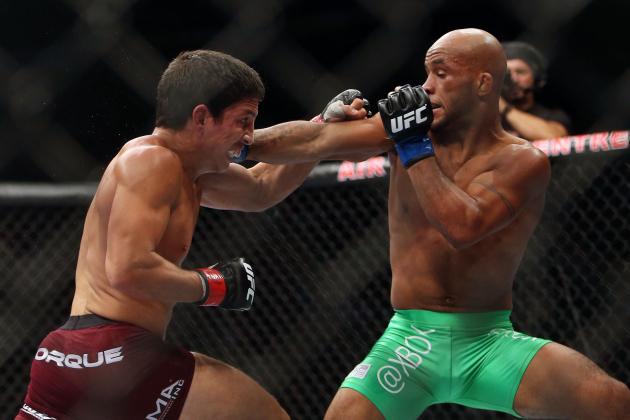 Tom Szczerbowski-USA TODAY Sports

Before joining the UFC's newly formed flyweight division, Benavidez and McCall were forced to fight up a weight class, often placing them in bouts where they had a severe size disadvantage.
To make up for that, both men developed quick and tactical striking games highlighted by their fast footwork and speedy strikes.
While they are pretty evenly matched technically speaking, Benavidez has way more power in his punches, a rare skill to have in the lighter weight classes. McCall has never been knocked out in his career, however, so don't expect any one-punch KOs.
Despite "Uncle Creepy's" solid chin and striking game, Benavidez's power gives him the edge.
Advantage: Benavidez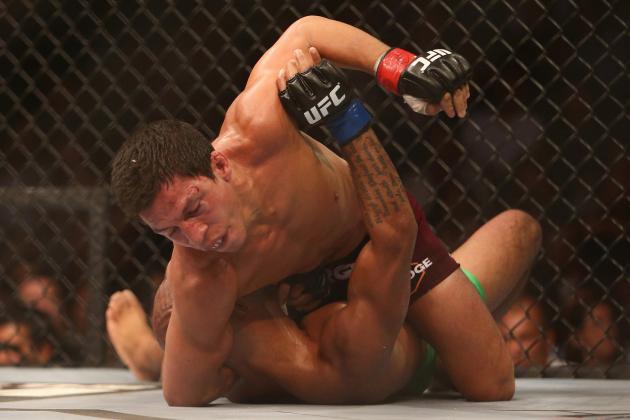 Tom Szczerbowski-USA TODAY Sports

Like their stand up game, both Benavidez and McCall possess solid wrestling and ground skills that should match up well against each other.
Benavidez is a former state wrestling champ who now trains alongside the likes of Urijah Faber and Chad Mendes at Team Alpha Male, so it's not hard to see where his crisp takedowns and dominant top control come from.
McCall's no slouch on the ground either, owning a nice mix of jiu-jitsu and wrestling skills that have helped him claim a spot among the best flyweights in the world.
Benavidez has a bit more quickness in his shots, however, and a little bit better top control, so he barely edges out "Uncle Creepy" in the wrestling department.
Advantage: Benavidez
Benavidez has proven to be a pretty dangerous submission threat over the years, even tapping out BJJ black belts in the process.
Owning eight submission victories out of 16 total professional wins, the Team Alpha Male product has a penchant for choking people out and will have an edge here over McCall.
Check out the video embedded in the slide to see Benavidez's huge WEC Submission of the Night win over former champ Miguel Torres from a few years back.
McCall is also pretty good on the ground with his last tap out win coming over fellow top-tier flyweight Darrell Montague, which won "Uncle Creepy" the Tachi Palace Fights 125 lbs title. However, Benavidez's history of choking people out and ability to take out even BJJ black belts gives him this one as well.
Advantage: Benavidez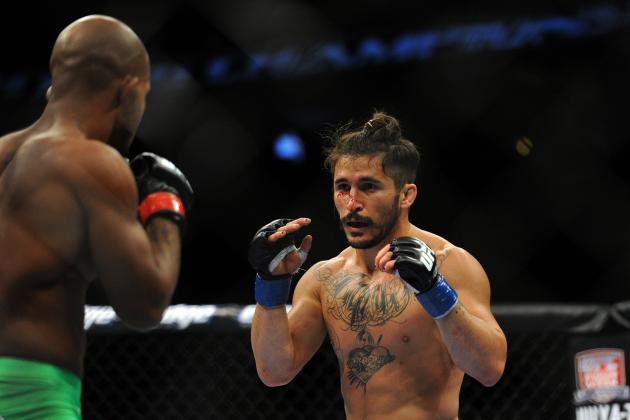 Steve Mitchell-USA TODAY Sports

Having previously fought in the bantamweight division, both men haven't lost their speed or strength since making the successful transition to their more natural weight at 125 lbs.
Both guys are championship caliber fighters who can go the distance, whether it's three or five rounds. Benavidez may be a tiny bit more explosive, but they are pretty much even when it comes to their general strength and conditioning.
Advantage: Even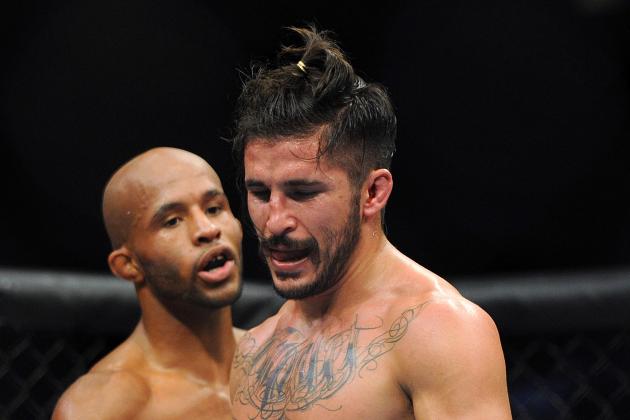 Steve Mitchell-USA TODAY Sports

Benavidez: As one of the most experienced fighters in the division, Benavidez has taken on some of the sport's top lighter weight fighters and should be ready for anything McCall might have in store for him.
The key to success for the Team Alpha Male product lies in him imposing his will early on in this bout. He needs to establish his powerful strikes and takedowns from the get go in order to grind down "Uncle Creepy".
If he lets McCall get into a rhythm and counter, Benavidez won't be able to set up his quick combos or control the tempo.
McCall: Despite two admirable performances against the eventual flyweight champ Demetrious Johnson, McCall has yet to grasp that coveted first UFC victory. It won't be any easier against a two-time former title challenger such as Benavidez, but don't count "Uncle Creepy" out just yet.
McCall needs to get in close and beat Benavidez up from the inside while stopping the takedown.
If he lets Benavidez impose his will, it's going to be a long night for the former TPF champ.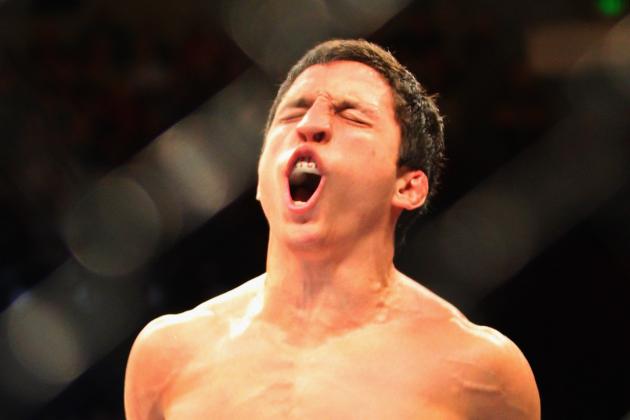 Mark Kolbe/Getty Images

I'm really excited for this fight and believe that it will be an early challenger for 2013's Fight of the Year.
Benavidez is quick with his strikes and shots and also possesses a pair of heavy hands that will be interesting to see opposite McCall's well-rounded skills and iron chin.
At the end of the day, however, I think that Benavidez's explosiveness will be the difference and give him the decision win.
Prediction: Benavidez via unanimous decision.
Be sure to like me on Facebook or follow @MattJuulMMA